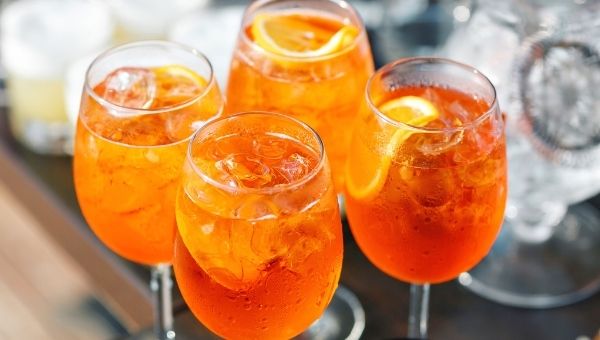 Classic Aperol Spritz recipe: how to make Italy's favorite aperitivo
Classic Aperol Spritz recipe: how to make Italy's most famous drink and create aperitivo, Italian style, at home.
Aperol Spritz is a classic Italian cocktail and the most popular aperitivo drink in Italy.
It is served in a large stemmed wine glass and has a signature orange color that makes it easy to recognize: if you are in Italy in the summer, you will easily spot it on outdoor tables, enjoyed by locals and visitors alike!
Aperol spritz is a prosecco based drink and owns its color and taste to the addition of Aperol, a traditional Italian bitter.
An Aperol spritz and perfect if you want to serve a delicate cocktails at a party or pre-dinner.
This is all you have to know about it: Aperol Spritz recipe, fun spritz variations to try, fun facts about its origins.
Classic Aperol Spritz ingredients
3 parts of prosecco, chilled
2 parts of Aperol
1 part soda or tonic water
Ice cubes
Orange slice as decoration
How to make Aperol Spritz
Aperol spritz is very easy to make and requires no cocktail gear nor special equipment, except for a measuring cup.
This is how you make it:
Add ice cubes to a large stemmed wine glass, then pour Aperol, add prosecco and, finally, the soda. Stir well and serve immediately.
Fun, delicious Spritz variations to try
Campari Spritz – The most popular spritz variation and one that uses another Italian classic drink, Campari. You can find the Campari Spritz recipe here
Elder flower spritz (Hugo) – delicate and summery, from the North of Italy
Cynar spritz – make with a well known Italian digestif made from artichokes, Cynar,
Non alcoholic spritz, an Aperol spritz inspired mocktail
Pomegranate spritz – a fun variation perfect for festivities, thanks to its bright red color
A quick history of Aperol spritz and its success
Aperol spritz is one of the most iconic Italian cocktails however, the idea of the spritz is not entirely Italian.
The story goes that in the 1800s, when Venice and Veneto were under Austrian domination, Austrian soldiers didn't like the local wine which they considered too strong and started adding a dash of soda water to it (spritz/spritzen=splash in German).
This original spritz still exists however, when Aperol came to the scene, it got added to the mixture and this new concoction quickly surpassed in popularity the original one, giving us the orange version we know today.
The first Aperol Spritz is said to have been served in Padova, where Aperol was born although Venice is also claiming the paternity of this drink. Controversies aside, what is sure is that Aperol Spritz is from Veneto and makes the most of local wine and bitter, two of the many excellences from the region.
Especially from the 1970s, Aperol Spritz has become an unofficial Italian national drink and one of the most beloved and popular aperitivo cocktails.
Its recipe is now codified codifies too and calls for: 3 parts of prosecco, 2 parts Aperol, 1 part soda served in a large wine glass.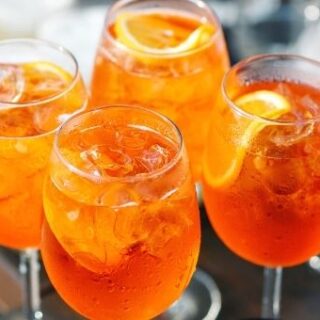 Classic Aperol Spritz Recipe
Classic Aperol Spritz recipe to make at home this classic Italian prosecco cocktail. Aperol spritz is a very popular Italian drink usually served as a pre-dinner drink and an aperitivo.
Easy to make and with a delicate taste, Aperol spritz has a distinctive orange color and is the perfect first drink to serve to guests as they arrive at your house or event.
It can be easily topped up, since it requires no special mixology skills or elaborate cocktail gear.
If you are expecting a large number of guests, you can make Aperol Spritz in a jar and pour as they arrive but I recommend you don't leave it too long as the ice will make it watery and the prosecco will loose its bubbles.
If making it in a jar, make it last minute and use it to pour it to your guests as they arrive rather than a serve-your-own option.
Ingredients
3 parts prosecco
2 parts Aperol
1 part soda or tonic water
ice cubes
orange slice to decorate the glass
Instructions
In a large wine glass, our the ice cubes and the chilled prosecco. Slowly add the Aperol and then top up with soda / tonic water. Decorate with a slice of orange and serve immediately.
What to serve with Aperol Spritz
Aperol Spritz is a pre dinner drink and it is usually served with nibbles or small plates of food.
Popular foods to offer with a spritz are:
Green olives, an Italian favorite
Pistacchio nuts or roasted peanuts
Crisps/Chips (the crispy type from a bag, not fries)
Fresh vegetables, especially carrots and celery
Pizza bites or pinsa
Small bruschettas
For bigger aperitivo or what Italians now call apericena (an aperitivo so generous it substitutes dinner), you can also serve cold rice or pasta salad, cured meats, salads, sauteed vegetables, couscous or a selection of cheeses with bread sticks etc.
Pin this for later!