Classic Hugo cocktail recipe: the unexpected and delicious drink from Italy you'll love
Classic Hugo cocktail recipe: learn how to easily recreate at home this refreshing Italian drink, perfect for warm evening and celebrations.
The 'Hugo' is a delicate Prosecco based Italian cocktail born in 2005 in Alto Adige, the mountainous region in the North-East of Italy.
Its creator is Roland Gruber and the cocktail originated from his desire to create a variation on the spritz, maybe the most famous of all Italian aperitivo drinks and one of the most common.
Getting inspiration from the herbs of the area, Gruber swapped Aperol for melissa syrup and added leaves of fresh mint for an extra dash of freshness: he created the delicious Hugo Spritz!
The result was a delicate summer drink with a sweet yet refreshing taste, perfect for summer nights int the mountains but perfect to sip in your garden too!.
The Hugo drink gained immediate popularity, however it soon encountered challenges, namely the difficulty of finding melissa syrup.
To overcome this, the original recipe went through variations and now calls for elderflower syrup, much more widely commercially available and not entirely dissimilar in taste.
This is how you can make a Hugo Cocktail at home.
Pin this for later!
Original Hugo cocktail recipe
15 cl Prosecco
2 cl Melissa Syrup
1 dash of soda
Fresh mint as decoration
A slice of lime
Ice cubes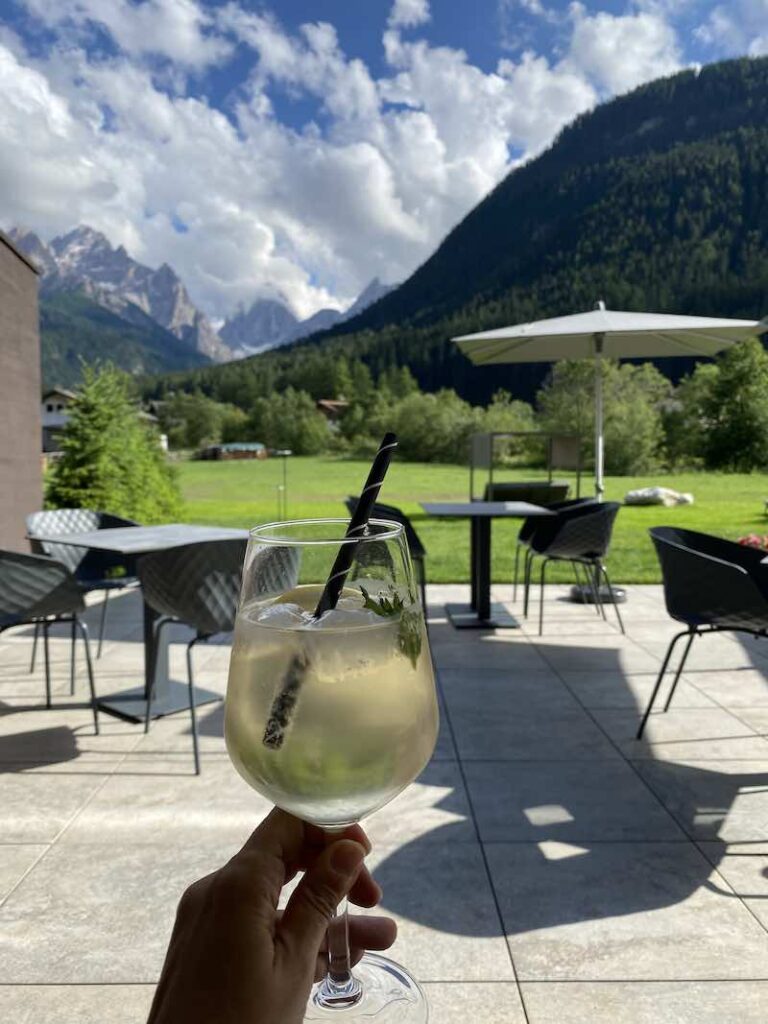 Hugo cocktails recipe with elder flower syrup
The variation with elder flower needs:
15 cl Prosecco
2 cl Elderflower syrup
6 cl soda or seltz
Mint to garnish
Slice of lime or lemon
ice cubes
A Hugo drink is most commonly in a stemmed wine glass, just like the spritz.
What do you need to make a Hugo drink
You need no complicated cocktail gear to make a Hugo! all you need is:
A Wine glass, chilled
A bar stirrer
A knife to slice the lime
How to make a Hugo cocktail
Chill a wine glass then, right before serving, add ice cubes and pour chilled prosecco, add the syrup and stir well. Add fresh mint as garnish and serve immediately.
Hugo drink variations
The classic Huge recipe makes a delicate and refreshing drink but you can also try some Hugo variations:

Hugo rose' – made with rose prosecco, which gives a lovely delicate color to the cocktails, perfect for celebrations
Hugo gin – if you want to add an extra alcoholic kick
Hugo raspberry – perfect if you have access to delicious fresh raspberries, like you would in the Italian Dolomites! You use fresh raspberry puree instead of the elder flower syrup and the result is delightful
Related: make your Italian drinking experience even more authentic by learning the most popular Italian toasting words!
Hugo Cocktail Recipe from Italy
The Hugo cocktails is a refreshing and delicate Italian cocktail perfect to serve as aperitivo, pre-dinner.
The cocktail was born in Alto Adige, a beautiful Italian mountain region, and makes the most of the local products from the area, namely their delicious prosecco and melissa syrup.
Since the melissa syrup is not always easy to find, the most common alternative used to make a Hugo Drink is elder flower, which goes amazingly well with prosecco and maintains the nature of the original recipe.
Ingredients
15 cl Prosecco
2 cl melissa syrup (or Elderflower syrup)
6 cl soda or seltz
Mint to garnish
Slice of lime or lemon
ice cubes
Instructions
In a chilled wine glass, add ice cubes, chilled prosecco and the syrup of your choice. Stirr well, then add fresh mint and a slice of lime as decoration: serve immediately.