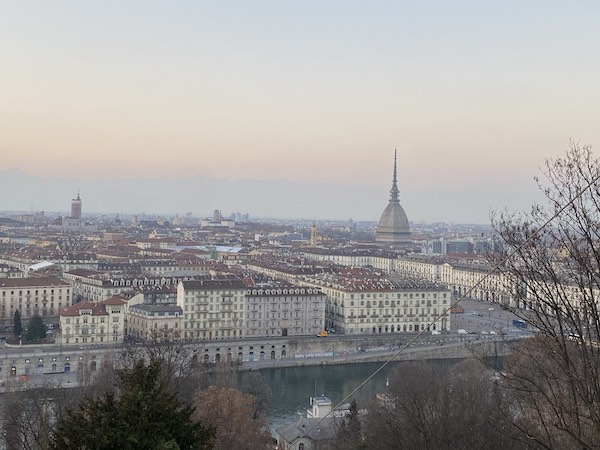 Visiting Turin with kids: all you need to know to plan a fantastic family trip to Italy's first capital
All you need to know to plan a visit to Turin with kids: the best kids' attractions in Turin, Turin landmarks, where to stay in Turin with kids and travel tips for families with children.
Torino / Turin is one of the most beautiful and best cities to visit in Italy with kids.
Famous for being the first capital of Italy and the seat of Italy's Royal palace, Turin doesn't feature in the most popular Italy itinerary and, therefore, feels a bit like a hidden gem, despite being full of wonderful attractions and things to do.
We visited Turin with the kids last month.
We made the most of the school winter break to take the train up and treat ourselves to a few days in the city.
We loved it!
We found Turin to be beautiful, elegant, beautiful, safe, clean, and child-friendly and we also discovered the city to be full of children's attractions.
We had a wonderful family stay and found Turin to be one of the best cities for kids in terms of things to do and ease of travel. So, we now recommend everyone to go visit!
This guide is my essential travel guide to Turin with kids, packed with all our tips and best finds based on our own experience. I wrote this guide based on our experience and as a way to help families visiting Turin with kids for the first time plan their time in this wonderful city.
Please note: this post contains affiliate links. Should you make a purchase through them, we might make a small commission.
See also: the best places to visit in Piedmont with kids.
Why visit Turin with kids
We recommend Turin as a family destination for many reasons, including:
Turin is one of the most beautiful cities in Italy, graced by stunning piazzas, a wonderful river and stunning landmarks easy to enjoy by all ages
Turin is historically significant as it was the first capital of Italy and still retains Italy's old Royal Palace, now a museum.
Turin has several child-friendly museums suitable for kids of all ages, including one of the best Egyptians Museums in Europe and a fantastic car museum.
Turin is toddler friendly, with a walkable and flat city center (one of the few stroller-friendly cities in Italy!)
Turin has incredible food: one of its many specialties is hazelnut chocolate!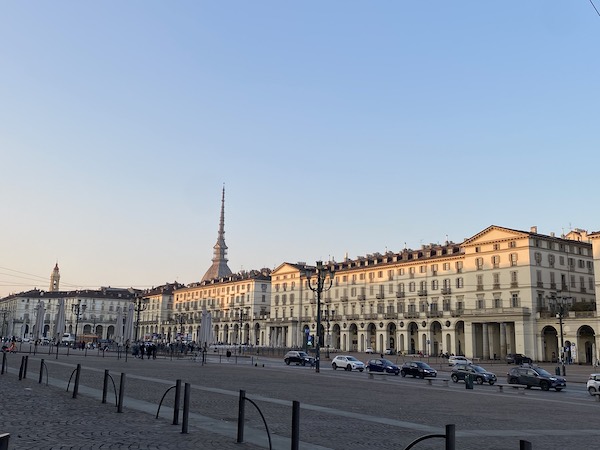 The best things to do in Turin with kids
Visit Turin's National Automobile Museum
I start this list of the best things to do in Turin with kids with the museum my son loved most of all: Museo Nazionale dell'Auto (National Car Museum).
Turin is the home of Fiat, one of the biggest and most important car manufacturers in Italy and to honor this tradition, now has one of the best car museums in Italy.
The museum is wonderful and enjoyable for everyone and, of course, car lovers.
the car museum of Turin develops over several floors and has many car models, including everyday cars and racecars, several videos explaining the history of the motor industry in the last two centuries (some are wonderful and very informative) and many exhibits dedicated to cars, motors and motor racing.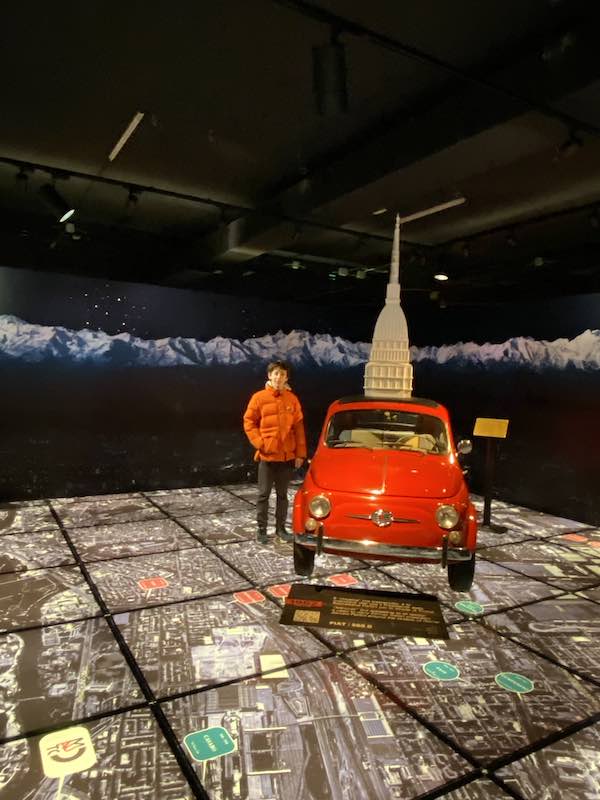 The museum is in the area of Turin called Lingotto, home of the Fiat factory, it is easy to reach by metro and a wonderful place to spend a mounting or afternoon with children.
Good to know! The museum is far from the center: you can get here by metro or it may be worth considering opting for the combined ticket car museum + hop on hop off bus tour of Turin: I don't usually recommend bus tours but in Turin, it can be with it, the distances are big and there is a lot to see!
Turin's Egyptian Museum
Turin's Egyptian Museums is maybe the most famous museum in Turin, famous for holding an enviable collection of ancient Egyptian findings and promoter of research endeavors.
The museum is huge!
Hosted in a historical yet fully renovated building, the museum develops over several floors and has both permanent and temporary exhibitions, with anything from little artifacts to mummies and colossal statues of pharaohs.
The place is incredible and a real treat for kids, as the artifacts and information shown are fascinating and impressive.
However, the museum is so big and varied, it can also be overwhelming; because of this, I recommend you make the most of the guides tours available (some specific for families, often also held in English) or take the little kid's leaflets available at the ticket office for a small fee.
These booklets have recommended paths across the museum that help with focus and create a meaningful learning experience in an otherwise easily dispersive space.
You can book tickets here (official museum site) or find tickets for a guided tour in English here
Good to know: the museums is very popular with schools. We visited one morning, thinking it would be the quietest time but we were wrong: it was packed with school outings! The museum is so big you can partially lose the cords however, if we were tog go again, we would probably go later in the day after the school kids are home.
Turin's Royal Palace
Turin was the first capital of Italy and still retains what used to be the Royal Palace: Palazzo Reale.
The Palace and Gardens are now open to the public as a museum and are a great place to visit with kids.
The visit to the main part doesn't take too long, you can do it in your own time (there are good info panels in Italian and English) and some of the rooms are fantastic for children: the armory, throne room and the chapel are incredible!
Mole Antonelliana
Mole Antonelliana is Turin's most recognizable landmark. Originally planned as a Synagogue and then bought by the city of Turin to make is a symbol of National Unity, the Mole was built in 1862 and, at the time, was the tallest brick building in Europe.
Nowadays, the Mole hosts a un Cinema Museum and has a lift that brings all the way up to the top. A very popular thing to do in Turin with kids if you're not afraid of heights so booking is essential.
View over the Po Rivber from Monte Dei Capuccini
Many people go to the top of Mole Antonelliana to get cool photos of views of Turin and indeed, the city looks stunning from there.
However, if you want to catch a view of Turin that includes the distinctive shape of la Mole, then I recommend you walk up to Monte dei Cappuccini!
Located on the opposite side of the Po River, the walk up takes a few minutes and you'll feel it on your legs however, it is worth taking to catch one of the best views of Turin!
We went at sunset and felt it was spectacular.
Parco del valentino and Borgo Medievale
Turin has a wonderful park called Parco del Valentino. The park is a huge green inner city space and it is great for kids to run around, plus, it has a pretty special attraction: borgo medieval.
Borgo medievale is an open-air museum that allows you to walk in a replica of a historical piedmont town from the XV century.
Built in 1884 for the Italian General Expo, the borgo is a repercussion of an ancient village and it is a great place for kids to walk into what feels like a place from old times.
The borgo is open and free to enter, a cute place to visit with young kids especially.
Turin's main piazzas, cafes and galleries
Turin is a beautiful, elegant city with wonderful piazzas, covered porticoes, galleries and elegant cafes.
These are lovely spaces for a break and snack and a quintessentially Turin thing.
This type of architecture is not common in the rest of Italy and will leave you with a distinct feeling of being closer to Austria and France than Rome, one of the many reasons why Turin is unique and worth seeing!
Among the most famous piazzas in Turin, we loved:
Piazza San Carlo,
Piazza Castello
PIazza Vittorio Veneto
Piazza Carignano (it also has a famous gelato place and the very well-known restaurant Il Cambio, where Cout Cavour used to eat!)
We also enjoyed walking along Galleria Subalpina and the main shopping streets between the Royal Palace and the station, which are elegant and full of wonderful shops and restaurants.
Juventus Museum
Turin is home to one of the biggest soccer teams in Italy – Juventus!
If you are a soccer fan or have a junior soccer fan in the family, you can treat your kids to a visit to the Juventus Museum and stadium tour or even bring them to a soccer match!
You can read here >>> how to go to a soccer game in Italy with kids
Tramvia to Superga (temporarily not active)
Another fun thing to do with kids in Turin is to take the vintage train up to the Basilica of Superga.
The ride is short, the views beautiful and the overall adventure doesn't take long: a great way to spend a bright morning Turin!
Find schedule and tickets here
Turin hop-on hop-off bus tour
I don't often recommend bus tours but Turin is huge!
We are great walkers and were surprised by how much walking Turin requires.
Many of its attractions are scattered around the city so in this case, a bus tour is a great option!
Reggia di Venaria Palace and estate
Another fantastic place to visit in Turin with kids is the fabulous Reggia di venaria (venaria Palace and gardens). The palace belonged to the Savoia Family and the first King of Italy and it is a fabulous place if you have kids who love palaces and history.
Good to know! It is possible to get a bundle that includes hop-on hop-off bus ticket and Venaria Palace entry.
ZOOM Biopacro (Outside of Turin)
Zoom is not in TUrin but outside the city. however, it is a great place for kids and one that you may not want to miss if you have more than a couple of days in the city, so I feel it belongs on this list of the best things to do in Turin with kids!
Zoom is a 'immersive bioparco', a zoo in the modern and best sense of the word: here, kids can see animals listen to talks and, in summer, splash in the pool!
Book entrance tickets direct here
Where to stay in Turin with kids
During our family trip to Turin we stayed in the excellent Starhotels Majestic.
Located in front of the train station, we chose this hotel for its handy location, perfect for travel and a with easy access to all the city's top attractions on foot or by metro and because of their great family rooms.
In particular, we booked a large quadruple room with a private bathroom and breakfast, which was perfect for us: even with two tweens, each with luggage and a need for personal space, the room felt big and spacious.
The generous breakfast in the morning was a great added bonus and something the kids looked forward to every morning!
We'd definitely stay again.
Find rates and availability here
Where to eat in Turin with kids
There is a huge variety of restaurants in Turin. This time we ate at:
Ristorante da Mauro – nice, traditional restaurant with local and general Italian dishes. Nice and welcoming, it felt like being in someone's home! A random find as we strolled in the center, the whole family ate well!
Address: Via Maria Vittoria, 21, 10123 Torino TO, Italy
Focacceria Tipica Ligure – a nice place for take out focaccia, great for lunch. Address: Via Giovanni Giolitti, 4, C, 10123 Torino TO, Italy
Signor Vino – a nice place for dinner, a little on the pricey side for some of the plates, but overall excellent.
We loved the wine-tasting option that offered 3 wines for 15 Euro: we could order them as part of a meal and it was an easy way to indulge in wine tasting with kids with us without them getting bored or feeling left out.
Address: Via Giuseppe Luigi Lagrange, 13, 10123 Torino TO, Italy
Sorbillo – amazing pizza and Neapolitan specialties. We tried to go for dinner and found a long line outside, went again for lunch and had an amazing meal Highly recommended.
Address: Via Bruno Buozzi, 3, 10121 Torino TO, Italy
The best time to visit Turin's with kids
We visited Turin in winter this time, February to be precise, a time that worried me as potentially gray and cold.
However, we found winter to be a lovely time to visit Turin and not as cold as expected.
That said, based on previous trips, I believe the best time to visit Turin with kids I the spring ,early and early fall: this would have allowed seeing the gardens and the villas at their best.
Visiting Turin with kids – pin this!