Italy with a baby or toddler: all you need to know to plan the perfect trip
All you need to know for a perfect family vacation in Italy with a baby or toddler. Practical travel tips for traveling with young kids to and around Italy
Italy is very baby and toddler friendly but not necessarily in the way you may expect.
In Italy, the land of la mamma and strong family ties, children are kings and people go out of their way to coo at your baby or chat with your toddlers.
This family friendly attitude however doesn't necessarily mean you find facilities for families.
What Italians will do is accommodate you, and gladly!
Restaurants will move chairs for you, heat up milk, prepare child friendly off-the-menu dishes for your little ones, people will help you with bags and strollers.
However, usually they do not do it because they have the facilities but rather because the country doesn't have great ones.
Strollers ramps are rare (this is improving), changing facilities scarce, guaranteed places on public transport non-existent – so people make up for it with kindness!
I have traveled extensively around Italy with a baby, a baby and a toddler and two toddlers and I can tell you Italy with small kids is a wonderful place.
If you are used to family restaurants with plastic cutlery or state-of-the-art facilities, though, you may want to read this article so you know what to expect.
Good to know! You can find more help in our articles: planning your first trip to Italy | 100+ tips for traveling to Italy | Joining my FREE Facebook group 'Italy travel with kids' (join here), where you can meet me and other like minded parents planning their Italian family vacations!
All you need to know about visiting Italy with a baby or toddler – table of contents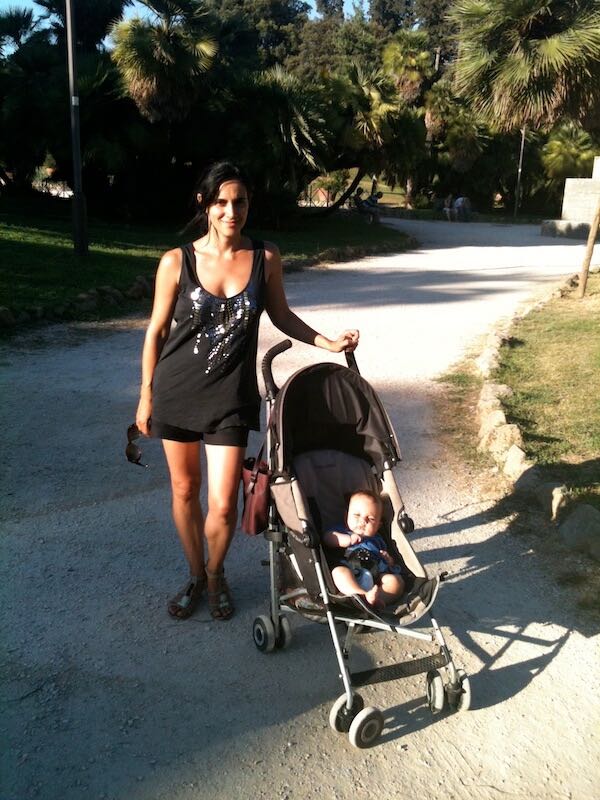 Italy with a baby: useful baby gear
This is what we found most useful when traveling around Italy with a baby:
Baby Carrier – amazing for museums, localities with steps or very uneven terrain (see below), busy attractions
Baby Car seat – either your own or rented along with your car
Portable high chair – not all restaurants have them
All baby feeding equipment – cafes will gladly warm up a baby bottle but not all hotels provide kettles or fridges so bringing your own bottle warmer, portable sterilizer etc is useful
Good to know: you don't have to bring everything from home! Find here >>> where to buy baby essentials in Italy.
Buying diapers in Italy
Diapers in Italy are sold in two main types of shops: supermarkets and farmacie (pharmacies, see below).
Supermarkets come in all shapes and sizes and usually have a baby aisle with diapers, wipes, baby weaning foods, small baby items such as soothers and some budget baby toiletry brands.
Good to know: opening hours of supermarkets vary wildly from place to place and shop to shop. Do not assume you will have access to late shopping if you are running out of baby supplies!
You can find here >>> my guide to supermarkets in Italy.
Farmacie (Pharmacies/ chemist shops) are the great ally of families in Italy.
Usually more expensive than supermarkets, even when stocking similar brands, they are the place where you get diapers/nappies, industrial and natural baby products, high-end baby toiletry products, small baby items and of course baby and toddler medication.
Pharmacies follow specific opening hours and take turns on weekends/nights/public holidays, usually pinned outside of the shop.
You can find here >>> my full guide to Farmacie in Italy (pharmacies)
Going grocery shopping in Italy for baby food, snacks and staples
If you are staying in self-catering apartments or even if you just want to get some additional food and essentials for your baby or toddler, you can count on the many food shops and grocery stores available in Italy.
Grocery stores in Italy come in all shapes and sizes but are, usually, smaller than what you may be used to for instance, in the US.
However, they tend to stock all you need, including fresh produce, bread, crackers, toddlers' snacks such as yogurt and rice cakes, basic weaning products (the bigger ones only), pasta, formula etc.
You can find here >>> our guide to grocery stores in Italy.
Outside of historical city centers you also have supermarkets, which tend to sell all your daily essentials.
Using public restrooms in Italy
While traveling around Italy with a baby or a toddler, you will have to stop for toilet breaks and diaper changes.
In this case, you will want to find a public bathrooms or a baby changing station and you are likely to notice they are not easy to find.
Unfortunately, public bathrooms are not common in Italy. However, there are ways to use the toilet while on the go. These range from looking for a public toilet to asking the closest cafe to use the facilities.

Read here >>> all you need to know about public bathrooms in Italy + tips for changing your baby in Italy on the go
Eating out in Italy with toddlers
Children of all ages are welcome in most restaurants in Italy however, not many offer high chairs or a standard children's menu.
While some do, in many cases restaurants cater to children by offering smaller portions of whatever is on the menu or will be able to offer a simple pasta.
Staples of a children's menu abroad are often Italian specialties so if you have a standard menu and want to make sure your toddler finds something familiar, you can order:
Pasta al sugo – pasta with simple tomato sauce (parmesan served on the site)
Pasta al Ragu' – pasta with minced meat, what abroad is known as 'bolognese'
Cotoletta alla milanese – fried chicken
Good to know: a request for plain pasta with absolutely nothing on top will occasionally get you odd looks and they will double check you don't want neither butter nor oil, the default for an Italian 'plain pasta'. If that's what your toddler wants, stick with it: it is an unusual request for Italian kids but they will make it for you no problem.
Restaurants are getting more and more equipped with high chairs. However, they do not always have them and they are not always suitable for very small kids as they are often the type with no straps
If you planning on eating out a lot, a portable high chair that folds small can be very handy.
Plastic cutlery for kids is not usually offered however, paper cups often are.
Baby and toddler sleeping arrangements in Italian hotels
Hotels in Italy come in all shapes and sizes and the facilities you get vary widely between individual establishments.
The one thing that is true across the board in Italy is that hotels abide by very strict occupancy rules and can only accommodate a certain number of people per room – that includes babies.
So if you are booking a double room with the plan of getting baby to sleep in its own baby bed you brought with you, make sure you tell the hotel at the time of booking so they can give you a suitable room.
Baby and Toddler-friendly destinations in Italy
You can visit anywhere in Italy with a toddler but some places are more baby and toddler-friendly than others.
Dolomites with babies or toddlers
Super baby and toddler-friendly, this is an area with excellent family hotels (the 'KinderHotels' are here, catering specifically to families with kids), playgrounds and child-friendly attractions (hikes, farms, pools etc). Bring an all-terrain stroller and a proper hiking carrier.
The best time to visit the Dolomites with a baby or todder is the summer for hiking/farms and the winter for skiing.
You can find our guide to visiting the Dolomites with children here.
Lake Garda with baby or toddlers
Another baby friendly area, ith plenty of flat, walkable towns and easy access to water is Lake Garda.
There are many good family campsites and resorts in the area, such as Eurocamp as well as many local hotels and accommodation options that are great especially for active toddlers.
Go in summer to avail of the pools and water access.
You can find the best places on Lake Garda for small kids here.
Lake Como with baby
Beautiful, well organized and quiet, Lake Como is one of the nicer baby small toddler friendly places in Italy especially if you are looking for a relaxing weekend with a new baby.
Mellow playgrounds, quaint towns and an upscale, grown-up feel make it perfect for a quiet weekend away from the noise.
Find here >>> our guide to Lake Como with kids
Tuscany
A wonderful, family friendly region with anything and everything you want for babies and toddlers.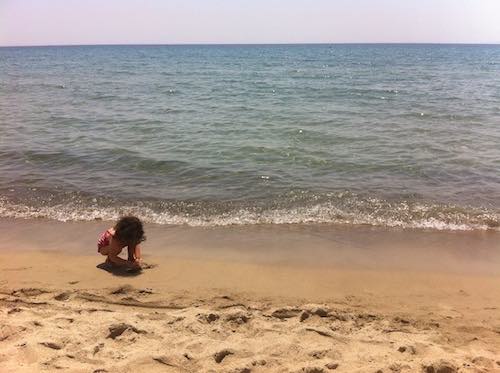 Bring a car to explore the countryside and the many child-friendly farms and agriturismo in the area and make sure you have a carrier for the steepest hilltop villages in the area (Montalcino and Montepulciano for instance, but don't expect anything impossible, they are just tiring if you are pushing a stroller!)
You can find our selection of the most beautiful villages in Tuscany here and our tips for a vacation in Tuscany with kids here.
With a toddler, I am especially fond of the town of Lucca, which is flat, safe, mellow and delightful.
If you want to enjoy the beach, Viareggio and Castiglion della Pescaia are toddler-friendly.
Liguria
Liguria is the coastal region in the North of Italy with Cinque Terre and Portofino and, to the surprise of many, it is one of the best places to visit in Italy with a baby or toddler if you want a local and mellow sea and sun vacation!
While Portofino and Cinque Terre are not traditionally toddler friendly (mostly due to uneven terrain and steps) many towns in Liguria are wonderful and perfectly equipped for little kids with nice hotels, playgrounds, beaches and summer entertainment.
Some we love are Chiavati, Sestri Levante, Santa Margherita Ligure, Levanto and Diano Marina.
Find here >>> our guide to visiting Liguria with kids.
Marche
Off the beaten path, Marche is a family-friendly area Italians have discovered a long time and a favorite for local families with toddlers.
The area between Senigallia and Pesaro has wonderful kid-friendly beaches and some towns such Urbino are beautiful and easy to visit with little ones.
This area has a mix of family hotels, campsites and 'holiday villages' that offer anything from independent vacations to all inclusive options.
Sperlonga and Gaeta
For a beach vacation in Italy with toddlers I love Sperlonga and Serapo (Gaeta), close to Rome and blessed with wonderful beaches with shallow, crystal clear waters perfect for babies and small tots.
Puglia
Gorgeous beaches and many small and often car-free beautiful towns make Puglia another one of our top picks for a trip to Italy with toddlers.
I recommend you explore this area with a car: distances are not long, making it perfect for kids, and opportunities for stops abound.
My favorite area for babies and toddlers is that of Monopoli (for cute and family-friendly towns) and also Salento, where you have the toddler-friendly beaches of Porto Cesareo, Torre Lapillo etc.
You can find my recommended road trip itinerary in Puglia for families here.
Sicily
Sicily is a world of wonders and depending on where you are you can find super child-friendly areas and more challenging ones.
We are fond of the area near Scopello, which has lovely sandy beaches such as the large one in Castellammare del Golfo (great for kids), and the area of Siracusa, which is a beautiful, well-served town easy to negotiate with small kids.
You can find our recommended itinerary in Sicily here and our tips for visiting Sicily with kids here.
More challenging destinations to visit in Italy with toddlers
Sometimes you hear destinations ijn Italy deemed as toddler unfriendly but in reality, there is no such thing!
Some destinations in Italy are stroller unfriendly but kids of all ages are welcome and often all it takes is knowing what to expect and making plans accordingly to overcome any potential geographical 'unfriendliess'.
Rome
Absolutely gorgeous and a must see in Italy, Rome with a toddler can be tiring like any big city, yet it can also be wonderful!
The infamous cobbles streets many fear are not half as big a problem as you may think (I am a Rome mama and all cobbles do is make the stroller ride a little bumpier. They are not everywhere either!) and Rome has many kid-friendly attractions and very beautiful parks that make strolls during baby nap time and toddler playtime a delight.
The top attractions are mostly toddler friendly and the Colosseum is even equipped for strollers!
Like all big cities, you must expect traffic and a more chaotic vibe than in a small village yet it is still exceptionally easy to enjoy Rome with little ones.
You can find all my tips for visiting Rome with a baby or Toddler here (Rome is my hometown, you can trust me!) and our essential guide to Rome with kids here.
You can also find here >>> my tips for visiting Rome with a baby.
Venice with a toddler
Venice is wonderful at all ages and Venice with toddlers is magical but the canals and the bridges do require extra attention.
If traveling to Venice with a baby who's not walking yet, your main issue will be stroller-unfriendly bridges. To tackle them, just make sure you have a strolelr you can easily lift and make sure you have sufficient time to enjoy the city.
if tou only have a day, the annoying bridges will occupy a lot of your memory. If you stay longer, the may flat areas of Venice will make up for them big time!
if visiting with an active toddler, of course you will need to pay attention to water but you'll be happy to hear there are many protected and completely dry areas in Venice with no access to open water, where you can let your little one tot around with no risks.
You can find here >>> all my tips for Visiting Venice with a baby and here >>> my tips for visiting Venice with kids (any age)
Cinque Terre
The vertical cliffs of Cinque Terre make this area challenging with babies and toddlers, yet not impossible!
Just make sure you have a carrier as strollers here really are a hindrance here. Of the five villages, the most toddler-friendly is Monterosso, but I am even more fond of Levanto, wich is the next time over and lovely with little ones.
Find our tips for visiting Cinque Terre with young kids here
Amalfi Coast
The Amalfi Coast is not easy with strollers, with the exception of some of the towns such as Maiori, that does have flat areas and is my favorite place in the area for toddlers.
We adore this area and highly recommend to visit with kids but some tips are useful: find our guide to the Amalfi Coast with kids here
Matera
Matera is unique and one of the most impressive and beautiful places in Italy. However, not an easy one with a stroller!
Make sure you have a carrier however and you are good to go.
You can find our guide to Matera here: I am sure it will persuade you a visit is worth it, even with a baby in tow!
Traveling in Italy with toddlers by car or train
Children's car seats are compulsory in private cars in Italy and are usually available from car rental agencies at a fee.
Make sure you book the seat for the right age range: often, the default is a booster seat which is unsuitable for babies. If in doubt, especially with very young children, I recommend you bring your own.
You can find here >>> our guide to using car seats in Italy, which includes how to source them and what you need to know if bringing your own
Please note: car seats are not compulsory in taxis and not provided. To avoid riding with your child on your lap, the best way is to book a private transport company with car seats. My go-to is Welcome Pickups.
Young kids travel on Italian trains for free.
Babies and very young kids usually do not get their own seat unless you pay for one and strollers must be folded and stored in the overhead rack or the luggage racks near the doors.
You can find here >>> our complete guide to train travel in Italy
I hope you found this overview and tips for visiting Italy with a baby or toddler useful. Safe travel planning!
Loved this article? Pin it for later!