9 of the Best Car Museums in Italy you'll love
A curated list of 8 of the best car museums in Italy, with map, perfect for kids, Formula 1 and vintage car lovers.
Italy has wonderful car museums that are fantastic for car enthusiasts of all ages.
The most famous is probably the Ferrari museum and racecourse in Maranello; however, there are many more museums of cars in Italy worth a visit.
I have an eleven-year-old who is obsessed with cars: this list of car museums in Italy is for him and for all car lovers!
The best car museums in Italy map
The best car museums in Italy
Museo Ferrari in Maranello – Ferrari Museum Maranello
A list of the best car museums in Italy can only start with the Ferrari Museum in Maranello.

As the name suggests, the museum is entirely dedicated to the Ferrari brand but it is much more than just a fun exhibition of iconic cars.
Maranello is Ferrari's official seat and offers a plethora of activities and experiences to Ferrari lovers.
As well as a fantastic exhibition of Ferrari cars, from their beginning to their more futuristic models, here you can visit the Ferrari factory with a fun shuttle tour in Italian and English and learn all about how the cars are made.
At an additional cost, you can even drive your own Ferrari in a professional racing simulator!
The simulator will make you virtually drive on some of the most famous circuits in the world and experience what driving a Formula 1 Ferrari feels like (height restrictions apply).
You can visit the Ferrari Museum in Maranello on its own or in conjunction with the Museo Enzo Ferrari in Modena or a visit to the Modena Autodromo and Ferrari Race track (see below).
This is the best car museum in Italy not just for Ferrari lovers but all F1 enthusiasts.
Address: Via Alfredo Dino Ferrari, 43, 41053 Maranello (MO). Web: www.ferrari.com
Museo Enzo Ferrari (MEF), Modena – Enzo Ferrari Museum Modena
The Enzo Ferrari Museum is located in Modena and it is dedicated to the father of the Ferrari Brand: Enzo Ferrari.
The museum comprises the original house and workshops where Enzo Ferrari used to live and work, now perfectly resorted and a large, futuristic pavilion that works as an exhibition space for documentaries and cars.
The pavilion is an architectural marvel designed by J. Kaplicky and hosts temporary exhibitions, always centered around impressive aspects of the life of the Ferrari brand, and has fantastic cars, memorabilia etc.
Address: Via Paolo Ferrari, 85, 41121 Modena (MO) Web: www.ferrari.com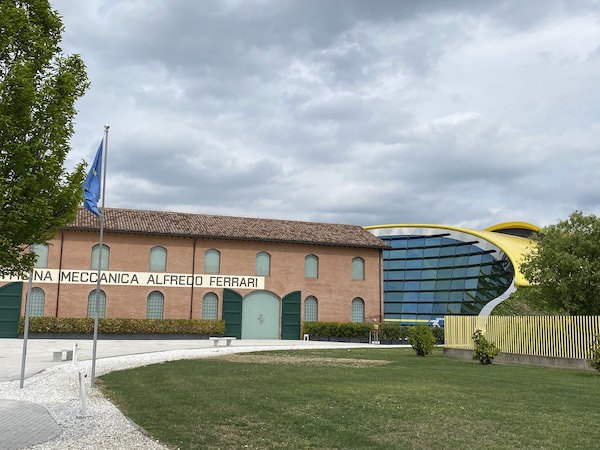 Good to know: You can visit the Ferrari Museum in Modena and the one in Maranello on the same day. Find here >>> our guide to the Ferrari Museums of Modena and Maranello <<<
Museo Nazionale dell'Auto Torino – National Automobile Museum, Turin
The National car Museum in Turin is one of the largest and most important car museums in Italy.
It develops over 30 exhibition rooms and hosts over 200 cars that showcase the development of car models and the automotive history in Italy and beyond.
As well as the vehicles, the museum has the most complete library in Italy devoted to the history of cars.
You can visit the museum in your own time or book a guided tour.
Before current restrictions, the museum also offered special experiences such as the opportunity to drive a Ferrari or a Tesla.
However, this option is temporarily unavailable at the time of writing.
Address: Museo Nazionale dell'Automobile, Corso Unità d'Italia 40, Torino. Web: www.museoauto.it
Museo Nicolis, Villafranca di Verona (VR)
Museo Nicolis is a fantastic car museum near Verona, in the northeast of Italy.
The museum tells the history of transport through an exhibition of over 200 cars, bikes and motorbikes, as well as other curious machines including typewriters and planes!
Car lovers will adore the many vintage cars on show and will appreciate the peculiar steering wheel collection that comprises over 106 Formula 1 Steering Wheels!
This is a great car museum in Italy perfect if you love automobiles and for curious types interested in the history of mechanics and industry.
Address: Viale Postumia, 37069 Villafranca di Verona (VR) Web: www.museonicolis.com/en/
Museo Alfa Romeo, Arese (MI)
The Historical Museum of Alfa Romeo is in Arese, just outside Milan.
The museum develops over 3 floors and showcases the most significant and iconic models of the Alfa Romeo team, from the early days of the A.L.F.A. brand to today.
The tour leads you through three areas:
Timeline, which showcases the 19 models that mark a turning point in Alfa Romeo engineering and success
Bellezza (beauty), devoted to Alfa Romeo design
Velocità (speed), all about Alfa Romeo Victories and trophies, which are also at the center of the area called 'Tempio delle Vittorie' (Temples of Victories), where you can see documentaries of the most important successes of the brand
Address: Museo Storico Alfa Romeo – La macchina del tempo, Viale Alfa Romeo, Arese (MI). Web: www.museoalfaromeo.com
Museo Mille Miglia, Brescia
The Mille Miglia Museum in Brescia is an interesting car museum entirely devoted to the history of the iconic motoring event Mille Miglia.
The museum is hosted inside the historic St Eufemia Monastery and it is a fantastic place for vintage car lovers, showcasing models from the 1920s and detailing the history of the race. Kids go free.
Address: Viale della Bornata, 123, 25135 Sant'Eufemia della Fonte, (BS) Web: www.museomillemiglia.it
Museo Macchine della Polizia Rome – Police car museum of Rome
The museum of police cars in Rome is a fun car museum with police cars and motos from the 1930s to modern-day models.
The museum hosts over 60 vehicles that span from Jeeps from the post-war period to police Alfa Romeo cars that starred in Italian movies from the 70s.
It also has iconic police Guzzi motos and the breathtaking Lamborghini Gallardo, used for urgent organ delivery.
This is a small museum with immaculately kept cars and a great place for car lovers and kids especially.
Address: Via Dell' Arcadia 20, 00153 Rome Italy Web: www.poliziadistato.it/museo
Lamborghini Museums: Edumap Museo Ferruccio Lamborghini
Lamborghini is one of the most iconic Italian car brands and has two museums in Italy: Mudetec and Ferruccio Lamborghini Museums.
The Lamborghini Museums Mudetec is all about the Lamborghini production lines.
Here, you can learn about the birth of Lamborghini sports cars and see some of Lamborghini's most iconic models.
Address: Via Modena, 12, 40019 Sant'Agata Bolognese (BO) Web: www.lamborghini.com/en/en/museum
The Ferruccio Lamborghini Museum, on the other hand, is dedicated to Ferruccio Lamborghini, the father of the Lamborghini brand.
Located near Bologna, the museum develops over a large area of over 9,000 sqm.
It showcases the very first Lamborghini creations, the Carioca tractor, Ferruccio's personal car collection, the iconic Fiat Barchetta Sport from the 1948 Mille Miglia competition and more vintage models such as Countach, Jarama models, Urracos and the Espada.
Address: Strada provinciale 4 Galliera Sud, 319, 40050 Casette di Funo (BO)
I hope you enjoyed this quick overview of fun car museums in Italy you can visit with kids. Safe travel planning!
Find here >> more fun things to do in Italy with kids.