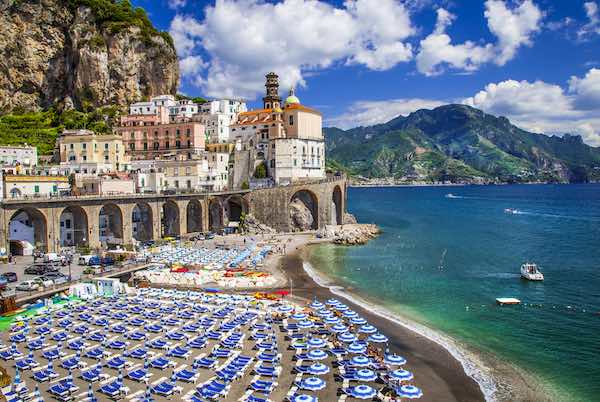 Beach clubs in Italy: how they work + all you need to know to book a spot
A practical guide with all you need to know about Italian beach clubs in Italy: how beach clubs in Italy work, how to get a spot, what to expect + useful Italian words to plan your beach day at best. 
Italy has over 8,000 kilometers of coast (almost 5,000 miles), most of it accessible and popular in the good season with sunbathers, swimmers and families.
This long stretch of coastline is sometimes rugged and sometimes flat and sandy, but there is one thing you may notice on almost every little bit of the Italian coast: beach umbrellas!
Beach umbrellas are ubiquitous in Italy.
You see seemingly endless, colorful rows of beach parasols almost everywhere in Italy and now that I've told you, you will probably notice that they appear in all quintessentially Italian beach photos!
Beach umbrellas are the sign of the presence of beach clubs or, as we call them in Italian, stabilimenti or bagni.
You do not have to go to a beach club to access the sea in Italy; however, many areas present an almost uninterrupted series of them and finding a stretch of 'free beach' may be challenging.
This is why, even if you are only planning one beach day while in Italy, knowing how beach clubs in Italy work can be helpful.
The guide on this page has all you need to know about Italian beach clubs (and how to make the most of your beach vacation in Italy).
Dreaming of a dream vacation in Italy? See also our selection of >>> the best Italian beaches for families
What are Italian beach clubs? 
Italian beach clubs are privately managed lidos, aka bathing beaches under the management of a private company. 
In Italian, we call them Stabilimento or Bagno. 
Italian beach clubs vary in their offer but usually provide umbrellas, lungers and facilities such as showers, toilets and a cafe. 
Another word you may come across in Italy is lido. In Italian, Lido indicates a coastal locality with, usually, flat, swimmable beaches and waters.
The word is most commonly found as part of names of beach vacation spots such as Lido di Jesolo, Lido di Camaiore, Ostia Lido etc.
It usually indicates the presence of beach clubs but it is not a synonym of 'stabilimento' nor 'bagno'.
Lidos in Italy usually have private and free beaches, the word mostly indicating a flat stretch of coast.
Are Italian beaches private?
In Italy, beaches are always public.
However, the State delegates the management of stretches of coastline to authorized individuals and companies who then manage the upkeep, facilities and accessibility of the area.
These companies pay a hefty fee for their privilege and, therefore, charge a fee for the public to use their space.
Since the coastline is public, you can always walk along where the water breaks on the shore: however, you cannot lie a towel or set up home for the day in the area belonging to the beach club without paying the entry fee.
Considering how numerous the beach clubs are in Italy and how hard it often is to find a free beach without them (see below), knowing how they work is paramount.
How beach clubs in Italy work
In Italy, beach clubs work on a fee-paying basis.
You can walk up and pay on the day, block book a week or more, or make recurring bookings for the whole summer, year after year.
This last scenario is typical for people who have a holiday home in a popular location: long bookings are much more convenient than short terms ones, and people tend to book their spot well in advance, up to the year before.
When you book a spot in an Italian beach club, you will decide on your date /dates, the number of umbrellas, their position on the beach, how many, and what types of beach chairs and loungers you need.
Usually, the closer you are to the water, the more the umbrella costs.
In popular areas, those spots go fast and are usually for long-term booking and returning clients. This is why sometimes you may see empty front-row umbrellas, but you may be given one in the back: they are probably reserved.
The system is the same if you get an umbrella for the day.
You will pay for the number of umbrellas, chairs/ loungers, sometimes for the day and sometimes for half-day, and this will give you access to the beach club facilities, whatever they may be.
What type of facilities do Italian beach clubs have?
Italian beach clubs come in all shapes and sizes: some are cheaper and have more basic facilities, and some are high-end and offer a lot more.
On top of individual differences, the beach clubs can often change hands from one year to the next, depending on when the licensing expires.
What this means is that it is a good idea to research the specific area you are going to and study what each club offers during your stay.
In Italian beach clubs, you can usually expect the following facilities:
Beach umbrellas
Sun chairs and sun longers
Lifeguard
Toilets/restrooms
Showers (sometimes hot, sometimes cold)
Cafe / restaurant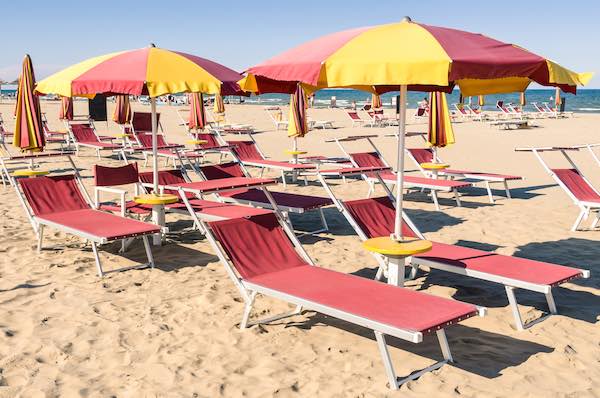 Additional facilities you may find are:
Beach huts for getting changed
Beach essentials shop (sunscreen, beach toys, beach fashion items etc)
Small playground
Play area (Fussball, table tennis)
Swimming pool
Jacuzzi
Sports areas (beach volley, boules, etc.)
Some beach clubs also offer activities such as swimming lessons or aqua gym at an additional fee
Need to know: beach clubs in Italy do not usually have safe areas to leave your belonging. Please never leave your wallet, purse, or valuables unattended on a beach in Italy – take turns bathing if needed or leave everything in your hotel for the day.
What to bring for a day at a beach club in Italy
Beach clubs offer chairs, lungers and basic food needs for your day; however, you still need to bring all your beach essentials, including beach towels, sunscreen, sand toys if going to the beach with kids etc.
While some clubs may offer beach towels for rent, this is usually not the norm and you won't find this service outside of the more upscale settings.
You can find here >> a handy list of useful items for a day on the beach with kids
Good to know: while beach club owners may complain about food brought in from outside the club (recent news even reported checks of bags – a totally illegal practice), having a packed lunch under the umbrella is perfectly acceptable.
What to wear at an Italian beach club: dress code and style tips
Italian beach clubs often have rules concerning the dress code, primarily regulating access to the cafe/ restaurant area of the beach resort.
These usually include a request to wear a top or a coverup when eating inside. Even when this rule exists, it is usually for adults only: a child trotting into a beach club cafe in Italy in their swimsuit is hardly ever a problem!
On the actual beach, the rules are more about being good neighbors to your fellow beachgoers than anything else.
This includes keeping the noise down (no loud music etc., not always enforced) and abiding by some basic dress code rules. 
From the obvious to the less obvious, some Italian beach etiquette rules are as follows.
Adults and older kids must wear a bathing suit.
You must always wear the bottom part of the swimsuit unless you are on a clothing-optional beach specifically allowing you not to: not abiding by these rules would mean breaking decency laws and putting yourself in big trouble. 
Babies and toddlers are exempt from this rule and it is common to see them on the beach without swimming trunks.
Please note that it is legal for women to take off their swimsuit top piece to get a tan and reasonably common.
It is not as common to swim without one but not unseen either: please note that it is legal even if not specified.
Despite what you may have read about Italian women wearing a particular type of swimsuit instead of another, we all wear different things, so whatever you are comfortable with is ok!
Bikinis and one-piece swimsuits are both popular and you will see a wide variety in terms of how revealing they are. 
The rules about this are very lax also on family beaches, so don't be surprised if you see minimal swimwear being worn!
Men can wear swimming shorts or speedos.
When going into the cafe/restaurant, wearing some form of coverup is common. This is not a general rule, although some more upscale places may enforce it. 
For women, earing pareos either around their hips or up to their collarbone is acceptable and a standard behavior.
Some indoor areas may require you to wear shoes (flip flops are ok), usually for safety/insurance reasons. 
Good to know: while it is common to walk around in a swimsuit on the beach and along the promenade, it is not as common to do so away from the immediate surroundings on the coastline, unless you are very young. If you need to walk for more than a very short stretch between your accommodation and the beach, wearing a beach coverup is the most usual option. (flip flops, pareos etc are ok)
Life Guards in beach clubs in Italy and water safety flags
Italian beach clubs usually have a lifeguard on duty who helps with finding your spot and keeping an eye on safety in the water.
They usually do not have American-style turrets but rather sit on tall chairs, a little like they do at a pool.
In front of them, you usually have a 'pattino di salvataggio', a red rescue boat: this has to be clear and ready to use at all times.
Their stations have safety flags, and it is vital to familiarize yourself with them as they may differ from what you are used to back home.
Italian water safety flags are:
White flag – safe water conditions and lifeguard on duty
Red flag – dangerous water conditions. One red flag operates as a warning, two mean bathings is forbidden as too dangerous even for proficient swimmers
Yellow flag – wind warning, must close beach umbrellas
Black flag – bathing is prohibited due to dangerous conditions (currents, incoming storms, pollution, etc). A black flag n the beach is a stronger warning than two red flags and a recommendation to leave the coast and find shelter
Need to know! At lunchtime, usually between 1.00 and 3.00 pm or so, lifeguard service is limited. This is generally communicated by exposing a white and red flag together.
How to book a spot at a beach club in Italy
If you are heading for a long beach vacation in Italy or heading to the beach on a busy day such as a summer weekend or the middle of August, it is a good idea to reserve a spot.
How to reserve a spot in an Italian beach club depends on the club.
Some have websites with an automated booking system – these are growing numbers but are usually few and far between, so don't be surprised if you don't find any while searching online.
Some have websites with an email and phone numbers.
Some have nothing but a Facebook page or Google listing with a phone number.
Some have nothing
In most cases, I recommend asking your host to give you the name and number of the best local club and, possibly, book it for you.
Good to know: many Italian beach clubs only take reservations for longer stays. Usually, however, it is possible to find a spot on the day by just showing up.
When looking for a beach club in Italy, I usually type into google 'stabilimento' and then the name of my destination of choice (stabilimento Polignano a mare, stabilimento Capri etc.).
Useful Italian words for a day at the beach club in Italy
If you are planning a day or the full summer season on the beach, these Italian words may be useful
Spiaggia – beach
Spiagga libera (free beach, see below)
Bau beach – dog beach
Spiaggia nudista / naturista – clothing optional beach
Stablimento – beach club
Bagno – beach club (also: toilet/ restroom)
Lido – bathing beach, usually part of a name of locality (Lido di Venezia, etc)
Ombrellone – beach umbrella
Sedia a sdraio / sdraio – deck chair 
Lettino – chaise longue, loiunger 
Bagnino – life guard 
Bandiera – flag (Bandiera bianca / rossa / gialla / nera: flag wite / red / yellow/ black)
Costume / costume da bagno – swim suit
Asciugamano / Telo da spiaggia – beach towel
Braccioli – arm bands (swimming devide)
Ciambella – lifebuoy
Pattino – rescue boat 
Crema solare – sun screen
Doposole – after sun cream
Secchiello e paletta – bucket and spade
Cost of a day at a beach club in Italy
The cost of a day at an Italian beach club is all over the news lately as prices have soared.
It is safe to say that there is no rule when it comes to how much beach clubs in Italy charge for a day. It varies on the area, the facilities, the number of chairs you take etc.
According to the newspaper 'Le Repubblica', on average, the cost of one umbrella and two loungers for a day on the beach in 2022 in Italy is:
Liguria: 20-40 Euro
Veneto: 13-40 Euro
Emilia Romagna: 20 – 40 Euro
Marche: 16-40 Euro
Tuscany: 20 – 100 Euro (Forte dei Marmi is currently the most expensive)
Lazio: 20-35 Euro
Campania: 30-80 Euro (Capri is currently the most costly)
Calabria: 25 -40 Euro (Scilla and Tropea tend to be the most expensive)
Sicily: 28-50 Euro (Taormina is currently the most expensive)
Sardinia: 21 – 200 Euro (Porto Cervo is currently the most expensive)
Puglia: average 50 Euro (no price fork supplied)
Basilicata, Friuli venezia Giulia, Abrizzo, Molise: not reported
Please note: these are ballpark prices only. July and August are more expensive than June and September and some localities are more expensive than others so the lower costs may not be available in the time/place you are. Always shop around to see what local prices are like at any given time.
Are there free beaches in Italy?
Yes, there are free beaches in Italy: we call them 'spiaggia libera'.
Italian-free beaches are diminishing in number and usually are squashed in the least appealing parts of the coastline.
However, they are often beautiful and if you bring your own equipment, you can have a lovely and budget-friendly day there.
Please note that Italian-free beaches often do not have any facilities or have very limited ones. They also do not normally have a lifeguard nor water safety flags. 
Additional resources for a day on the beach or lido in Italy
The best beaches near Florence
I hope you found this introduction to beach clubs in Italy useful and it helped you plan your day at best. Safe travels!
Photos on this page are my own or purchased with license from Depositphotos.