The best beaches in Venice Italy: how to find your favorite Venice beach
Essential guide to the best beaches in Venice Italy: best Venice beach for a day on the sea and destination ideas for beach holidays near Venice.
Venice is a wonderful city however, sometimes all you want is a day lounging on the beach, lulled into relaxation by gentle waves, soft sand and beach cocktails.
Should the urge to go to the beach hit while visiting Venice, you are in luck!
While you will not find a beach in Venice city center along canals, there are some lovely beaches close to the city, that are perfect for a day (or a week!) of relaxation.
This is our guide with the best beaches in the Venice area: I hope it will help you pick your favorite Venice beach and plan the perfect sea and sun day!
In this article you will find:
Intro: what are the beaches near Venice like
Chart of Venice beaches with distance from the city
Map of beaches in Venice area
Quick overview of each Venice beach and holiday destination
Venice beaches: what to expect
Venice beaches open up onto the Venice Lagoon or the open Adriatic Sea and while they are all different from each other, there are some traits all beaches near Venice have in common.
In this area, the coastline is low and you can expect sandy beaches with soft golden sand and shallow waters, perfect for quiet days sunbathing and for a family day at the sea.
The water is clean in many localities that regularly get the recognition of 'blue flag' only given to clean water localities.
However, it is good to know that even when clean, the water here is hardly ever transparent, this is just the nature of the sea here.
So it is a great place for splashing about and sunbathing but not the best area if you want to go snorkeling or you want see-through waters.
The type of beach experience you get in this area is wide sandy beaches with rows of umbrellas, great facilities and entertainment options, rather than wild and open water swimming and this is also why this area is beloved to families especially.
Good to know: 'Lido' and 'spiaggia' both mean 'beach' in Italian. Lido literally means 'flat stretch of coast' – localities with the word 'lido' in the name are along the coast 🙂 Italian beach clubs are called stabilimenti or bagni.
Best beaches in and near Venice Italy at a glance
| | | | |
| --- | --- | --- | --- |
| Name of beach | Type | Distance from Venice* | Recommended for |
| Lido di Venezia | Sand, beach clubs, free beach | Less than 1h by ferry | One day on the beach, jump off point to visit Venice |
| Punta Sabbioni / Cavallino | Sand, beach club, some wilder stretches | Less than 1h by ferry | One day on the beach, good base for camping in Venice |
| Sottomarina | Sand, small town feel, sport and entertainment facilities | About 1h by car | Day trip from Venice, sun holiday destination |
| Ca' Roman | Wild beach, protected | About 1h by car | Birdwatchers |
| Lido di Jesolo | Sandy beach, beach clubs town, nightlife | 40 mins by car | Party town younger crowds |
| Caorle | Sand, beach clubs, town | About 1h | Day trip from Venice, sun holiday near Venice |
| Bibione | Sandy beach, beach clubs, town, entertainment options | 1.5h by car | Holiday destination near Venice |
*Time are approximate
Map of beaches near Venice Italy
The best beaches in Venice for a day on the sea
Venezia Lido / Venice Lido: the closest beach to Venice
When people talk about the beach of Venice, they usually talk about Lido is Lido (aka Lido di Venezia), a lovely stretch of sandy beach in front of the city and connected to Venice proper by regular vaporini (ferries).
Lido is a thin, long Island with two small towns with a a long stretch of sand and pretty art deco architecture (this is where the Festival takes place!)
Part is equipped with beach clubs renting loungers, umbrellas and all you need for a relaxing day on the water, while other parts are free and wilder.
Lido beached degrade slowly into the sea and since Lido is naturally sheltered by its position in the lagoon, it is perfect for relaxing days sunbathing and for families with small children especially.
Nice beaches in Lido are Blue Moon, the main beach in the center close to the arrival of vaporino, San Nicolo' beach , famous for nice sand dunes and Alberoni beach, which is a protected area and therefore has a wilder feel.
This is the nearest each to Venice and the easiest to reach and the only downside it that it may get busy: especially on summer weekends, many locals escape the humidity of Venice coming to Lido and loungers and umbrella sell our fast!
As you may expect from the main beach of Venice, the area is well equipped with hotels, some with private beaches.
If you have seen photos of hotels with seafront access in Venice, they are most likely in Lido!
While farther out that the central area, they are beautiful and can be perfect for a few day sin the area if you want to mix sightseeing with a resort experience.
You can find our guide to where to stay in Venice here.
How to get to Venice Lido: Ferry line 5.1 and 6 from Piazzale Roma, Santa Lucia Station and Piazza San Marco. Cost: 7.5 Euro. Lido's stop name: Santa Maria Elisabetta. Good to know! Lido also has a dog friendly beach
Punta Sabbioni and Cavallino Treporti – great Venice beach for campers
Not far from Lido and again nestled between the lagoon and the Adriatic sea you have the long peninsula of Cavallino Treporti, a stretch of land with several beaches opening onto the Adriatic on one side and the lagoon on the other.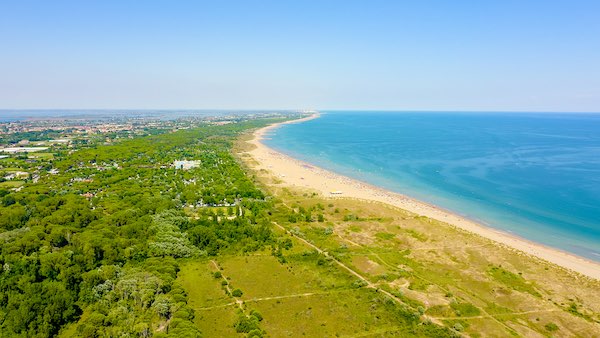 The closest area to Venice is called Punta Sabbioni and at the other end of the peninsula you have famous Jesolo, one of the most famous beach localities in the whole of the region (see below).
In between the two, you have several beaches and localities, all with nice golden sand and shallow waters, perfect for families and sunbathing.
Stretches of the beach are equipped with beach club renting umbrellas and beach chairs, while other areas are free and wilder.
This area is popular for a day on the beach while in Venice but it is also a popular place for camping.
Several campsites offer accommodation here offering pitches, bungalows and glamping opportunities at several price points. If you are looking for a campsite in Venice, this is where to look!
How to get to Cavallino Treporti: you can reach this are by car or train + bus.
Sottomarina – best beach near Venice for laid back holiday town vibe
Another lovely beach near Venice is in Sottomarina, in the Chioggia area, a seaside locality immediately to the South of Venice about 1.5h from Venice city center by ferry.
The beach is Sottomarina is sandy, clean and large.
It has soft and fine sand gently sloping into the water and a nice stretch of cafes and beach clubs offering food, loungers and umbrellas.
The town has a long seafront promenade that is a popular spot for leisurely walks and cycling.
As well as the beach, the town is well equipped with sport facilities such as beach volley area, five a side pitches, nightclubs, restaurants.
This makes it not only a nice beach to spend the day but a pleasant place to vacation for a few days, something popular especially with norther Italian families who love the calm sea and the good facilities on the area.
An extra plus of Sottomarina is that it is close to Chioggia, which is lovely and a perfect day trip from Venice.
How to get to Sottomarina from Venice: bus or ferry.
Spiaggia Ca' Roman – the best beach near Venice for nature lovers
Very different from the the beaches in this list so far, is the beach of Ca' Roman on Pellestrina island, which is a protected oasis under the care of Lipu (Italian bird protection organization).
This beach is unique as it has one of the most incontaminated dune environments in the area and is it home to many species of sea birds.
This is a lovely beach near Venice for a day in nature and bird watching. Some educational activities for kids and tours for all ages happen regularly: find info here.
How to get to Ca' Roman: ferry from Venice.
More beaches near Venice you may enjoy
If you are happy to leave the immediate Venice area, you have several other options to choose from.
The localities below are popular summer vacation spots so I mention them more as holiday destinations near Venice than for a day out from the city.
Lido di Jesolo
Jesolo is one of the most famous beach towns on the Adriatic sea and it is immediately to the north of Venice.
The town has been a popular beach resort for decades and has well-equipped beach clubs with cabins and umbrellas until the eye can see. 
The town is very popular with families but also young holidaymakers who love the lively evenings of the town.
If you are looking for wild and remote, this is not the place for you; however, the beach and the sea here are nice and the is so well known and popular, it simply cannot be left out from an overview of the best beaches near Venice!
Find here >>> our family guide to Jesolo with kids
Caorle
Caorle is a small locality to the north of Jesolo, still within easy reach from Venice, with a lovely long beach with nice sand and clean water.
The beach is divided into two parts, Spiaggia di Levante and Spiaggia di Ponente, separated by the historical town center and has the golden sand and shallow waters typical of this area.
Spiaggia di Levante is wider and has shallower water and is the best beach for families with small kids, while Spiaggia di Pontente has deeper waters and gets equipped with floating platforms in the high season, so it is appealing for swimmers especially.
The motonave (fast ferry) connects Caorle with Cavallino and Venice so this can be a nice beach town near Venice to use as a jump-off point to visit the city too.
Bibione
Bibione is another well known beach destination in Veneto, at the northernmost end of the Veneto region, close to Friuli Venezia Giulia.
The town has large sandy beaches with rows of umbrella and is well equipped to welcome tourists. Here you have many hotels, sport facilities, pools and the all-round beach holiday destination atmosphere.
This can be a good destination if you are looking for a sea and sun holiday with the option of the occasional hop into Venice.
I hope you enjoyed this overview of the best beaches in Venice and it helped you plan your stay. Safe travel planning!