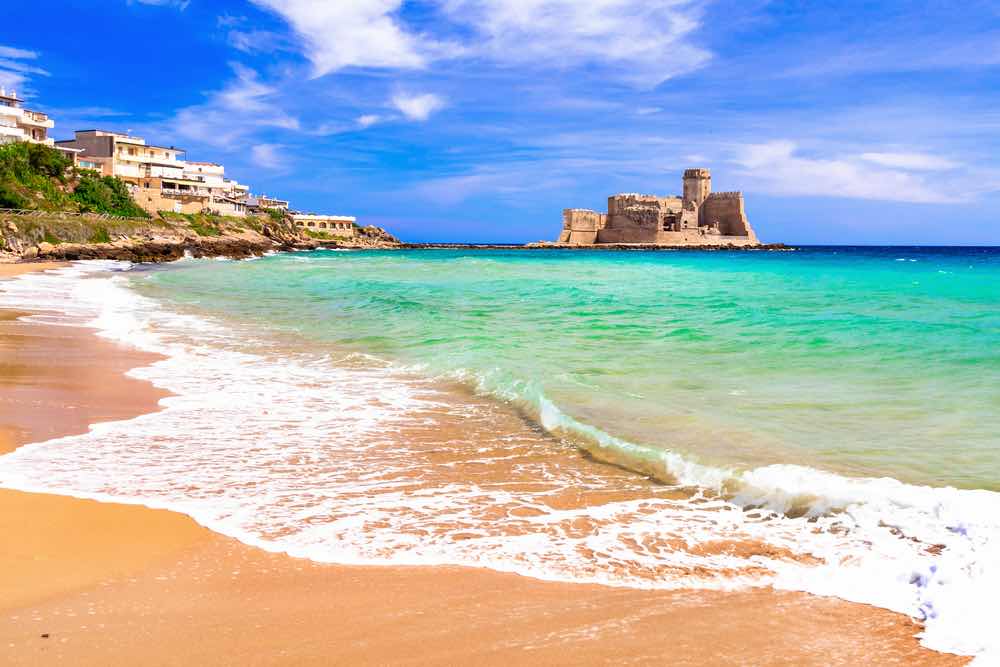 The best Italy beaches for families in each region
Our selection of the best beaches in Italy for families with kids, by region. Discover some of the best family beaches in Italy and the best spots for an Italian family vacation with beach nearby.
Italy has well over 1700Km of coastline and many islands with some of the most beautiful coastlines in Europe, so if you are looking for a family vacation spot in Italy with a beach nearby, you have no difficulties finding one!
Italian beaches are varied and, depending on where you go, you will find small and rocky coves, large and sandy beaches with a Caribbean feel, beaches for snorkeling, or beaches with dark volcanic sand.
To help you pick the best one for you, we put together a list of the beaches in Italy we consider best for families with kids.
This is inevitably a work in progress list and we will adding/ amending it over time. To make this list of 'best family beaches in Italy' we chose a variety of places and tried to convey what type of vacation you get get in each.
The best family beaches in Italy map
The best family beaches in Italy by region
The best family beaches in Liguria
Liguria is in the northwest of Italy and it is a region with a long coastline with both sandy coves and rocky areas. Some of the best family beaches in Liguria are:
Diano Marina – relaxed holiday beach town with a soft and large family-friendly sandy beach with beach clubs, playgrounds etc.
Alassio – another great beach for families with sand so soft, it regularly hosts sandcastle making competitions!
Laigueglia – lovely sandy beach with shallow waters, perfect for a relaxed vacation with a beach and small-town feel
Finale Ligure – large sandy beach regularly awarded Blue Flags for the quality of its waters. Finale Ligure is also perfect to go on wildlife watching cruises, all departing from here
Varigotti – lovely sandy beach close to a historical village, perfect for a beach + sightseeing vacations
Celle Ligure – aka children town, it has a lovely sandy beach and many activities in summer for little ones on the beach and in town
Portofino Marine reserve – this is a fantastic destination for older kids who want to snorkel as it is considered one of the best snorkeling spots in the whole of Italy! Best for strong swimmers.
Find our guide to LIguria with kids here.
The best family beaches in Tuscany
Tuscany has a fantastic coastline with incredible sandy beaches and rocky coves perfect for all types of families.
Some of the best family beaches in Tuscany are:
The beaches of Versilia – Versilia is an area in the north of Tuscany famous for wonderful sandy beaches and a glamorous atmosphere. This is a fantastic beach vacation spot for families who want kids entertainment, nice cafes for adults and an upscale vacation spot.
Fantastic family beaches in this area are Viareggio, Marina di Pietrasanta and Forte dei Marmi.
The Etruscan Coast – The Etruscan Coast is a large stretch of coast in central and southern Tuscany. The coastline here is varied and you find sandy beaches and rocky coves.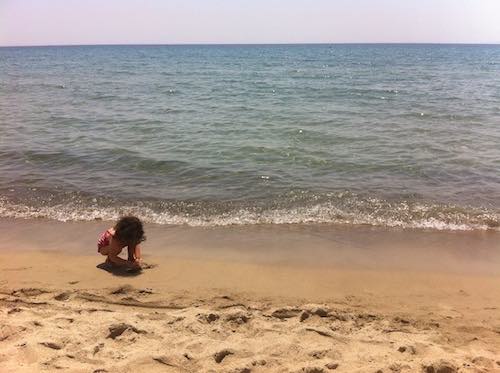 Some of the best family beaches in this area with sand are in San Vincenzo, which is also one of the best areas for a camping vacation in Tuscany and Carbonifera, that has wonderful, shallow, clear waters perfect for kids.
Some of the best snorkeling spots in Tuscany for kids are in Castiglioncello and the wonderful Tuscan islands of Isola d'Elba, Capraia and Isola del Giglio.
Monte Argentario – Monte Argentario is a beautiful promontory in southern Tuscany with beautiful beaches and pretty towns. Very popular as a summer holiday spot for savvy and upscale Romans especially, this area has some stunning sandy beaches in Macchiatonda and Ansedonia, and great holiday towns in Capalbio, Orbetello, Porto Ercole and Porto Santo Stefano.
Find more beaches in out guide to the best beaches near Florence
The best beaches for families in Lazio
Lazio is the region of Rome but has some lovely beaches, especially in the south, that are perfect for a family vacation.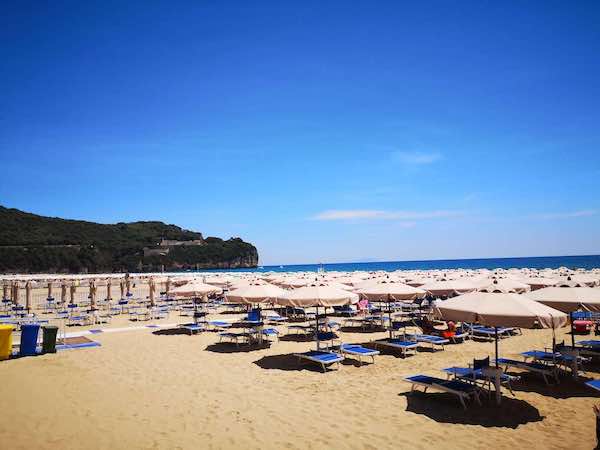 Our favorite beaches in Lazio for anything more than a day trip from Rome are:
Sabaudia – lovely sandy beach with pretty views over Monte Circeo, Sabaudia is a small town with interesting fascist architecture, perfect if you are looking for a family beach vacation spot near Rome
Sperlonga – a fantastic historical village with one of the best family beaches in Italy. Sperlonga has an ancient center perches on a scenic promontory and a fantastic sandy beach with clean sand and shallow waters. This is our top pick as the best beach in Italy for toddlers!
Gaeta – Gaeta is a wonderful, historical seaside town between Rome and Naples with a fantastic family-friendly beach, Serapo, and several other beaches and coves perfect for kids of all ages. Golden sand, good beach clubs and a pretty and well-equipped town center make Gaeta a great family vacation spot for a family beach break in Italy.
Best family beaches in Campania
Campania has some of the most famous coastal localities in Italy, being home to the fantastic Amalfi Coast (not great for beaches for kids but stunning!). It also has some lovely beaches for families both on the mainland and on its beautiful islands.
Some of the best family beaches in Campania are:
Cilento – An area full of beautiful beaches, Cilento counts many beach localities for families with lovely sandy beaches and has many campsites, that make it a popular choice for families. Some of the best beaches for families in the area are Trentova in Agropoli, a lovely, historic town in Campania with a nice sandy beach, Pollica beach, Marina di Camerota, Palinuro and Pisciotta.
Ischia – the fantastic island of Ischia is a wonderful beach vacation destination for families. You have plenty of beaches to choose from here but Lido di San Pietro is among the best, thanks to its sandy beach, shallow waters and proximity to the town center.
Best family beaches in Calabria
Calabria is the point of the Italian boot and a place many foreigners skip. however, it is a very popular destination for Italians looking for a kid-friendly beach vacation and with good reason!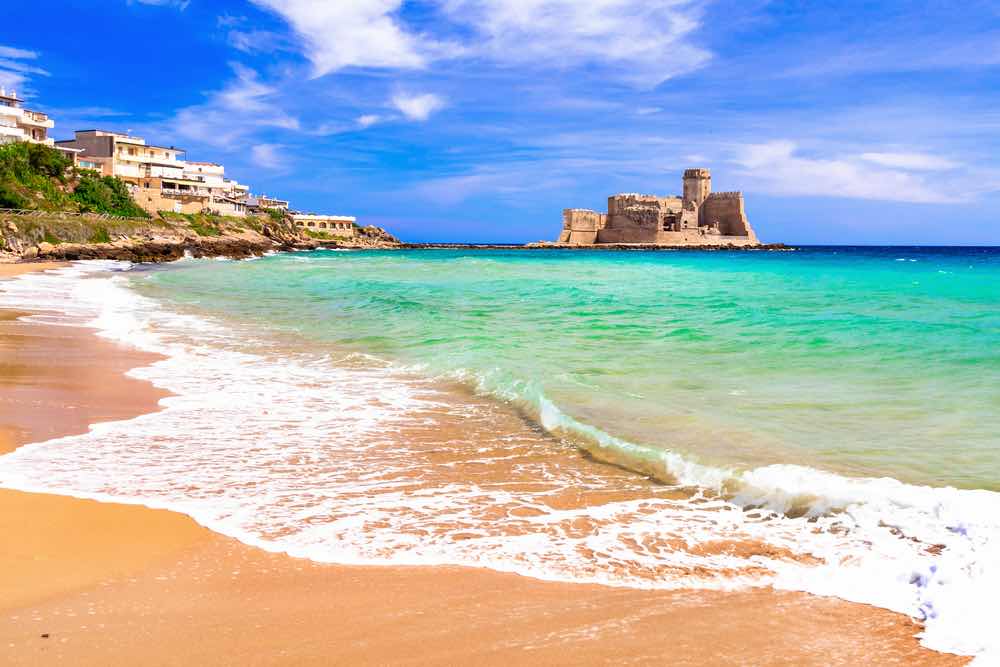 Some of the best family beaches in Calabria are:
The white beaches of Nicotera – as the name suggests, the beaches in the area of Nicotera have white sand that gives this locality a proper tropical feel! Nicotera itself is well equipped for tourism and has many family-friendly accommodation options, great for a long beach vacation with kids.
Bovalino – Bovalino also has fantastic white sands and family-friendly beaches and has a nice mix of beach clubs and free beaches, which make it perfect for a budget-friendly beach vacation.
Roccella Ionica – a popular family vacation thanks to its beautiful, white beaches, Roccella Ionica has waters that get deep pretty quickly and it is mostly suited for slightly older kids who love to swim as well as toddlers who like to play on the shore. God beach clubs make this a handy locality for famlies with kids of all ages.
Isola di Capo Rizzuto – A marine reserve, this is a fantastic beach for families with kids who love snorkeling! With a lovely castle and a nice position close to Crotone, this is a beautiful and handy Italian beach for families with kids of all ages.
Best beaches in Basilicata for families
Basilicata is a region vastly ignored by tourism, with the exception of the stunning city of Matera however, it has some lovely beaches that make for a wonderful, off-the-beaten-path family vacation in Italy.
The most famous family beaches are:
Policoro – a nice vacation spot with a sandy beach, part of the Marine Reserve of Heraklea, this beach has a wilder part and an area with beach clubs and restaurants. The beach is soft and the water clean but there are small pebbles just before the water so you may want to equip smaller kids with water shoes.
Marina di Pisticci – another favorite beach for families, Marina di Pisticci has a long sandy beach with gently degrading waters and nice facilities for families typical of a summer beach vacation spot.
Best family beaches in Puglia
Puglia is the heel of the Italian peninsula and has some stunning beaches with white sands and crystal blue waters.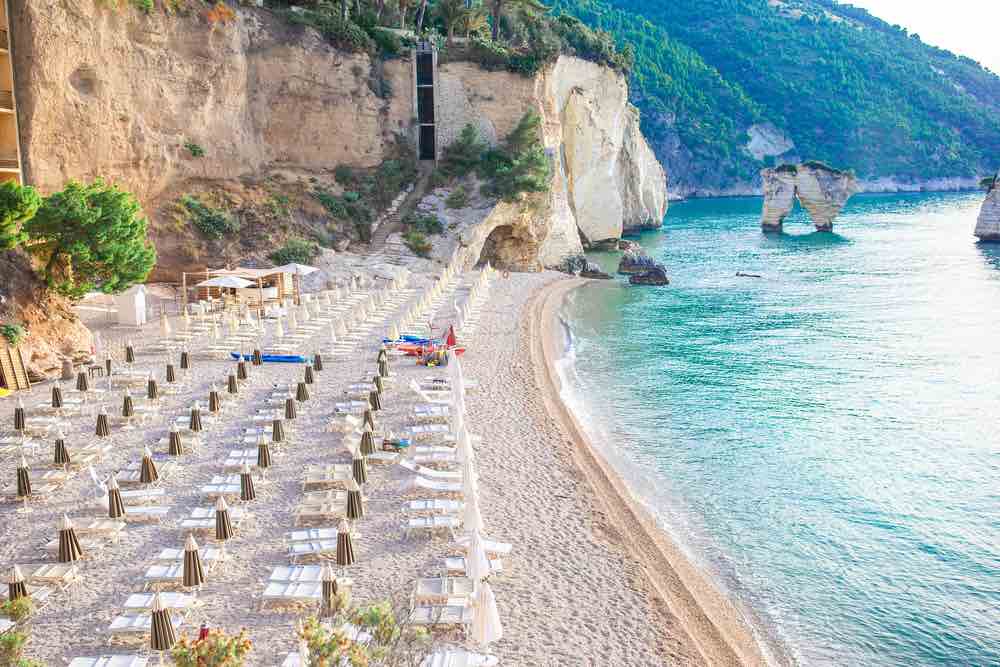 Among the very many, we love:
Punta Prosciutto and Porto Cesareo – famous for white sands and clean, shallow waters, Punta Prosciutto is an ideal beach for families in Puglia with a distinctive Caribbean feel!
Porto Cesareo is one of the most famous beach localities in Puglia, it has large, sandy beaches with shallow waters perfect for kids and it is well equipped with beach clubs (often crowded in summer, book early)
Marina di Pescoluse – one of the most famous family beaches in Puglia, it has lovely sand and shallow waters often compared with those of the Maldives (yes, it is called Salento's Maldives, I didn't make this up!)
Torre dell'Orso – another wonderful beach in Salento, here the waters are exceptionally clear and you also have a lovely pine tree area that is perfect for a relaxing stroll in the shade.
Gargano area – an area blessed with great natural beauty (it is national park), Gargano has lovely beaches for families, especially in the northern part between Lesina and Vieste, where you have nice sand and shallower waters.
Find our guide to piglia with kids here.
Best family beaches in Molise
if you are looking for an off-the-beaten-track beach vacation in Italy, then you need to head to Molise, an area not even Italians visit much, despite it having some amazing spots!
Among the best for families you have Campomarino, where you also have nice family hotels right on the beach, that are great if you are looking for a handy all inclusive option.
Best family beaches in Abruzzo
Abruzzo has a long coastline along the Adriatic sea with some nice and well-equipped beach localities for families. Here the coastline tends to be flat and well equipped and sees less international tourism than many other areas, which means it can also be a good budget option.
Lovely family beaches in Abruzzo are:
Giulianova – a nice sandy beach in a well laid out holiday town. This is one of the best baby friendly beaches in Italy.
Vasto Marina – a popular holiday town, this is one of the best equipped beaches in the area, perfect for families who want a relaxing beach club type of experience
Punta Penna – perfect for more adventurous families who prefer a wilder beach, yet still find safe waters and beach guards
Roseto degli Abruzzi – one of the best-known beach localities in the area, it has a lovely sandy beach for kids and plenty of facilities for all ages
Best Italy beaches for families in Le Marche
Le Marche is a beautiful region on the Adriatic Coast, well known to locals but usually ignored by international tourism, perfect as a slightly off-the-beaten-track choice.
The most famous and impressive beach here is Numana, in Riviera del Conero, which has stunning while beaches (small pebbles) and crystal clear waters that more common in the South of Italy that this far up along the coast!
Porto Recanati, Fermo and Porto San Giorgio are also fantastic beaches for families and make for lovely holiday spots.
Best Italy beaches for families in Romagna
Emilia Romagna is one of the most popular regions in Italy for a beach vacation and it is the place people think of when they picture large sandy beaches in Italy with tons of beach clubs and entertainment options
Riviera Romagnola has large sandy beaches and it is pretty much all family-friendly. Some of the prettiest and most popular areas are Cesenatico, Rimini, Riccione and Cervia where you find an uninterrupted series of beach clubs.
This is the best area for a beach vacation in Italy if you want easy, flat localities and well-equipped beach clubs, waterparks etc.
Best family beaches in Veneto
Veneto has some nice family beaches opening onto the Adriatic sea, which in this area is shallow and calm.
The beaches here are sandy and handy for kids and the only thing to be aware of is that the water is clean but never totally clear, due to the sand swirling close to the surface (this has to go with the geological nature of this area and happens also where the water is clean.
Some popular and nice beaches in Veneto for kids are:
Caorle – one of the best beaches near Venice, with lovely sand, a pretty town and nice facilities.
Jesolo – one of the best known and best equipped beach towns in the area, rather busy but perfect if you want all facilities nearby
Bibione – a very popular spot, full of beach clubs and all the amenities of a popular beach holiday town.
Lake Garda beaches – if you are open to considering a lake beach, then Veneto has some lovely family beaches on Lake Garda, such as Baia Bianca and Riva, one of the best localities on Lake Garda for kids!
Best beaches for families in Friuli Venezia Giulia
Friuli Venezia Giulia is the region in the north east of Italy and has some lovely and well equipped sandy beaches for families.
Popular with Italian and german speaking visitors especially, some lovely beaches for famlies in Friuli are:
Lignano Sabbiadoro – very well equipped with beach clubs and perfect for kids who love themeparks and waterparks, all present in the area
Grado – wonderful beach locality with genlty degrading, sandy beaches perfect for kids
Best family beaches in Sardinia for kids
Sardinia is the perfect destination for a beach holiday in Italy with kids and has some of the most beautiful beaches in Italy if not Europe and the world!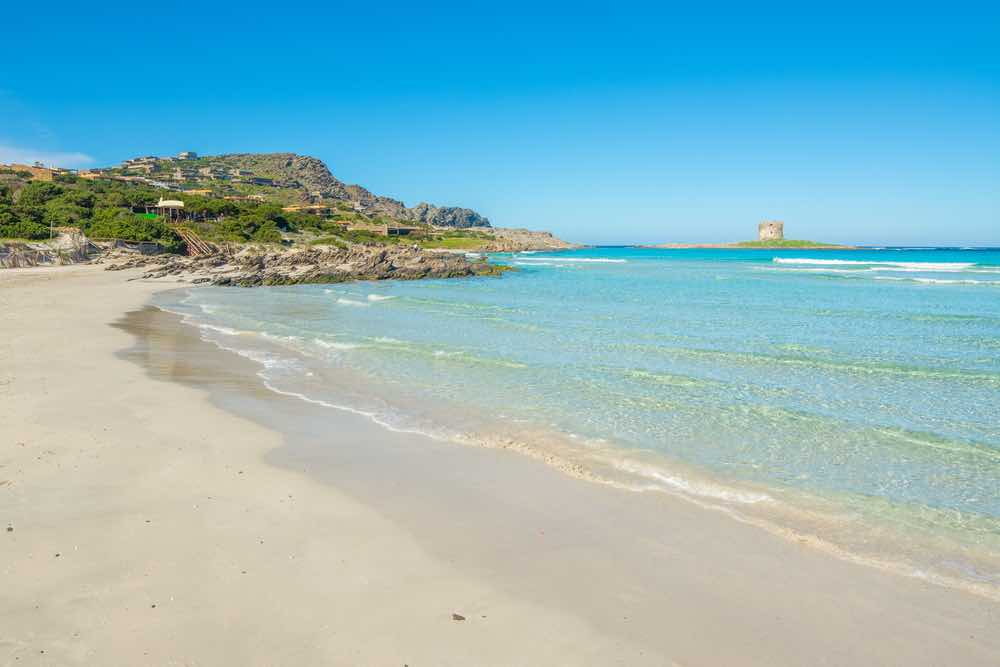 Fab family beaches in Sardinia inlcude:
La Pelosa in Stintino – maybe the most famous beach in Sardinia, with amazing white sands and shallow clean waters
San Teodoro beaches – very famous and family-friendly locality in western Sardina with the fantastic La Cinta beach, with shallow waters and stunning soft sand
Orosei – an area with pretty beaches and nice pine forest
Villasimius area – a fantastic area in south Sardinia perfect for families with kids becasue of the shallow water, nice sand, well equipped beach clubs and pretty towns.
If you are considering Sardinia for a family vacation, I recommend you check our guide about planning a trip to Sardinia with kids.
Best famliy beaches in Sicily
Sicily is the biggest island in the Mediterranean and has a large number of family frienldy beaches for all tastes!
Some of the best beach vacation destinations for families in Sicily are:
Siracusa area – close to stunning Siracusa you have lovely family-friendly beaches perfect for families who want to mix time of the beach and easy sightseeing options.
Some places to consider are San Lorenzo beach, which has lovely clean waters and gently degrading sand, and Marchesa di Cassilibe beach, which has also scenic pine trees that make it very special
Ragusa area – this area also is perfect to mix beach combing with sightseeing thanks to the proximity to wonderful Val di Noto. Nice family beaches here are Donnalucata, sandy and shallow, Porto Palo, with lovely sand, and the handy Marina di Ragusa, a great base for day trips.
San Vito Lo Capo beaches – In between Palermo and Trapani, this is a fantastic area with several types of beaches. Within a short distance you have lovely sandy beaches with beach clubs and facilities, wilder beaches in the Zingaro Reserve and snorkeling spots for older kids in the tonnara as Scopello.
Brolo – in the Messina province, a lovely sandy beach easy to access from the town and with plenty of bars, restaurants and facilities for all ages.
Find our guide to Sicily with kids here.
I hope you enjyed this quick overview of the best Italy beaches for families. Come back often as we will keep adding beaches as we find more suitable ones! Safe travel planning!
Best beches in Italy for families: pin this!