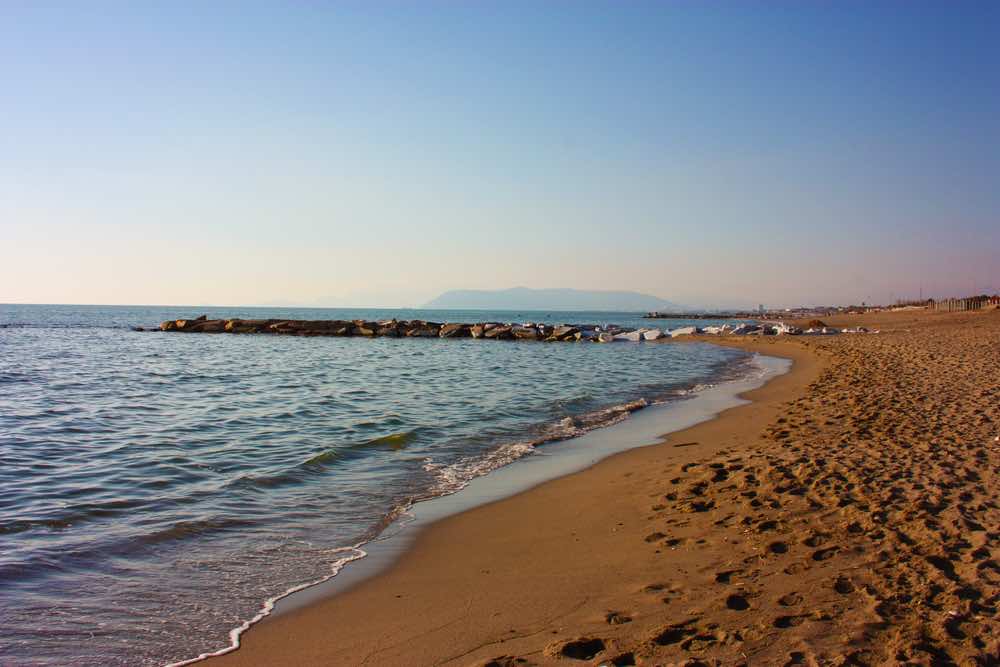 The best beaches near Florence Italy + map and tips
Our guide to the best beaches near Florence Italy: closest beaches to Florence for a day or a weekend on the sea in Tuscany.
Florence is inland so there are no beaches in Florence city as such.
However, good roads and train connections mean getting to the coast from the city is easy so if you feel like going to the beach while in Florence, you can!
The closest beaches to Florence are along the Western coast of Italy, on Mar Tirreno (Tyrrhenian Sea).
The Tyrrhenian coast close to Florence is quite varied.
Depending on where you go, you find a tall coastline with rocky shores and snorkeling-ready waters or sandy beaches, some free, and some well equipped with beach clubs, umbrellas and resorts.
I adore the Tuscany coastline and have spent almost all of my summers on the beach here.
These are my favorite beaches near Florence for a day or a weekend on the sea.
Beaches near Florence map and info chart
| | | | | |
| --- | --- | --- | --- | --- |
| Name of locality/province | Type of beach | Free Y/N | Distance from Florence | Transport |
| Versilia beaches (LU): Viareggio, Forte dei Marmi, Marina di Pietrasanta | Sandy, beach clubs, upscale tourism, shallow waters, family-friendly | Parts only | 1.5 h | Car/ Train |
| Marina di Pisa, Tirrenia (PI) | Sandy, shallow waters | Yes | 1.5h | Car/Train |
| Castiglioncello (LI) | Rocky beach, snorkeling opportunities, sandy stretch | Yes | 1h45mins | Car/Train |
| San Vincenzo (LI) | Sand, beach clubs, shallow waters, watersports | Yes | 2h | Car |
| Castiglion della Pescaia (GR) | Sandy beach, shallow water, beach clubs | Yes | 2h | Car |
| Monte Argentario (GR) | Sandy beaches, rocky areas, boating opportunities | Yes | 2h20 mins | Car |
| | | | | |
Best beaches near Florence Italy: what to expect
Versilia beaches – best sandy beaches near Florence
Versilia is the coastal area in the North of Tuscany with the famous beaches of Viareggio, Marina di Pietrasanta and Forte dei Marmi, all very popular and very well-known holiday destinations near Florence.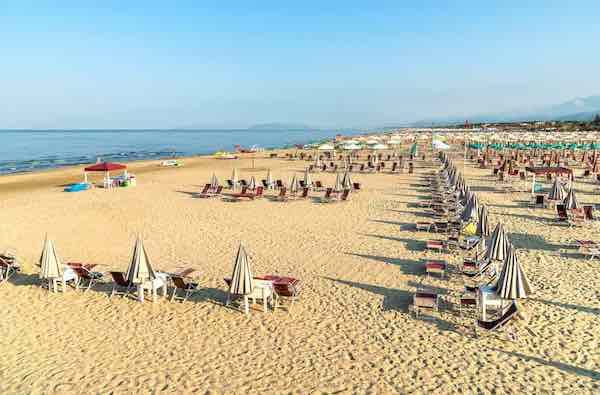 The area has long sandy beaches and it is wealthy and well equipped.
The tourism here is on the upscale end of the spectrum and there is a strong emphasis on evening and nightlife entertainment, although the nice shallow waters make the area appealing to families with small children.
If you are looking for wild and remote, this is not the place for you but if you are looking for aperitivo on the beach or a well laid out beach club to relax for the day, this is the place!
Most of the beach access is via beach clubs (day passes available for purchase) however Marina di Pietrasanta has a nice free beach that can be a good, budget friendly option.
This area also has the beautiful beaches of La Lecciona and Torre del Lago, with gay-friendly and naturist-friendly stretches.
The beaches in Versilia are the best beaches near Florence for a relaxing day trip to the coast and well kept beach club experience.
These are among the best beaches in Italy for families with kids.
Marina di Pisa, Tirrenia- the nearest beaches to Florence city
Immediately to the South of Versilia you find the Pisa coastline with the localities of Marina di Pisa and Tirrenia.
The beaches in the province of Pisa are the closest to Florence city and they stretch just at and beside the mouth to the river Arno, that enters the sea just in Marina di Pisa.
The beaches here are sandy and the waters are shallow, gently degrading into the sea.
This makes the beaches great for families with kids but it also means sandy, non see-though waters.
This doesn't necessarily mean the water is dirty: several stretches of the coast have the blue flag awarded to localities with clean waters however, the water looks darker and murkier than elsewhere in Tuscany.
Marina di Pisa is a popular day trip destination from Florence and it is also one of the best beaches near Lucca, from where it receives numerous visitors.
Marina di Pisa and Tirrenia are the best beaches near Florence for a quick day trip to the beach.
Castiglioncello – the best rocky beach near Florence
Castiglioncello is a small locality along the Tyrrhenian coast about 2 hours by car from Florence.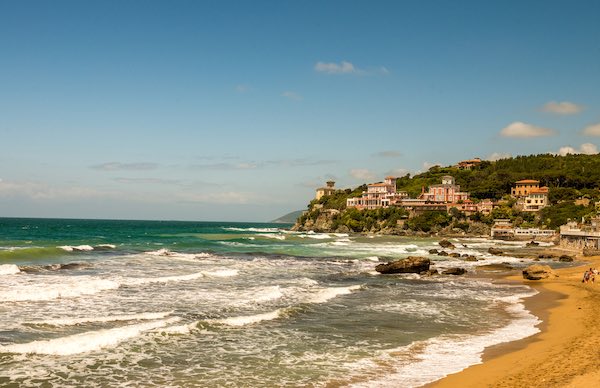 The town is a holiday destination and it is the quintessential sleepy seaside town perfect for lazy days on the beach with a fun history: for years, this has been the destination of choice for Italy's most successful actors (Think Alberto Sordi, Nino Manfredi and more!)
On one side, you have a rocky shore with beach clubs and swimming opportunities, while on the other you have the lovely sandy beach of Quercetano, with beach clubs, free areas and both sand and rocky stretches.
Need to know! Access to the beach is via a long and steep staircase and it is therefore not suitable for anyone with mobility issues or families with strollers/buggies. Families with small children may enjoy more the area of Bagni Miramare (beach club).
The nice thing abut Castliglioncello is that the town has a pleasant seafront promenade, a pretty pineta (pine tree forest) that is shaded and perfect for kids (crazy golf, tennis, playground) and it also has a nice castle that hosts summer music festivals on it grounds.
Castiglioncello is perfect for a weekend away from Florence. I have spent here very many summers: you can find my guide to Castiglioncello here.
Castiglioncello is one of the best beaches within easy distance from Florence for a weekend of swimming and snorkeling.
More beaches near Florence for a weekend n the coast (more than 2 hours from Florence)
San Vincenzo area
The area of San Vincenzo is a little over 2h drive from Florence and has wonderful sandy beaches perfect for sunbathing, swimming and boating.
The sand here is golden and the water tends to be shallow close to the shore which makes this area popular with families however you also have good wind conditions that make this a good place for water sports too.
The area of Donoratico, to the north of San Vincenzo, has some of my favorite beaches of all.
Soft sand, clean waters, non-pretentious beach clubs, water sports and lovely stretches of shaded pineta (pine tree forest) make the place even more welcoming and beautiful.
All this area has plenty of camping options perfect for families.
To the south of San Vincenzo, you have the area of Rimigliano coastal park has both beach clubs and free stretches of beach and also the 'Bau beach', the beach for dogs.
At the southern end of this stretch, you find the wonderful Golfo di Baratti and the fantastic beach of Carbonifera, which have lovely golden sand and clean waters.
The area also has ancient Etruscan sites, should you feel like adding some sightseeing yo your weekend on the coast!
Castiglione della Pescaia
South of Piombino, you find Marina di Grosseto and Castiglione della Pescaia which is a pretty village with nice, well-equipped sandy beaches.
Here you have several options that will suit different needs.
Castiglion dell Pescaia itself has some nice sandy beaches with family friendly beach clubs.
Immediately to the North of the town, you will find beaches such as Spiaggia delle Rocchette, which has both a sandy stretch and rocky areas for snorkeling, Cala Violina, one of the most beautiful beaches in Tuscany, Punta Ala, a large free beach from where, on clear days, you can spot Elba island!
Monte Argentario beaches
Further South again you find Mount Argentario, a wonderful promontory stretching into the sea.
This area is close enough to Rome to have been the holiday destination of choice for wealthy Romans for decades and it is easy to see why.
Small pretty villages close to long sandy beaches are what make this place special: La Feniglia beach and Ansedonia are famous sandy stretches of sandy beaches while localities such as Porto Ercole all offer the option to go boating.
Orbetello and its lagoon, Porto Santo Stefano, Porto Ercole and Capalbio (inland) are lovely towns to base yourself to explore the area.
I hope you enjoyed this overview of the best beaches near Florence and it helped you pick one for your day or weekend on the coast!
The best beaches near Florence Italy: pin this!
Additional resources for a vacation on one of the best beaches near Florence:
What to pack for a beach vacation with kids
Best snorkeling sets for kids in Italy