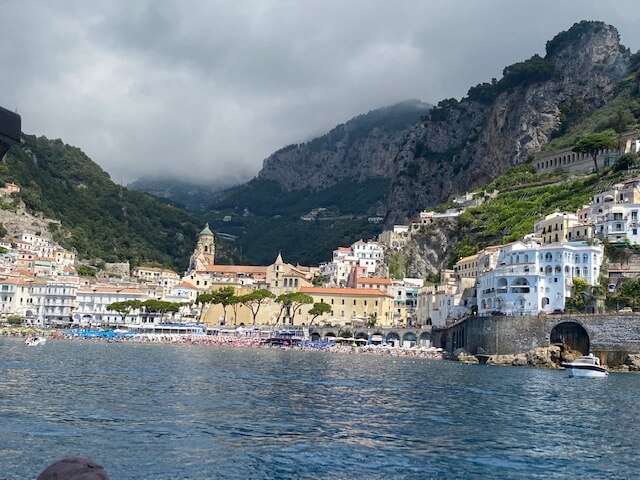 Amalfi Coast packing list to be comfortable and stylish
Full Amalfi Coast packing list for spring and summer travel. What to pack for the Amalfi Coast, best shoes and style tips to be comfortable and fit in with the locals.
The Amalfi Coast is one of the most glamorous destinations in Italy but there is more to it than pretty cafes' to see and to be seen.
It is also an area with beautiful beaches, boating and hiking opportunities, and a place that poses some mobility challenges if visited with kids, due to frequent steps and uneven terrain.
This is where this guide comes in!
This is my local guide to what to wear on the Amalfi Coast to be comfortable and stylish, plus some practical tips for families visiting with toddlers.
Love Pinterest? Save this post for later!
What to pack for the Amalfi Coast: weather overview
The Amalfi Coast has 4 seasons: it is cold in winter, very hot in summer and has mild to hot temperatures in spring and autumn, following a similar pattern to the rest of Southern Italy.
Unlike many other areas of Italy however, the Amalfi Coast really comes to life for tourism only in the good seasons, from about April to the end of October and so this is what my packing list is focusing on.
If you are packing for the Amalfi Coast in winter, you won't need specific gear and you will be able to use the winter clothing you have for other locations such as Rome or Tuscany.
You will find a quick overview of recommended clothing for winter in Italy at the end of this post.
How to dress on the Amalfi Coast
the best way to dress on the Amalfi Coast is to opt for clothing that is both comfortable and stylish.
To blend in with the locals, good style items to pack are:
Linen trousers: they are a great day to night option, they come in many colors and are very popular with local women, so you won't feel out of place in them
Flat, decorated sandals: sandals are the ideal footwear for the Amalfi Coast in summer.
For daytime, good walking sandals like Teva are ideal but for the evening, you may want to opt for more stylish options.
Just make sure you opt for flats or wedges at most (the roads are really uneven here) and select rubber soles whenever possible.
You can find here >>> my guide to the best shoes for Italy travel.
Necklaces and scarves: Italian women adore necklaces and scarves and they are perfect for visitors too as they can dress up a simple outfit in no time.
A large scarf that can double up as shawl can also be handy for chilly nights and as a quick way to cover your shoulders when entering a church
Maxi dresses are also a good option when packing for the Amalfi Coast however, don't let Instagram make you believe people here are all flowery dresses and straw hats!
The style is much more varied than that and often includes much more fitted options so if a maxi dress doesn't do it for you, you most definitely do not need one!
What to pack for the Amalfi Coast in summer: clothing essentials
Summer is hot and sunny on the Amalfi Coast so full-on summer gear is in order. Make sure you pack:
Summer dresses (any length)
Shorts
Summer pants – linen trousers are popular with Italian women and perfect for hot, relaxing summer days. They can be dressed up or down and are a great item for day-to-night wear
Short sleeve tops/ strappy tops / t-shirts
Underwear + socks
One light cardigan for late in the evening
Light Pajama / nightgown
Walking shoes (breathable trainers are perfect)
Flip Flops for the beach
A nice pair of sandals, ideally with rubber flexible sole for walking
Crossbody bag
Sun hat
Good to know: you will not spend a long time visiting churches on the Amalfi Coast but you are likely to want to visit at least some of them such as the Duomo in Amalfi. For them, I recommend you also pack a long skirt or maxi dress so you can be sure you have dressed appropriately: larger churches do apply a dress code that doesn't allow for very short skirts or shorts (not always enforced).
Amalfi Coast beach essentials
If planning time on the beach or boating, you will need to pack:
Swimsuit
Beach towel
Sun hat
Sunscreen
Aftersun cream
Sunglasses
Beach bag
Water shoes – they are exceptionally handy especially for the kids. The beaches here often have rocks and pebbles and water shoes will go a long way to help kids enjoy them
Kindle for beach reading
Reusable water bottle
Beach toys for the kids
Kids floater if needed
Beach tent for sun protection
Amalfi Coast packing list tech and travel gear
From power banks to hairdryers, tis is my packing list for technology and electronics:
Camera / Phone
Charger
Extra power bank for charging your phone on the go
Italy (or Europe) travel adapter
Hairdryer (with adapter)
Laptop and laptop back if using
Kindle for reading
Kids tablet if using
Go pro for underwater shots
Kids action camera for extra fun
Wifi hotspot
Lonely Planet Guide
Italian phrasebook
Good to know: wifi is available in most hotels and B&Bs but not in all public places or cafes. A personal wifi hot-spot goes a long way to help you stay connected and can save you a fortune in roaming charges.
Best luggage for visiting the Amalfi Coast
The Amalfi Coast is a place of narrow alleys and uneven terrain so I always recommend bringing small luggage and opting for a rucksack rather than a large wheelie bag whenever possible.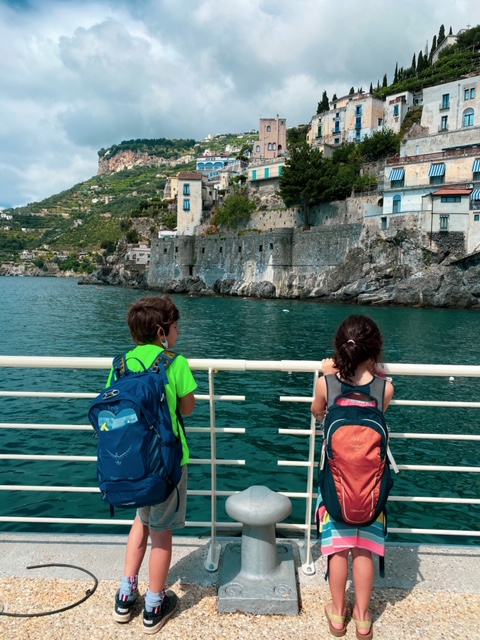 Luggage I like is:
Carry on backpack by Osprey, perfect for a short stay
Super lightweight wheelie bag, so you can easily lift it for the occasional step
Deuter or Osprey day bags for the kids
A good cross-body bag that can go day to night: I adore Gabs bags as they look stylish and are super versatile, some of them going from shopped to satchel in no time. Plus, they are made in Italy so you know you will blend in with the locals!
You can find here >>> my guide to picking the best luggage for Italy (and my top picks)
Packing for the Amalfi Coast: toiletries and personal items
My Amalfi Coast packing list of toiletries and personal items includes:
Shower gel
Shampoo
Conditioner
Children shampoo + conditioner if different
Deodorant
Hydrating cream (body and face)
Sun screen and after sun lotions
Shaving kit
Feminine products
Fragrance
Brush and comb
Hair ties
After sun hair lotion
Toothbrush
Toothpaste
Floss
Mosquito repellent
Family first aid kit
Packing for the Amalfi Coast with toddlers and kids
If you are visiting the Amalfi Coast with young kids, you may need to add extra items to this list:
A good stroller, either lightweight or all-terrain, equipped with sunshade – you can find here >>> my tips for strollers in Italy
A baby carrier – find here >>> the best baby carriers for Italy
Diapers, wipes and changing essentials
A good changing bag that can double up as your day bag (some are quite stylish and don't look like baby bags. I personally love diaper backpacks, I find them handy and discreet)
Beach toys
Kids sunglasses
Teether
A teddy or blanky
A portable high chair (although many restaurants provide them)
For older kids, I also recommend a kids' snorkeling set for those rockiest bit of coastline
Portable car seat if driving or using car service – please note that not all provide seats, make sure you inquire in advance and get a confirmation in writing.
When it comes to shoes, you can find here >>> my guide to the best kids' shoes for Italy.
Amalfi Coast packing list for winter
Winter gets pretty cold on the Amalfi Coast and if you are visiting this time, you will need to wrap up.
From October to March included, you are unlikely to be able to go to the beach (this is sipping coffee bathing the sea rather than bathing time) so my recommendations is to dress for chilly weather and rain.
Must have for the Amalfi Coast in winter are:
Woolen cardigan / sweater
Long sleeve tops
Long Pants / jeans
Comfortable, waterproof walking shoes (winter trainers work well or you can opt for angle boots or even full boots for style)
A warm jacket, ideally rain resistant
Lightweight travel umbrella
Overall rain gear for toddlers so they for rainy days at the playground
Rain cover for stroller
I hope you enjoyed this Amalfi Coast packing list and it helped you decide what to pack and what to leave home. Safe travel planning!