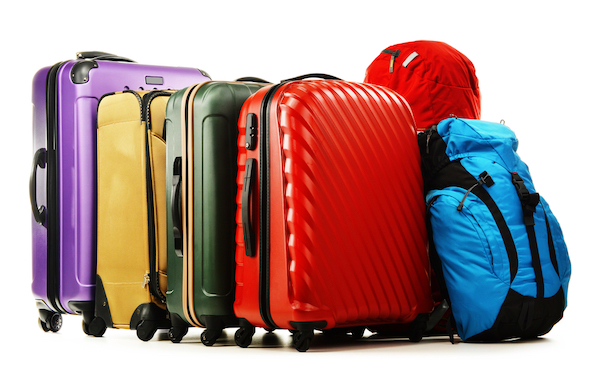 The best bags for Italy: best luggage and day bags you'll love
Practical guide to choosing and buying the best bags for Italy travel: best day bags for adults and kids, best carry on bags for Italy, best luggage for Italy
Choosing the best bag for Italy, may it be luggage or day bag, is an important element of your vacation planning.
Especially on your first trip, you are likely to move around a good but while in Italy, often with a variety of means of transport ranging from planes, to trains and finally cars and taxis.
With all this moving, you want to make sure you have a bag with you that is safe, easy to carry or pull and, why not, stylish!
In this guide, I share my best tips on my favorite luggage for Italy, the best day bags for Italy for practicality and safety and tips on what to look for when selecting the best luggage for your Italy vacation.
Need help with your packing list? Find our Italy packing list here!
The best bags for Italy travel at a glance
In my opinion, the best bags for an Italy trip are:
The best carry on luggage for Italy: traveling bags with wheels and backpacks
Whether you need a carry on bag as your only bag or as an extra handy piece of luggage to have with you at all times, these are the carry on traveling bags for Italy I find best.
Samsonite Omni PC Hard shell spinner: the best carry on lightweight traveling bag for Italy
Hard shell carry on bags are my favorite type of lightweight wheeled luggage and I am particularly fond of the Samsonite Omni PC series.
These bags are sturdy and lightweight and their exterior is made with anti scratch materials that make them durable and resistant to the inevitable bumps of travels.
The PC Omni comes in several sizes and i find the carry on one excellent for planes and trains.
The bag has interior dividers with cross straps on one side and a zipped compartment on the other, which make easy to keep your gear in place.
The bag spins of 4 wheels so it puts less pressure on your shoulders than standard rolling luggage which, if too heavy, can cause a strain on your upper body. 
I find Samsonite and excellent travel brand and this one of the best traveling bags for Italy if you are looking for a good quality carry on option.
Specs from the manufacturer:
Size:  Overall Dimensions 22″ × 15″ × 9.75″ | Internal Dimensions 19″ × 14.5″ × 9.75″ | Linear Dimensions 46.8″
Weight: 7.05 lbs
Material: Hardside (Polycar) Material Definition
TSA Lock: Yes
Expandable: Yes
Best carry on luggage for Italy, soft shell: TravelPro Max Lite
If soft shell works best for you, then you may like this nice carry on bag by Travelpro, which has the added advantage of a budget friendly price.
TravelPro Max light 5, as the name suggests, is light and has many handles, which make it super easy to retrieve from the luggage racks of the train or the plane.
The inside is made of one main compartment only and I find the best use of this bag is in conjunction with packing cubes, to make your bag tidier and better organized.
According to manufactures specs:
Interior dimension: 21 inches x 14 inches x 9 inches
Exterior dimensions: inches x 14.5 inches x 9 inches; 
Volume : 46 liter
2 position adjustable handle with patented grip
4-wheel 360 degree rotating spinner
Osprey Farpoint 40L: Best carry on travel backpack for Italy
Travel backpacks are my favorite piece of luggage of all for vacation and my absolute favorite is the Osprey Farview 40L.
This bag is purpose built to comply with carry on policy of all airlines but remains very spacious: I travel with it for weeks at the time (I am a light packer) and I am always surprised but how much I can fit in it.
I usually have two packing cubes worth of stuff in it plus shoes and extra bits in the outside pockets.
The bag opens horizontally, like a normal suitcase, so you don't have to fish out for stuff at the bottom of the backpack, which is a definite plus!
The shoulder straps are nicely padded and there are a chest strap and hip strap that help with weight distribution.
This is by far my favorite carry on bag for Italy travel when I want to be able to quickly grab my bag and go to catch a train or a ferry.
Best luggage for Italy: full size
If you are looking for a full size bag that you can check in when flying and that can accompany you for a longer trip to Italy, then I recommend the larger size of the Samsonite Omni PC mentioned above.
This bag is stylish, reasonably lightweight for their size, the have good wheels and telescopic handle.
The anti scratch exterior makes them durable too, which is something you definitely want at this price point.
This bag has an excellent lock an internal dividers in the form of a zipped net on one side and cross straps on the other.
They come in different colors too so you can choose the style that suits you best.
According to manufactures specs:
Size overall Dimensions 30.5″ × 21.5″ × 13.5″ | Internal Dimensions 28.5″ × 20.5″ × 13.5″ |
Linear Dimensions 65.5″
Weight: 11.68 lbs
Material: Hardside (Polycar) Material Definition
TSA Lock: Yes
Expandable: Yes
In my opinion, this is overall the best suitcase for traveling in Italy for look, comfort and durability.
Best travel bags for kids
Our kids have owned their own bag from very early on: at the start, they only had their snacks and cuddly toy in and now they are old enough to carry all their belongings with them.
As they grew, we found the best kids bags to be:
The best backpack for toddlers for their daily needs and essentials such as a cuddly toy, a snack and sippy cup is the adorable Kikky Deuter, which is also perfect for kids up to the first few years of primary school
The best ride on suitcase for little kids is trunki, which our kids have used from age 4 to 8!
The best backpack and day pack for kids is the Osprey Daylite Kids  which our kids also use for school – we love versatile products!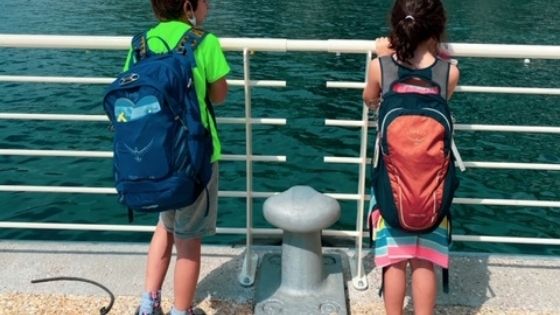 The best wheeled bag for kids is by American Tourister if they love to have a bag with their favorite characters although we have found excellent wheeled bags for kids by Amazon Basics too, so those are worth checking out as well.
The best day bags for Italy travel
Once you are in Italy, you want to have a bag that can tick the following boxes:
Big enough for daily essentials such as purse, credit cards and water bottle, but not so big you struggle to carry it or causes issue entering museums etc
Safe, so you don't have to stress when in crowded places
Sturdy so you know it will survive the inevitable rough treatment of the travel days
My favorite type of cross body bag for Italy are the bags by Gabs (Italian).
They are not travel bags as such, so they do not scream 'tourist', the are beautiful, durable and versatile.
The one I have goes from shopper, cross body and to evening purse and the one my husband has goes from laptop bag to stylish backpack. 
They are an excellent purchase as they work as a perfect day bag for Italy but also a wonderful purse for you everyday needs
The best day bag for Italy travel for women is this one
The Best day bag for Italy travel men is this one
The best luggage for Italy: what to look for
If you already have good luggage at home, the things to double check when choosing the best bag to carry to Italy are:
SIZE
The size of your bag will depend on the amount of stuff you need to carry with you and the length of your trip.
Some things to consider are:
In Italy, clothes are usually line dried.
If you think you will need a dryer, for instance to quickly dry clothes in winter, make sure you ask your accommodation in advance if they have one as it is very likely that they don't.
This can have a big impact if you are planning on traveling carry on only, since in Italy coin operated launderettes exist but they are not super common.
If you opt for a large bag, make sure you choose one you can maneuver easily.
Large bags especially in train stations may attract the wrong type of attention so being able to manage them on their own will reduce potential stress.
Style / model
The choice between wheeled bags vs backpack comes largely down to personal preferences, however, there are a few things that can be handy to help make your mind up.
If you are planning on traveling light and even carry on only, a carry on only travel backpack is a perfect choice
They fit in the overhead compartment of the plane, so that you have the space under the seat in front of you free for your handbag, they fit easily overhead on Italian trains and they are the best option when packing for challenging terrains such as Amalfi Coast and Cinque Terre
Even in Rome a travel backpack can go a long way as wheels can break on cobbles and can be bulky if using public transport.
If you need more things that can possibly fit in a carry on bag, then bags with wheels are the way to go.
When you select them, make sure you have very sturdy wheels and possibly with a no-noise coating so you know your bag will survive the uneven streets of Florence and Rome!
Strong, smooth wheels
Italian streets are often uneven or cobbled so picking a bag with strong wheels is crucial so you don't get stranded fast!
Sturdy telescopic handle
A strong telescopic handle that doesn't snap under the weight of your bag is also a crucial thing to have in a good traveling bag for Italy. 
Many cheaper bags have handles that are too thin or so poorly built they catch when you try to make them longer or close them. 
This can add extra pressure when you are trying to board a train and store you luggage while others are waiting, moments that are already stressful at the best of times without faulty gear getting in the way!
Other useful and practical traveling bags for Italy
When packing for Italy, I recommend you add some accessories to your main bag
Packing cubes: cheap and easy to use, they are amazing at keeping your clothing tidy and allow you to make the best possible use of the space
Wet/dry bags: excellent for wet items, may they be a swimsuit after a day at the beach or baby/kids clothing that got wet or stained
Shoe bags: ideal to make sure the soles of your shoes do not touch your clean clothes when packed. 
I hope you enjoyed this guide to the best luggage for Italy travel and it helped you decide what type of bags to opt for when packing for Italy. Safe travel planning!