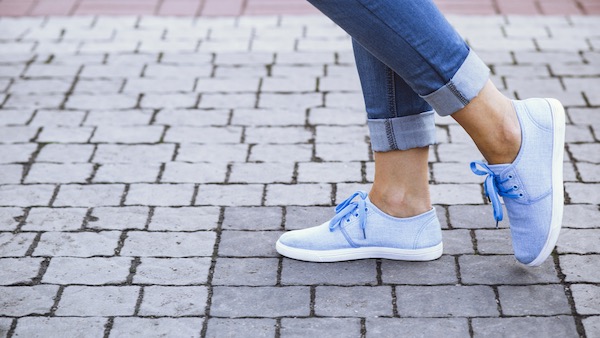 The best shoes for Italy: how to pick + best buys
Our selection of the best shoes for Italy travel to be comfortable, stylish and appropriate in all situations.
One of the hardest decisions when it comes to packing for Italy is about what shoes to bring.
Picking comfortable travel shoes is never easy, but finding great travel shoes for Italy adds extra stress as the demands placed on the perfect shoe for Italy travel seem endless.
No matter your plans for Italy, you know you will be walking a lot, so you will need shoes that can support you while sightseeing.
You also probably want to look pretty and appropriate for aperitivo and dinners out.
Last but not least, you need to consider the weather, which may throw some curveballs when it comes to packing essentials.
If you are stressing out about what shoes to pack for Italy, this guide is for you!
After many years living in Italy and many trips up and down the Italian boot, I know very well what shoes work for Italy and what shoes are a waste of luggage space.
This is my guide to the best shoes for Italy travel, chosen for comfort and style.
If you are traveling with kids, find here >>> our guide to the best kids' shoes for Italy.
Please note: this post contains affiliate links and, should you make a purchase, we might make a small commission at no extra cost to you.
As an Amazon Associate I earn from qualifying purchases
The Best shoes for Italy Travel Chart
| | | |
| --- | --- | --- |
| Type of shoe | Type of shoe | Suitable for destination / season |
| Teva Sandals Tirra Woman | Walking sandals/ everyday sandals | All/Summer |
| Teva Katavi Sandals Men | Walking sandals/everyday sandals | All/Summer |
| Blondo ankle boot woman | City ankle boot | All/Fall, winter, early spring |
| Ecco soft woman | City shoe | All/ Fall, winter, spring |
| Ecco soft men | City shoe | All/ Fall, winter, spring |
| Timberland Kendrick | Men city boot | All/ Fall, winter |
| Ecco Byway Tred | Men urban sneaker | All |
| Sketchers Cali | Woman sandal wedges | All/Summer |
| Dream Pairs ballerina | Walking Ballerina flats | All /summer, fall, spring |
| Merrel Hiking shoes (several models) | Hiking shoes | All / Dolomites, Alps, CInque Terre Trails, Amalfi Coast trails, Abruzzo trails |
The best shoes for Italy travel : how to pick
When picking shoes for Italy travel, you need to look at three main things:
Season of your trip – rain is possible in all seasons except summer.
If you are traveling to Italy between September and May, you need shoes that can take the rain and, ideally, a second pair, should one get soaked.
Activities – if you plan on hiking, you need proper walking shoes.
This applies to trails on the Dolomites and if you want to see the trails on the Amalfi Coast or Cinque Terre, where inappropriate footwear on the trails will also make you incur a pricey fine!
Comfort – the best shoes for Italy travel are comfortable.
This may sound like an obvious point but I have seen so much incorrect advice out there, it is a point I need to make!
We love a stylish look in Italy, but we are practical. Do not believe people who tell you Italians do not wear sneakers: of course we do! 
In Italy, we do not wear sneakers in the office but we do wear them if we travel, if we are sightseeing and in any informal situation.
Do not go for a less comfortable shoe out of this misconception, sneakers are perfect for Italy (see below for tips on stylish ones).
In this guide, I give tons of recommendations about shoes for Italy that are both comfortable and stylish but if you need to choose only one of the two things, please choose comfort!
Your feet will thank you and no, no one will judge you!
Picking the best shoes for Italy: our top tips
Whether you are buying new shoes for Italy or going through your shoe wardrobe to pick the best ones for your Italian adventure, I recommend the following:
Choose rubber soles
The best shoes for Italy's cobbles and city pavements are cushioned and with flexible rubber soles.
Italians are fond of stylish sneakers (see below some of our favorite sneakers for Italy) and they are the perfect choice if you want to walk without looking like a tourist.
Top tip! The best walking shoes have soles that bend at the ball of your foot, not at the arch. Arch support is crucial to avoid injury and tiredness and checking where the natural fold of the shoe falls is a quick way to test it.
Avoid heels
High heels are terrible on cobbles and steps, two things you will often encounter in Italy.
Unless you have a special event you need to go to or you know you will be able to taxi from your hotel to a restaurant, you can safely leave your heels at home.
Wedges, a pair of pretty ballerinas or decorated sandals are a perfect alternative.
Save flip flops for the beach
Flip flops are beachwear in Italy and you should avoid them in cities and towns.
Flip flops do not offer sufficient support or protection to keep you safe on city pavement and they do not pass dress code rules of more stylish terraces and restaurants in cities like Rome.
Flat sandals in leather are, style-wise, preferable.
While I do recommend packing them for the beach and the pool, they are not a versatile item for Italy.
Avoid running shoes
Running shoes in fluorescent colors are comfortable but they are not a versatile choice for Italy.
Italians tend to only wear runners if exercising and more upscale restaurants and terraces may turn you away. If you go for sneakers, I recommend you opt for sober colors and a less sporty look.
Staying away from fluorescent colors is a safe bet; all white shoes are also too sporty, unless you opt for fashion shoes such as Stan Smith by Adidad which are popular in Italy, especially with the younger crowd.
You will find below some of my top picks.
The best shoes for Italy in summer and the best sandals for walking in Italy
Comfortable walking sandals are the best type of shoe for Italy in summer.
Finding comfortable sandals can be a challenge: the prettiest ones often have many straps and laces, and while they do look very 'Italian', they can also cut into your skin and become a pain to wear.
The best ones to pack are those that come with a rubber sole and cushioning for walking.
If you prefer to keep your feet covered, closed-toe sandals light summer sneakers are also a good choice; however, make sure they are truly breathable as the temperatures in Italy can be scorching!
Good to know! Good quality walking sandals are appropriate for men and women. It is however important to know that sandals are not often as versatile for men as they are for women. More upscale restaurants may not allow them: for gentlemen, it is safer to opt for closed-toe shoes in the evening.
My favorite sandals for Italy and shoes for Italy in the summer are:
Teva Sandals – my go-to sandals for Italy, you can choose between a leather model (my personal favorite) or a more sporty-looking water-resistant one.
The water-resistant one is perfect if you want to use these sandals also for hot springs and the beach.
A good Teva sandal for men is Teva Men's M Katavi 2, comfortable for walking and in a stylish brown tone.
Ecco Damara sandals are a good, versatile choice for walking in Italy. The black and tan color make them very versatile and a good pick if you are looking for sandals you can wear day – to – night. Check models and prices here
Birkenstock are not to everyone's taste but they are excellent walking shoes and are popular in Italy with tourists and locals alike. You can check colors and models, with or without a backstrap here.
Ahnu sandals are super cute and excellent for walking. I particularly like the ones with cages' toes for their look and extra protection. You can check prices and models here.
Plaka makes great travel sandals. Comfortable and versatile, they are the best to go from city to beach and come in various colors and shapes to suit most feet. Check them here.
Sketchers Cali Wedges are my go-to wedge sandal for dinners out in Italy. Unless you are very used to walking in wedges, I do not find them great for prolonged day wear but more than comfortable for an evening walk to the restaurant or a night out. Check price and colors here.
The best shoes for Italy in winter
The best shoes for Italy travel in the coldest months are those that keep you warm and dry as well as comfortable.
Italy sees rain in the winter, sometimes very heavy, and especially in the North, you will be happy to have boots that can keep your feet and calves warm.
My favorite shoe models for Italy in winter are brogue-style shoes, ankle boots, tall boots and sneakers.
The best men's shoes for winter in Italy are brogue-style shoes, men-boots and sober sneakers for sightseeing.
Blondo Ankle Boots – Comfortable and stylish, Blondo ankle boots are great for walking all day and come in several models. Check their selection of materials, shapes and heel height here.
Toms ankle boots have a bit of a heel so you need to gauge if they are the right choice.
However, you are likely to find that it is sturdy enough to be comfortable walking. Check colours and prices here.
Ankle boots for men are also a stylish choice: we like these by Ecco, that are both comfortable and versatile, but the same brand offers several styles, including ankle boot sneakers.
Tall boots – Tall boots are a great choice for winter in Italy.
For sightseeing in cities and towns, you will not need them lined; however, a rubber sole and waterproof material are a must.
Stylish sneakers are trendy in Italy.
I personally love them and find them the best shoe to walk all day and go sightseeing.
They are the go-to shoe for the young and are now widely accepted as footwear for pretty much all generations in the appropriate colors and shapes.
The ones to go for are the fashionable ones rather than running ones: Ecc Soft are cute walking shoes with a versatile look and New Balance, Adidas Stan Smith are also good examples of stylish sneakers.
In winter, favor those that will keep you warm and avoid those made of material that can get ruined in the rain.
Runners are brilliant on Italy's hard cobbles, but they do not usually stand the rain, so in winter, it is wise to bring a second pair should you find yourself soaked or facing a full day of rain showers.
When it comes to winter sneakers, we like Ecco Soft shoes for women and Ecco Soft men's fashion sneakers.
They are perfect for a casual look that goes day to night and they come in black and brown color to suit most styles
Among our favorite men shoes for Italy in the winter are Ecco Byword, a comfortable and versatile slip-on sneaker
The best shoes to travel to Italy in spring and fall.
Spring and fall give you a broader scope in terms of shoe fashion.
The temperatures at these times are usually mild and despite the chance of rain, especially in April and November, you can expect a reasonable amount of dry days.
These are my go-to shoes for Italy in spring and autumn.
Adidas breathable sneakers – I love how breathable and lightweight Adidas summer sneakers are.
While they have a sporty look that will not work with all outfits, they are so comfortable that I often travel with them as my only pair of shoes.
Ecco Soft are also excellent mid-season walking shoes for men and women: see here Ecco Soft from women (several colors) and Ecco Soft for men (several colors).
Sketchers walking slip-on shoes are also a good compromise between the comfort of a sneaker and a more 'together' look.
Try Sketchers sports fashion sneaker or their 'Go walk' shoe range for the most comfortable experience.
Barefoot shoes for Italy: what you need to know
I love barefoot shoes: I wear them all year round and I have several pairs in different models that bring me from winter to summer.
However, barefoot shoes are not for everyone and even I find they can be hard for Italy. In Rome, I found the uneven terrain and the cobbles very tiring with a barefoot sole, and I am very used to them!
If you are thinking of bringing barefoot shoes to Italy, make sure you are very well used to them: Italian pavements are not the place to experiment with them!
For the same reason, I recommend caution with very flat shoes such as Superga and Converse: I find their flat sole and lack of breathability a problem: only pack them if you are already used to them at home.
Essential shoe accessories for Italy travel
Now that you have the perfect shoes for your Italy adventure, you may want to add other nice to have articles:
Lock laces – the ideal choice to prevent laces to come undone and cause hazards on escalators and public transport
No show socks for men and women, perfect for low cut shoes
Travel shoe bags – perfect to pack shoes in a safe and hygienic way
I hope you enjoyed our selection of favorite travel shoes for Italy. Safe travels!