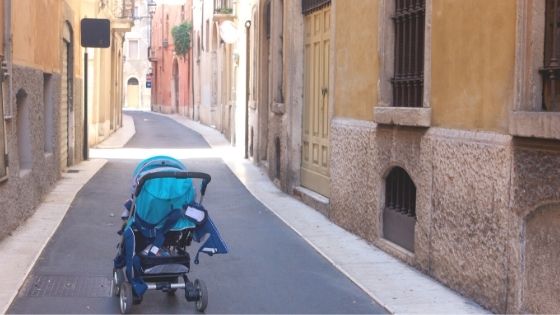 Using baby strollers in Italy: all you need to know + best models
Using baby strollers in Italy: all you need to know and best travel strollers for Italy to tackle cobbled streets and busy attractions.
A good stroller is an essential item for visiting Italy with a toddler or young child however, it can also be a massive hindrance.
Uneven cobbled streets, steps, busy attractions and train trips can all prove hard with a stroller in tow and take a toll on your back, so what is the best course of action?
Should you bring a stroller to Italy or embrace a baby carrier only?
I highly recommend you bring a carrier however, I consider a stroller in Italy a must have item.
The right stroller will be invaluable on long walks (you are pretty much guaranteed to walk A LOT in Italy!), they are perfect for naps and in many locations they will be not half as hard to maneuver as you may expect.
For a stroller in Italy to be a good idea however, you need to know what to expect and have the right model.
Please note: this post contains affiliate links. Should you make a purchase, we might make a small commission.
As an Amazon affiliate, I earn from qualifying purchases.
All you need to know about using baby strollers in Italy
In this post, we are going to look at:
Strollers in Italy: specs you need
Using strollers in Italy's museums, trains and attractions
Italian stroller brands you may like
The best stroller for Italy is compact
While traveling in Italy, you will find yourself folding the stroller often.
You will fold it to get on and off train and public transport, in restaurants, in most museums and you will also often want to fold it and carry it when the steps and terrain get too uneven or turn into steps like in Taormina, Cinque Terre and Amalfi Coast.
A stroller that can easily be collapsed and set aside in these cases is ideal.
If you have one of the following brands in the house or are thinking of getting a travel strollers, these are good compact strollers to consider
Good to know: while compact strollers are great, make sure they do not compromise quality of the wheels in the name of size. Good wheels are essential to protect you and your baby from bumps on the road and cobbled street have quite a record for bending wheels and make cheap light strollers snap!
All terrain strollers are a great option too
An all terrain strollers may not come to mind as the first option for travel as they are often bigger and heavier that umbrella ones, however, they can be excellent strollers for Italy.
They are essential for hikes in nature for instance on the Dolomites and we also found them excellent in Rome and in archaeological sites like Paestum or Ostia Antica.
Great all terrain strollers to consider are:
Strollers are allowed in many attractions
This may come as a surprise to many but many of Italy's main attractions do accommodate strollers.
Bay strollers and pushchairs are allowed at:
Rome Colosseum – ramps and lifts to most areas (except top tier)
Rome Roman Forum – accessible path
Vatican City including Museum – ramps and lifts
Pompeii – outdoor, all terrain wheels are best
Uffizi Gallery – ramps and lifts albeit a carrier is better due to the layout and peculiarities of the building
Good to know: in most cases these attractions require the stroller to pass security checks and to stay open during the visit.
Strollers must be folded on public transport (often)
Public transport has different costs and rules in different cities and in many case it is a good option for parents since young children ride free,
However, it is important to know that in many places such as Rome, strollers can only board a bus if folded, which is an issue if you are hoping to board with a sleeping baby (how much the rule is enforced, however, varies)
Bringing a stroller on Italian trains
The type of storage space you get on train depends largely on the type of train you get (regional, high speed, Italo etc)
In most case, strollers must be folded on trains and kept either on the overhead luggage racks or with the large luggage at the ends of the carriage, when available.
Some areas are stroller un-friendly
Italy is so big and varied it is impossible to make a full list of ares that are stroller friendly and stroller unfriendly. This is an overview of the most popular places for families in Italy:
Rome – not very stroller friendly but so big a stroller is a must. Opt for good wheels and be prepared to fold it often. read our tips for visiting Rome with a toddler here
Venice – mostly stroller friendly with the exception of some of the bridges. Overall, a stroller here is a good ides as you will cover long distances on foot. Read all about visiting Venice with kids here
Florence – some bumpy roads but overall ok with strollers. Bring a carrier for the Uffizi (much easier without a stroller) and for the climb up Piazzale Michelangelo. Read our guide to Florence with kids here
Cinque Terre – stronger unfriendly, bring a carrier especially if hiking.
Amalfi Coast – stroller unfriendly, with the exception of Maiori which has a rather flat center
Dolomites – all terrain stroller and carriers are a must for hikes.
Tuscany hilltop villages – some are reasonably flat and some are pretty steep (Montepulciano comes to mind as a pretty steep one I would not want to tackle with a stroller!).
Many villages are car free so if you have a walking child, they may be happy to tot around and the stroller is not needed. Read our guide to Tuscany with kids here
Renting a stroller in Italy
If you don't want to travel with your own stroller, there are some services that offer rental.
Please note that we have no relationship with these businesses: the list is for information purposes only.
TravelBaby.it – renting strollers but also car seats and baby essentials such as monitors as well as toys
BabyGuest.com – renting baby strollers in Italy as well as cribs, car seats, booster seats for tables, carriers etc
Parti Bimbo Party – baby and toddler gear rental in Turin
KidsinSicily.it – baby gear rental for families holidaying in Sicily
Italian stroller brands
if you are thinking of buying a stroller in Italy, these are Italian stroller brands to consider:
In Italian: stroller/pushchair = passeggino; pram=carrozzina
Peg Perego – several models, baby gear brand
Chicco – several models, baby gear toys brand
Brevi Passeggini – several models single and double
Cam – lightweight, compact strollers
FoppaPedretti – strollers, baby gear and more
Inglesina – strollers and baby gear
Momon – buggies and strollers
I hope you found this overview useful and it helped you decide whether to use a stroller in Italy and which one to bring. Safe travel planning!