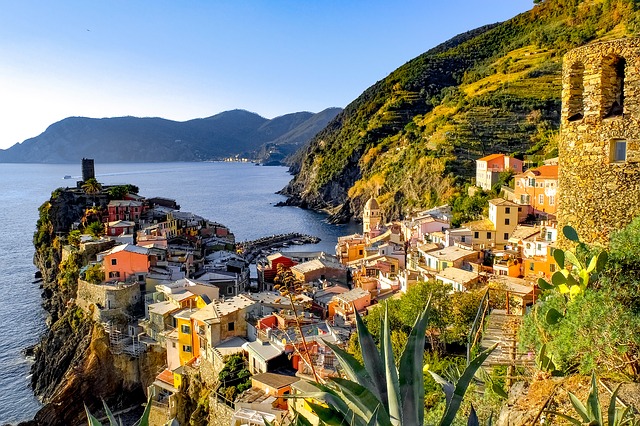 Cinque terre packing list to be comfortable and stylish
Cinque Terre packing list. What to pack for visiting Cinque Terre: travel essentials, hiking essentials, baby travel essentials for families visiting this area with young children
Cinque Terre is an area of Italy of outstanding natural beauty.
Here, you have pretty villages, stunning hikes and beach and boating opportunities, so you need a packing list that caters to all these needs.
This is our packing list for Cinque Terre, for all types of travelers.
How to dress in Cinque Terre
Cinque Terre is a relaxed part of Italy, known for hiking trails and fishing village atmosphere more than for glamour unless you go for nearby locations such as stylish Portofino.
However, this is Italy so if you want to be comfortable but also stylish, this is what I recommend you pack.
To blend in with the locals, good style items to pack are:
Linen trousers: they are a great day to night option, they come in many colors and are very popular with local women, so you won't feel out of place in them
Flat, decorated sandals: sandals are the ideal footwear for visiting Cinque Terre villages in summer. Good walking sandals like Teva are ideal for both day and a relaxed evening drink on the harbor.
You can find here >>> my complete guide to the best shoes for Italy travel
Necklaces and scarves: Italian women adore necklaces and scarves and they are perfect for visitors too as they can dress up a simple outfit in no time.
A large scarf that can double up as a shawl can also be handy for chilly nights
Maxi dresses are also a good option when packing for the Cinque Terre however, do not tackle the trails in them thinking of nice photos!
The hikes in Cinque Terre require proper hiking gear, see below.
What to pack for Cinque Terre in summer: clothing essentials
Summer is hot and sunny in Cinque Terre, so full-on summer gear is in order. Make sure you pack:
Summer dresses (any length)
Shorts
Summer pants – linen trousers are popular with Italian women and perfect for hot, relaxing summer days. They can be dressed up or down and are a great item for day-to-night wear
Short sleeve tops/ strappy tops / t-shirts
Underwear + socks
One light cardigan for late in the evening
Light Pajama / nightgown
Walking shoes (breathable trainers are perfect)
Flip Flops for the beach
A nice pair of sandals, ideally with rubber flexible sole for walking
Crossbody bag
Sun hat
If you are planning on hiking the Cinque Terre trails, then you will need specific gear
Cinque Terre hiking essentials
Cinque Terre trails are real trails and you should only tackle them with proper shoes.
Depending on the ones you are tackling, you will need:
Proper walking shoes – please notes fines are in place for ill equipped visitors as wrong gear has caused many rescue missions!
Hiking trousers/ shorts
Short sleeve tops
Hiking or well cushioned socks
Well fitting hiking backpack
Reusable water bottle
Hiking appropriate snacks (fruit, granola bar, stuffed focaccia from the local bakery etc)
Sun glasses / sun hat/ sun screen
Kids hiking backpack if hiking with baby
Phone/ Camera
Cash for snacks/ food on arrival
Train ticket for the way back
First aid kit for hiking injuries
Cinque Terre beach essentials
If planning time on the beach or boating, you will need to pack:
Swimsuit
Beach towel
Sun hat
Sunscreen
After sun cream
Sunglasses
Beach bag
Water shoes – they are exceptionally handy especially for the kids. The beaches here often have rocks and pebbles and water shoes will go a long way to help kids enjoy them
Kindle for beach reading
Reusable water bottle
Beach toys for the kids
Kids floater if needed
Beach tent for sun protection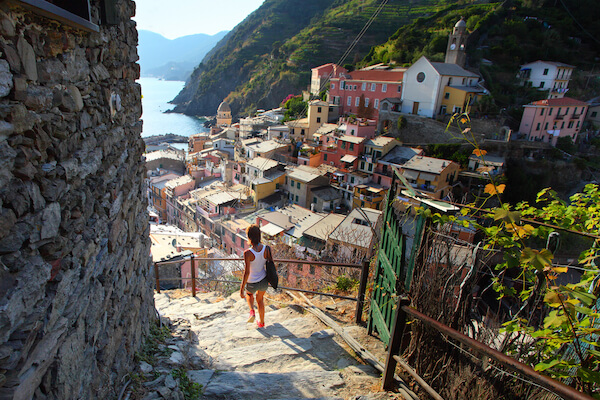 Cinque Terre packing list: tech and travel gear
From power banks to hairdryers, this is my packing list for technology and electronics:
Camera / Phone
Charger
Extra power bank for charging your phone on the go
Italy (or Europe) travel adapter
Hairdryer (with adapter)
Laptop and laptop back if using
Kindle for reading
Kids tablet if using
Go pro for underwater shots
Kids action camera for extra fun
Wifi hotspot
Lonely Planet Guide
Italian phrasebook
Good to know: wifi is available in most hotels and B&Bs but not in all public places or cafes. A personal wifi hot-spot goes a long way to help you stay connected and can save you a fortune in roaming charges.
Best luggage for visiting the Cinque Terre
Cinque Terre is a place of narrow alleys and uneven terrain so I always recommend bringing small luggage and opting for a rucksack rather than a large wheelie bag whenever possible.
Luggage I like is:
Carry on backpack by Osprey, perfect for a short stay
Super lightweight wheelie bag, so you can easily lift it for the occasional step
A good cross-body bag that can go day to night.
I adore Gabs bags as they look stylish and are super versatile, some of them going from shopped to satchel in no time. Plus, they are made in Italy so you know you will blend in with the locals!
You can find my full list of favorite luggage for Italy here.
Packing for Cinque Terre: toiletries and personal items
My Cinque Terre packing list of toiletries and personal items includes:
Shower gel
Shampoo
Conditioner
Children shampoo + conditioner if different
Deodorant
Hydrating cream (body and face)
Sun screen and after sun lotions
Shaving kit
Feminine products
Fragrance
Brush and comb
Hair ties
After sun hair lotion
Toothbrush
Toothpaste
Floss
Mosquito repellent
Family first aid kit
Packing for Cinque Terre with toddlers
If you are visiting Cinque Terre with young kids, you may need to add extra items to this list:
A good stroller, either lightweight or an all terrain stroller, equipped with sun shade. You can read our tips for using strollers in Italy here.
A baby carrier: I recommend you go for a full on hiking one if planning on hitting the trails. Find our recommended baby carriers for Italy here.
Diapers, wipes and changing essentials for the first day (you can then buy essentials on location, read where to buy baby essentials in Italy here)
A good changing bag that can double up as your day bag (some are quite stylish and don't look like baby bags. I personally love diaper backpacks, I find them handy and discreet)
Beach toys
Kids sunglasses
Teether
A teddy or blanky
A portable high chair (although many restaurants provide them)
Cinque Terre packing list for winter
Winter gets pretty cold in Cinque Terre and if you are visiting this time, you will need to wrap up.
From October to March included, you are unlikely to be able to go to the beach (this is sipping coffee bathing the sea rather than bathing time) and most trails will be closed, so my recommendation is to dress for town sightseeing rather than outdoor pursuits and make sure you have rain gear handy
Must have for the Cinque Terre in winter are:
Woolen cardigan / sweater
Long sleeve tops
Long Pants / jeans
Comfortable, waterproof walking shoes (winter trainers work well or you can opt for angle boots or even full boots for style)
A warm jacket, ideally rain resistant
Lightweight travel umbrella
Overall rain gear for toddlers so they for rainy days at the playground
Rain cover for stroller
I hope you enjoyed this Cinque Terre packing list and it helped you decide what to pack and what to leave home. Safe travel planning!