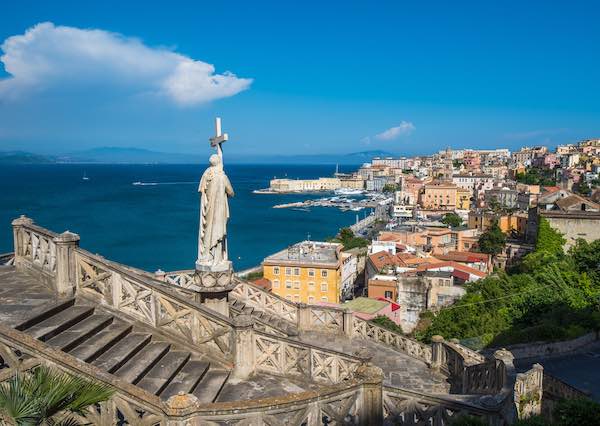 Gaeta, Italy: the historical seaside town near Rome you'll love
All you need to know to plan a trip to Gaeta, Italy, the perfect seaside getaway from Rome for the whole family.
If you are looking for an easy getaway from Rome to enjoy a couple of days on the beach, then you should consider beautiful Gaeta.
Located in between Rome and Naples and easy to reach by train from the capital, Gaeta is a pretty town with a historical center, a beautiful natural position and a fantastic sandy beach with golden sand and clear blue waters.
It is a lovely destination for a few days on the coast and one of the best beaches near Rome, even just for a day away from the city.
This is all you need to know to plan a visit.
Please note: this post contains affiliate links. Should you make a purchase, we might make a small commission.
Why visit Gaeta
Gaeta is worth seeing for its beautiful beaches and sea and its charming town center. The main reasons we enjoy Gaeta are:
Gaeta has one of the most beautiful beaches near Rome – Serapo beach has soft golden sand, wonderful clean waters and lovely views over Monte Orlando and Montagna Spaccata, scenic promontories stretching into the sea.
It has a pretty historical center that is pleasant to discover on foot
It has wonderful food and plenty of pretty local places to enjoy it
It has a family friendly atmosphere, kid friendly beach and playground perfect for small kids
How many days in Gaeta + Gaeta Map
You can see Gaeta's highlights in one day however, this is a popular vacation spot that sees many locals vacation here for the whole summer.
The best things to do in Gaeta Italy
Gaeta is a small town with several areas worth exploring. These are our Gaeta highlights.
Explore Gaeta's Medieval center
Gaeta is a town with a long history and walking around the town it is still possible to savor the flavors of those times.
The historical center of Gaeta has the typical small streets of the middle ages and it is dominated by the Angiono/ Aragonese castle, one of the most distinctive traits of the Gaeta skyline!
In this area, you will see Gaeta's fortifications, some of Gaeta's most important churches (See below) and the castle, which is very impressive and truly dominates the city: the castle is open to the public on certain dates only and by tours only – you can find official dates and tickets here
Visit Gaeta's churches
Gaeta is known as the city of 100 churches (like Lucca!) and indeed, there are more a few churches in Gaeta and some are worth seeing.
Some to look out for are:
Chiesa dell'Annunziata – originally Gothic, the church is now mostly Baroque in style and has important art inside and the incredible Cappella d'Oro (Golden Chapel), which is just what the name suggests: a chapel cladded in Gold!
This is definitely worth seeing as it is at the same time unique but also a perfect example of the baroque taste and aesthetic typical of southern Lazio and Campania – elaborate, over the top and magnificent.
Chiesa di San Giovanni al Mare – One of the oldest churches in Gaeta, this church in Byzantine in style, which makes it stand out from the rest of the architecture of the area and has a wonderful medieval dome with Arabic-style decor and some ancient and evocative frescoes worth seeing.
Gaeta's Duomo – Gaeta's Duomo is devoted to the patron Saints of Gaeta, Maria Assunta in Cielo and SS. Erasmo and Marciano and owns it current appearance to the updated made to it in the XVIII century, even if its origins date from as far back as the XI century.
The church has some beautiful art inside and also has a beautiful Norman bell tower which is one of the most recognizable Gaeta's landmarks.
Tempio di San Francesco – St Francis' Temple (Tempio di San Francesco) is high up above Gaeta and one of the most important landmarks in the city.
The church itself is beautiful and its position adds to it: this is the place from where many photos are take as the view from the terrace outside above the city and the sea is expansive and breathtakingly beautiful.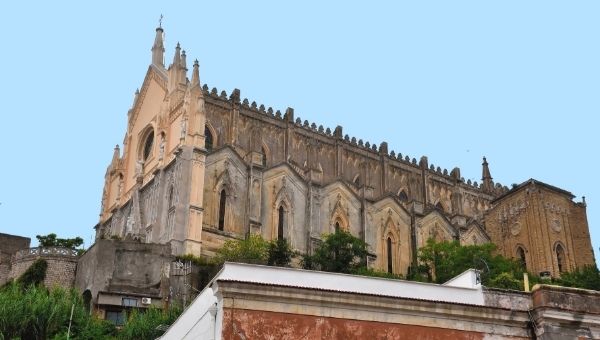 Explore Borgo Elena
Borgo Elena is neighborhood in Gaeta city center and it is where you find Gaeta's most atmospheric streets and alleys (vichi), shops, restaurants and indeed more churches!
The main road here is called Via Indipendenza and it is from here that many small streets depart, creating a maze of alleys, balconies, arches and windows with laundry drying in the sun that make this part of town unique nd charming.
This is also the area with Gaeta's fish market which is wonderful if you are staying local and want to cook the freshest fish possible and always features among the best markets in Italy.
Admire Santuario della Montagna Spaccata and Grotta del Turco
One of Gaeta's mist distinctive geographical trait is Monte Orlando (Mount Orlando), the tall promontory that plunges into the blue sea and that gives Gaeta its peculiar skyline.
The monte is at the center of many legends, including one that says the ricks cracked during the earthquake at Jesus's crucifixion and now is home to a sanctuary called Santuario della Montagna Spaccata (Sanctuary of the Split Mountain) and a famous Grotta del Turco (Cave of the Turkish man), a spot where the cliff plunges vertically into the sea in the most scenic way.
The places is associated with San Filippo Neri and several religious figures and Popes who loved praying here and it is worth seeing for its religious history and natural beauty.
Here you see the church of Santissima Trinita', cisterns dating to ancient Roman times, the Grotta del Turco , a via crucis and the stone bed of S Filippo Neri who is said to have chosen this place for his prayers.
Out of all these things to see, the one that attracts most visitors is the Grotta del Turco and the legends attached to it.
Local stories tell us that the crack in the rock happened at the time of Jesus' death, when the earth is said to have been shaken by a powerful earthquake.
This story was doubted by a Turkish sailor who had gotten to Gaeta during his sea travels however he was soon proven wrong: as he put his hand on the rock, the rock melted and the shape of his hand is still now visible now!
Whatever you want to make of the stories, the place is worth seeing. The rocks and the sea from here look stunning and the drop is so sheer, the place is very scenic (albeit not suitable if you are at all afraid of heights!)
Need to know: Grotta del Turco has about 300 steps climbing all the way down to the water. For safety reasons, the steps are now closes and the water is therefore unreachable however, the view from here is stunning so a climb up here is worth it nonetheless!
Go to the beach
Gaeta has some wonderful beaches, some of the best in the Lazio region.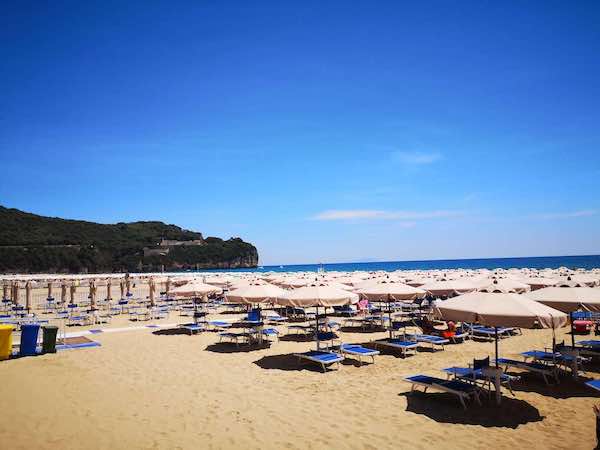 The best beaches in Gaeta are:
Serapo beach – large, soft and sandy, this is the main beach in Gaeta and is well equipped with beach clubs and restaurants.
Spiaggia di Fontania – small sandy beach with ruins of a Roman villa originally belonging to and close to a popular diving spot
Spiaggia San Vito – another lovely sandy beach with slowly degrading coastline
Spiaggia 40 remi – small beach only reachable by boat, takes its name from the '40 strokes' (as in: rowing) needed to get here!
Spiaggia Ariana – small but beautiful sandy beach just outside the town center
Spiaggia Sant'Agostino – overlooked by a rock face popular with climbers, this is another sandy beach
Spiaggia Arenauta – naturist beach
What to eat in Gaeta
Gaeta is in between Rome and Naples so as you can imagine, it has excellent food!
Some of the local specialties to try in Gaeta are:
Olives – the black Olive di Gaeta are legendary on their own or as an ingredient in pasta dishes and tiella
Tiella – local stuffed pie with vegetables stuffing (eggplants, chicory and anything the land produces).
Where to stay in Gaeta
Gaeta has several good accommodation options, especially B&Bs and rentals. Some worth looking at are:
Nomad B&B – Excellent B&B in Serapo (perfect for the beach), with nice rooms with terraces, private bathrooms, common kitchen area, free wifi and option to borrow free bikes. Family rooms available.
Volver B&B – Lovely B&B with clean and tastefully decorated rooms, pet friendly. the breakfast is offered in the convenient bar nearby.
Relais Serapo – Mediterranean style accommodation with nice rooms and breakfast, free wifi, Xbox , parking area. Some rooms have lovely patios.
Hotel Mirasole International – Large, modern seafront hotel with all comfort including onsite pool and accessible rooms
How to get to Gaeta from Rome or Naples
Gaeta is connected to Rome and Naples by a combination of train + bus.
From Rome Termini the train gets to the station of Formia-Gaeta in about one hour / one hour and a half depending on the type of train while form Naples the train ride takes a little less than one hour.
From the station, regular free shuttles lead you to the Formia port and from there a second bus leads to several stops in Gaeta and Serapo.
In the high season, buses sometimes go directly from the station to Gaeta but even if you have to change, it is a short ride and poses little hassle. Tickets for the bus are available at the newsagent in the Formia station and cost around 1 Euro 9at the time of writing).
What to see near Gaeta
As well as Rome and Naples, Gaeta is close to the lovely small town of Sperlonga, which is also worth seeing (it has wonderful whitewashed alleys, a stunning large beach and an important museum)
I hope you enjoyed this quick travel guide to Gaeta and it inspired you to go visit. Safe travel planning!