One day in Pisa: best things to see and must-have travel tips
One day in Pisa: all you need to know for a perfect day trip to this iconic Tuscan town.
Pisa is one of the most famous destinations in the whole of Italy.
Its unique leaning tower appears as a must-see place in almost all Italian itineraries and ignites the fantasy of kids (and adults) from all over the world.
I, for one, love it.
I believe Piazza dei Miracoli to be one of the most beautiful places in the world and I find it to have that magical quality that only true works of art have.
However, not everyone loves Pisa.
The vast number of tourists and especially the presence of large groups means Piazza dei Miracoli, Pisa's most famous square, is often so busy and dirty that visitors feel disappointed and consider Pisa a let down.
While indeed large crowds can be overwhelming here, this is not to say that a day in Pisa is not worth your time.
Despite everything, Pisa is so unique, beautiful and majestic, it is always worth a trip!
This is our guide for a pleasant one day in Pisa, Tuscany.
Please note: this post contains affiliate links. Should you make a purchase, we might make a small commission.
One day in Pisa: need to know
Pisa is an ancient town but suffered massive destruction during the war. Because of this, tourism concentrates on the only par of the center that stayed intact, the main Piazza dei Miracoli, the one with the tower.
To see the square, you do not need a full day: a morning will suffice.
However, if you want to experience a real Tuscan town and not just a tourist destination, you can spend a whole day here and tap into the less touristy part of the city, less scenic but also more authentic.
How avoid the crowds if visiting Pisa for a day
Pisa is one of the most popular day trips from Florence and receives a large number of tourists every day, pretty much any day of the year.
The best way to avoid crowds is to get to to the busiest part of the city, Piazza dei Miracoli and the leaning tower, early in the morning, before visitors coming from out of time make it into the city.
To visit the tower, advance booking is recommended, as the line on the day is usually exceedingly long.
The leaning tower of Pisa ticket office opens bookings 20 days before the date of the visit.
You can check prices of tickets and tours at the following links: unless otherwise specified, these tours and tickets are via GetYour Guide, which is my ticket and tour provider of choice and has excellent cancellation options, up to one day before the tour.
The best things to see in Pisa in one day
If you have 1 day in Pisa, you should devote most of your time to the town's most famous attractions, Pisa's famous tower and the duomo complex, and then take a stroll along the Arno river.
These are, I believe, the prettiest and more interesting areas of the city and what I believe make Pisa one of the small towns of Tuscany worth visiting.
These are also the places we cover in this Pisa one day itinerary.
Piazza dei Miracoli (Piazza del Duomo)
Piazza dei Miracoli is Pisa's jewel in the crown and one of the most beautiful piazzas in the whole of Italy.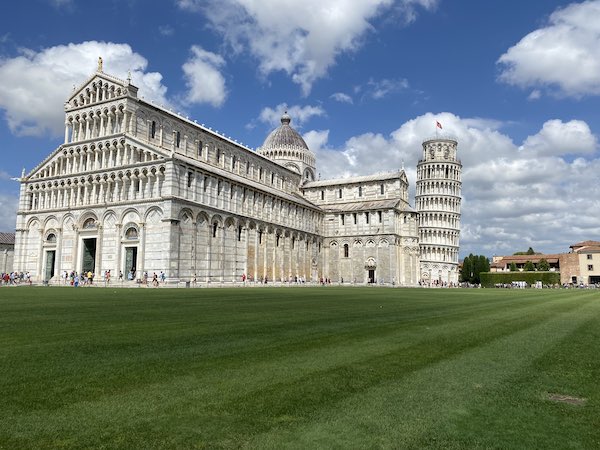 This is the large Piazza with the leaning tower of Pisa, the town cathedral, baptistry and monumental cemetery and is breathtaking.
The buildings, made of a light colored stone, shine brightly against on the green grass that forms the pavement of the square and they are so majestic and harmonious in their architectural unity, you cannot but stop and admire them.
The square is so unique, UNESCO added it to its list of World Heritage Sites in 1987.
Access to the square is free but access to specific attractions is ticketed.
Fun fact: while usually called Piazza dei Miracoli ('square of Miracles'), the official name of this square is Piazza del Duomo. The 'miracles' name dates back to the beginning of the XX century when poet D'Annunzio used the expression 'lawn of miracles' when referring to the square in one of its writings!
The leaning tower of Pisa
The leaning tower is not the most beautiful building in the square but definitely the one that steals the show.
In its origins, it was simply meant to be the bell tower of the nearby duomo but the peculiar fate of its foundations (which collapsed under its weight, on unstable grounds) meant it is now an attraction in itself and a very busy one!
You can see the tower from outside or you can climb up either on your own or joining a guided tour.
Some worth checking out are:
Pisa's Duomo
Il Duomo di Pisa (Duomo di Santa Maria Assunta, Pisa's cathedral) is beside the tower and has a similar design, characterized by light colored stones and decorative columns.
It is a stunning building and worth seeing both outside and inside.
When you walk in, you will be mesmerized by the abundance and variety of the decorations here, mixing elements of Romanesque, Bizantine and even Islamic aesthetic.
This wealth of influences must be found in the maritime vocation of Pisa and its connection with the rest of the Mediterranean, which guaranteed trade and cultural exchanges.
not to be missed inside the duomo are especially the apse mosaic by Cimabue (1302) and the pulpit by Giovanni Pisano (XIV century).
Access to the duomo is free but ticketed: you can get timed ticketed for the duomo only on the day or you get free entrance if you buy access ticket to other attractions on the square.
Ticket and guided tours to check out are:
Pisa's battistero
The baptistry of Pisa is the third monument completing the complex of Piazza dei Miracoli but, like the others, it is also worth seeing as an individual attraction.
The baptistry's construction started in 1152 however, many elements were added at a subsequent time, which explains while there are some Gothic influence in this otherwise Romanesque complex.
The Pisa baptistry is incredible: round in shape, it is the biggest baptistry in Europe and comes in at a size of 107 met circumference and 55 meters height.
Inside, it is built following the same structure as the nearby tower and has beautiful pieces such as an octagonal baptismal fountain and pulpit.
Something special! The round shape of the baptistry and especially its peculiar double dome, make the baptistry and acoustic marvel. At regular intervals, you can hear the vocal intonations made to showcase the echo of this marvel to its visitors!
Il camposanto, Pisa's monumental cemetery
Il camposanto is a monumental cemetery immediately beside Piazza dei Miracoli and an a place not to be missed, no matter how little time you may have in Pisa.
Built in 1277, the cemetery has a rectangular shape and a beautiful cloister inside with stunning Gothic arcades, frescoes and important tombs, previously scattered around the cathedral.
The camposanto deserves a visit for its architecture and tombs but also for the incredible frescoes it contains, a wonderful Death's Triumph by Buffalmacco that is invaluable and unique.
Access to the camposanto is ticketed: tickets can be bought on the day on location or can be bought in advance here
Orto Botanico – Pisa's Botanical Gardens
If you need a break from the crowds of the piazza, then you should head to the nearby Pisa Botanical gardens.
Founded in 1543-1544, the botanical gardens are a lovely place for a walk and a rest and have several secluded and a nice collection of succulents in a rather impressive glass house.
The garden is a pleasant stop during a day in Pisa and feels a little like a hidden gem – rare in such a busy town!
Pisa's botanical gardens are close to lovely streets with restaurants and cafes, perfect for a stroll and a meal.
Lungarno – Pisa's river walk
Pisa is crossed by the Arno River, the same that crosses Florence, and has therefore a Lungarno, or rather 2: Lugarno are the roads along the banks of the river.
The most famous lungarno is probably the Lungarno Mediceo, called this way due to the presence of the Medici palace.
Here, you can take a pleasant stroll and also see the peculiar church of Santa Maria della Spina, which looks like a miniature of a Gothic church!
The church's name has a special history: 'spina' means 'thorn' and the church is said to have hosted one of the thorn of Jesus' crown.
A walk along Lungarno is easy to add to your Pisa itinerary and can be a pleasant way to get in river views and get a sense of the wider geography of pisa, away from the monumental square.
Borgo stretto
Near Lungarno you get to borgo stretto, a historical road still with artisan sops and porticoes that give the place an out of time type of atmosphere.
This is a nice road that has that distinct out of time feel Tuscan towns do so well and it is special in Pisa since so much of the city suffered terribly during the war.
A walk here is a nice opportunity to experience a different side of the city. The location is still central, so this stop is easily added to a day itinerary in Pisa city center.
Fun fact: close to here, you can see the two more leaning towers of Pisa. Yes, the city has a grand total of 3! One of them is at Chiesa di San Nicola and the other one is at San Michele degli Scalzi (they are not quite as impressive as the most famous one though!)
Piazza dei Cavalieri
Very different from the other piazza featured in this Pisa one day itinerary is Piazza dei Cavalieri,the center of Medieval and Renaissance Pisa.
The square is famous for hosting the prestigious Scuola Normale di Pisa, Palazzo dei Cavalieri and also the so called Torre della Muda or Torre della Fame (Hunger tower), which has a macabre history.
As recalled also by Dante in the Divine Comedy's Inferno, in the 1200s Count Ugolino got imprisoned here with his family, deprived of food and water.
History tells us that they all starved to death but Dante adds a twist to the story, telling us that the count ate his children and nephews before encountering his own death!
History or legend, a visit to Piazza dei Cavalieri and its prison is a must when in Pisa!
One day in Pisa with kids
All the landmarks mentioned in this itinerary are suitable for a visit with kids too.
As silly as this is, my kids adored looking for a spot to take a photo 'holding up' the tower and this quest got them walking way more than they would have otherwise endured.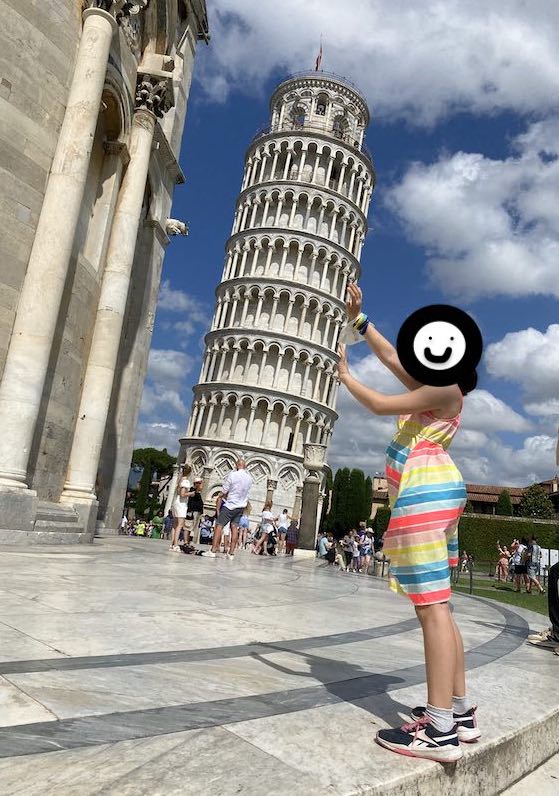 It was also a fun way to chat about perspective and optical tricks, if you are inclined to sneaking in some scientific facts!
Our kids also enjoyed strolling along the quieter Pisa streets, where we got good gelato, the horse and carriages on Piazza dei Cavalieri and the walk along the river.
In Pisa you can also:
Top tip: if your child is in need for a sweet treat, you can have gelato but even better, you can get them to taste of of Pisa's most delicious traditions: torta co' bischeri! Sweet pastry filled with chocolate!
How to get around Pisa in a day
You can easily see all the attractions on this itinerary on foot or you can catch the bus from the station to the tower first and then explore on for.
The buses connecting the main Pisa Centrale train station to Piazza dei Miracoli is called LAM Rossa (red LAM): the ride takes about 15 minutes, tickets last 70mins and cost 1.50 Euro.
You can buy tickets at the newsagent in the station and you find the bus stop immediately outside the station exit.
If you prefer to walk, you can get to the tower in about 20 minutes: I usually catch the bus to go and then walk back, so I can pass Piazza dei Cavalieri and see Lungarno.
Another alternative for those coming by train is to use the station of Pisa San Rossore: this station is slightly closer to the tower but much less served than Pisa central and bus waiting times may be long so I usually find Centrale better.
Another fun way to discover Pisa is by bike.
Bikes are available for rent at Pisa Centrale where you also find a good luggage deposit service.
Good to know: due to its excellent train connections with Rome, Florence, Lucca, La Spezia and Versilia, Pisa is one of the best places to visit in Tuscany without a car!
The best place to stay in Pisa
The best way to avoid crowds in Pisa is to get to Pisa's main attractions early and there is not better way to do so than staying in the town.
This way, you will have the advantage of being already on location in the morning, and can also prolong your day in Pisa after sunset, which can also be a lovely time to enjoy the town with bit of quiet.
The best place to stay in Pisa for sightseeing off-peak hours and a good starting point to this 1 day itinerary of Pisa is the area of Santa Maria, the closest to the tower and Lungarno.
Hotels to consider in these locations are:
Hotel di Stefano (click here for prices and info), a short walk from the tower, as well as an excellent location it also has a wonderful terrace with views of the tower
Hotel Roma (click here for into and prices), just off piazza dei Miracoli, this is a lovely hotel with nice rooms, some with balconies and one of the best locations in town. As well as close to the tower and Pisa's main landmarks, it has the bus stop to the train station and Pisa airport just in front.
Hotel Bologna (click here for info and specs), is a great hotel in Pisa if you need easy access to the train station especially. The hotel has nice, functional rooms, family rooms perfect if you are in Pisa with kids and an airport shuttle service.
I hope you enjoyed this quick overview of the best things to see in Pisa in one day. Safe travel planning!
One day in Pisa: Pin this!
Liked this post? Pin it for later!