25 fantastic things to do in Rome that will make you fall in love with the city (by a local!)
A local's guide to 25 fantastic things to do in Rome that will make you fall in love with the city: main sights, hidden gems, exceptional tours and experiences.
Rome is my hometown.
I was born and raised in the Eternal City and I have been living in Rome most of my life; therefore, when it comes to recommending the best things to do in Rome, I feel confident I can give you lots of excellent ideas!
We Romans love to say that there is soo much to see in the city, a lifetime is not sufficient to see Rome.
Since you probably do not have a whole life, let alone two or three of them, to devote to exploring Rome, being able to prioritize what to see is paramount.
In a previous guide, I focused on planning a trip to Rome with kids.
Today, we go beyond the family angle and look at the tops things to do in Rome no matter your age and walk of life!
In this article, I share my absolute top 25 things to do in Rome; there are Rome sights, experiences, and activities that I believe will show you the best of the city.
This list includes Rome's must-see sites, but also hidden gems and lesser-known areas that I believe are important and pleasant for you to see to be able to say you have seen Rome.
If by the end of this article, you want to know, even more, you can head to my Mama Loves Rome Website, which is entirely dedicated to the city of Rome and has in-depth guides and travel tips to visit the city.
Please note: this post contains affiliate links. Should you make a purchase through them, we might make a small commission, at no extra cost to you.
25 incredible things to do in Rome
Visit ancient Rome and Parco Colosseo
A list of the top things to do in Rome can only start with Parco Colosseo, the most important archaeological park in Rome where you can see the Colosseum, the Romand Forum and the Palatine Hill.
Parco Colosseo is in the center of the modern city and a fantastic place to see in Rome for beauty and significance.
Here, you can see the famous Colosseum, walk in the footsteps of Romans in the Roman Forum, and marvel and the beauty of the Palatine Hill, where the city of Rome was founded.
The archaeological park is a Rome must-see for history lovers but it is so beautiful, I highly recommend you include it in your Rome itinerary even if history is not your primary focus.
Parco Colosseo offers combined tickets including access to the Colosseum, the Roman Forum and the Palatine Hill.
Many ticket options are available, we cover them all in this guide >>> how to visit the Colosseum.
Tour ideas at a glance:
Take a stroll around Rome's most beautiful piazzas
Rome is full of beautiful piazzas, some well known and some tucked away in hidden corners of the city.
Rome piazzas are a feature of the city and they are everywhere.
The best way to explore them is to stroll and allow yourself to get slightly lost, so they can surprise you when they suddenly open up in front of you.
If getting lost is not your thing, some you may want to be sure you don't miss are:
Piazza del Campidoglio, desinged by Michelangelo
Piazza della Rotonda, graced by one of the most significant buildings in Rome, the Pantheon
Campo de' Fiori, medieval in feel and a popular place for aperitivo thanks to its outdoor terraces
Piazza di Spagna, famous for the world-famous Spanish Steps
Take a stroll around Piazza Navona
Piazza Navona is one of the most famous piazzas in Rome and such an iconic Rome location, it deserves its own spot on this list of best things to see in Rome!
The piazza features in many movies set in Rome and it is one of the many places that make Rome an open-air museum.

In Piazza Navona, you find stunning sculptures, fantastic fountains, churches and many outdoor cafes that, while pricey, make it one of the best places in Rome for an afternoon watching life go by.
4. Admire the breathtaking Pantheon
The Pantheon is one of the most peculiar, unique and significant monuments in Rome.
Built as a temple to all deities in the I century BC, the Pantheon became a church in the VII century AD.
Maybe because of that, it stayed in use since its construction and it is now the best-preserved ancient Roman building in the city.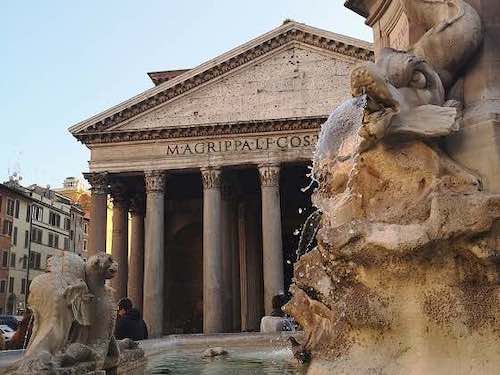 The building has a peculiar round shape and a hole on its roof that has piqued the curiosity of countless generations of locals and visitors.
Everyone loves to speculate about what happens in the case of rain and there is nothing more satisfying than going in when it rain and see what happens!
Due to its beautiful, significance and curiosity factor, a visit to the Pantheon is one of the best things to do in Rome on a rainy day (but not only, it is stunning in all weather!)
Throw a coin in the Trevi Fountain
The Trevi Fountain is one of the most famous and touristy places in Rome and gets insanely busy.
However, it is popular for a reason and no trip to Rome would be complete without stopping and admiring it at least once and without the traditional throwing of the coin in its clear waters!
The best way to visit the Trevi Fountain is to go very late in the evening or very early in the morning.
The fountain is on a small piazza and gets awfully crowded: come before or after the day-trippers for the best experiences.
Visit the Vatican
The Vatican is technically not Rome but since it is geographically inside the city, I include this in the list of the best things to see in Rome anyway.
There is plenty to see and do at the Vatican but, at a glance, the main sights are:
St Peters' Square: this is the stunning monumental square in front of St Peter's Basilica; designed by Bernini, this is one of the most beautiful piazzas in Italy and beyond.
St Peter's Basilica: the basilica of St Peter's sits upon the tomb of the Apostle Peter and is the most important catholic church in the world.
As well as significant for religious visitors, the Basilica is stunning from an art and cultural point of view since it preserves masterpieces by Michelangelo, Bernini and other artists that make it as artistically significant as a museum.
The Vatican Museums: the Vatican Museums are among the most important museums in the world for the significance of the art they hold and their size.
Among their most precious treasures, there are the Sistine Chapel with the Last Judgement by Michelangelo and the stunning Rahaels's Room.
The Vatican Gardens – these are large manicured gardens at the back of the Basilica of St Peter's, a wonderful sight for garden lovers and a wonderful vantage point to capture views over the famous St Peter's Dome.
Tour ideas:
Admire the world-famous Spanish Steps
The Spanish Steps are one of the most beautiful places in Rome and a Rome must-see.
Located in the center of the city, the Spanish Steps are a monumental staircase connecting Piazza di Spagna with the top of the Pincian Hill and are a sight to behold.
People come here from all over the world to take photos and make memories: due to their beauty and scenographic power, it is one of the most popular places in Rome for marriage proposals!
The Spanish steps are one of the most beautiful piazzas in Italy and a place you cannot miss during a Rome visit.
Take a tour of Castel Sant'Angelo
Castel Sant'Angelo is Rome's only castle and one of the most interesting, beautiful and unique things to see in Rome.
Located between the River Tiber and the Vatican, the castle dates from Roman times and has been in use since its construction first as an Imperial Mausoleum and, later, as a Fortress for the Popes.
As well as interesting inside, the castle is worth visiting for the stunning views over Rome you can catch from its top.
Tour idea:
Castel SAnt'Angelo Guided tour by Civitatis
Catch a view from one of Rome's most beautiful viewpoints
Rome is wonderfully seen from above and there are many beautiful spots from which to admire views over the city.
Some are man-made, such as the top of St Peter's Basilica, while others come courtesy of Rome's hilly landscape.
You can find here >>> where to go for the best views over Rome
Explore underground attractions
Some of the most beautiful and interesting Rome attractions are underground.
Some of them are under street level since their constructions; others went underground due to the twists and turns of history.
Tour ideas:
Marvel at Rome's breathtaking Mosaics
Rome is one of the best places in the world to admire mosaics.
In the city, you can see mosaics from ancient Roan times, and you can also admire later ones from Byzantine and medieval times in several of Romes' curches.
Seek out art in churches
Rome has hundreds of churches and you don't need to hold religious beliefs to make them worth a visit.
Many of Rome's churches hold outstanding art and are, in all respects, as valuable as museums, from an artistic point of view.
Among the most famous are you can see in Rome's churches, you can find:
Work by Caravaggio, who spent most of his life in Rome and left invaluable works of art in many of the city's churches (San Luigi dei Francesi possibly the most famous)
Work by Michelangelo, including his world-famous Pieta' and Moses
Many churches are also worth seeing for their incredible and unique architecture.
Not to be missed are, for instance, St Ivo alla Sapienza by Borromini, San Carlino alle Quattro Fontante by Bernini and Santa Costanza, one of the few round churches in Rome.
Walk in the footsteps of Bernini
Many of Rome's most famous landmarks are the work of one man: Gian Lorenzo Bernini.
Architect and sculptor of immense talent, Bernini has left fountains, statues, churches and piazzas in Rome we still now admire.
Taking a tour of his most important works is a fantastic way to explore Rome and learn about one of the biggest representatives of Baroque art in the world.
Tour idea:
You can follow the footsteps of Bernini while discovering Rome at your own pace with our guide and Bernini in Rome itinerary idea
Have gelato
Can a trip to Rome be complete without a stroll with refreshing gelato?
Of course not!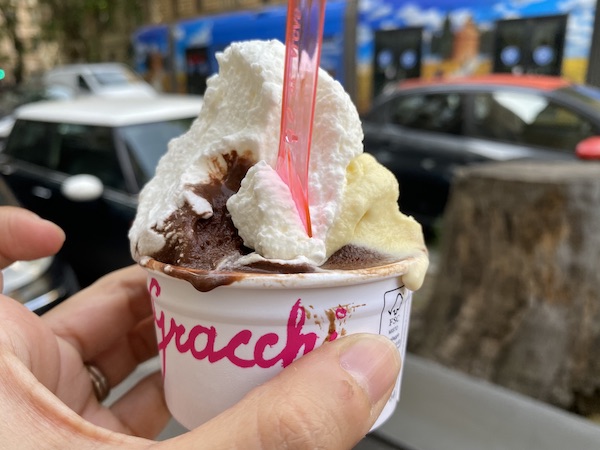 Gelato differs from ice cream for fat content, temperature and ingredients and the real thing truly is delicious.
When looking for it, make sure you pick a place selling 'gelato artigianale' (artisan gelato): this type of denomination is what guarantees you have real gelato made as tradition requires, not a low quality knock off.
Taste traditional Rome food
Rome has a fantastic food tradition, mostly centered around pasta dishes.
Among the most famous foods to try in Rome, there are:
Carbonara – Carbonara is from Rome and the city is still the best place in the world to taste. real carbonara is creamy, tasty, satisfying and, possibly, very different from 'carbonara-inspired' dishes you may have tasted elsewhere.
The best place in Rome for carbonara is Mimi and Coco in Via del Governo Vecchio: go early as they do not take reservations and the line can be long.
Cacio e Pepe – another Rome staple, you find it delicious in Da Felice a Testaccio, maybe the most famous Cacio e Pape in Rome and in popular Tonnarello in Trastevere
Gricia and amatriciana are two other favorites in the city. If you prefer other types of food, Rome is also famous for fried artichokes 'Jewish Style' (carciofi alla giudia, especially popular in Rome's Ghetto neighborhood), suppli, fried rice balls, and maritozzi, a sweet brioche with delicious whipped cream.
Take a pizza class
Rome is one of the two cities with the best pizza in Italy (the other one is Naples) and therefore one of the best things to do in Rome is to take a pizza class!

During a pizza class, you will learn how to make pizza from scratch and also why you shouldn't add heavy toppings such as pineapple (and no, it is not just because we are fussy, there is a genuine reason why some toppings don't work as well as others!)
Marvel at the many fountains of Rome
Rome has an impressive number of fountains, so numerous and peculiar to be a real feature of the city.
Small roman fountains are called nasoni and are for drinking while bigger fountains are for decoration and are true works of art.
Among the best to see in Rome, you will love:
Trevi Fountain, in Piazza Fontana di Trevi
Barcaccia, at the bottom of the Spanish Steps
Fontanone, on top of Janiculum HIll
Fontana dei Quattro Fiumi, in PIazza Navona
Take a golf cart tour to see the best of Rome without stress
There are very many fun ways to explore and one that is particularly enjoyable is by Golf Cart Tour.
While a quintessential touristy way to get around, olf carts are wonderful to make the most of Rome's beautiful weather without running the risks and having to deal with the stress of riding a Vespa, not an easy feat in Rome's crazy traffic!
Tour idea:
Best of Rome Golf Cart Tour by LivTours
Take a photo shoot in some of Rome's most scenic locations
Rome is so beautiful, you are guaranteed to go home with stunning photos.
However, if you want to take your experience and memories to the next level, you can also hire a private photographer and set up your own photoshoot!
A private photo shoot si one of the best things to do in Rome if you want to have the chance to follow a local to some of the most atmospheric corners of the city and go home with fantastic memories of your time in the eternal City.
A company we have used with great success is LocaGrapher: you can find our review here
Explore Rome's hidden gems
Rome has so many important landmarks many visitors fill their time hitting the most famous spots. However, Rome is even more wonderful when you discover the city's hidden gems.
These range from smaller museums to residential neighborhoods and hidden courtyards and are wonderful as unexpected and, often full of peculiar and entertaining stories,
Spend an afternoon at the Borghese Gallery and gardens
One of the best things to do in Rome is to take an afternoon to explore the wonderful Borghese Gardens.
Once the private residence and park of the Borghese Family, the Borghese Bardens are now a public park with plenty to keep kids and adults entertained and the home to the stunning Borghese Gallery, one of the most beautiful art galleries in the world.
A great place for a romantic stroll, reading a book, or if visiting Rome with a baby or kids.
Go shopping
Rome is a paradise for shopping lovers.
The city has shops for all budgets: you can shop your favorite design and high end brands in teh city center, get personalized service in the many boutiques of the city or have fun shoppin gon the high street, vintage shops or even markets!
Great shopping areas in Rome are Via del Corso, Via dei Condotti, VIa Nazionale, Via Cola di Rienzo.
Get charmed by Rome's cobbled street
Rome's cobbled streets have charmed many generations of visitoes and indeed, they are a lovely feature of the city.
You find them in several parts of the city, but especially in:
Rione Monti, the historical neighborhod between the Colossuem and Termini Station
City center district, between Piazza Navona and Pantheon
Trastevere, immediately on the opposite side of the river from the histotical center
Have a drink on a panoramic terrace
Rome has many panoramic terraces from where you can enjoy views on the city at sunset while sippinh on a local coctkail
There are many in the city, but for views and service we recommend:
Divinty Terrace at the Pantheon Hotel
American Bar at Otivm hotel
Circus at 47 Hotel
Explore Rome's stunning art museums
I left museums at the end of this list of the best things to do in Rome to end with a bang: tome museums are stunning and way more numerous than many realise!
Among the mos t famous ones there are:
Musei Capitolini
Galleria Borghese
Museo Nazionale Romano (several locations)
Musei Vaticani
Palazzo Barberini
However, there are many more including beautiful Palazzo Braschi, Centrale Montemartini, Maxxi, National Gallery of Modern Art, just to name a few.
I hope this quick overview of the very best things to do in Rome inspired you to plan a visit.
You can find lots more ideas and tips on my website entirely dedicated to visiting the city of Rome Mama Loves Rome.
25 top and best things to do in Rome: pin this!