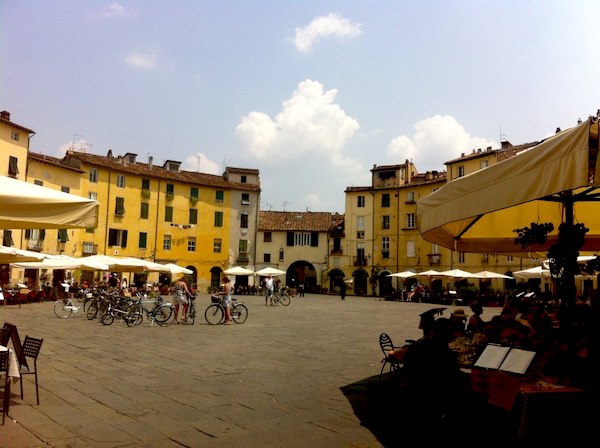 One day in Lucca: why you will love this unique walled town in the heart of Tuscany
One day in Lucca: practical tips and recommendations on what to see in this beautiful town in Northern Tuscany
Lucca is a beautiful small town in the North of Tuscany, about 1 hour by train West of Florence.
It is a historical town, whose story starts in ancient Roman times, and its center still keeps impressive vestiges of this long past.
In Lucca, you will find incredible traces of Roman architecture, beautiful medieval and Renaissance walls and churches and you will also be spoiled by all the modern comfort of a town that managed to embrace modern times without losing its wonderful past!
Lucca is a wonderful day trip from Florence and a fantastic place to call home for a few days while exploring the North of Tuscany and Pisa.
Why spend one day in Lucca
Lucca is a beautiful town worth visiting on several accounts:
Its wonderfully preserved walls, open to visitors and still surrounding the city
Its beautiful churches
Its accessible town center (unlike other towns in Tuscany, Lucca is flat)
Its important musical history
I recommend a visit to Lucca to anyone visiting Tuscany, no matter your age!
What to do in Lucca in one day
Lucca as we see it today is mostly a medieval town so the main things to see here are connected with this interesting historical background.
Walk or cycle along the town walls
Tuscany has many walled towns (Monteriggioni comes to mind) however, the walls of Lucca are special.
As you set foot on them, you find yourself on a promenade that feels more like a stroll in a park rather than a walk above an ancient defense system and the feeling is wonderful!
The walls stretch for about 4 km and have beautiful trees and large spaces perfect for a picnic or a rest with a view.
From them, you can catch lovely views over the city and I always recommend starting your day here as they may allow you see spots you may then want and explore once your wall walk is done!
You can walk or cycle along the walls and the experience is suitable for kids too.
Admire the incredible Piazza dell'Anfiteatro
Another very special landmark in Lucca is the ancient Piazza dell'Anfiteatro.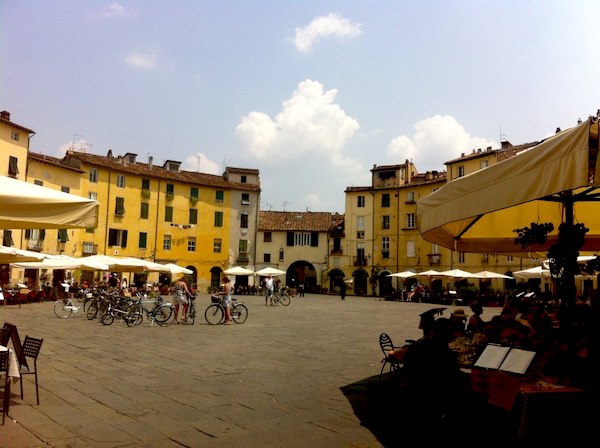 This piazza is a lively spot with restaurants and cafes however, it is very easy to see why it is a place like no other.
If you look all around you, you will see that the shape of the piazza is that of an ancient amphitheater, which is exactly what this piazza once was!
The Lucca amphitheater is said to have been originally planned in the I century AD and its main foundations still exist under the square.
Over the course of the centuries, after the fall of the Western Roman Empire, the area fell into disgrace.
The amphitheater got effectively dismantled and pieces of it got taken and used as building materials.
On what remained of the structure, the inhabitants built houses that now form the main shape of the piazza.
Additional buildings used to be in the center.
However, in 1830, the piazza acquired the shape we see now, thanks to the work of Architect Nottolini and it is now, I believe, one of the most beautiful historical piazzas in Italy.
Visit Lucca's 100 churches (or at least a few of them!)
Lucca is known as 'the city of 100 churches' because of the staggeringly high number of religious buildings this small town manages to pack in.
Seeing all of them in a day is out of the question, but some are absolutely worth adding even to a one-day itinerary.
Make sure you seek out
Lucca's Duomo di San Martino, Romanesque and Gothic, Piazza Antelminelli
Basilica di San Frediano, XII century Romanesque, Piazza S. Frediano
Church San Michele, maybe the most famous and photographed in Lucca, Piazza San Michele
Climb up (or look up towards) Torre Guinigi
Probably the most unique and iconic landmark in Lucca is the pretty Torre Guinigi, easy to recognize thanks to the presence of oak trees on its very top!
The tower is wonderful: it dates back to the XIV century and its red bricks, crowned by the green of the oaks in a location no one would expect a tree to make it unforgettable
The tower is open to visitors but if you don't feel like climbing over 200 steps or you are afraid of heights, it is wonderful from street level too!
Special events you may find on your day in Lucca in 2022
Depending on the time of the year of your trip, you may come across one of the many events taking place in Lucca.
Some worth knowing about are:
Ice skating rink in Piazza Napoleone, a wonderful winter event for all ages
Lucca summer music festival, when the town who gave birth to composed Puccini hosts wonderful music performances day and night
Lucca Comics & Games, a fantastic festival taking place in Lucca in the month of October / November
One day in Lucca with kids
We visited Lucca with our two young kids and they adored it.
Lucca is super family-friendly and very easy to negotiate even with little ones. It is one of the best day trips from Florence, especially if you have toddlers.
The town center is flat and mostly closed to traffic (not entirely, always be vigilant) and they enjoyed many of the things Lucca has to offer.
You can find here >>> The best things to do in Lucca with kids (our complete Lucca family guide)
Lucca is one of the places we recommend if you are visiting Tuscany with kids.
Practical tips for visiting Lucca
Lucca is easily reached by car or train.
The historical center is closed to general traffic and there is plenty of parking available just outside its gates.
As you get close to the town, follow for 'cento storico' and park whenever you see one of the town gates: parking is available in parking lots and on street – do bring coins as it is all pay and display.
Unlike other towns in Tuscany, Lucca is rather flat so while you will want good shoes to walk around, you don't need any special shoe-wear.
Families with children will have no problems using a stroller here although a carrier will allow you to rent bikes more easily!
I hope you enjoyed this quick guide to one day in Lucca and it inspired you to visit. Safe travel Planning!