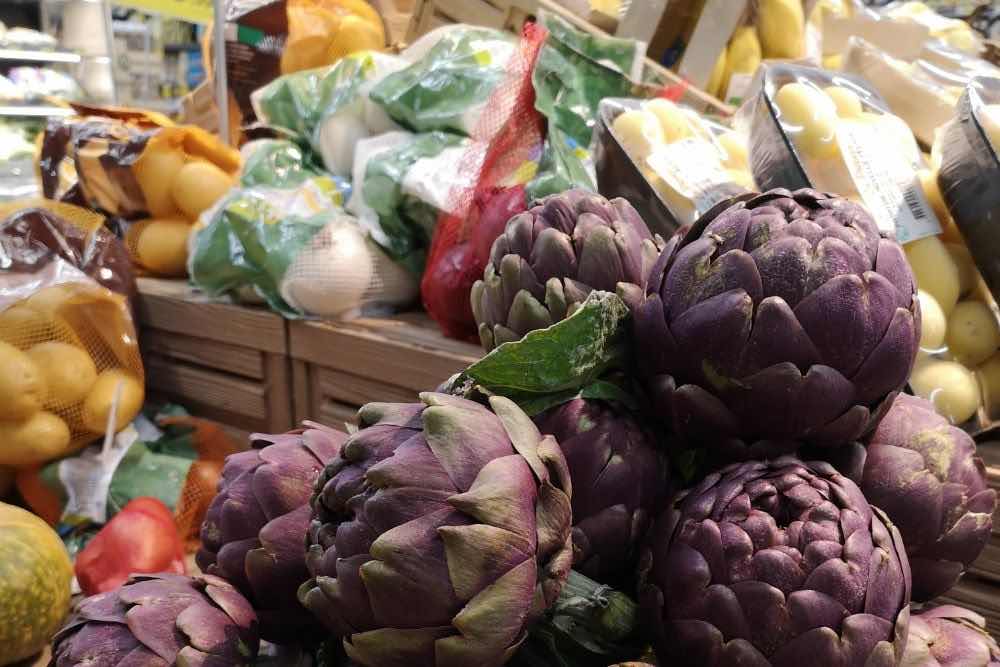 18 beautiful markets in Italy + tips for a successful experience
A curated list of the most important historical markets in Italy and tips for visits to local markets you may encounter during your stay.
Visiting markets in Italy is a pleasure and, often, an authentic cultural experience.
Shopping in supermarkets and large shops is common in Italy, especially in bigger cities, however, many places still head to local food markets for grocery shopping and weekly household and clothing markets are common bargain hunting grounds for locals and tourists alike.
Markets in Italy come in all shapes and sizes.
Some are historical and permanent, some are itinerant and reach different localities on different days of the week (usually at weekly intervals), and others are occasional and announced as special events with a few days or a few weeks notice.
The things on offer at Italian markets are also varied. They include groceries, household items, clothing and often have, exclusively or in addition to other stalls, crafts, jewelry and local artisans' crafts.
This is an overview of what to expect when visiting markets in Italy and some historical ones you should seek out.
Please note: this post contains affiliate links. Should you make a purchase, we might make a small commission.
Historical markets in Italy you should not miss
Mercato Ballaro', Palermo
Mercato Ballaro' (Ballaro' Market) in Palermo is one of the most famous markets in Italy and a must-see during a trip to Sicily.
This market is an extravaganza of colors, smells and sounds and a fantastic way to experience Sicily.
Here you find many stalls with mountains of produce, fruit, spices, eggs, and more exotic foods and lots of street food stalls selling delicious Sicilian specialties.
The market is an assault on the senses in the best way possible. You can visit on your own or join a Palermo food tour such as this one, which includes a market visit.
You can learn how to include Palermo in your trip following this Sicily itinerary.
Mercato di Campo de' Fiori, Rome
The market in Campo de' Fiori, Rome, is one of Italy's most famous food markets, primarily because of its stunning location: Campo de' Fiori, one of the most beautiful piazzas in Italy.
This is an open-air market, open in the morning: historically, it would have sold flowers and produce and it still does; however, the presence of food packaged and priced for tourists has vastly changed its feel.
The market is however pleasant to visit and if you know where to go, you can get good produce.
Cooking classes in Rome often include a stop here and this format is, I believe, one of the best to experience it.
Mercato San Lorenzo, Florence
Florence has several markets worth seeing but the most famous is the historical market of San Lorenzo.
Mercato San Lorenzo has two parts, one indoor selling food and one outdoor selling leather, items of clothing, pottery and more.
This is an excellent place if you are looking for Italian souvenirs (always check the individual item to make sure it is indeed local!).
Mercato Centrale, the food part, is indoors and it is perfect for purchases, lunch and food tasting. Many of the shops offer food tasting experiences to guide you through your purchases of, among other things, cheese and oil.
Other markets worth seeing in Florence are:
Mercato delle Pulci at Santa Croce: antiquities, vintage finds, Tuscany crafts, collectors' items, coins, etc
Mercato delle Cascine: in the park by the same name, a mixed market with a bit of everything including household items clothing, gadgets etc
Mercato Sant'Ambrogio: food and miscellaneous items, this is one of the historical Florence markets, established in the late XIX century
Mercato Nuovo alla Loggia del Porcellino aka Mercato della Paglia, in the city center, popular for buying scarves, hats and clothing items and famous for the little statue of the 'porcellino' (lit. piggy).
You can read how to include a market visit following our Florence itinerary.
Rialto Market, Venice
The Rialto Market in Venice is beside the famous bridge by the same name and is a stunning fish market dating back to the XI century!
The Rialto Fish Market is under a scenic lodge and right on the Canal Grande and, in the mornings, is a bustling spot with stalls selling fresh fish. Outside of the lodge, you also find stalls selling produce but also non food items such as jewelry.
This is a fantastic spot to visit and an easy one to add to your Venice itinerary since it is right in the city center.
Mercato di San Gregorio Armeno, Naples
The market at San Gregorio Armeno is one of the most interesting in Italy and unique! Unlike others in this list, the market develops along a street and it is entirely devoted to nativity scenes and figurines!
It is an unbelievable place. Nativity scenes are one of the most authentic Christmas traditions in Italy and the area of Naples excels in their creation. The market is at its busiest before Christmas however, it is open all year round, with a more limited but still interesting selection and fewer crowds (this can be a plus, Naples at Christmas is fantastic but often overwhelming!)
San Gregorio Armeno is a unique site and often included in Naples walking tours such as this one and this one
If you are looking for a food market in Naples instead, then the place to be is Mercato di Porta Nolana market.
Weekly markets in Italy
The markets mentioned so far are historical markets with permanent locations but you also have many markets in Italy that are itinerant, and that you find on specific days in different localities.
These weekly markets are usually great for bargains and typically sell a mix of household items, clothes, shoes and garments.
They are hit and miss in terms of quality and atmosphere but they are often amazing for clothing especially.
They usually set up early in the morning, which is when you get the biggest selection of items. They may or may not include street food sellers so don't make them a lunch stop unless you know there is food.
Christmas markets in Italy
Christmas markets are not an Italian tradition however, they have become more and more popular in the last few years so you find a good few, usually during weekends in the month of December.
As well as San Gregorio Armeno mentioned above, the best place for the quintessential Christmas market experience is the Dolomites.
This is an area of Italy with a strong Germanic influence and with Christmas markets that most resembles the ones of central Europe, where the tradition was born. You can find our selection of the best Christmas markets in Italy here.
Other markets you may enjoy
There are a myriad of other markets in Italy I could add to this list however, the ones below I think deserve a specific mention:
Mercati Rionali, Rome: 'Rioni' is the name of Rome's ancient neighborhoods and 'mercati rionali' are the local food markets you still find in many of them. These are hit and miss in quality but usually they are hosted in beautiful covered structures and have good priced fresh produce and stalls selling all you may need for a family weekly shop.
Mercato Porta Pila, Turin: Mercato Porta Pila is the largest open-air market in Europe. You find a bit of everything, sold in a mix of stalls and shops: worth seeing is the covered part, an architectural gem
Antiquities market, Lucca: this market happens every third weekend of the month in Lucca, and it is a cool market for finding antiquities and crafts
Mercato del Pesce, Gaeta: this fish market regularly features as one of the best things to do in Gaeta and a great place to buy the catch of the day if you are relaxing for a few days in this pretty town.
Mercato Orientale Genoa: a historical market in Genoa, great to buy fresh Liguria produce. This is a stunning indoor market, sadly currently closed (2021) as lacking outdoor spaces, necessary to operate in current conditions.
Mercato del Pesce Chioggia : if you are in Chioggia, you may enjoy a visit to the pescheria, the local market fish market perfect for grabbing dinner to cook at home
Should you haggle when shopping at markets in Italy?
if you have never been to an Italian market before, you may wonder if you can, should or may be expected to haggle and negotiate on price. You are not.
Haggling is not part of the Italian tradition and going to a market stall offering a lot less than the price tag is likely to simply come across as rude. Prices are usually well visible so you don't have to ask or worry they will jack them up because you are a foreigner.
What is acceptable, however, is to round up a lower price if you are buying one than one item.
Are Italian markets safe?
Markets in Italy can be busy and while they do not pose any additional risk than any other busy area, they may occasionally come with pickpockets.
Usually, to avoid unpleasant encounters is enough to use basic precautions: do not keep your wallet in the back pocket of your pants or backpack, opt for a crossbody bag, avoid flashing cash or jewelry and do not leave valuables unattended.
I hope you enjoyed this overview of markets in Italy. Safe travel planning!
Visiting Markets in Italy: Pin this!