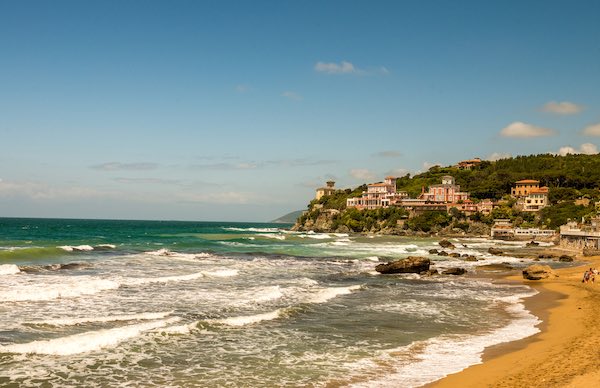 Castiglioncello: the pretty seaside town in Tuscany you will love (2022 update)
All you need to know about Castiglioncello, a pretty seaside town in Tuscany perfect for seaside relaxation.
Castiglioncello is a pretty seaside village in Tuscany, popular with Italians especially as a pleasant coastal retreat.
The town is on a stretch of beautiful rocky coast and has clean waters that make it perfect if you like swimming and snorkeling.
The town is mostly an early XIX century seaside resort: it has pretty house with green yards and blooming leader bushes, a small castle, Castello Pasquini, that has a beautiful park and is the seat of summer music and theatrical events, a wonderful umbrella pine forest and a delightful coastline.
Castiglioncello is a summer town, a place people come to relax and unwind.
My family have been coming to Castiglioncello for generations: these are the many reasons that keep us coming back!
Fun fact! Castiglioncello was extremely popular in the Italian cinema world and saw some illustrious guests. Alberto Sordi and Nino Manfredi are only two of the many fans the city has and even bought beautiful villas in the area that locals are very happy to point out to you! The movie 'Il Sorpasso' was filmed here.
The best things to do in Castiglioncello
Enjoy the beautiful beach at Quercetano
Castiglioncello is a seaside resort and there is no better place to enjoy the beach here that coming down to the sandy stretch of Quercetano.
When I say 'coming down', I really mean it: Quercetano beach is at the end of a long and steep cliff with almost 100 steps!
The climb up and then up is tiring and makes the beach unsuitable for toddlers (you will never get a stroller or much equipment up these steps!) or anyone with mobility issues however, it is beautiful!
If you are happy to get there, you will be rewarded with beautiful sands, clean waters and several beach clubs as well as the free beach, perfect for long days at the beach.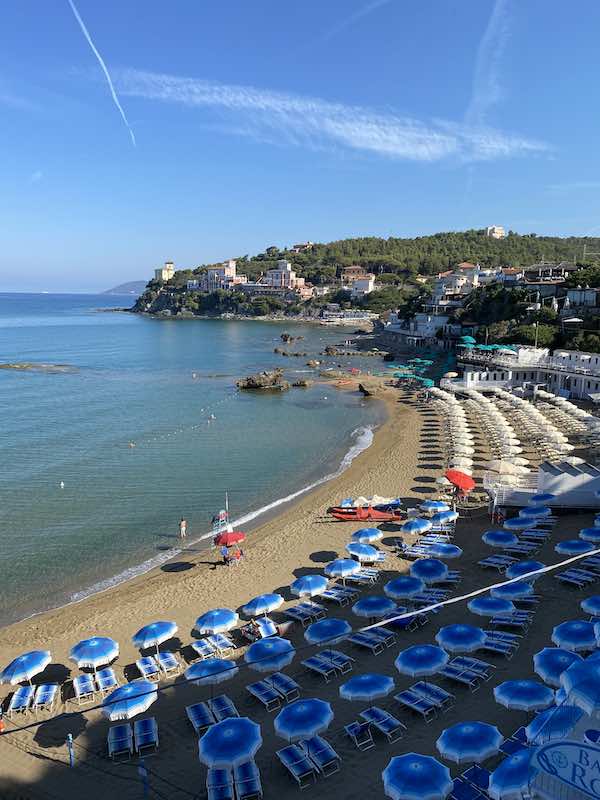 Quercetano beach has several access points.
The free beach is most easily accessed from Via Guido Biagi.
This small road leads you to the top of the staircase carved into the rocks and then down to the golden sand of Quercetano free beach and some of the Quercetano beach clubs.
This staircase is rather steep and it is most suited to families with older kids.
A little further down the coast, you can reach the Quercetano beach clubs with easier staircases.
Sunbathe and swim at Bagni Miramare or Bagni Ausonia
On the opposite side of town from Quercetano, you find a different sea access, a beautful and rocky stretch of coast with several nice beach clubs perfect for sunbathing and swimming.
Here there is a little sand and the sea floor is mostly rocky, yet easy to access.
Part has shallow waters, good for small kids (bring water shoes) and sunbathing, while other parts have deeper waters that are best for swimming.
The waters here are clear and you can easy go snorkeling.
Beach clubs and cafes offering light meals and snacks abound: book early as this is a place with recurring clients and good spots sell out fast!
In this area, we like:
Bagni Miramare (sand area) for babies and toddlers. This beach club is right in front of the Marina and has a strip of sand and shallow waters perfect for splashing around.
Within the same lido you also you also have sea access into deeper waters, accessible by a small pool-like staircase, perfect for basic snorling and swimming.
The beach club offers loungers, umbrellas, cabins, lifeguard service and a cafe.
Bagni Ausonia (our top pick!): just in front of Bagni Miramare, Bagni Ausonia develops over a terrace overlooking shallow, crystal clear waters.
The beach club offers lifeguard service, umbrellas, loungers, cabins and showers, and a nice cafe and restaurant.
Bagni Ausonia is most suited to kids of primary school age and up.
Here, they can safely learn to swim and snorkel, thanks to the safe, beautiful waters of this small bay.
I personally love Bagni Ausinia the most as it has the prettiest view over the green Castiglioncello coast.
Walk to La Baracchina
Castiglioncello has a lovely lungomare promenade, popular for sunset walks and to catch views of the sea in stormy weather especially.
The walk leads you to a restaurant and club called 'la baracchina', which is a local landmark.
Indeed, its position is special: strong swimmers love to come here from the water, swim their way here from Miramare and then reward their open water efforts with a cold drink.
Families and couples love to take the 10-minute stroll to this landmark and take in the views.
The walk to La Baracchina is stroller-friendly and toddler friendly: you can let them walk with you as there are no cars – just keep an eye on them as, despite the fences, little ones may be able to sneak their way towards the water.
Enjoy Castiglioncello's Pineta Marradi
Castiglioncello has a lovely pineta (umbrella pine forest), aka a large green area in the shade of pine trees.
Pineta is the place where kids especially gather in the afernoon and the evening: here you have playgrounds for the kids, a tennis club, crazy golf and open air cinema in the summer.
In particular, in 2022, we found:
A lovely, shaded playground with several areas and frames for toddlers and older kids
A high jumping trampoline
A crazy golf / mini gold course (basic but ok for small children)
A nice tennis club with tennis pitches and a cafe
Another cafe for snacks or aperitivo
Some market-style stalls (nothing special but some nice knick-knacks for the kids and basic swimming gear / beach dresses)
Pineta Marradi is wonderful
The whole area is shaded, clean and pleasant and my kids play here for hours on end while I lunge and admire the sea views in between the trees!
Sip aperitivo 'in piazza' and on Castiglioncello main street
Of course, Castiglioncello has a piazza with an elegant cafe where to sip aperitivo!
The town is not exceptionally glamorous so it is not a place where you would feel out of place in shorts and t-shirts however, the piazza is where you can have fun dress up.
Most apertivo places are around the piazza and on the main street (pedestrianized) and you can pick your favorite.
The one we usually go to is called La Piazzetta dalla Wilma: it operates as a cafe in the morning and as a Bistrot in the evening and it is pleasant, with nice, kid-friendly staff.
Castello Pasquini
Castello Pasquini (Pasquini Castle) is the historical landmark in Castiglioncello and was built between 1889 and 1891 in traditional Tuscan style.
The castle is beautiful and imposing and it has a nice park that is lovely to cool down in summer and hosts regular events. You can find the program here.
Good to know! While Castello Pasquini is not ancient, the Medici tower a little farther up the road is. The Medici tower dates from the XVI century and served as the Southernmost defence post for the Capitanate of Livorno. While not currently open to the public, it is nevertheless a nice landmarks that adds charm to this pretty yet mostly modern seaside town.
Where to stay in Castiglioncello
Please note: this post contains affiliate links and, should you make a purchase, we might make a small commission at no extra cost to you.
Castiglioncello has several hotels and rental apartments perfect for short and long stays. Some worth considering are:
Hotel Tirreno, pretty hotel mixing modern comfort and old-world charm, well located close to the lungomare and right at the entrance of Pineta Marradi.
Albergo Pensione Bartoli, welcoming hotel in the village, close to both the piazza and the sea, pet friendly.
Hotel Leopoldo, pretty hotel with a homely feel in a nice green street close to the seafront. Big rooms are available for bigger families.
If you have a car and wish to rent a bigger place, I also recommend you look a little further up the road from the sea, in the area called 'Le Spianate'.
Here you have pretty family houses and small villas, lovely shaded areas and nice views of the coast: you do, however, need to get the car or face a longer walk to reach the coast.
Castiglioncello shops and services
Castiglioncello has all the basics you need for a seaside stay.
Castilgioncello; shopping street is the center of the town: this is a short, clean and pretty pedestrianized street with shoe and clothing stops, newsagents and the main town supermarket: Conad.
Here you also find kid's favorites sich as gelato shops, schiacciata shops and frozen yogurt.
One road up, on Via Aurelia, you have additional shops such as the newsagent and some restaurants, including 'Ghostbuster's, a nice family-friendly restaurant and pizzeria with terrace and a fantastic family-friendly feel.
I hope you enjoyed this quick overview of Castiglioncello and put it on the map for you a place for sea and sun relaxation!