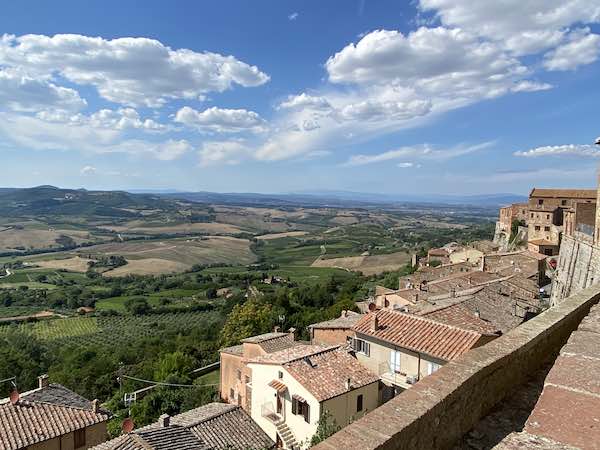 Best Tuscany villages and small towns in Tuscany you will love
A handpicked selection of the most beautiful Tuscany villages and small towns in Tuscany for the perfect Italian experience.
Tuscany villages are famous for being among the most charming, beautiful and endearing locations in Italy and no trip to the country would be complete without at least a visit to some of them.
Beautiful small towns in Tuscany are so numerous that making a complete list would be impossible.
Also, it would not be that useful if you are trying to narrow down Tuscany villages to prioritize for your trip!
Instead of a long list of beautiful small towns in Tuscany, I decided to go for a handpicked selection of what I consider the best of the best, the most beautiful Tuscany villages you should try and include in your Tuscany Itinerary for the best experience.
I hope you enjoy it!
What makes Tuscany villages so special?
Tuscany is not the only part of Italy with pretty small villages, far from it.
However, it is one of the areas of Italy with the highest concentration of historic towns, many of them now enlisted as UNESCO World Heritage Sites.
But why is that? What makes Tuscany villages so special? It all has to do with the history of this area.
During the Middle Ages and then the renaissance, Tuscany was organized in independent municipalities (i comuni), often in war one against the other.
Siena and Florence were the strongest local powers and many villages were born or grew as strongholds to protect one from the attacks of the other.
This is why you have so many fortified, hilltop-walled towns in this area and why places such as Siena have imposing architecture.
The experience of the comuni only happened in parts of Italy and is in strong contrast with the experience of other regions, that had centralized decision-making structures that kept them under the thumb of local landowners.
This peculiarity of history is what makes Tuscan villages so unique and numerous.
Our top 10 most beautiful villages in Tuscany
Montepulciano
Montepulciano is a stunning hilltop village in Southern Tuscany, overlooking two of the most beautiful valleys in the area: Val d'Orcia, of UNESCO fame, and Val di Chiana.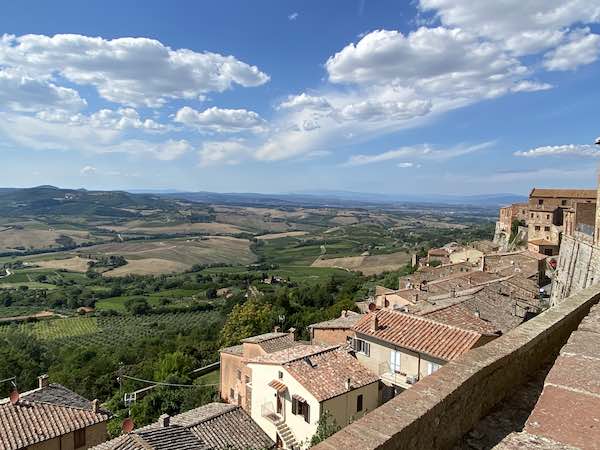 The town is surrounded by mighty walls and has maintained its original urban structure, made of meandering roads and alleys climbing up the hill to the main town square.
This small town is one of the most beautiful you can see in the area.
Piazza Grande, at its very top, has a wonderful municipal palazzo, duomo and an impressive ancient well.
The views for the town towards the countryside below are breathtaking and surprising, making their appeared behind unassuming streets and alleyways.
If this wasn't enough, the town is also famous for a warming, beautiful red wine called Vino Nobile di Montepulciano, a real treat for wine lovers!
Montepulciano is one of the most beautiful villages in Tuscany and the whole of Italy: you can find our guide to Montepulciano here.
San Quirico d'Orcia
San Quirico d'Orcia is a tiny, wonderful medieval village in Tuscany, and more precisely in the valley that gives the village its name: Val d'Orcia (South of Siena).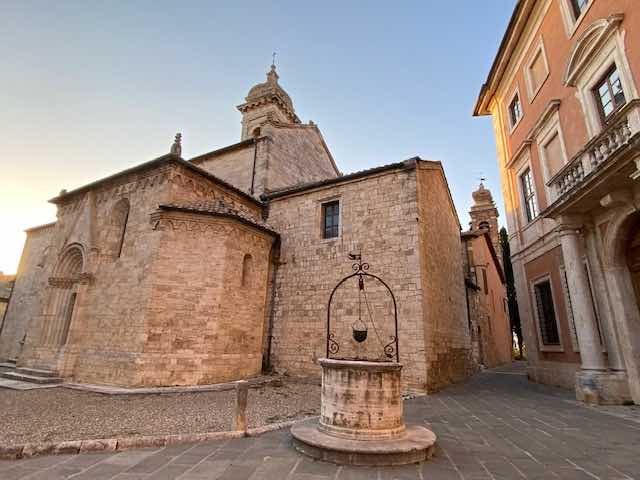 The village is on a hilltop and it still surrounded by tall medieval walls and accessible by the city gate, which opens onto the main town square.
San Quirico d'Orcia used to be a stop along the Via Francigena, the road pilgrims would follow on their way to Rome and has some beautiful churches that are vestiges of this role.
The biggest is the Pieve, at one end of the town, characterized by a wonderful Romanesque facade and a beautiful well just in front.
At sunset, the stone walls of the church and well turn pink and look magical!
At the other end of the town, you find another beautiful Romanesque church, with a simple interior with ancient carvings and you also find the old 'hospital', where pilgrims would find shelter and rest.
San Quirico d'Orcia is also the home to a beautiful garden called Horti Leonini, dating back to Renaissance times.
While tiny, the town packs a punch in terms of attractions and charm and is one of the most beautiful villages in Tuscany.
You can find our guide to San Quirico d'Orcia here.
Pienza, Tuscany's ideal town
Pienza is a small town in Tuscany with something special: in the XV century, it went through an important remodeling work that made this once simple village the epitome of the 'Renaissance utopian town'!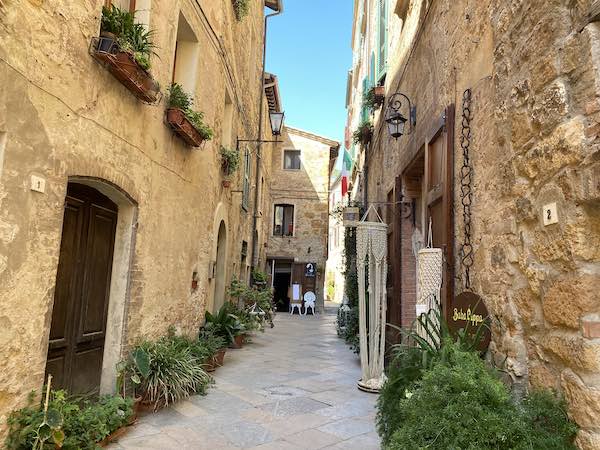 At the root of this transformation stands Pienza's most famous son: Enea Silvio Piccolomini, aka Pope Pius II.
The Pope was Humanist with a very clear vision of what a perfect urban space would look like.
He brought his vision to life in his native town with the help of Renaissance masters such as Leon Battista Alberti.
The result is indeed one of the most beautiful towns in Tuscany you can ask for.
Pienza has a wonderful central square, a stunning promenade along the bastions with outstanding views over the hills around it, and it is full of pretty streets immaculately kept by its current inhabitants.
UNESCO world heritage site since 1996, Pienza is the Renaissance perfect town and the epitome of 'pretty'.
You can find our guide to Pienza here.
Monticchiello
Monticchiello is a wonderfully preserved small village in the heart of Val D'Orcia, in the province of Siena.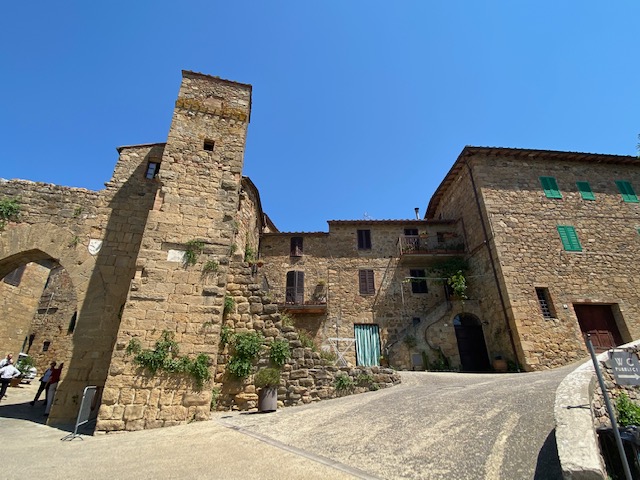 It lies along a white road and its remote location adds to the place's charm: while not undiscovered by tourism, Monticchiello feels very much like a hidden gem!
Monticchiello is worth visiting under two accounts.
The first is that it is very, very pretty, developing over small meandering roads with homes of Tuscan stone and cascading flowers.
The second is that Monticchiello has been home, since the late 1060s, to a special type of dramatic representation called 'Poor Theater'.
The Poor Theater of Monticchiello was born as a social and community project. Over the decades, it has developed into a highly praised and successful theatrical endeavor.
Performances happen every summer and the stage is the town itself, whose outdoor spaces become the backdrop for the representation and the citizens that bring them to life!
You can learn more about Monticchiello and why we consider it one of the prettiest villages in Tuscany here.
You can find our guide to Monticchiello here.
Montalcino
Montalcino is a beautiful small town in Tuscany, perched on a hilltop surrounded by world renowned vineyards until the eye can see!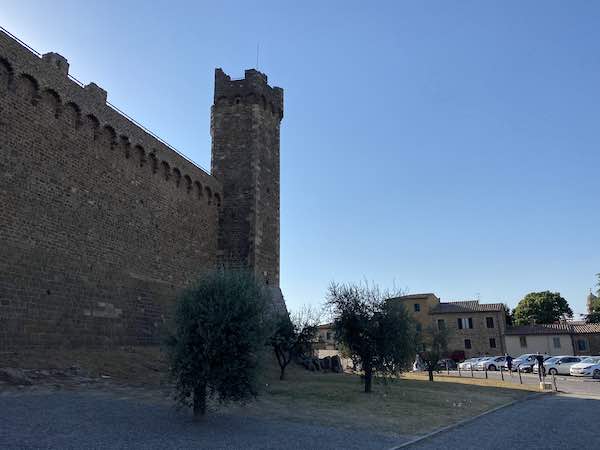 Montalcino is a well known as a wine destination: this is the place Rosso di Montalcino and Brunello di Montalcino come from and the wine vocation of the town is unequivocal.
As well as the wonderful vineyards on the way up to the town center, shops and restaurants in the the village abound the wine being the protagonist of most offerings.
However, Montalcino is not just wine: the village is also very pretty and worth seeing for its charming ancient streets and its outstanding fortress.
If you find yourself here n summer, you may also be lucky enough to experience the Montalcino wine and jazz festival, a wonderful opportunity to experience summer evenings in this beautiful village!
You can find our guide to visiting Montalcino here.
Bagno Vignoni
Bagno Vignoni is a small Tuscan Village like no other.
A town of less than 50 inhabitants, it is located at a hot water spring and it is characterized by the most unique town square you can ever see: in its center, stands a large hot water pool!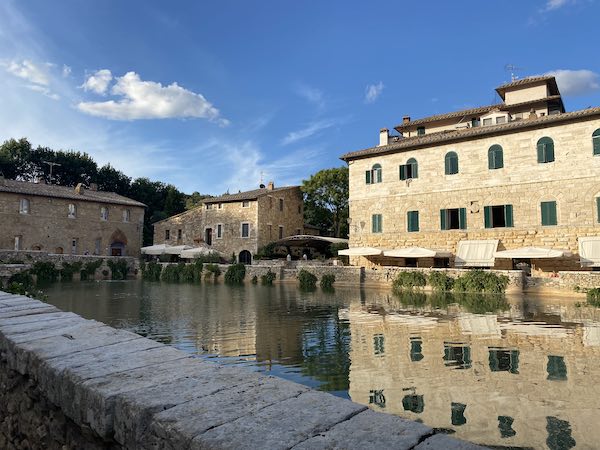 The village is a delight to visit.
The main square, Piazza delle Sorgenti is beautiful in summer and properly magical in winter, when the steam from the water rises, enveloping this ancient square in what looks like a mystical fog.
The rest of the town (about 2 streets!) has pretty corners, beautiful restaurants and outstanding views over the countryside around this town, shaped by the hot water tumbling down the steep slopes of this area.
Bagno Vignoni is wonderful if you love thermal baths and one of the most beautiful and unique villages in Tuscany.
Find our guide to Bagno Vignoni here.
San Gimignano
San Gimignano is one of the most famous small towns in Tuscany and one of the most beautiful.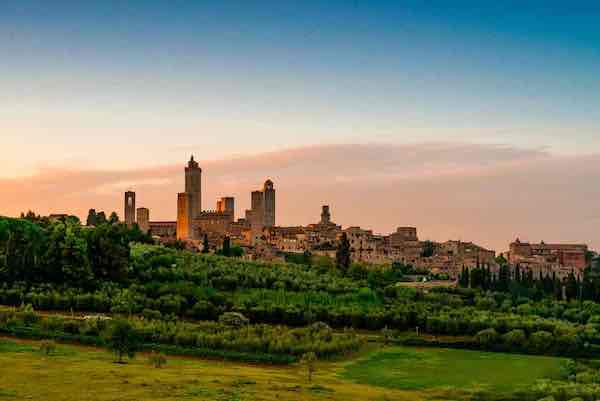 Declared UNESCO world heritage site in 1990, San Gimignano is the quintessential hilltop Tuscany village and a town with something special: a number of towers so high, it earned to the town the nickname 'the Manhattan of the Middle Ages'!
Indeed, the towers are a distinctive characteristic of this town.
They were mostly built during the 1300s, when the wealthy families of this town used them to show off their power and wealth, and they are in great part still standing and, in a couple of instances, open to visitors.
The towers are however not all there is to San Gimignano: the town is all lovely and also has a wonderful duomo with incredible frescoes, and it is also home to the white wine Vernaccia di San Gimignano!
The town is one of the most popular day trips from Florence and one of the must see Tuscany villages.
You can find our guide to San Gimignano here.
Monteriggioni
A list of Tuscany villages could never be complete without a mention of pretty Monteriggioni, near Siena.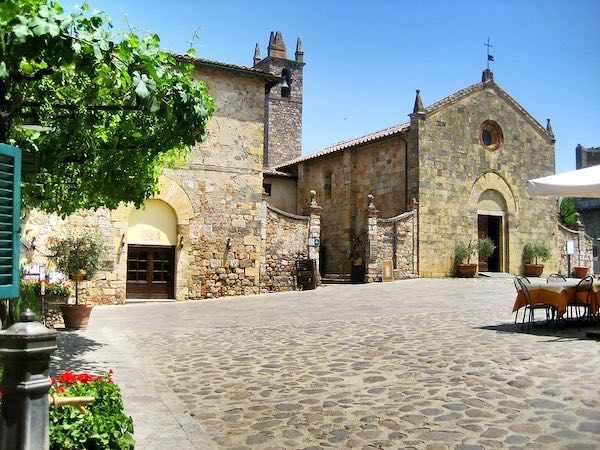 Monteriggioni is a tiny hilltop village still entirely surrounded by a mighty wall, a structure so strong and compact that makes more appropriate to call Monteriggioni a castle, rather than a town.
You access Monteriggioni from the main medieval city gate and what you find inside is a wonderful main piazza with a handful of streets meandering away from it, toward the end of the village.
The square is overlooked by a pretty church and gives access to the tall walls, now accessible via a tall staircase that allows reaching the promenade on the top.
The views from the top are breathtaking and the whole town is so pretty and well kept, it simply belongs in a list of the most beautiful Tuscany villages.
You can find our guide to Monteriggioni here.
Pitigliano
Pitigliano is one of the most unique small villages in Tuscany and in Italy as a whole, thanks to a very peculiar position and important history.
Pitigliano is perched on top of a hill but unlike all the others in this list, and most of the villages in Tuscany in general, it is not on a rolling hill with vines or olive trees but rather, on a tall rock formation made of tufa rock (a type of local stone)!
This makes is exceptional as the town is made of the same rock as the hill and it looks as it it emerges from the soil.
The first glimpse you get of Pitigliano and its hilltop position is unforgettable and alone worth a drive to this beautiful town.
However, there are many things worth seeing inside Pitigliano too.
In the 1500s, the town became a safe haven for the Jewish community and, over the course of the years, acquired a synagogue and a beautiful Jewish quarter that is worth seeing for its beauty and interest.
You can find our quick guide to Pitigliano here.
Bolgheri
Bolgheri is a pretty Tuscan Village perched on a hilltop along the Etruscan Coast, one of the most beautiful stretches of the Tuscan coastline.
This gorgeous village has and two main glories: that of producing a lovely wine, the Bolgheri wine, and that of having been home to one of Italy's most famous modern poets: Nobel Prize for literature Giosue Carducci.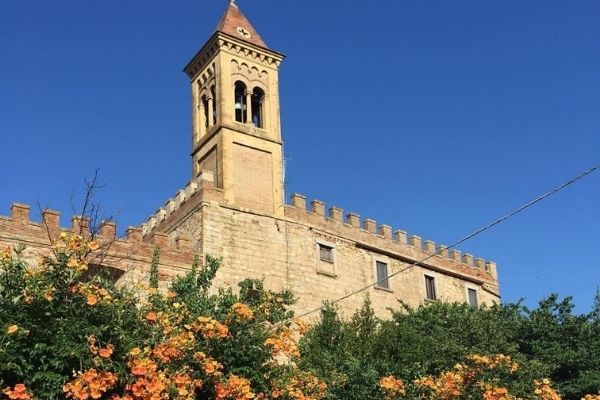 Carducci famously described the road entering the town as flanked by two long rows of cypresses and indeed, the Cypress Road (Viale dei cipressi) is the first and most impressive entrance a town can ever ask for!
The road is a driving road and its green sides, so quintessentially Tuscan with their pointy trees, lead you straight into this small medieval and town, crowned by a beautiful castle.
Inside the town, Bogheri is a delight of small streets, cute corner and specialty shops and one of the prettiest places for an afternoon of sightseeing in this part of Tuscany
You can find our guide to Bolgheri here.
Cortona
Cortona is a delightful small town in the South West of Tuscany and a place many know by name thanks to being the backdrop of Under the Tuscan Sun.
Cortona entirely deserves its fame, and more! The town has Etruscan origins and has been inhabited consistently for centuries, a long history that has left beautiful traces in the town and surrounding area.
The main things to see in Cortona are its lovely walled city center, which is beautiful and has a wonderful medieval aspect, the town's many churches, the beautiful Etruscan museum and the beautiful views you can see from several spots in the city over the rolling hills of this area.
You can read about all you can see in Cortona in our Cortona travel guide.
Most beautiful small towns in Tuscany: our top 3
Siena
Siena is not a village but rather a gorgeous small town, one of the most beautiful in Tuscany and Italy, to be exact.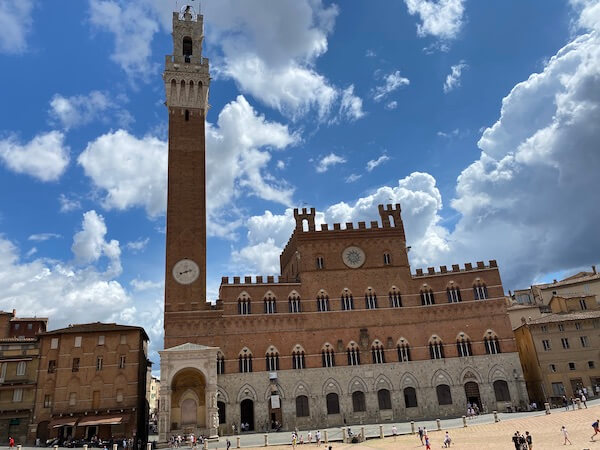 The town developed over a hilltop and in the course of the Middle Ages and then the Renaissance was one of the most powerful in Tuscany.
Arch rival of Florence, Siena dominated the area and many of the towns in this list acquired their towers, walls and fortification as strongholds of Siena against its enemy
Nowadays, Siena is one of the most beautiful small towns you can ever have the chance to visit.
UNESCO World Heritage Site site since 1995, the most impressive and beautiful thing about Siena is, without a doubt, famous Piazza del Campo, followed by Siena's duomo, a church so beautiful to have few rivals in Italy.
The whole town is worth visiting and no trip to Tuscany would be complete without at least a day here.
You can find our guide to Siena here.
Lucca
Lucca is a delightful small town in Tuscany about one hour West of Florence, in the north of the region.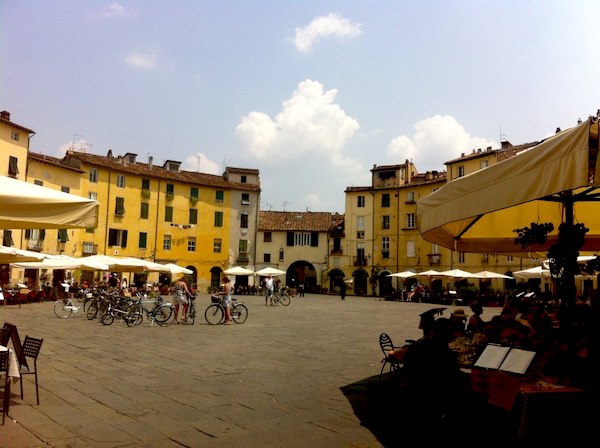 it is a beautiful small town with a story that dates back to Roman times and that kept many of the vestiges of its past, becoming one of the most unique and interesting in the area.
The things stand out, when it comes to Lucca.
First and foremost, the city walls.
Lucca is still entirely surrounded by its defensive wall and they are so well kept and so unique they are actually accessible on foot and even by bike!
The walls are a beautiful promenade and offer the opportunity to see the whole of the town from a unique vantage point.
The second special thing about Lucca is its wonderful Piazza dell'anfiteatro which is a square built along the remains of a Roman amphitheater and the third thing are Lucca's impressive churches!
The town is called 'the town of 100 churches' and indeed, there are so many of them and they are so beautiful they are worth to be pointed out as the town's most distinctive trait!
You can find our guide to Lucca here
Pisa
Many will disagree with the inclusion of Pisa in this list of the most beautiful towns in Tuscany.
However, the area of Pisa with Piazza dei Miracoli, the duomo and the monumental cemetery is so breathtakingly beautiful I do not think I could write this article without mentioning it!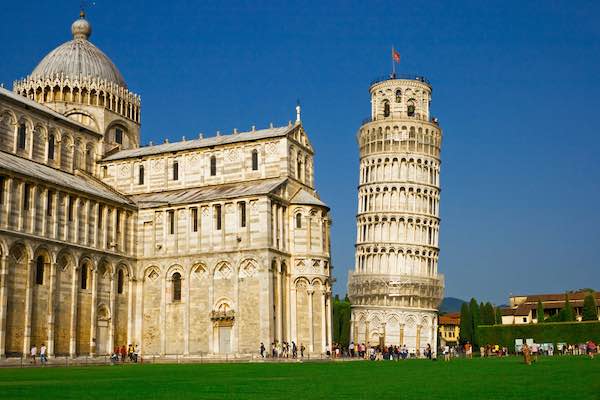 Pisa is in large part a modern town.
However, it has a long, important history that saw it dominating the trade routes of the Mediterranean for centuries and made it one of the most important Maritime Republics in Italy.
Vestiges of that wealth and artistic influences from this international vocation are clear in its wonderful moments and make it, I believe, a must-see pace.
The Piazza is UNESCO world heritage site and while often overwhelmed by visitors, one of the most beautiful 'piazza' you will ever see.
You can find our guide to one day in Pisa here.
I hope you enjoyed this selection of our favorite Tuscany villages and Tuscan small towns. Safe travel planning!
Tuscany travel resources
Best things to see in Florence
Visiting Tuscany without a car
This article was written in 2020 and has now been fully updated on the bases of our recent trips in 2022 and 2023.