One day in Orvieto: how to visit this stunning hilltop town in Umbria, Italy
One day in Orvieto. All you need to know to plan a visit to Orvieto, Italy, a stunning hilltop town in Umbria with breathtaking duomo and views.
Orvieto is a beautiful town perched on top of a steep tufa hill in Umbria, a green and gorgeous region in central Italy.
It is a small town in a stunning natural position however, it has more to offer its visitors than beautiful views and atmospheric streets: as well as that, Orvieto also has a very beautiful duomo and an incredible underground city worth visiting!
Orvieto is a popular day trip from Rome and you can see most of Orvieto in one day. However, some planning is needed as, as you will see, there are quite a few things to see and do there.
This is all you need to know to plan your trip to this Umbrian gem: our day guide to Orvieto!
Why visit Orvieto
There are many reasons to visit Orvieto.
The first is its position. Orvieto has a peculiar position, perched on top of a tufa hill in Umbria, central Italy.
The hill is visible from the motorway and, when you first see it, chances are you will second guess what you are seeing: is it possible it is houses you see up there and even a church? Indeed, it is!
Orvieto develops on the flat top of the hill and you reach it climbing up a steep road, either by car or by cable car.
From both below and at the top, the views are stunning: from Orvieto, you dominate the countryside around you have green countryside as far as the eyes can see!
The second reason to visit Orvieto is its duomo.
Despite the small size of the town, you find here a stunning gothic duomo that is one of the most beautiful churches in Italy, one you simply cannot miss for size and peculiarity of artworks inside and out.
The thirst reason to visit Orvieto is another big attraction that never fails to impress visitors and that, for many, even stays as the highlight of the trip: the huge St Patrick's Well (Pozzo di San Patrizio), a huge well that you can climb down into and an underground city that dates back to Etruscan times!
Last but not least, Orvieto has lovely medieval streets with pretty shops perfect to buy authentic Italian souvenirs and ceramics artifacts, a famous craft from the town.
How to get to Orvieto and where to park
Orvieto is in the region of Umbria and it is easily reached by car or train from Rome.
If driving from Rome to Orvieto, most of the road is motorway and then you have a short drive to the top of the hill (this is an easy drive, albeit one with several bends, go slow).
Along the road you will find very many signs for parking however, we found that the best place to park in Orvieto, if you arrive early enough, was the pay and display parking in front of the arrival station of the cable car and St Patrick's Well.
From here, you have St Patrick's Well just in front and you can easily walk to the duomo in about 15 minutes.
If you are going to Orvieto by train, you then climb to the top of the hill by the handy cable car, this leaves you beside the well and then walk to the city center and the duomo, only a short walk away.
One day in Orvieto: itinerary
Orvieto is a small town and you don't need a super detailed itinerary to visit. However, if you only have one day in Orvieto some planning is recommended.
These are the main things to see in Orvieto, in the order we found best.
Pozzo di San Patrizio/St Patrick's Well
Pozzo di San Patrizio or St Patrick's well is one of the most famous and important attractions in Orvieto and one of the most popular.
It is located at the edge of Orvieto's city center, just beside the arrival station of the cable car, it is a good place to start your visit to Orvieto, if you are coming from out of town especially.
The well dates from the XV century and was built by Antonio da Sangallo and Giovanni Battista da Cortona by order of Pope Clemens VII. The well was intended as a fortress and hiding place in case of siege and is a marvel to see.
It is 62 meters deep, 13.5 meters large and has 2 helicoidal staircases that never meet, with 248 each!
72 window let some light in, creating an out-of-this-world, surreal atmosphere.
You can buy tickets for the well in the ticket office just before its entrance. Do expect to wait in line in pretty much all seasons.
Good to know: a cafe with facilities is just beside the well, good for a take out drink or snack.
Orvieto's charming streets and shops
As you leave the well and the large square in front of it, you pass a nice shaded street and then enter the old part of Orvieto, which is a delight of small streets and pretty shops.
The streets all converge towards the duomo and you can walk up to Piazza del Duomo in about 10-15 minutes however, it is worth taking your time and exploring the little side streets and peek in the internal courtyards.
If you are looking for souvenirs, these are the streets to get them.
Good things to buy here are ceramics, food and textiles and kitchen gear. Some of the shops are also showrooms and you can walk in and see the artisans at work.
The skill of the ceramic painters is incredible, I highly recommend you take your time to see them at work and buy even just a little something to remind you of this special place!
Torre del Moro
As you get closer to the duomo, the streets become busier and you will find more high street shops (perfect for more conventional shopping and essentials) and at a busy junction, you will find Torre del Moro (Moro Tower).
The Moro tower, is a historical tower easy to recognize thanks to its red brick body and a large black and white clock face near the top.
It is in a very busy spot (there is a popular gelato place in front that attracts huge crowds!) and it is cool to climb if you are not afraid of heights as the views from the top are amazing!.
You usually do not have to book in advance however, you may have to wait in line to go up.
Orvieto's Duomo
Orvieto for me is all about its duomo, a Gothic church so beautiful and big, the only word to describe it is ' breathtaking'.
The duomo is a gothic marvel.
The facade is covered in elaborate carvings and colorful mosaics that shine in the sunlight and a pointy pediment and towers give the whole building the vertical movement that is so typical of gothic architecture.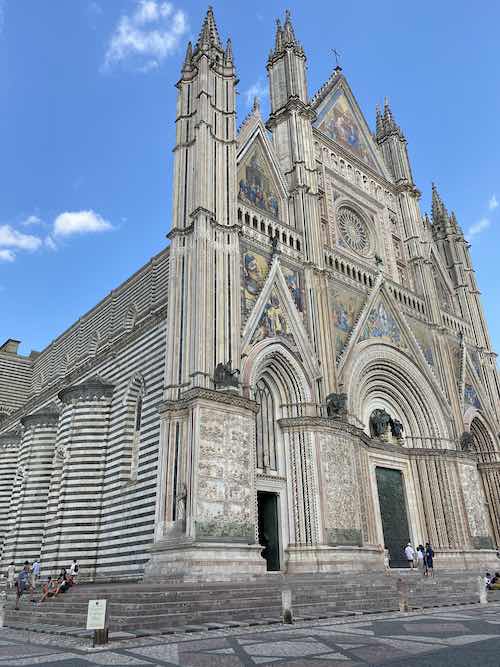 Still on the outside, it is worth seeing the side of the church, which has a stripey pattern somewhat reminiscent of that of the Duomo in Siena, then I recommend you make time to visit the inside.
Inside the church, you will notice the same stripes pattern of the outside and you are likely to find yourself stopped in your tracks by the sheer size and marvel of the naves and columns all around you.
Once you take in this incredible first impression, I recommend you make time to find important frescoes and chapels: some not to be missed are the frescoes by Signorelli and the Reliquiario del Corporale.
The duomo is a wonderful example of gothic architecture in Italy and I recommend you visit even if churches are not high on your agenda: this one is just too beautiful to miss.
Orvieto Underground
If you want to see something truly different, then you may want to visit Orvieto Underground, like the name suggests: an underground city!
Underground Orvieto was discovered by chance.
In the 1970, a large hole opened up in the city center as a result of a landslide that brought great damage to the area.
Worried about the potential repercussions of such a whole on the stability of a hilltop town, a team of speleologists went in and they discovered over 1000 grottos, passages and chamber, telling the story of Orvieto from Etruscan times onward!
The discovery was huge and confirmed what had been mentioned in ancient texts about the city, claiming that Orvieto was 'all shallow underground'
You can find more info and contact to pre-book tickets here
Piazza del Popolo and Palazzo del capitano del Popolo
After discovering Orvieto Underground chances are you want to regain a bit of fresh air and a good place to do so is Piazza del Popolo.
The piazza is dominated by Palazzo del Capitano del popolo, a historical palace that used to be the residency of 'Captain of the people', an important public figure in Orvieto, and it is now one of the most beautiful and important palazzi in Orvieto, worth seeing.
Rocca Albornoz
After you have seeing all this, and if you factor in some time for lunch, chances are your day in Orvieto is coming to an end however, there is one more thing you should see: Rocca Albornoz.
The Rocca dates back to the XIV century and it is lovely to visit especially because of its public gardens and the beautiful views you catch from here, the perfect last stop for your Orvieto itinerary!
One day in Orvieto with kids
Orvieto is a lovely destination for families with kids and enjoying a day in town with children is a breeze.
The town is a hilly, so pushing a stroller can get a little tiring, but it is mostly car-free and kids will enjoy running around in its small streets, spotting cats.
Orvieto has also lovely artisan shops where kids can see how things are made (the ceramic shops are wonderful!) and there are plenty of gelato and food shops for snacks.
The biggest attractions in Orvieto, such as the cable car, duomo, well and Orvieto underground are all suitable for kids of primary school age.
For a family day out, Orvieto is one of our favorite places to visit in Umbria with kids!
What to pack for your day in Orvieto
To make the most of your day in Orvieto, I recommend you come prepared with:
Good walking shoes or sandals
Church appropriate attire to enter the duomo
Phone or camera to take the million photos you are sure to want to snap
A crossbody bag as your everyday purse
A good stroller is visiting with kids
A reusable water bottle so you don't have to buy plastic ones
A tote bag for souvenir shopping
I hope you enjoyed this itinerary for one day in Orvieto and it helped you plan your trip. Safe travel planning!