Northern Italy itinerary: what to see and how to see it
Carefully crafted Northern Italy itinerary with recommended stops and tips for visiting.
The north of Italy is a beautiful and varied part of the country, with areas of great natural beauty, stunning cities and important UNESCO World Heritage Sites.
It is served by several airports that make it easy to reach from all over the world ans it is has an excellent train system that makes it one of the best areas in Italy to visit without a car.
In this article, I share what i believe to be a beautiful northern Italy itinerary, the one I recommend to first time visitors to the area who want to see a bit of everything, without rushing too much.
The basic itinerary is best done by train as it eliminates the worry of traffic and parking.
The one time I recommend you get a car is if you want to go to the Dolomites, the alternative I give the end of the itinerary, as that area is hard without a private vehicle.
Recommended northern Italy Itinerary
This itinerary requires 10 days however, whenever possible I have given alternatives for visitors with less time. At a glance, your itinerary will be:
| | | | |
| --- | --- | --- | --- |
| Day | Location | What you will see | Travel Time (train) |
| 1-2 | Venice | Venice city center, main Venice attractions | None |
| 3 | Venice and Burano | Venice, Burano island | About 2h on the ferry (total time, round trip) |
| 4 | Verona | Verona city center, arena, Juliet's house | 1.5h |
| 5 | Lake Garda | Lake views, small towns, castle, walking opportunities | 25-30 mins |
| 6 | Milan | Milan city center | 1.5h |
| 7 | Lake Como | Lake Como, lake and mountain views, small towns | Full day organized tour / 1h train to get to Como (2h round trip) |
| 8 | Genoa | Genoa city center | 1h40min |
| 9-10 | Cinque Terre | Small towns, coastal vies, hiking opportunities | 1h Genoa/Monterosso + local transport |
Please note: this post contains affiliate links. Should you make a purchase, we might make a small commission.
Days 1-3 Venice and the Venice lagoon
I recommend you start your itinerary in Venice, unique in the world and always full of surprises, whether you know it already or are in the lucky position of seeing for the first time (it is magical, you will never forget it!).
I recommend you spend in Venice 3 days and you use them to visit the city and the lagoon islands, especially Burano which is easy to reach and lovely, characterixed by colorful houses and small canals, just like a small Venice!
I recommend you stay in Venice city center and discover the city on foot. Our resources to help you plan your time in Venice are at the following links:
Good to know: I recommend you stay 2 days in Venice and spend one day in Burano however, if you are short on time, you can also spend one day in Venice only. In that case, follow our itinerary above to make the most of your time.
Day 4 – Verona
On day 4, I recommend you reach Verona and spend the day wandering around the city center.
There is plenty to see in Verona however, many of the main attractions are a short distance from each other so you can spend a nice day strolling leisurely without fearing of missing too much.
Piazza Bra and the Verona area, Juliet's house and lovely Piazza delle Erbe just to name some of the most famous are all walking distance from each other (you will also see lots of lovely shops if you are in the mood for souvenir shopping!)
I recommend you spend the night in Verona so you can rest and see the sunset over the city from the Ponte Scaligero (Scaligero Bridge).
You can spend the night at Hotel Corte Realdi, a good mid range option in Verona city center.
Day 5 – Lake Garda
Lake Garda is the largest lake in Italy and a place with lovely towns and hiking opportunities that can easily keep you busy a week or more.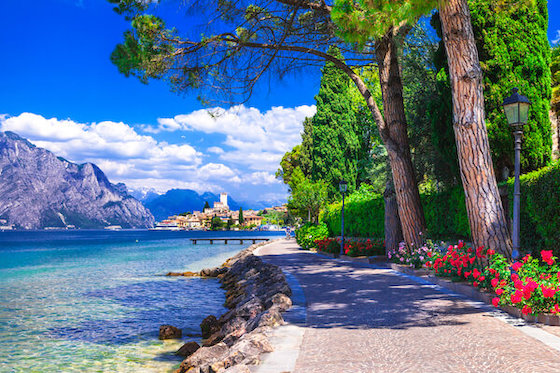 However, it is also a lovely stop for a day away from the city and a place that is easy to reach from Verona by train.
With limited time, my recommendation is to stay in the Southern part of the lake and make you base in Desenzano or Lazise, which is also a lovely place if visiting Lake Garda with kids.
Desenzano is lovely and puts you in a great position to see famous Sirmione and its castle, as well as on the direct train line to Milan.
Lazise is also lovely and has a beautiful walking path along the lake that can be perfect if you want to get moving and catch views of the lake. Depending on the season, ferries can make it easy to explore even more as a regular service connects several locations. Check times and availability locally.
In Lazise you can stay at Hotel Giulietta e Romeo, which has a great position and a lovely garden.
In Desenzano, you can stay at the lovely Piccola Vela hotel, also with a lovely position and fabulous and welcoming private garden.
Day 6 – Milan
Milan is one of the biggest and most beautiful Italian cities and you cannot skip it when visiting the North of Italy.
The city has a compact city center and you can see most of its main attractions even in just one day. With a leisurely stroll, you can easily see the Duomo, the Galleria, famous La Scala theater, the Scaligero castle and the Last Supper however, make sure you book the last supper well in advance as tickets are very hard to get!
You can find our recommended itinerary for one day in Milan here
Stay at Victor Boutique hotel for a city center location or at the classic Hotel Berna for a handy location near the station.
Day 7 – Lake Como
Lake Como is the most popular day trip from Milan and a lovely trip to take if you want to have a restful day in front of picture perfect lake waters and pretty mountains.
Como itself is a pretty city and the lake views are soothing: you can come here on your own or or you can join a guided tour for Milan and see several locations around the lake.
I personally prefer this second option as it allows you to leave your bags in the hotel in Milan and will show you Bellagio, Varenna which are both very pretty.
You can find an excellent day trip from Milan to Lake Como here.
Day 8 – Genoa
Genoa is one of my favorite cities in Italy and a place many skip, not knowing what they are missing!
It is also perfectly located between Milan and Cinque Terre so it is an easy addition to this itinerary.
The city has two main parts of interest: the old city center, where you can see the famous Palazzi dei Rolli (UNESCO World Heritage site) and Genoa's atmospheric small streets (caruggi) and the Old port.
The old port is, as the name suggest, the ancient port of Genoa and in the last decade or so has been transformed into the cultural hub of the city.
Here you have the famous Genoa aquarium, several creations by architect Renzo Piano, a wonderful maritime museum and the panoramic lift 'Bigo'
The port is a lovely place for a walk and also where I recommend you to set base. you can stay at the excellent NH Collection Genoa Marina Hotel, convenient and with beautiful views.
You can find my recommended itinerary for one day in Genoa here.
Good to know: if you are short on time and prefer to spend more time in Cinque Terre, I recommend you don't go through Genoa but take the train Milan- La Spezia, which is a the main getaway to Cinque Terre.
Day 9-10 Cinque Terre
Cinque Terre are one of the most popular areas of Italy and a fantastic place to end your northern Italy itinerary.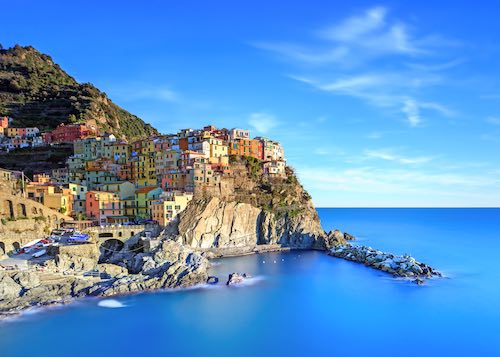 They are a series of five villages with colorful houses, perched on high cliffs, and connected by scenic hiking path often open to visitors.
The five villages are on the main trail line between Genoa and La Spazia and they are a minute r two by train from one another.
If short on time, you can see them all in one day however, I highly recommend you spend two days at least here, to have the time to relax and also to hike a little.
In the towns, there is not a lot 'to see' as such and what you will want to do is take leisurely strolls and take your time at the pretty cafes.
You can stay in any of the towns – click to find our introduction to Cinque Terre towns, to help you choose the best one for you here.
Northern Italy itinerary alternative for mountain lovers
If you love the mountains and would like to experience the Natural beauty of the Dolomites, you can easily add them to this itinerary, swapping a stay here with the time in Lake Como and Genoa.
The best way to do it is to get the car from Venice and drive up to the area of Dobbiaco.
Here you can see the Three Peaks of Lavaredo, Lake Misurina, Lake Dobbiaco and Lake Braies, which are among the most popular and photographed places in the area and a fantastic introduction to the area as well as some of the most accessible mountain lakes in the area.
To see the Dolomites you need a minimum of three days so you will inevitably have to change around the itinerary above to fit these in.
You can find here >>> my guide to planning a trip to the Dolomites.
How to get around northern Italy
There are several international airports in the North of Italy that make a good starting point to visit the area:
Venice Marco Polo Airport: the one I recommend you arrive into
Verona airport: a good alternative from several European cities
Milan Airport: for this itinerary, a good one to fly back home from
Bergamo Orio al Serio: low cost airport goof for budget flights
The easiest way to get around northern Italy is by train.
The train system is easy to use and efficient and you can get tickets in advance and with no extra agency charges on the official train site trenitalia.it
What to pack for northern Italy
Northern Italy has varied weather depending on the season and location.
In winter, you will get cold, wet and even snowy conditions to wrapping up is paramount: make sure you have a good coat, scarf, hat and gloves and full on mountain gear if going to the Dolomites.
In summer, except for the mountains you will fin hot weather: summer clothing, walking sandals and sun protection are key.
In the mid season (autumn and spring) you can expect mild weather but be prepared for rain. Good walking shoes, a mid season jacket, a travel umbrella and layer will be your friends.
If traveling with kids, I recommend you bring a carrier (find our favorite baby carriers for Italy here) and a stroller (find our favorite strollers for Italy here).
To help you with moving around, I recommend you choose sensible luggage: you can find my recommendations for the best bags for Italy travel here.
I hope you enjoyed this recommended northern Italy itinerary and it helped you plan your time in this beautiful part of the country. Safe travel planning!