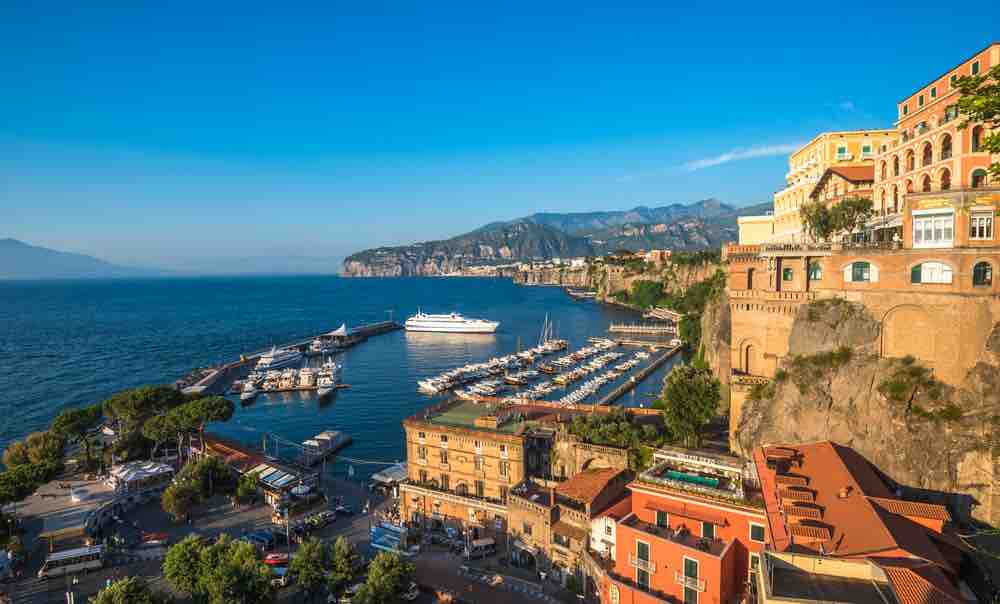 How to get from Naples airport to Sorrento: 4 easy ways
How to get from Naples airport to Sorrento by bus, car or train.
Naples is the closest airport to the Amalfi Coast and Sorrento is one of the area's most popular destinations.
The question 'how to get from Naples to Sorrento' is therefore common while planning your stay in this area, and this is why I wrote this guide.
In this article, we look at the best way to get from Naples airport to Sorrento and the different transport options available for all types of budgets and travel styles!
Please note: this post contains affiliate links. Should you make a purchase, we might make a small commission.
How to get from Naples airport to Sorrento
Naples Airport is called Capodichino. It is a small, easy-to-navigate airport and it is the closest international airport to Sorrento and the Amalfi Coast.
Capodichino airport is not huge so as soon as you walk out, you will see the bus stops, car rental offices and taxis.
The area can be busy but signs with directions are good and you won't have to walk for hours with heavy luggage like it sometimes happens in bigger, busier airports!
This is one of the many reasons I like landing here and highly recommend flying into Naples to visit the Amalfi Coast.
There are 4 ways to get from Naples airport to Sorrento: by bus, private car, car rental and bus+train.
Naples airport to Sorrento by bus
A cheap and easy way to get from Naples Airport to Sorrento is to get a bus.
The company running this stretch is called Curreri: at the time of writing the cost of one way ticket is 10 Euro and you get the ticket on the day, first come first served.
The journey takes about 75 minutes.
The bus leaves from a parking spot right outside the arrival terminal and it is easy to spot. Official website with info here.
The bus is the cheapest way to get to the Amalfi Coast and the most direct by public transport.
The road between Naples airport and Sorrento is scenic: sit on the right side of the bus for the best views!
Naples airport to Sorrento by private car with driver
Private car service is another very popular way to get from Naples Airport to Sorrento.
There are very many company offering this service and it is worth taking the time to research them to make sure the price and service are on par with the charge and they have insurance and all licenses in place.
A good place to start searching for a private a car company is the site GetYourGuide: it lists companies offering this service and you can see not just the type of car and price but the full name of the company picking you up, so you can do your due diligence.
These are some examples of what is on offer:
Shared transfer Naples Airport to Sorrento by minivan
Private car transfer from Naples Airport to Sorrento
Need to know for families with kids! In Italy, car seats are compulsory for kids but they are not always provided by taxis and transfer companies. Make sure you pre-book one and ask specifics about the seat they will give you: they don't always have baby seats so if you are traveling with a little one, make sure you make clear arrangements before arrival. Find more tips for traveling to Italy with kids here.
Going from Naples Airport to Sorrento by car rental
If you prefer to have your own car, you can easily rent a car from Naples Airport and drive to Sorrento.
The car rental offices are immediately outside the arrivals terminal, to your right: the offices are all one beside the other and you can choose between Avis, Hertz and Maggiore.
I highly recommend you book a car in advance but expect queueing nonetheless.
Even in low season, there may be bottlenecks here: get your ticket at the machine near the door and wait in the bar beside the offices if it looks like it may take a while. It has a nice patio that makes the wait less annoying!
Top tip: if this is your first driving trip in the area, I recommend you read our tips for driving in Italy first.
Getting from Naples Airport to Sorrento by bus + train
There is no direct train from Naples Capodichino airport to Sorrento however, there are good connections between the airport and Naples train station and good trains from Naples to Sorrento that make this a good option.
The first leg of your journey will be to get from the airport to Napoli Centrale.
You can do this by catching Alibus, the shuttle service between Capodichino and Naples.
One Alibus ticket costs 4 Euro and the trip takes about 15-20 mins. You can find the official schedule here.
Once you are in Napoli centrale train station, you can catch the trains.
There are two types of trains going from Naples to Sorrento: Circumvesuviana and Campania Express.
The Circumvesuviana is the cheapest option.
This is the commuter train and departs from the lower level of the main train station.
Circumvesuviana is easy to find and use but it is a local train and it can be a bit intense if this is your first trip to Italy.
The train gets super busy and pickpockets are known to operate here so if you are maneuvering luggage and kids, it can be a little overwhelming.
There is nothing unmanageable about it is not a squeaky-clean, uber-modern experience and I believe it is worth knowing not to let it ruin your first impression of Italy!
The other option is to get the faster train called Campania Express.
This is a tourist train from Naples to Sorrento and takes away some of the stress connected to train travel in this area.
The cost of the ticket is double that of the local train, about 8 Euro at the time of writing, but comfort is higher too and can be worth it.
The trains have pre-booked seating (if you buy the tickets online), air conditioning, space to store baggage and the platform has Campania Express staff who can show you where to go.
The biggest advantage of all however is that the train does fewer stops than the Circumvesuviana. This means that the journey is faster, even if on the very same line, and you also have less coming and going in and out of the train, which I believe makes the experience more pleasant.
I hope you found this quick overview of how to get from Naples Airport to Sorrento useful. Safe travel planning!
More Amalfi Coast travel guides
4 ways to get from Naples airport to Sorrento: pin this!