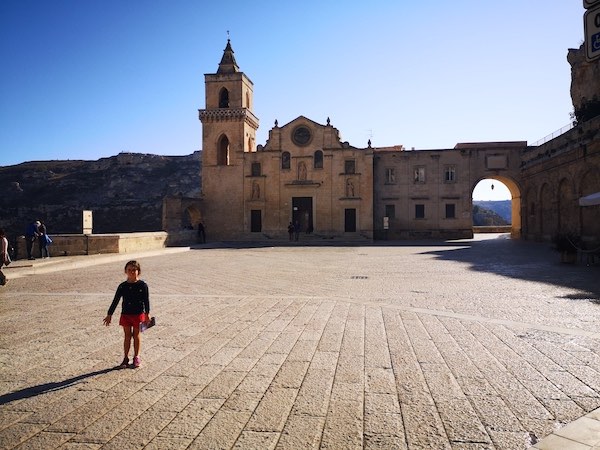 Italy with kids: how to plan the perfect trip. Step by step travel planning guide for families
Absolutely everything you need to know to plan a trip to Italy with kids. Family friendly itinerary ideas, how to get around, accommodation recommendations, practical tips by a mom!
This website is all about traveling to Italy with kids however, when you are planning a family trip to Italy you need a place to start, a well laid out guide that you can use and consult whenever needed, one click away on your phone.
This is what this article is! A step-by-step travel guide to planning a trip to Italy with kids.
Here, you will find step by step info to:
Pick the best places in Italy for kids
Define your family trip itinerary
Pick and book transport, accommodation and tours
Practical tips and cultural tidbits so you know what to expect
Each section links to other articles on this site so you can go as in-depth as you need so you can plan your perfect family vacation to Italy with ease.
If you want even more help or you have any questions, please in my FREE Facebook group about traveling to Italy with kids: I will be happy to have you there and the tips from me and the other members are FREE!
How to plan a trip to Italy with kids: step by step guide
Please note: this post contains affiliate links. Should you make a purchase, we might make a small commission.
Step 1: make a list of locations you want to see
Planning a trip to Italy with kids is not completely different from planning a trip to Italy without them.
Italy is very family friendly and while you will need to adapt your plans to accommodate the youngest in the family, there is no place that you will need to skip on their behalf.
Venice, Florence, Rome, Tuscany and Sicily, just to name some of the most popular areas are all easy to visit with kids.
Whatever you have on your Italy bucket list, I recommend you put on your initial itinerary and this article will help then refine it with kid friendly attractions!
If you need help identifying the best places to visit on your first trip to Italy, check out our guide to the 15 most beautiful places in Italy for a first visit!
Step 2: Find kid friendly attractions in Italy
Once you have identified your Italy must see, you can double check what there is to do there with kids.
The best places to visit in Italy with kids that are popular with adults too are:
Venice – magical, with its canals and houses emerging from the water! Kids will love its otherwordly appearance and good family friendly tours will allow you to visit with ease. Find our guide to Venice with kids here.
Florence and Tuscany with kids – one of the most family friendly areas in the whole of Italy, perfect for country and villas stays, small town visits, horse riding, sightseeing. Find our guide to Florence with kids and Tuscany with kids here.
Rome with kids- perfect for history lovers, kids will adore the Colosseum! Plenty of parks and many family friendly yours make it easy to visit and entertaining for all ages. Find our guide to Rome with kids here.
The Amalfi Coast and Cinque Terre are a little less straightforward if you have kids of stroller age, but we are here to help!
Amalfi Coast – breathtaking coastline, swimming and boating opportunities, pretty towns, Capri island, this is a wonderful destination for older kids but not super easy with a stroller, unless you have our guide! Find our guide to the Amalfi Coast with kids
Cinque Terre – fantastic coastal views, colorful houses, pretty villages and hiking opportunities make Cinque Terre one of the most beautiful areas of Italy but not easy with small kids! Find our tips to demystify how to visit Cinque Terre with kids here.
Lake Garda – a wonderful area if you want to relax and mix times on the lake shore with cycling and hiking, this is one of the most family friendly places in Italy. Discover all you can do in Lake Garda with kids here.
Dolomites – a wonderful mountain areas perfect for skiing in winter and hiking in summer, the Dolomites are Unesco World Heritage site and one of the most family friend;y area in Italy if you love outdoor pursuits. Find our guide to the Dolomites with kids here.
Sicily – a wonderful region full of beautiful natural landscapes, art and history (without forgetting the food!) Sicily is wonderful for families. You can find our guide to Sicily with kids here.
Step 3: familiarize yourself with distances
Now that you have identified the places you want to see, you can start seeing how many are doable in the time you have and what the best way to plan your itinerary is.
I believe the best way to do this is by looking at recommended itineraries however, first look at the map and distances can be useful.
Venice, Florence and Rome are all well connected to each other by fast train so including them in your itinerary is very easy even with a short time available.
Tuscany is reachable from Florence or Rome. Florence allows day tripping to the area, Rome is a little farther and would require factoring in a little extra transport time
Cinque Terre and Amalfi Coast are a little detached from main cities and require additional time for visiting. If short on time, you are unlikely to be able to see both and some prioritizing will be necessary.
Lake Garda and lake Como are easy to reach from, respectively Venice/Verona and Milan.
They can be added to a longer itinerary but they will add transport time so, like above, you may need to prioritize where to go if short on time.
Step 4: check our Italy with kids recommended itineraries
To help you visualize what can be done in the time you have, here are our recommended itineraries you can use them as such or we can help you tweak them as you wish!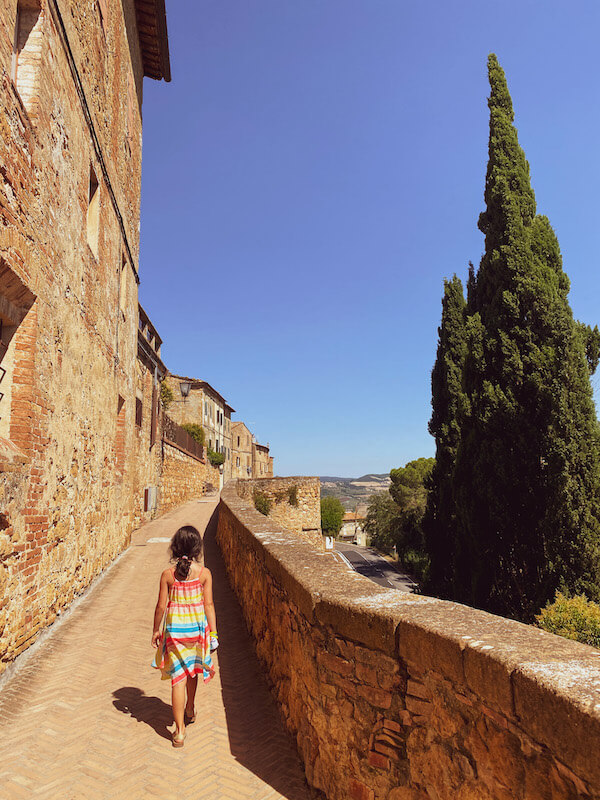 Just join our Italy with kids travel group on Facebook and we will be happy to help (group and tips are free!)
One week in Italy with kids – 7 day Italy itinerary ideas for families with kids
10 day Italy itinerary ideas for families – perfect itineraries for a first trip to Italy, with all the most famous localities and recommended stops
13 day Italy itinerary with kids to see Rome, Tuscany and Venice – perfect to focus on the most famous cities and have time on the stunning Tuscany hills
2 weeks in Italy itinerary for families – a day by day itinerary through Italy with kids, to see Italy's most famous areas
Northern Italy itinerary – perfect if you want/need to stay within the northern area of the country, between Milan and Venice
Southern Italy itinerary – perfect if you want to explore Puglia and Amalfi Coast (great for mixing sightseeing and time on the beach)
Sicily itinerary – for road tripping around the island
Tuscany itinerary – if you want to explore central Italy and focus on a varied yet geographically contained area.
Step 5: decide how to get around
The best way to get around Italy is by train or car, the decision depending largely on the area you are in.
Find here >>> our complete guide: how to get around Italy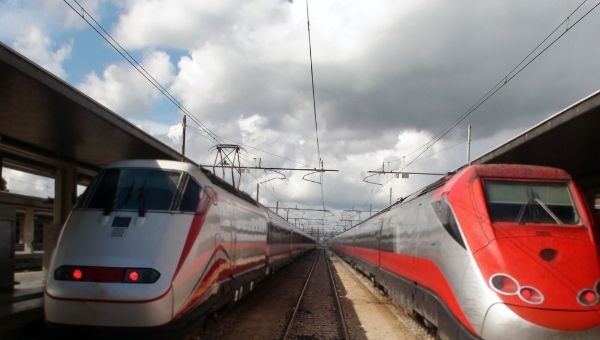 Using trains in Italy with kids
All the main cities are connected to each other by high speed trains.
They are efficient, clean and mostly on time: tickets can be booked in advance, you get your own seat and small kids with no individual seat go free. Family offers are available.
The best and cheapest site for train tickets in Italy is the official railway site trenitalia.it. It has a clunky interface but it has no hidden fees or agency commissions so you know you get the best price.
The train is the best way to go between large centers and it saves you from potentially stressful traffic and parking rules.
The train is also the best way to explore Cinque Terre and the north of Italy while I recommend the car for more rural destinations and the islands (see below).
Find here >>> our complete guide to train travel in Italy.
Driving in Italy with kids
The car is needed for most of Tuscany, the south of Italy, Sicily and the Alps as this is the only way you can reach many of the smaller and more charming towns.
Driving in Italy is less hard than many expect however, it is significantly different than driving let's say in the States, as we have smaller roads and not as much freeway driving.
You can learn all you need to know about driving in Italy at the following guides:
Driving in Italy – need to know and tips
How to rent a car in Italy – all you need to know
Step 6: Book family friendly accommodation in Italy
Once you know where you want to go, I recommend you book your accommodation.
My favorite way to do so is by platforms that allow for free cancellation such as Booking.com.
Family friendly accommodation in Italy comes in several forms:
Hotel / Albergo – several categories
Pensione/ Guesthouse – usually smaller than hotels, may or may not include breakfast
B&B – more and more common, sometimes they serve breakfast on site, other times they offer a voucher for nearby cafe
Agriturismo – country homes turned guest accommodation, one of the best accommodation options when visiting Italy with kids.
Huge variety of styles and offerings, they may offer rooms and/or apartments, may/may not have restaurants on site, may/may not have animals, may/may not offer classes etc. usually they are in more remote, beautiful locations reachable by car.
Campsites – several stiles including full resorts / tent pitches/ cabin stays
Villas – very popular especially in central Italy, car usually needed.
Need to know! Occupancy rules in Italy are very strict. Always inform the owner if traveling with a baby/small child even if intending on co-sleeping and therefore do not need an extra bed. Please also be advised that usually pools are not fenced in Italy, especially in villas and private rentals.
Step 7: book main attractions and kid friendly day tours
Once you have your itinerary and accommodation sorted, I recommend you book main attractions and tours.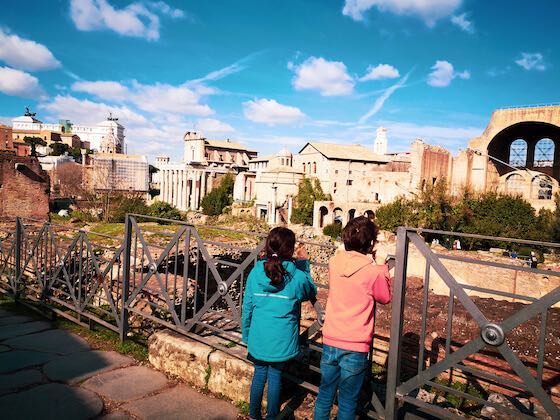 I highly recommend you book in advance the following attractions and opt for family tours that are specifically for kids. The tours below are those we feel like recommending:
Rome:
Florence:
Pisa:
Leaning tower and cathedral, official ticket office
Venice:
Pompeii:
Access and guided tour for kids – I highly recommend you book a family tour for Pompeii s the sight is wonderful but very big and tiring without a local guide
Step 8 – Getting ready to go: documents and luggage
Italy is part of the European Union and a signatory of the Schengen Agreement and the documents needed to enter its territory depend on your nationality and the type of passport you are traveling with.
Documents required to enter the country may include:
Valid passport (6 month validity from the date of expected departure)
Schengen Visa
Declarations of health / reason for travel
Child birth certificate with your name on it if traveling with a minor with a different surname as yours
Guardian authorization to travel with a child, should you be traveling with a minor with a different surname as you
Need to know! At present, regulations about travel to Italy change rapidly due to the rapidly evolving situation in and outside the country. Only rely on official advice: you can find the official site of the Italian Foreign Office here or you can contact your local embassy.
In Italy, it is compulsory to always have ID on you.
Make sure you always have on you the original or a copy of ID documents for you and your children.
When it comes to luggage, I recommend not overly big, sturdy luggage such as the bags recommended in our article: the best luggage for Italy.
Baby essentials for Italy and useful kids gear
The main travel gear for babies I recommend you pack for Italy is:
Eating out with kids and Italy meal times
Meal times in Italy are likely to be different from those you are used to back home.
As a general rule, you will find:
Breakfast in Italy is usually served up until 11 am in cafes and any time between 7 and 10 in hotels, with a huge variety between establishments in terms of exact offering and time of service.
Lunch is usually between 1pm (this would be an early lunch) and 2.30 pm.
Dinner is usually served 7.30pm (this would be an early dinner) to about 10pm.
At other times, you usually find plenty to eat al bars (=cafes, bar in Italia is the genera word for cafe and doesn't indicate establishments selling alcohol) and aperitivo usually keep adults and kids filled up before dinner should hunger strike early!
Restaurants usually do not have children's menus as such but are always available to make smaller portions or a simple plate of pasta if asked.
You can find a general overview of regional foods you will find in Italy here.
Kid friendly food in Italy
Italian food is very child friendly, usually involving mild flavors and fresh produce.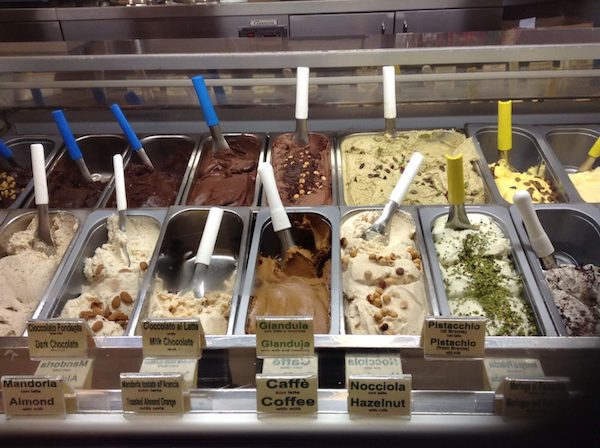 Some kids' favorites you will find in Italian menus are:
Pasta al ragu – what abroad is known as 'bolognese'
Pasta al sugo – not on menus but always available if requested, this is pasta with basic tomato sauce (no meat)
Plain pasta – this is not done in Italy, usually they add at least butter or oil, if you want it truly plain, make sure you specify
Cotoletta – fried chicken
Pizza – no need for introductions here, just be advised that pizza is served in pizzerie and some restaurants (only those with wooden fire ovens will serve it, check the menu)
Gelato – Italian ice cream, always opt for 'gelato artigianale' as it is nicer and healthier (less fat). Lactose and egg free flavors (senza latte / senza lattosio and senza uova) are available but always check the signs as not all establishments can cater to allergies.
Where to buy baby essentials in Italy
Baby essentials are sold in supermarkets and pharmacies.
Supermarkets usually have more affordable options while pharmacy shops have higher-end brands.
You can find here >>> our guide to grocery shopping in Italy and what to expect in Italian supermarkets
Find all our tips for traveling to Italy with a baby or toddler here.
Playgrounds in Italy
Playgrounds in Italy come in all shapes and sizes however, I feel like warning you that they are not all wonderfully kept!
Italy does well many things but care of public areas is not always one of them so if you see a playground on the ma, expect anything from a wonderful one to a semi-abandoned patch.
Good to know to avoid setting expectations too high if you are promising time at the playground as a bribe…
Baby changing stations and public restrooms in Italy
Public restrooms are few and far between in Italy and, when you find them, they often require a small entrance fee.
However, by law, all establishments such as bars and restaurants need to allow access to their facilities to patrons soa good way to get a pit stop is to enter any cafe, order a coffee or buy a packet of gum and asl to use the facilities.
With children in particualar, you don't always need to place and order: ask nicely and people are, usually, more than ready to facilitate you for free.
Public restrooms may or may not be equipped with changing stations (usually not). I always recommend you be ready to change diapers on the go on the stroller and then head into the restrooms for running water and trash cans, if nearby.
More travel tips for visiting Italy
Find more practical travel tips for visiting Italy here and don't forget our free travel planning group for families going to Italy: we would love to have you there!
I hope you found this guide to planning a first trip to Italy with kids useful. Safe travel planning!