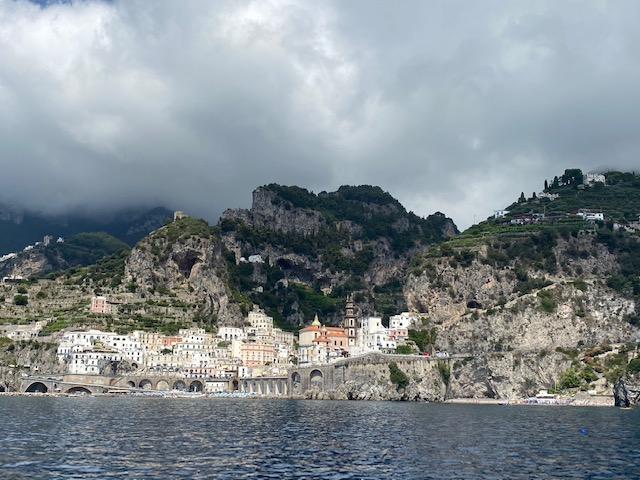 Amalfi Coast towns you'll love: best cities on the Amalfi Coast to visit and stay
The most beautiful Amalfi Coast towns to visit and stay.
The Amalfi Coast is a stunning stretch of land dotted with historical, pretty towns perched between the sea and the high cliffs.
It is know as a place of breathtaking natural beauty: the sea here is clean and blue, the cliffs beautiful and dramatic and the towns colorful and quaint.
The result is a place like no other, a place that is guaranteed to get a 'wow' out of you when you first see it and is more than likely to steal your heart forever!
All the Amalfi Coast towns have something worth seeing, may it be their location, their architecture, their views however, some are more popular than others and attract the attention of most visitors.
If you only have a limited amount of time and want to see the very best towns on the Amalfi Coast these are our top recommendations.
The most beautiful towns in the Amalfi Coast: East to West
Vietri sul Mare
Vietri sul Mare (sul mare= on the sea) is the first town you meet on the Amalfi coast coming from Salerno.
It is a small, pretty town famous for colorful handmade pottery, unique to this town: ceramica di Vietri.
The town is small and the ceramic is literally everywhere: you can find it in shops, usually flaunting its bursting yellow pigments on pretty displays outside their doors, on along city walls.
The prettiest part of Vietri is the historical center.
This is a lovely area with small alleys and picturesque corners and is also where you find the Duomo, worth seeing for its Neapolitan Baroque style.
The town can easily be seen in a day or even less however, be aware that parts of it have steps and can pose mobility challenges.
Vietri is less touristy than other towns and tends to see lower prices and lower crowds.
Vietri sul mare is the place to stay on the Amalfi Coast if you want to stay away from the crowds, do not seek the glamorous life part of the costiera is known for, want to shop for ceramic or need to stay close to Salerno and its high- speed trains.
Cetara
Cetara is a small fishing village famous for a special dish: colatura di alici (anchovies)!
Cetara is the first village you see from the ferry when traveling from Salerno and it is a delights: there is little to see here, the place is tiny , but its beautiful position and the food are more than enough to make it worth a stop.
Cetara is one of the best places to stay on the Amalfi Coast if you want to be close to Salerno but want the atmosphere of a small, relaxing village.
Maiori
Maiori doesn't often appear on Amalfi Coast itineraries as it is more modern than other towns and, to an extent, less charming.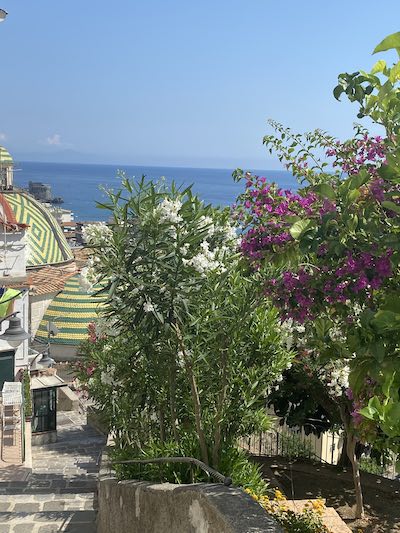 However, there are several reasons to visit Maiori and possibly make it your home base for the Amalfi Coast, especially if you are visiting the Amalfi Coast with kids.
First of all, Maiori is largely flat, which means it doesn't pose the challenges to people who have walking difficulties or families with small kids.
This is excellent, if you think that other towns in the area, such as Positano, have streets and steps so steep they are almost impossible unless you are steady on your feet.
As well as handy, Maiori also has a nice beach and it is home to a stunning landmark: a Norman tower that is breathtakingly beautiful!
You can read our full travel guide to Maiori here.
Minori
Minori is the next village after Maiori and is connected to its neighbor not just by boat and road but also by a nice walk, the 'lemon path' and a long history.
It is a delightful small town with a great charm and a local atmosphere and since it is lesser known than glamorous locations such as Positano and Ravello, it tends to receive fewer visitors: a great advantage in an area usually very crowded.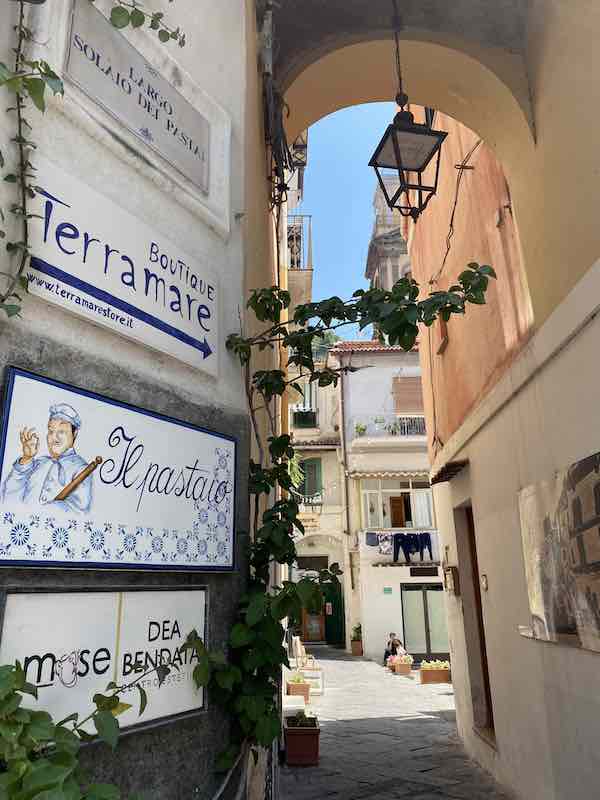 Minori dates back to Roman times and it is home to an ancient Roman Villa, the most important Roman ruin in this stretch of coast, which can still be visited in the town center.
You can find our guide to Minori here.
Minori is a small, quiet village and it is a good place to stay for families, visitors who do not mind or seek out quite evening and patisserie lovers: Minori is home to Sal de Riso, one of the best known in Italy (and not just!)!
Ravello
Ravello is the only place in this list of Amalfi Coast towns that is non on the sea but, rather, perched up high along the Amalfi Cliffs, from where you catch unforgettable views.
Ravello is a chic, beautiful town with stunning gardens and Villas (Villa Rufolo and Villa Cimbrone are here) and this is also famous for a classical music festival that happens here in the summer.
Ravello is the best place to stay on the Amalfi Coast if you don't mind being away from the beach and want sweeping sea views.
Amalfi town and Atrani
Amalfi is one of the bigger towns on the Amalfi coast and the one that gives the name to the area.
In Italian 'Costiera Amalfitana' means 'Coast of Amalfi' and this gives away the fact that this was historically one of the most powerful towns in the area, and not just.
One of the historical Italian Maritime Republic, Amalfi has been for centuries and an important maritime trade center and this success is visible in the beautiful and varied architecture of the city.
Important things to see in Amalfi are its stunning cathedral (do not miss the ancient cloister), the charming historical city center and its meandering alleys, the paper museum and the arsenal.
Compared with other towns on the Amalfi coast, Amalfi is bigger and busier. It is the best place to stay in the Amalfi Coast if you like a buzzy atmosphere and good connections. It is also a must see in the area due to its importance and beauty. You can find our guide to Amalfi town here.
Atrani is beside Amalfi and it is so close to it, it can easily be visited with Amalfi town, as if it was one of its neighborhoods.
Atrani is wealthy and scenic but detached from the port of Amalfi just enough to see a fraction of the crowds Amalfi gets.
This is a lovely place to stay if you want to make Amalfi your base or to spend a night in a scenic location.
Conca dei Marini and Praiano
Conca de' Marini and Praiano are two beautiful Amalfi Coast villages, less famous than many of its neighbors, and therefore perfect for those who want to escapes the crowds without renouncing the breathtaking views typical of the Amalfi Coast.
Both villages have pretty streets and welcoming guesthouses and hotels, they both offer out of this world views and access to beautiful beaches.
Beside Praiano you also find the famous Fiordo di Furore, one of the most scenic stretched of the Amalfi Coast and one of the most photographed too!
Positano
Positano is probably the one town everyone knows on the Amalfi Coast, the town everyone mentions for its colorful houses, glamorous atmospheres and views.
Indeed, Positano is lovely however, it is also a place with a very specific character, similar to what tou experience in the most fashionable parts of Capri: beautiful people, sipping beautiful cocktails on beautiful terraces watching beautiful views!
If you are coming to the costiera for Instagram perfect moments, this is the place for you!
Fashion aside, what makes this town special is the fact that it is vertical.
The town develops over a cliff and you move around going up and down sometimes challenging sets of stairs however, it also makes for a wonderful and uniqe experience.
Sorrento
Sorrento is not technically on the Amalfi Coast but rather on the costiera sorrentina, on the other side of the promontory. 
However, it belongs on this list because it shares some of the atmospheres of the Amalfi Coast and it is also the best getaway to the area in terms of transport option.
Sorrento is wonderful: the town has a lovely city center, beautiful views and some of the best food in Italy, alone a reason to go!
Sorrento is also a great getaway town to visit the rest of the Amalfi Coast and also Capri, easy to reach by boat from here.
I hope you enjoyed this overview of the most beautiful towns on the Amalfi coast. Happy travel planning!