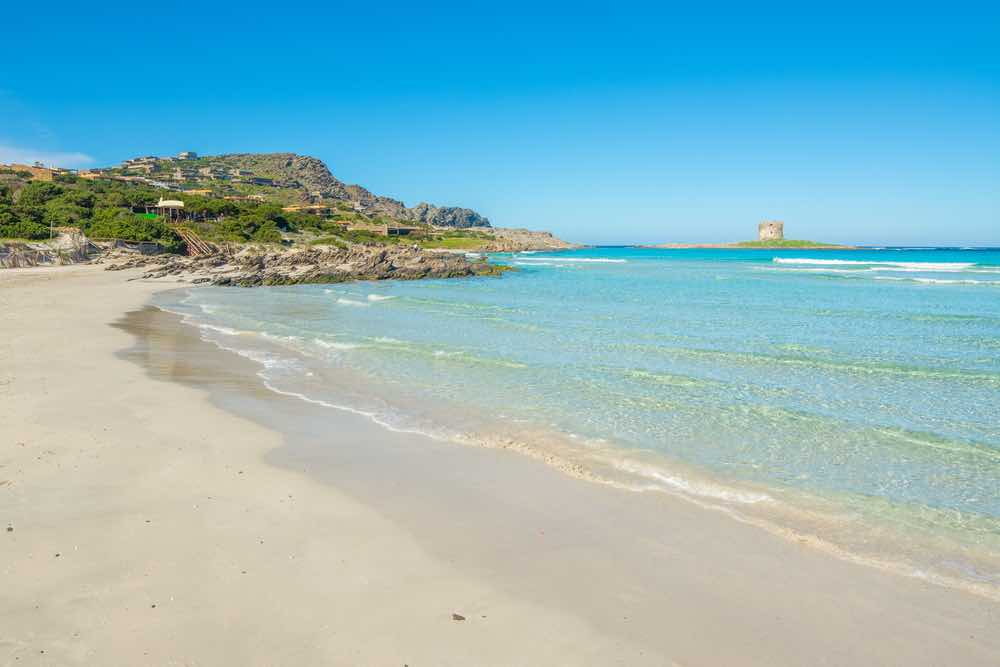 Sardinia with kids: why you will love it for your next vacation in Italy + tips
Planning a trip to Sardinia with kids: best places to go, best family beaches in Sardinia, kid-friendly things to do and practical tips.
Sardinia is one of the best beach vacation spots for families in Italy and the Mediterranean in general. Perched right in front of Italy's western coast, Sardinia is a paradise of azure waters and sandy beaches and a delight for families with kids of all ages.
A favorite destination for locals and savvy foreigners, Sardinia is varied and perfect for an all-inclusive family vacation or an independent trip to a hotel, rental or camping.
If you are looking for a sea and sun vacation in Italy.
Sardinia may be just the ticket! In this guide, you will find our selection of the best places to visit in Sardinia with kids and tips to plan your trip.
I am sure by the end of this article, you will agree Sardinia is one of the best places to visit in Italy with kids, if you love the sea and the sun!
Please note: this post contains affiliate links and, should you make a purchase, we might make a small commission at no extra cost to you.
As an Amazon Associate I earn from qualifying purchases
Why visit Sardinia with kids
Sardinia is a family-friendly island with stunning kid-friendly beaches and a plethora of family accommodation options to suit all budgets.
It is a quintessential summer destination for families and it is perfect if you want a sea and sun vacation, more than sightseeing.
While there are really beautiful and interesting cities in Sardinia, the best thing to do here in summer is to enjoy its beautiful nature. We recommend it to families with toddlers, primary school children and teenagers alike.
Sardinia with kids map
Our top picks of family-friendly places in Sardinia:
Where to go in Sardinia with kids
Sardinia is a big region, so the first thing to do when planning a trip to Sardinia with kids is to narrow down the best area.
Great places for a family vacation in Sardinia are:
Villasimius area – in Southern Sardinia, this is an area with fantastic beaches for families and good facilities for kids. The proximity to Cagliari makes is also an easy area to travel to.
Find family-friendly accommodation in Villasimius and surrounding area here
Orosei – in Eastern Sardinia, this is a lovely locality for families with pretty beaches, a nice town center and lovely green areas. Lots of accommodation options and family-friendly camping options. Closest port/ airport: Olbia.
Find family-friendly accommodation in Orosei and surrounding area here.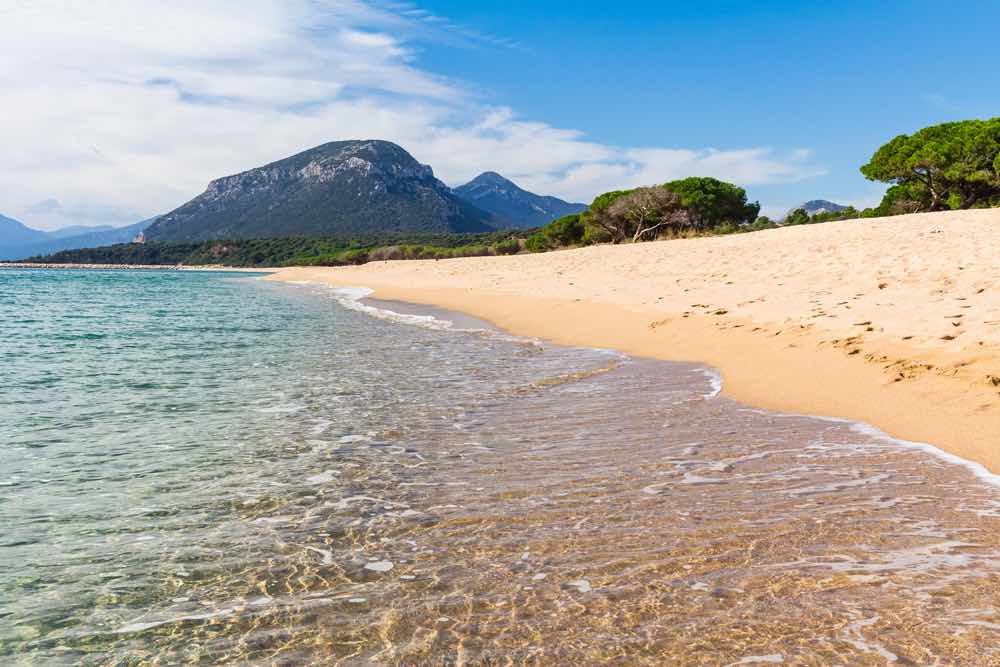 Stintino – in Northern Sardinia, this is where you find La Pelosa, regularly listed as one of the best and most beautiful beaches in Sardinia. The downside to this area is the crowds, especially in summer: plan accordingly and get a car so you can explore the many other beaches in the area. Closest port/airport: Porto Torres, Alghero.
Find family-friendly accommodation in Stintino here
San Teodoro – Located in eastern Sardinia, San Teodoro is a family-friendly locality with a fantastic kid-friendly beach: La Cinta. This is a popular vacation spot with plenty of accommodation options and a nice kids' playground. This is also a lovely base if you want to explore the area independently or with a boat trip/ day trip with a guide. Closest port: Olbia.
Find family-friendly accommodation in San Teodoro here
The best things to do in Sardinia with kids
Go to the beach: he best Sardinia beaches for kids
Since we recommend Sardinia for a family sun vacation, we will start from the best family beaches in Sardinia.
Simius Beach, Villasimius
Villa Simius is one of the most popular beaches in Sardinia for families and with good reason. Located in the south east of Sardinia, Simius beach is simply perfect for kids.
The beach here is sandy and soft and well protected from winds and currents. The sand has a wonderful cream color and the water is a wonderful hue of blue and spotlessly clean and very shallow, which means it is one of the best beaches in Sardinia for babies and toddlers.
The beach is ideal for splashing, sunbathing, snorkeling and kayaking and it is also close to the village: perfect if you want access to a wonderful beach and a small town feel.
Porto Giunco, Villasimius
Porto Giunco is another wonderful beach in Sardinia, immediately to the south of the beach of Simius (you can walk between the two). This is another wonderful beach for families with small kids: like in Simius, the water is shallow and perfect for toddlers, the sand soft and light and the sea crystal clear.
In terms of facilities, this beach has all families may need such as the option to rent umbrellas and beach loungers. Something fun for kids! At the back of the beach, there is the locality of Notteri, where you can see flamingoes!
Su Giudeo Beach, Chia, Domus de Maria
Su Giudeo beach is a kid-friendly beach in Chia, in the south of Sardinia, near Cagliari. This beach is simply perfect for families with kids: large and sandy, the sand here has a wonderful white color and the sea is crystal clear – the colors here are positively Caribbean!
The beach degrades gently into the waters, which is perfect for small kids, but just in front, you have a rocky island that is excellent for older kids who want to go snorkeling (check the tides, it is not always accessible).
Su Giudeo has good parking, food facilities and you can rent beach umbrellas, canoes and pedal boats.
Family-friendly Chia Laguna resort.
Spiaggia della Pelosa Beach, Stintino
La Pelosa is maybe the most famous beach in Sardinia and a lovely beach for families with kids. Located in the northeast of Sardinia, La Pelosa has soft white sand and shallow, clean waters, that create a magical blue and white palette that is picture-perfect.
La Pelosa has all a family may wish from a beach however, it is very busy and can get very expensive so it is mostly suited to off-peak times of the year.
Book early and be ready to walk for an emptier spot and do explore the area: several other family beaches are nearby.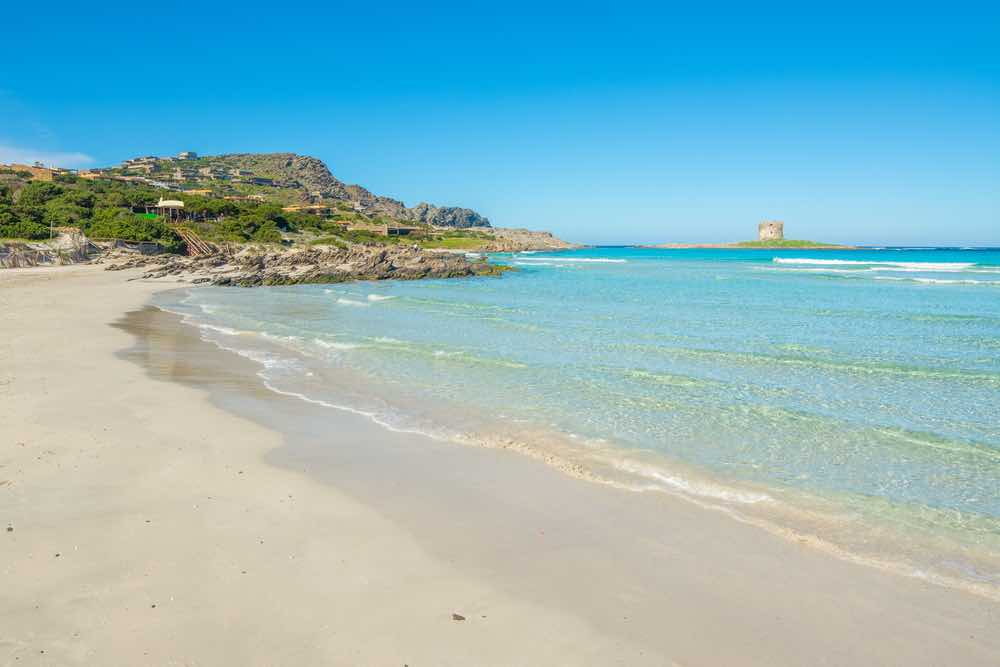 La Cinta, San Teodoro
La Cinta is a famous very family-friendly beach with shallow waters and white sand, perfect for toddlers and young kids. Handy parking, restrooms and showers right at the entrance; option to rent umbrellas and loungers; restaurant and cafe on the shore.
Cala Ginepro, Orosei
If you are looking for a family beach in Sardinia where your kids can go snorkeling, then you will love Cala Ginepro in Orosi. Orosei is a delightful town in east Sardinia and Cala Gineprto is its pretty cove: sheltered by natural rock formations, this beach has shallow, clean waters and has a nice umbrella pine forest nearby.
Have fun in a theme parks
Sardinia has several amusement parks that are great for days when you want to take a break from the beach. Check out:
Aquafantasy – fun water park with slides, lazy rivers, pool, etc
Sardegna in Miniatura – Miniature Sardinia is a theme park with plenty to see and do for kids. Here you can see the whole of Sardinia in miniature, visit the aquarium, see dinosaurs in the biggest dinosaur park in Italy, visit the astronomy museum and planetarium, all in fantastic natural settings.
Le Ragnatele Adventure Park – with tree top adventure course and ziplining
Explore Alghero
Alghero is a beautiful town with a peculiar history, perfect for a day sightseeing. Mostly flat and easy to discover on foot, Alghero is unique in Italy as it is a Catalan city, overlooking the sea and with stunning bastions you can visit.
Explore Cagliari
Cagliari is Sardinia's main city and a good place to go sightseeing with kids. The town has a beautiful and family-friendly historical center, nice parks, a lovely promenade and cycling opportunities for the more active family members.
See wild horses in Parco della Giara
Parco della Giara is a large natural area famous for being the last place in Europe where you can see wild horses in their natural environment. The horses here are of a peculiar species 'cavalli della giara', bigger than ponies but smaller than other more common horse species. The best way to visit is with a guide: bring decent walking shoes and sun protection if visiting in summer
Go snorkeling with kids
Sardinia is a lovely place for beginners snorkelers and this includes kids! gear them up with goggles and water shoes and let them explore. Great snorkeling places in Sardinia for kids are La Carbonara, Villasimius, Stintino and Budoni .
Take a ride on Trenino Verde (Little Green Train)
If you have a little one who loves trains, then you should take a ride on Trenino Verde, Sardinia's Little Green Train.
The vintage train offers a tourist service that allows families to discover some areas of Sardinia otherwise hard to reach. You can choose between several journeys/destinations and it is fun for little ones: prepare yourself for a vintage rickety ride! perfect for toddlers and young primary school kids. Official site: treninoverde.it
Visit a prehistoric Nuraghi
Nuraghi are prehistoric remains unique to Sardinia. The best place to see them is by Nuraghe Losa or UNESCO's Nuraghi Village of Su Nuraxi (best for older kids due to some steep passages – bring good shoes).
Visit a mine with kids
Sardinia has important mining history and some of the old mines are now tourist sites easy to visit with kids.
The famous Porto Flavia Mine is unique and scenic: here, you visit the mine tunnel, find a wonderful belvedere but also learn about Porto Flavia's incredible suspended port, an engineering marvel and a stunning sight!
You can visit on your own or with a tour from Cagliari or a tour from Chia.
What to pack to visit Sardinia with kids
If visiting Sardinia in summer, you need your Sardinia packing list to include all your essentials for a beach vacation, plus an extra layer for days when the wind picks up and good walking shoes/sneakers for excursions.
Do not forget:
Swimsuits for the whole family
Kids snorkeling gear
Water shoes
Beach essentials: towels, sun screen, sun hat, beach toys
Sunglasses for the whole family
How to get to Sardinia with kids
You can get to Sardina with kids by plane or ferry.
Main airports in Sardinia are Alghero and Cagliari.
The main ports for ferry services are:
Arbatax – access point for west Sardinia
Porto Torres – access point to north-west Sardinia
Olbia -access point to Sardinia's northeast
Cagliari – entry point to south Sardinia
The most popular departure points for ferries to Sardinia are Civitavecchia, Livorno, Piombino, Genoa, Marseille (France) and Barcelona (Spain).
If you are planning on visiting more than one location, I highly recommend you rent a car: by far, the best way to travel around Sardinia as a family especially!
I hope you enjoyed this essential guide to Sardinia with kids and it helped you get started planning a trip. Safe travel planning!