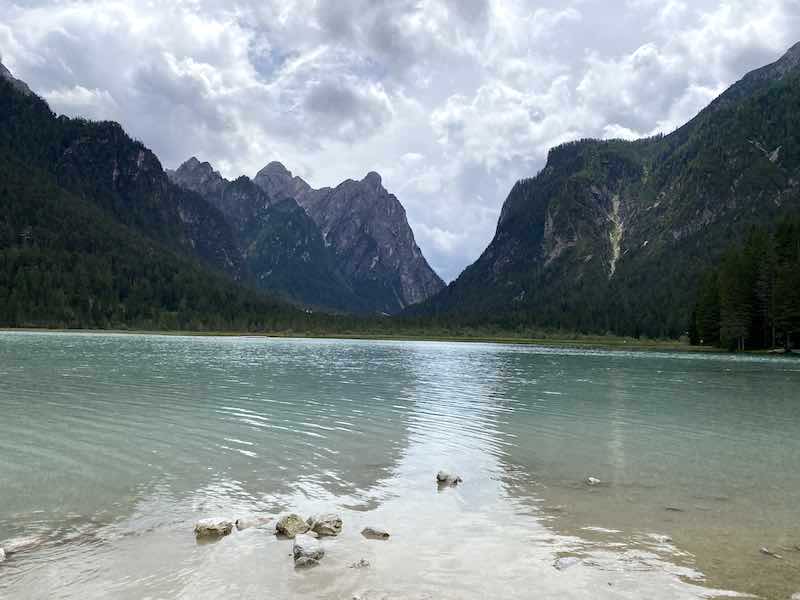 Lake Dobbiaco: all you need to know to plan a visit to this stunning Alpine Lake
All you need to know to plan a visit to Lake Dobbiaco, one of the prettiest lakes in Val Pusteria, Italy.
Lake Dobbiaco, called Lago di Dobbiaco in Italian or Toblachersee in German, is a pretty alpine lake on the Dolomites and precisely in Val Pusteria.
Blessed with light green water and a backdrop of beautiful mountains and thick forests, the lake is very easy to reach and a perfect place if you want to enjoy views typical of this area without having to face strenuous hikes.
Lake Dobbiaco is easy to visit at all ages: it is easy to access by car, it has food and facilities for visitors and you can walk around it following the beautiful and easy trail that leads around its perimeter.
I have always loved Lake Dobbiaco and I recommend the walk around it as one of the best family walks in the Dolomites for families with small kids.
While less famous than nearby Lago di Briaies, Lake Dobbiaco shares most of the same charm with a fraction of the crowds.
We have visited many times and we have visited again now in 2021: this is all you need to know to plan your day on Lake Dobbiaco.
How to get to Lake Dobbiaco/ Lago di Dobbiaco/ Toblachersee
Lake Dobbiaco is immediately outside the town of Dobbiaco/Toblach in Trentino Alto Adige, Italy and it is best reached by car.
From Dobbiaco town, you need to drive in the direction of Cortina D'Ampezzo/Venezia for about 3km: then, you will see signs for the lake and parking onto your right.
The parking is immediately above the lake and it is pay and display: in summer 2021, the cost is 2Euro per hour or 7Euro for the day. Cash and card accepted – I recommend you have cash with you as the card reader is occasionally out of order.
The parking is just beside the lake. Restaurant and facilities are two minutes walk away from the parking and so is the start to the nature trail, well indicated as soon as you leave your car.
What to do on Lake Dobbiaco
Enjoying Lake Dobbiaco is easy at any age especially in summer, which is the most popular time to visit this lake.
Among the best things to do, we recommend:
Enjoy the views
Lake Dobbiaco is in a stunning position and you can enjoy fantastic views of its green waters and tall mountains from anywhere along its shores.
This means that even on a day when you don't feel like walking at all, you can enjoy this beautiful spot!
Among the many viewing spots you can choose to sit at one of the lake restaurants and cafes, all with views over the water and the mountains or you can stretch your legs to the pretty 'beach' on the right hand shore of the lake.
Here you can admire the scenery, have a picnic and let the kids play in and out of water.
Top Tip! On the right shore of the lake, there is a fantastic viewing platform from where you can get lovely photos of the lake. It only takes a handful of minutes to reach it on foot from the restaurant and it is one of the best photo spots on the lake: not to be missed!
Take a walk around the lake following the Lake Dobbiaco Nature Trail
The best way to enjoy Lake Dobbiaco is by walking the delightful nature trail that follows the perimeter of the lake.
The trail is easy, it is stroller and wheelchair accessible and only 2.5 KM long, which means it is easy to tackle even with kids or on days when a big hike is just not option.
Top tip! You can follow the trail in either direction but I recommend you walk it in a clockwise direction. I am not sure why this is, but we have always found this way you find yourself against the crowds and you get more moments when the lake is just for yourself!
The trail is well signposted, it is beautiful and very interesting for adults and kids.
The first part follows the lake waters and it is spectacular as it opens up right onto the mountains, offering fantastic photo ops.
As you get close to the far side of the lake, the scenery changes: here, instead of being on the water, you find yourself in a wonderful wooded area crossed by the river Rienza, which flows into the lake.
Here, you don't see the mountains as well but you feel like you stepped into a magical forest wonderland!
The river is an incredible light green/white color and it the scenery is pristine and full of beautiful flowers and trees. The trail here turns into a well kept boardwalk however, there are several safe spots where you can get off the trail and get close to water.
The third part of the trial is different again.
As you leave the river shore, you first have a lovely stretch of the path under the trees and then you get to the viewing platform and the small beach, the last stop before you arrive at the Lake restaurant and, immediately after it, back to your car.
Learn about local animals and plants
The trail around Lago di Dobbiaco is organized like a nature trail and it has lovely educational stops and stations for kids.
They are a lot of fun for kids and very interesting for parents too, with lots of info about animals, plants and the lake. Some that particularly caught our attention are:
Panels with info and photos of local animals and how to recognize them. We found the one about snakes exceptionally cool and it taught us how to recognize the local venomous snake vs the innocuous ones!
A fun info panel/game that taught us about the Rienza River and its journey, both before and after it gets to Lake Dobbiaco.
A super fun jumping strip, where you can test your long-jump skills vs those of local animals. This was by far the most entertaining and we realized animals are even more amazing than we thought, we could only match the smallest animal jumps (but we had tons of fun trying to make a record: this is a perfect activity for toddlers too).
Get a pedal boat
The shore of the lake closest to the parking lot is equipped with pedal boats for rent. These are super easy for kids to enjoy and a great way to get special views over the lake!
Have a picnic
The shores of Lake Dobbiaco are perfect for a family picnic. The most popular spot is the small beach close to the restaurant but there are several nice spots and even some small benches and tables where you can stop for a snack.
Please be advised that no open fires are allowed as this is a forested area.
Have a meal with lake view
the northern shore of the lake is equipped with several cafes and restaurants.
They serve local specialties and they are fantastic for a relaxed family meal with views over the lake.
In case of rain, some have umbrellas while others also have indoor seating areas, perfect also if you come here in winter.
Visiting Lake Dobbiaco with kids
As you can see from the info so far, Lake Dobbiaco is a perfect destination for families with kids.
The walk around the lake is stroller friendly and you can walk it in less than an hour or make a full day out of it, allowing the kids to stop at all the info stations, play the games and engage with nature.
While the path poses no risks, I highly recommend you equip your kids with hiking shoes: they will protect them from mud and water and they will also come handy on the pebbled parts of the trail.
If your kids want to put their feet in the water, kids' watershoes can come in handy.
What to pack for a day on Lake Dobbiaco in summer
For a day out on Lake Dobbiaco with kids I recommend you bring:
Walking shoes: while you don't need technical equipment, these will be best to protect your kids feet from the bumpy terrain and water puddles.
A wind breaker: even if we are in the valley, the weather changes fast here and wind and rain can pick up quickly
Water shoes for a hot day
A water bottle, sandwiches and trash bags to carry away your trash, if you are having a picnic
Binoculars to spot birds
A camera
Interesting facts about Lake Dobbiaco
Lake Dobbiaco in the Upper Val Pusteria (Alta Pusteria), the Three Peaks of Lavaredo and the Fanes-Sennes-Braies Nature Parks.
Its origins are down to rockfalls and the water comes from the River Rienza that enters and leaves the lake here.
The Lake has names in both Italian and German, respectively Lago di Dobbiaco and Toblachersee
The closest town is Dobbiaco/Toblach.
Lake Dobbiaco altitude is 1,117 m, its surface is 14.3 hectares, its max depth is 3.5 m
The northern part of Lake Dobbiaco is characterized by beautiful green waters while the southern part is largely covered in swamps.
This is due to the fact that the Rienza River in this area slows its course and deposits large amounts of detritus. This, over time, filled part of the lake: water plants developed here and cause additional detritus to stop, slowly turning part of the lake into dry land.
I hope you enjoyed this quick overview of Lake Dobbiaco and we made you want to visit!
More resources to plan your vacation on the Dolomites: