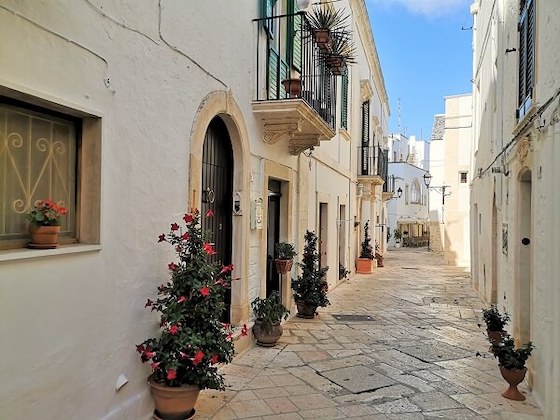 Locorotondo, Puglia: why you will love this delightful white town in the heart of the Italian South
All you need to know to plan a visit to Locorotondo, Puglia, and why you will love this beautiful and charming white town in the South of Italy.
Locorotondo is a very pretty town perched on top of a hill in Val D'Itria, Puglia.
Locorotondo means 'round place' and this small town is as delightful as its name suggests.
Its round historical center is picture-perfect: small alleys, cute balconies and dainty corners quietly bask in the Southern Italian sun, evoking a slow and relaxed pace of life.
Locorotondo is a white town and this is more than a passing observation about its appearance.
Puglia has 9 of them and the sight of whitewashed walls against the blue of the Apulian sky is one of the most beautiful in Italy.
Locorotondo is close to a tourism powerhouse, Alberobello, capital of trulli, and maybe because of this is largely overlooked by mass tourism.
Because of this or maybe because of its beautiful corners, we fell head over heels in love with it.
These are the best things to do in Locorotondo and why we recommend you add it to your southern Italy itinerary.
Please note: this post contains affiliate links. Should you make a purchase, we might make a small commission.
Why visit Locorotondo
The main reason to visit Locorotondo is how pretty is it.
The town has won the coveted award of 'borghi piu' belli di'italia', Italy's most beautiful villages, and it is indeed one of the most beautiful small towns in Italy.
The original settlement dates back to the XI century and the layout of the city bears witness to this ancient origins.
The old center develops in circles around the main church and the small alleys and the hilltop positions are traditional of towns of an era now gone.
Locorotondo is easily enjoyed at all ages and by visitors from all walks of life: kids will love following the local cats, grown-ups will get lost in the beauty of its churches and streets and lovers of architecture are in for a bit of a treat here.
Locorotondo is known for a special type of home with pointy roofs called 'a cummersa' that are typical of this town alone!
The best things to see in Locorotondo, Puglia
Locorotondo is not really a town with things to see but a village to be savored.
However, there are some things, in particular, you should make time to seek out when visiting Locorotondo.
Piazza Vittorio Emanuele II and its viewing terrace
Your visit to Locorotondo is likely to start from Piazza Vittorio, where part of the ancient town gate still stands.
The piazza has a beautiful panoramic terrace offering amazing views over the valley below (you will spot olive trees and tons of trulli!)
The terrace is part of the city park entitled to national hero Garibaldi, and is it a lovely place to catch a view or have a rest in the shade.
Locorotondo whitewashed alleys
Locorotondo is a white city so the whitewashed walls of its houses and bright streets top this list of things to see.
The town center is literally all white so you don't need an itinerary to see what the town is all about!
As you will notice, some of the white comes from the whitewashed exteriors walls of the houses and some comes from the very light colored stone that paves the streets of Locorotondo.
Like other towns in the area, Locorotondo hasn't got city center streets of grey tarmac but, rather, pretty streets of polished local stone that make the old town center look like an elegant living room!
Just like a living room, the clean streets of Locorotondo are also decorated with pretty touches that add color and warmth: as well as flowery balconies (see below), it is common to find pretty shops showcasing local crafts such as vases and pottery creations.
This is not a very touristy destination so the shops are actually great to get authentic Italian souvenirs as they tend to cater to a pretty discerning crowd.
Locorotondo's unique 'a cummersa' houses
As you walk around Locorotondo, you will notice the peculiar houses the town is known for: the pointy houses 'a cummersa'.
They are not unusual as trulli however, they do stand out and they are specific to the town so it is worth looking up to make sure you spot them!
Locorotondo's many churches
Locorotondo has several churches worth seeing.
Among the most beautiful there are Chiesa Madre di San Giorgio (baroque), Chiesa di San Nicola (with beautiful frescoes), the church of the patron Saint San Rocco and the Romanesque Chiesa della Madonna della Greca church.
This last one is worth noticing as it has a typical pointy roof 'a cummersa' and a facade covered with slabs of local stone, the 'chiancarelle'.
The churches are beautiful inside and outside but to me, the most impressive thing of all is that they tend to surprise the visitors as they suddenly make their appearance as you turn a corner, opening up onto an unexpected piazza!
Locorotondo flowery balconies
As you stroll around the historical center of Locorotondo you will encounter many stunning balconies, decorated with beautiful flowers and colorful vases.
These are a distinctive feature of the town and the locals are so proud of them they even have competitions to nominate the most beautiful each year!
Locorotondo's doorways
As well as pretty balconies, many of the houses in Locorotondo have impressive doorways and entrances.
Some have pretty doors, some staircases, some have decorative tiles and all clearly make an effort to maintain the town that visual jewel it is.
Best Locorotondo viewing points
Locorotondo is on top of a hill and this means you have some nice views over the valley below from several spots in the city.
The main ones are the already mentioned Piazza Vittorio Emanuele II and Via Nardelli, from where you have stunning views over the valley, its trulli and you can even guess the presence of the sea far on the horizon!
Eating in Locorotondo
Puglia has delicious food and Locorotondo is no exception.
Even better, here you can have local food and wash it down with local wine since Locorotondo is known for having very nice whites!
The restaurant we love here is called La Braceria Dishes to try here and in the area, in general, are orecchiette con cime di rapa (vegetarian orecchiette pasta), cured meats, meatballs and broad bean puree.
Where is Locorotondo and how to get there
Locorotondo is in Val d'Itria (the Itria Valley), in Puglia, the heel of the Italian boot.
The nearest big cities are Bari, about 1h by car from Locorotondo and the closest international airport, the port of Brindisi and Taranto, all in the same region.
Famous Alberobello is less than 15 minutes away by car.
Other towns in the area within easy reach are Martina Franca and Trani
The best way to reach Locorotondo is by car.
The roads in this area are well signposted and well kept and parking is abundant (on-street, pay and display).
The old town center is closed to traffic but parking is available immediately outside: follow the signs to centro storico (or just go uphill!) and you will quickly find your way into the old part of this beautiful village.
Car rental options in the area are available in all major towns and several providers serve the area including international names such as Avis and Hertz.
Visiting Locorotondo with kids
We visited Locorotondo with our kids and they loved it as much as we did.
The town hasn't got a lot for them to do however, it is easy to explore with children.
The ancient part of town is small and, in large part, car free.
Our two were able to trot around and spent the time spotting cats and dogs lounging in the sun.
Locorotondo is reasonably stroller-friendly: the streets are rather smooth and the main thing to be careful with is that not all of them have pavements.
This is not an issue in most of the town since the streets are car-free, but it is important to know in the streets that do have cars as you will be sharing the road with them (usually they are small streets so traffic is scarce and they go slow)
In terms of shops and facilities, Lorotondo has all you may need in terms of shops, supermarkets, pharmacies etc.
We didn't see playgrounds in Locorotondo old center but we are told there are a couple in Via Almirante and Via Martiri della Liberta' with slides, swings and see-saw.
If you are heading to this area with children, you may enjoy our >>> family guide to Puglia with kids.
Where to stay in Locorotondo Italy
Some cool and typical places to stay in Locorotondo are:
Navolte Trulli e Quiete – family-friendly trullo house with wonderful spaces inside and out, small outdoor pool, BBQ facilities, outdoor dining area, free parking
Trulli Caroli – very pretty trullo apartment, family friendly, with a lovely garden and breakfast onsite
Petra Chiara B&B – lovely property with swimming pool onsite, option to cook own meals and airport shuttle
Tours of Locorotondo
We did not take a tour of Locorotondo and we found the town easy to explore on our own. However, guided tours can be invaluable to learn more about a place, especially if you plan on staying in the area a while, so I will share a couple of tours that we found in Locorotondo:
Locorotondo guided tour 1.5hours – available in several languages including Italian, English, German and Spanish
Locorotondo 2h walking tour with local guide
I hope you enjoyed reading about Locorotondo and this article inspired you yo plan a trip to this lesser visited and stunning Italian village!