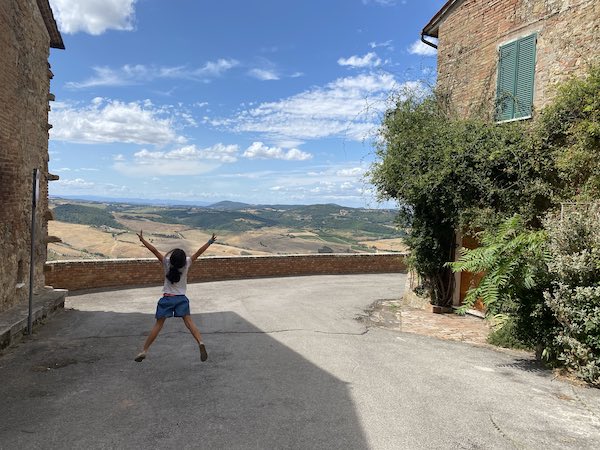 The best Tuscany agriturismo for families: 11 farm stays you and your kids will love
A handpicked selection to help you pick the best Tuscany agriturismo for families with kids: tried and tested farm stays in Tuscany perfect for kids and grownups.
A stay in an Italian farmhouse (agriturismo) is one of the best ways to enjoy Tuscany with kids.
An agriturismo is a traditional farmhouse repurposed to welcome guests.
They do so in many guises: some operate as a B&B, some have self-catering apartments, some have a restaurant on-site, some offer activities and some allow you to just sit back and relax.
The hosts are sometimes very present and sometimes very discreet and the facilities can be anything from rustic and simple to very luxurious.
A little bit like hotels, agriturismo covers all parts of the spectrum for style and price. However, they all tend to have something in common: the rural location and a strong link with the territory.
Agriturismo or agriturismi (plural) are typical of central Italy and they are the perfect place if you want the freedom and space of a villa and the comforts of having your host on-site.
Finding a family-friendly agriturismo in Tuscany is easy: the choice is endless, so vast that it becomes quickly overwhelming!
I know this from my own experience but also from that of the lovely members of my Facebook Group 'Travel Italy with kids' (which you are welcome to join (see below)!
In the group, the request for recommended agriturismo in Tuscany for families with kids comes up often and the advice also is plentiful!
Before I wrote about what to look for when choosing an agriturismo.
In this guide, you find the selection of the best ones recommended so far.
For each, I have included a link to booking.com so you can check prices/facilities/book on a well laid out, English language site, something smaller agriturismo do not always have.
If you want even more help or you have any questions, please in my FREE Facebook group about traveling to Italy with kids: I will be happy to have you there and the tips from me and the other members are FREE!
Please note: this post contains affiliate links Should you make a purchase through them, we might make a small commission at no extra cost to you.
11 fantastic kid-friendly agriturismo vacations in Tuscany
I handpicked the following agriturismi based on my own experience and that of families in my group who were kind enough to share their best finds.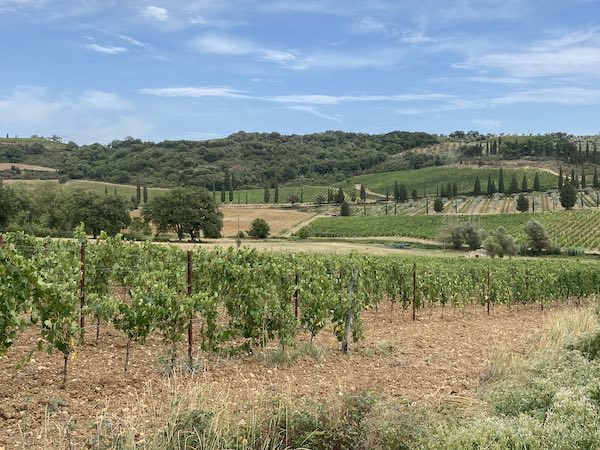 Agriturismo Biologico Diacceroni, Volterra
Agriturismo Diacceroni is the best agriturismo in Tuscany for families looking for lots of activities on-site, as well as beautiful accommodation and food.
It is very hard to come across an agriturismo that ticks so many boxes for families and I could hardly believe my eyes when I saw how much they actually have for kids, as well as grown-ups.
At Diacceroni, you find:
Several types of family accommodation options, including B&B, villa (with option of booking a private chef!) and glamping tents
Restaurant on site
Panoramic pool
Panoramic restaurant serving oil and produce from the estate
Family friendly cooking courses ranging from pasta, to pizza and sauces (kids welcome or you can pick their kid-centered cooking course on biscuits and pastry making)!
Wine tasting for the adults with vineyard visit
Truffle hunting
Horse riding (lessons at the stables or excursions)
Kids play area
Kids workshops
Fiat500 and scooter rental
Outdoor activities such as trekking, cycling, etc
In terms of location, Diacceroni is near Volterra, in one of the most beautiful parts of Tuscany for landscape and history.
Find here >>> prices, photos and info
Al Gelso Bianco family resort and winery in Chianti
Al Gelso Bianco is a fantastic family-friendly wine resort in Tuscany that is ideal for families who want the comfort of a wine resort but also tons of fun for kids.
The resort is in Barberino Tavernelle, near Florence, and it is immersed in a quintessential Tuscan landscape of cypress trees, vineyard and rolling hills.
The place is just fantastic!
Al Gelso Bianco offers:
Family apartments for up to 8 people, with kitchen for a self-catering stay. Apartments are equipped with kids in mind and have baby beds, high chairs, sterilizers, night lights, outdoor and indoor games, etc.
Kid-friendly pool with shallow end
Pasta making cooking class for families
Truffle Hunting Experience
Family dining experiences during summer, so you can have a break from cooking and taste some of the local specialties, wine and oil
Al Gelso Bianco is near Pogginbonsi, South of Florence.
This is the best agriturismo in Chianti for families who want to stay in the heart of Tuscany's wine country and in close proximity to some of the most beautiful Tuscan towns: Florence, Siena and San Gimignano.
Find here >>> prices, photos and additional info
Fattoria di Maiano, family didactic farm and resort in Fiesole (Florence)
Fattoria di Maiano is a fantastic agriturismo for families in Fiesole, only a few minutes up the hill from Florence city center.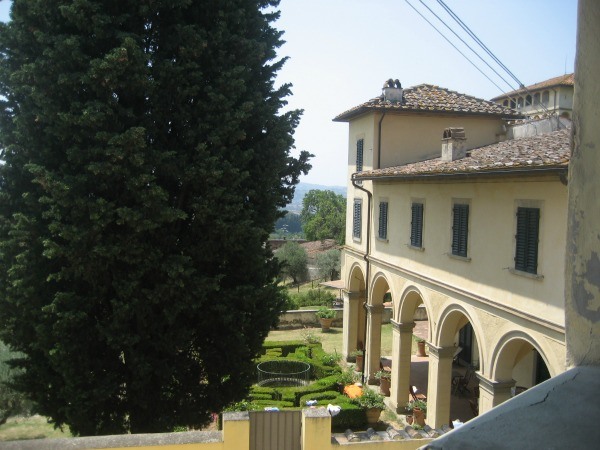 I first went to Maiano for my son's fifth birthday and we fell in love with it as it has everything you can dream of in a Tuscany agriturismo for families!
In Maiano, you find:
Family apartments for up to 11 people
Family rooms
On site restaurant (indoor and outdoors, the terrace is stunning!)
Pool for guests
Didactic farm for kids with farm animals on site
Botanical garden on site
Walking trails
Olive grove with tour of the olive oil press
Farm safari tour
Maiano has an upscale yet relaxed feel that is perfect for a family weekend getaway in Tuscany or a longer stay.
It is located in Fiesole and it is a very short drive from Florence city center, which you can even reach by taxi.
Since it is on a hill, you find here a little respite from the most scorching Florentine heat in summer and you also have lovely views that make you feel as if you were much further from the city than you actually are!
Find here >>> Fattoria di Maiano prices, photos and additional info
Agriturismo al Palazzaccio, Pisa
Agriturismo Al Palazzaccio comes recommended by one of our group members as a fantastic agriturismo for families near Pisa.
Located in Calci, the agriturismo develops over two ancient country homes now fully restored and equipped for guests, marrying old Tuscan style and modern comforts.
To families, Al Palazzaccio offers:
Family-friendly apartments for up to 5 people (one of them can be combined with a mini-suite to accommodate two more guests)
restaurant on site
Swimming Pool
Olive oil tasting on site
Bike and e-bike rental
The agriturismo is the perfect base if you want to visit Pisa or Lucca.
It is also close enough to the coast and Marina di Pisa, perfect if you want both a country setting and the option of going to the beach!
Find here >>> Agriturismo Al Palazzaccio prices, photos and info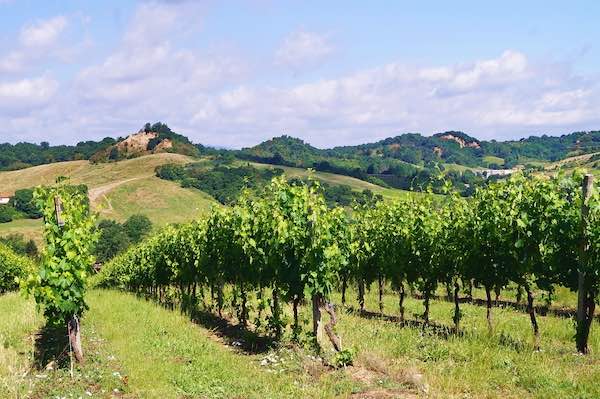 La Palagina kid-friendly agriturismo and farm in Valdarno
If you are looking for a place with tons of activities for kids, then you are likely to love La Palagina!
Located in Valdarno, close to Florence and Chianti, la Palagina is a lovely agriturismo with a strong emphasis on getting the kids to experience and fall in love with the country and its animals.
Among the things La Palagina has to offers, there are:
Family rooms
Larger apartmetnt style accommodation for larger families
Farm animals and vineyard tour for kids (with a workshop to design their own wine label!)
Vegetable and garden workshop for kids
Dinner in the vinwyard (with reduced rates for kids)
Oil and wine tasting for adults
Picnic in the famr (with wine option for adults and juice for kids)
Aperitivo on the terrace with the farmer (reduced rate for kids, free for under 3s)
E-bike tour (age/height restrictions apply)
Find here >>> La Palagina prices, photos and info
Vernianiello, Family-friendly agriturismo in Chianti
Agriturismo Vernianiello is a fabulous family-friendly find by several of our group members who recommended it as absolutely brilliant for kids.
Located in Chianti, close to Florence and surrounded by icon Tuscan landscapes, Venrianiello offers:
Family-friendly apartments with kitchen for a self-catering stay
Restaurant on site (for guests only), with panoramic terrace and wine and oil from the estate
Outdoor pool
Kids' playground
Ourdoor and indoor games for kids (giant chequers, table tennis, Fussball, giant playing cards, board ames etc)
The agriturismo refurbished its apartments in 2020 and has a friendly, intimate atmosphere as all facilities are for staying guests only.
Find here >>> Vernianiello Agritirsimo prices, photos and info
La Noce di Francesca, family friednly agrituirsimo near Florence
Another group member recommendation for a kid-friendly agriturismo in the Florence area is La Noce di Francesca.
Located in beautiful Casentino National Park is a beautiful estate in traditional Tuscan style, a pool and several services including:
Family apartments with kitchen and self-catering facilities
Outdoor pool
Restaurant on site
Small kennels for do lovers! For kids, they arrange a visit for cuddly time with the agriturismo's Hound of the Apennines (they are super cute dogs from this area!)
Cooking classes to learn to make Tuscan specialties (different arrangements upin request are possible)
Massage services for the grown-ups
Find here >>> La Noce di Francesca info, prices and photos
Il Borro Relais et Chateaux
As the name suggests, Il Borro Agriturismo belongs to the prestigious Relais at Chateaux family, known for their stunning properties and upscale vibe.
What the name doesn't say is that Il Borro is also family-friendly and a great place for kids.
Surrounded by stunning countryside in Southern Tuscany, Il Borro is effectively a medieval hamlet with plenty on offer for families.
Facilities and amenities are in different parts of this large estate and include:
Suites, including a family suite with 3 bedrooms and living room
Farmhouse accommodation with self catering option
Wine tasting for adults
Horseback riding (option to book a horse and carriage ride with picnic)
Trekking and cycling routes
Yoga for adults
Swimming pools
Restaurants on site
Spa
Cooking classes, tours, tennis equipment avaiable on request
Find here >>> Il Borro Relais et Chateaux prices, info and photos
La Provenca – family-friendly agriturismo near Chianciano
La Provenca has been our home away from home these last two summers and it is our favorite family-friendly agriturismo in Tuscany's Val di Chiana / Val D'Orcia area.
The agriturismo is located on top of a hill covered by a stunning olive grove and is an oasis of peace.
You do not find activities here but a fantastic place for kids and adults to relax.
La Provenca has:
Well equipped family apartments with kitchen and all you need for a self-catering stay
Outdoor dining area for each apartment, poolside
Outdoor pool (suitable for swimmers, no very shallow end, fenced)
Farm animals (geese, chickens, dogs)
Vegetable patch for clients to taste the estate produce
Small bottle of oil from the estate in all apartments on arrival
BBQ facilities
This is a perfect agriturismo if you want to get away from it all! It is also pet-friendly and has a special eye for dogs, welcome here!
Find here >>> La Provenca info, prices and photos
Il Fienile, family friendly agriturismo in Montepulciano
Il Fienile is another fantastic family-friendly agriturismo recommended by one of our group members and close to one of my favorite places in Tuscany: Montepulciano!
Il Fienile is a caringly restored traditional farmhouse in a beautiful, secluded estate with many amenities on site.
Here, you can avail of:
Family apartments suitable for up to 7 people, equipped with kitchen and all facilities for a self-catering stay
Seasonal outdoor pool
Large outdoor area
Produce from the estate
BBQ facilities
Find here >>> Il Fienile Montepulciano prices, photos and info
Campo di Carlo – family friendly agritursimo in Sassetta
Campo di Carlo is a wonderful family-friendly agriturismo in Tuscany's South, in a perfect position on the hills yet close to the coast and some of the best family-friendly beaches in Tuscany!
The agriturismo offers lovely rooms with the use of shared kitchen facilities, and a fantastic garden with a pool, breakfast terrace and kids play area.
Here, you find:
Family rooms in traditional Tuscan style
Generous breakfast on the terrace
Outdoor pool (most suited for older kids and swimmers
Toddler playground games
Boules court
Free bikes
The agriturismo is lovely if you are looking for a place to get away from it all.
Nearby, you have thermal baths, several pretty villages for sightseeing, the beach, all the family attractions of the Etruscan coast (including Il Cavallino Bianco amusement park) and the wine-producing village of Bolgheri.
Find here >>> Campo di Carlo info, prices and photos
I hope you enjoyed this short list of family-friendly agriturismo stays in Tuscany and it helped you find one that is perfect for you. Safe travel planning!
11 fantastic Tuscany agriturismo vacations for families – pin this!