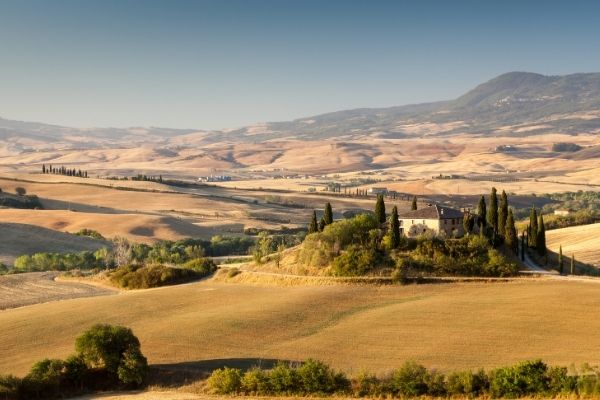 How to choose the best agriturismo for your Italian vacation
How to choose the best agriturismo for your Italian vacations: what to look for in an agriturismo in Italy, what to ask, best agriturismo booking engines.
If you have been looking up tips for traveling to Italy, chances are you have heard people recommending staying in an agriturismo.
Indeed, staying in an agriturismo is one of the most pleasant ways to discover Italy but what is an agriturismo exactly and how to pick the best one?
We are avid agiturismo users and this is our guide to choosing the best agriturismo in Italy!
Please note: this post contains affiliate links. Should you make a purchase, we might make a small commission.
What is an Agriturismo?
An Agriturismo is a country home open to guests, a type of specialty lodging aimed at offering hospitality in a rural setting, usually with an emphasis of sustainability and connection with the land.
The name gives it away.
The word agriturismo is made combining the prefix 'agri' for 'agricoltura' (agriculture) and the word 'turismo' (tourism) so an agriturismo is a place for tourism in rural settings!
All agriturismo have in common this rural soul however, they come in all shapes, sizes and style and the facilities, type of experiences and price point varies widely.
Depending on the individual structure, an agriturismo can be a no frills country home with farm animals or an elegant resort!
This is why while the advice to stay in agriturismo stands, it is important to spend a bit of time looking for one that works for you and your family specifically.
The agriturismo in the photo is called La Provenca and we highly recommend it! You can find their site here
Where are agriturismo in Italy?
Agriturismos or I should say Agriturismi, the plural of agriturismo in Italian, are almost everywhere in Italy.
The largest number of them tends to be in central Italy, the regions of Tuscany and Umbria being well known for this type of stay thanks to the geography of the land and type of buildings. However, you find agriturismo also in the South of Italy, Sicily and the mountains.
What you need to know before you choose an agriturismo
As mentioned above, agriturismi come in all shapes and sizes but they do tend to have a few things in common.
You usually need a car
Agriturismos are country homes and this means that in pretty much the totality of cases, you need your own vehicle to reach them.
While some are able to come to collect you from a train station on arrival, the beauty of the agriturismo is being surrounded by countryside and this means public transport connections are, in many cases, non-existent.
Some agriturismo are able to offer day visits to localities in the area, however, usually part of a package with a certain number of pre-established activities. Always ask before booking if this is an option.
The road up the agriturismo may be a country road
Due to the rural location, often the road up to the agriturismo is a country road and may be white or not paved.
This rarely means you need a special vehicle, the owners want to make their place as accessible as possible.
However, especially in mountain settings, you may want to ask how steep, hard, or exposed to drops the road up the house is.
Not all allow overnight stays
Agriturismo is an umbrella word that indicates both guest accommodation and guest services such as a restaurant, not necessarily together!
Some agriturismo focus on produce and cooking and they are often excellent for lunches and dinners out but they may not offer rooms.
The agriturismo booking engine agriturismo.it (see below) allows you to filter by restaurant only / farm stay option, which is one of the reasons I find it so useful!
Not all have a restaurant
The other side of the medal is that not all agriturismo have restaurants on site!
Agriturismo that offer rooms only usually serve breakfast, while those that have self-catering facilities may not.
Not all have animals (but they usually have pets)
You may think that a country stays come with the presence of farm animals however, this is not always the case and actually, it is becoming less and less common to find them.
If having farm animals on site is important, for instance for the kids, make sure you scan well all the photos made available and, if in doubt, ask.
What is however common is for agriturismo to have pets such as dogs or cats and to have animals in the vicinity, may they be hares or owls or other birds in the case of agriturismo with access to forests and wooded areas.
Pools may not be fenced
Many agriturismo have lovely pools but regulations do not require them to be fenced.
If you have small kids and an open pool poses a problem, double check images on the agriturismo website.
This is a tedious task but I know of no filtering system for such a requirement on booking engines so, unfortunately, it takes a bit of patience!
A good way to make the process faster is to ask other parents who may have had a positive experience. You can find many Italy-loving and Italy-expert parents in my free Facebook group 'Italy with kids- travel ideas and advice, request to join here)
Choosing the best agriturismo: what to ask
Ask if they have mosquito nets
Mosquitoes are a huge annoyance in Italy in summer and the best way to fight them is mosquito nets.
If not specified on the accommodation specs, ask the owner if there are mosquito nets or consider bringing a portable one you can place on your bed and that of your kids.
Ask for air conditioning
Air conditioning is becoming more and more common in Italy but is it not a given so if you are going for a summer stay and are used to air conditioned rooms, make sure you ask!
Top tip: in summer, the best way to escape the heat is to choose an agriturismo at a slightly higher elevation. Being on a hilltop usually means you have cooler nights and even some breeze during the day, a lifesaver during hot Italian summers!
Ask for the cleaning schedule and linen changes
The cleaning schedule and linen change vary depending on the structure and type of accommodation.
Self-catering options may offer cleaning services at the beginning and the end of your stay only however, they usually offer one linen change per week.
Since there is no hard and fast rule for this, ask before booking so you know what you get.
Ask about laundry access
laundry facilities vary from one place to the next and you may find you have access to an individual washing machine or free or paid common ones.
Usually, you do not find dryers: the most common way to dry laundry in Italy is on a washing line and this works well in summer as the wind and sun get things dry fast.
It can however be a problem if you are planning on a big wash before you leave: just make sure you know what facilities you are getting not to cause yourself the inconvenience.
You can find here >>> all my tips and what you need to know about doing laundry in Italy
Ask what 'private pool' means
Agriturismos with swimming pools usually highlight that the pool is 'private' and what this usually means is that the pool is for overnight guests only, not that is just for you.
This can be confusing especially if the description of the agriturismo has been translated into a language other than Italian (most translations are done by machines and the results are not always great) – in doubt, ask if the pool is for you only or will the shared with other guests.
Usually, 'private' means that you only share it with agriturismo guests but there are no day passes for non-guests.
Ask for local recommendations
Agriturismo owners, especially those not offering restaurant facilities, often have agreements with restaurants in the area for guest discounts.
if they do, they usually volunteer them on arrival but there is no harm in asking!
Some of the best meals we ever had were also the cheapest, thanks to the wonderful recommendations of our kind agriturismo landlords.
Ask about Wi-fi
Agriturismo are now usually well equipped with Wifi however, some only offer it in common areas, usually to allow for a digital-free stay.
If having wifi in the room/apartment is important to you (I know it is for me, as much as I love the idea of switching off…), make sure you ask what connection is available, especially if you count on using lots of data for instance to work.
Please be advised that in more remote locations wifi may be patchy.
Ask about activities
Some agriturismos offer accommodation/accommodation and food only while others have reinvented themselves as country resorts with also activities on-site and workshops.
Activities you may find on offer in agriturismo are cooking classes, wine tasting, yoga, painting, drawing, nature walks and more.
Usually, these activities must be booked in advance and can be offered on a regular basis or as a learning holiday package.
To give you a couple of examples, the lovely agriturismo La Volpe e L'Uva near Perugia offers cooking classes and olive harvest activities while Le Ceregne Bio offers archery, yoga and trekking (these are just two examples of places we know, we don't have connections with them aside from liking them!)
Search engines to help you choose your agriturismo in Italy
If you are looking for a family-friendly agriturismo in Tuscany, we have done the work for you!
Find here >>> our recommended kid-friendly Tuscany agriturismo vacations
I use three sites to book agriturismo stays:
Agriturismo.it – huge Italian database of agriturismo properties, which you can filter by region, facilities and price.
Many properties at all price points, including budget ones, with no individual website and that you would not otherwise find.
Some properties can be booked online directly; some others require you to make contact with the property.
The website is available in Italian, English, German, French and Dutch but descriptions are not always as good in languages other than Italian so a little bit of patience may be needed.
Booking.com – I love booking.com has it has instant booking capabilities and many agriturismo offering free-cancellation booking options.
They have fewer options than agriturismo.it but the interface is easier to use and in English.
Gallorosso.it / Redrooster.it/en– This is a specialized agriturismo directory and booking engine for the area of Trentino Alto Adige (Dolomites).
This is a wonderful go-to booking engine if you are planning a trip to the Dolomites with kids and want a real rural mountain stay.
I hope you enjoyed this quick guide and it helped you choose the best agriturismo in Italy for you and your family. Safe travel planning!
Pin this guide to choosing an agriturismo in Italy using the image below!