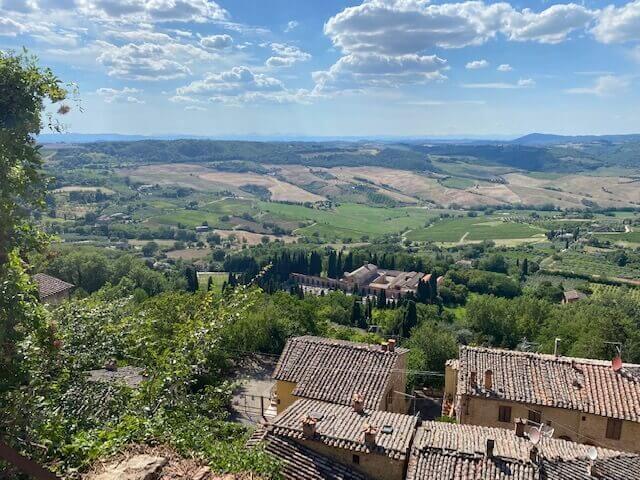 Visiting Tuscany with kids: all you need to know to plan the perfect trip
All you need to know to plan a trip to Tuscany with kids: best places in Tuscany for family, best things to do with kids, practical tips.
I have loved all our family vacations in Italy but there is one place that keeps calling us back and we can never tire of: Tuscany!
I have been vacationing in Tuscany all my life and so has done my Tuscan side of the family before me (my dad's family is from there) so you can say I am biased.
However, it is so beautiful, I dare anyone not fall in love with it!
Famous for rolling hills, historical towns and wine, it may not come to mind as a place for a family vacation, but there is plenty to see and do in Tuscany with kids of all ages.
Over the course of the years, we have visited several parts, loved some, adored others and gone back to those that captured our hearts the most.
I always recommend going to Tuscany with children, I believe it is one of the best places in Italy for kids, and this is my guide to how to do to it best!
Here, you will find the best places in Tuscany for families, the best child-friendly attractions and some practical tips to plan your trip here at best.
If this is your first time in Italy, don't forget to also check out our 101 tips for visiting Italy – they are super practical and may come in handy!
Please note: this post contains affiliate links. Should you make a purchase, we might make a small commission.
Why visit Tuscany with kids
Tuscany is one of the most beautiful areas in the whole of Italy and this alone would be a great reason to put it at the top of your Italy travel bucket list.
However, there is more than just physical beauty to make Tuscany such a great destination for families.
What makes it outstanding, is that in Tuscany you have something for every age and you don't have to compromise children fun or more grown-up pastimes.
In Tuscany you can play on the beach, see farm animals, go cycling, enjoy sightseeing and have a wonderful meal with wine all in the same trip or even the same day!
This makes it one of the best places to a multi-generational vacation in Italy.
On top of this, Tuscany is very easy to navigate.
The main cities are well served by train service, the roads are well kept, the accommodation abundant and the region is well used to tourism meaning that facilities nd language are as good as it gets.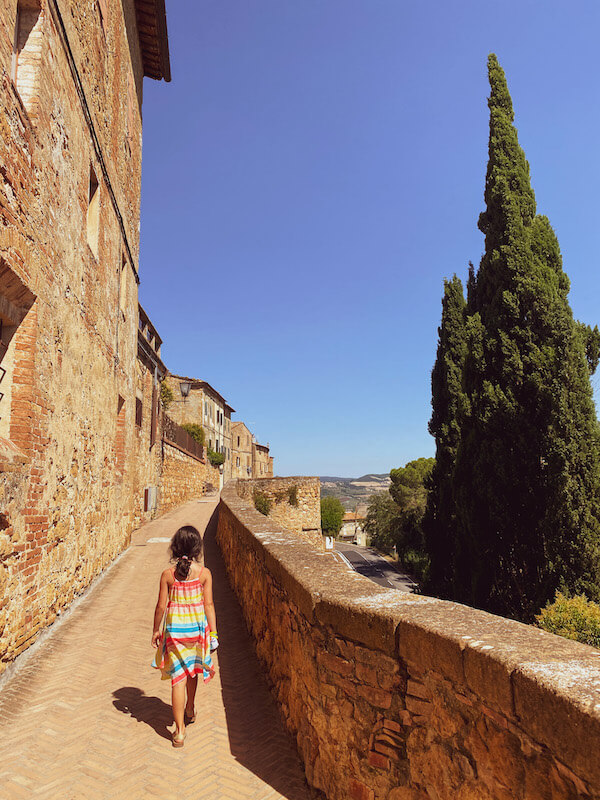 All this makes me always recommend Tuscany as a great place for a first family trip to Italy and makes us go back over and over again!
Are you on Facebook? Then you may enjoy my free FB group 'Travel Italy with kids' where we chat all things family travel in Italy!
The best places in Tuscany for families
Tuscany is all beautiful but these are the places I believe are most family-friendly.
Val d'Orcia / Val di Chiana
Val d'Orcia is one of the most famous areas in Tuscany and one of the most photographed.
If you think of Tuscany as a place of golden rolling hills and cypress trees, Val d'Orcia is the part of Tuscany you have in mind, complete with stunning wine and food options!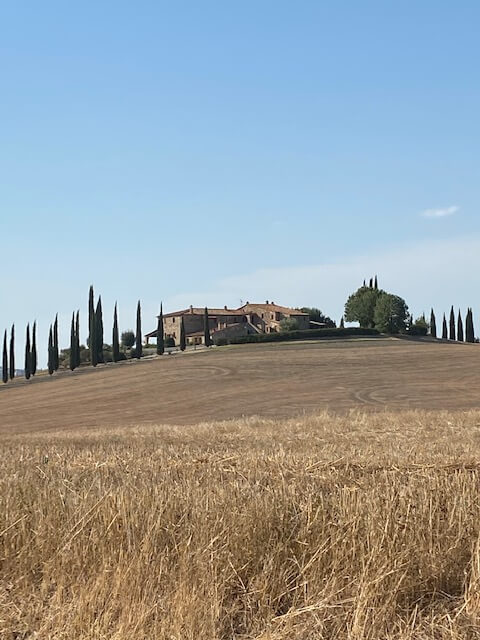 This part of Tuscany is as beautiful as the photos suggest and I love to visit with kids as it is like having a little miniature Tuscany within a limited radius.
You have nature, history, food, all within a relatively small distance which means you can have a good balance between exploring and relaxing!
The places we love the most in Val d'Orcia with kids are:
Montepulciano – lovely hilltop town with a nice playground, pedestrianized streets and cycling tour companies offering cycling tours (guided and self-guided) for the whole family. You can find our Montepulciano travel guide here.
Pienza – Charming, historical town with a nice kids playground and a wonderful bastion walk. Find our guide to Pienza here.
San Quirico d'Orcia – small, charming, hilltop medieval town with pedestrian-only streets, a wonderful Garden (Horti Leonini), a lovely 'kids vegetable patch' and a stunning medieval catapult just outside the main city gate. Find our guide to San Quirico here.
Chianciano Terme – modern city with lots of children attractions including crazy golf and family friendly thermal baths
Bagno Vignoni – tiny, delightful town with lovely thermal springs. You can find our guide to Bagno Vignoni here.
Montalcino – a wine town with a beautiful fortress kids will love. You can find our guide to Montalcino here.
Monticchiello – a tiny village, car, free, with a nice gelato shops and the town entrance and nice streets and historical piazzas to run around. Find our guide to Monticchiello (and our recommended accommodation nearby, perfect for families!) here
Find here >> our guide to Val d'Orcia, Tuscany
Etruscan Coast
Very different from inland Val D'Orcia but equally beautiful is the Etruscan Coast, a family-friendly part of Tuscany along the Tyrrhenian sea.
The Etruscan coast is perfect for families who want to mix time and the beach with sightseeing.
If you love sandy beaches, you will adore the area near Donoratico and Golfo di Baratti, which have long stretched of soft sand and shallow waters perfect for small kids.
If you prefer rocky beaches, you may want to head a little farther north towards Castiglioncello.
In terms of sightseeing, this is Etruscan land so you have interesting necropolis and archaeological sites and you also have plenty of small towns to explore at your leisure.
Suvereto, Bolgheri and Castagneto Carducci all stand out and amazing Volterra is also nearby (the drive from there to the coast is amazing!)
Siena and surrounding area
Siena is one of the most famous historical towns in Tuscany and a delight to explore with kids, both in terms of the city itself and its surrounding area.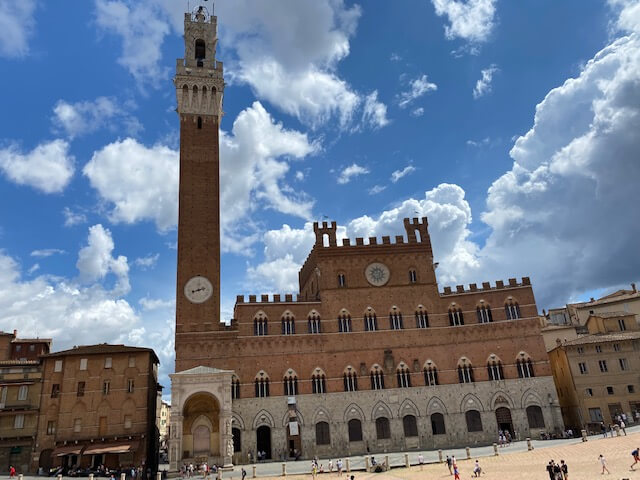 In the town, you have plenty of child-friendly attractions ranging from Piazza del Campo to Orto dei Pecci (garden) and local playgrounds and immediately outside you have plenty of options to gi visit farms and small towns such as San Gimignano or Monteriggioni.
Siena is a lovely place to call home for a while and can work well for families with young children who want the comfort of a slightly bigger city without compromising on charm and location.
You can find my guide to Siena with kids here.
Lucca
Lucca is a small town in the North West of Tuscany and a fabulous place to visit in Tuscany with kids or even call home for a while.
A medieval town, Lucca's most distinctive trait is to be a city still surrounded by its original walls, which you can explore on foot or by bike!
The city center is compact, beautiful and mostly car free and lovely for kids of all ages.
Well connected to several other places in Tuscany by train, you can come here for a day trip or use it as a base for local trips to child-friendly places such as Parco Pinocchio (near Pistoia) or Pisa, which is usually a hit with younger kids for the impressive tower.
You can find our guide to Lucca with kids here.
Chianti
The area of Chianti is mostly famous for wine: however, it is also a great place to visit in Tuscany with kids!
A beautiful region stretching between Florence and Siena, Chianti is a lovely area for a country stay and can even work as a rural haven from where yo reach Florence for a day.
Chianti is an area suited to families who want to stay in the country, visit wineries, farms and small towns.
Find here >>> essential guide for visiting Chianti with children
Florence
We spend a long summer in Florence with our kids and we loves it so much we still talk about it as one of the cities we would most dearly want to relocate to, were we ever to move again.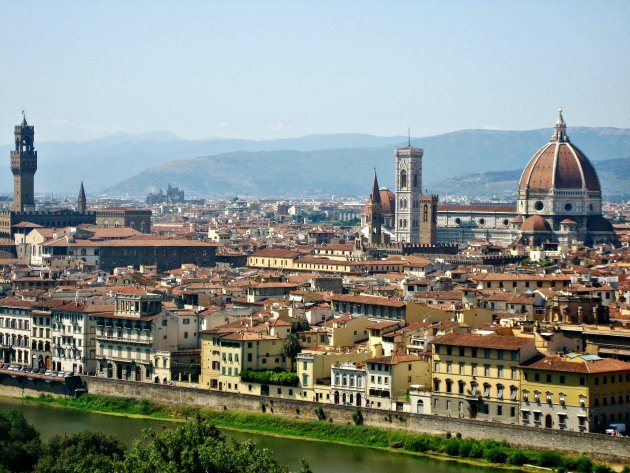 The city is beautiful, easy to navigate, family friendly and there are so many things to do in Florence with kids you can easily spend many days here and never get bored!
Florence highlights for our kids are the city's parks, especially Parco delle Cascine which is huge, the Boboli Gardens, Piazzale Michelangelo and the city's many museums, some for kids and some not quite for them as such but well suited to host younger visitors.
You can find our full guide to visiting Florence with a baby, toddler or young kids here.
Pisa
Pisa is one of the most exciting destinations in Tuscany for kids because: who can resist its famous tower?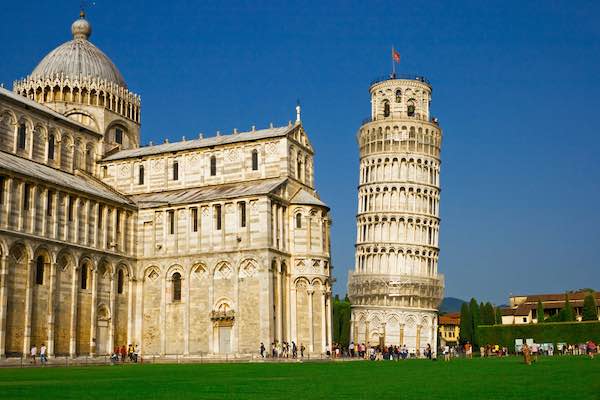 Pisa's Piazza del Duomo, the large square with cathedral complex and the tower, is absolutely fantastic at all ages and a must-see during a family vacation in Tuscany.
However, you need to be prepared for the often overwhelming crowds and, visiting with kids, you may want to have handy some tips for hidden corners where to find a little respite and be able to let them run free.
You can find our tips for a perfect day in Pisa here.
Southern Tuscany
Southern Tuscany (Grosseto Province) is a part of the region popular with families looking for campsite holidays and beach holidays in relaxed and beautiful surroundings especially.
In this part of the region, you have a mix of beautiful sandy beaches, rocky coves, small towns and you even have easy access to the famous hot springs of Saturnia, now famous well beyond Italy!
This is one of the best places to visit in Tuscany with kids if you are looking for a relaxed, beach based stay.
You can find here >>> our guide to Southern Tuscany with kids
Tuscany accommodation for families with kids
Accommodation comes in all shapes and sizes in Tuscany, from campsites to luxury hotels and anything in between.
Tuscany agriturismo for families
The most popular and most family-friendly type of accommodation in Tuscany is a farm stay or a stay in 'Agriturismo', as it is called in Italian.
Agriturismo is a word that describes several types of accommodation solutions that have in common the desire to have the guests immerse themselves in a rustic environment and connect with the landscape around them.
Within this large umbrella definition, however, agriturismo come in all shapes and sides!
Types of agriturismo you will find in Tuscany are:
Self-catering apartments: these can be private or in a complex with a few others sharing common grounds.
They can be very rustic up to very luxurious, may or may not have farm animals on-site, and offer access to additional facilities such as playgrounds and a private pool. they may or may not have a restaurant on site.
B&B agriturismo: many agriturismo in Tuscany do not offer full apartments but rather rooms and serve meals in the restaurant of the agriturismo itself or a combination of breakfast in the agriturismo and discounts in local restaurants for lunch and dinner.
Some agriturismo offer a choice of both.
Lovely examples of family-friendly agriturismo in Tuscany are:
Agriturismo Biologico Diacceroni, offering accommodation and plenty of activities for children in a super scenic part of Tuscany
Fattoria di Maiano (Fiesole) – fantastic agriturismo, didactic farm and restaurant near Florence
Agriturismo Al Palazzaccio, family friendly agriturismo near Pisa with B&B or apartment accommodation, child and pet friendly
Terre di Nano (Monticchiello) – fabulous villa-style agriturismo with fabulous outdoor pool and surrounded by vine and olive groves offering self-catering apartment, B&B treatment and restaurant on site near Pienza
La Palagina (Figline Valdarno) – child friendly agriturismo in Tuscany with animals and activities
Il Borro Relais et Chateau – fantastic family-friendly luxury agriturismo with a vineyard in Southern Tuscany.
Il Fienile – lovely family-friendly agriturismo near Montepulciano with fenced pool and family rooms
Borgo La Capraia – family-friendly agrituirsmo with a pool and restaurant, well positioned for nearby activities that include cooking classes, horse riding, quad biking etc.
Salvadonica – beautiful, family-friendly winery and country stay with pool, restaurant, wine tasting on site etc.
Fattoria La loggia – a beautiful property in the heart of Chianti offering self-catering accommodation, outdoor pool, a restaurant on site and the option to book activities such as wine tasting, horse riding, picnic and excursions.
Podere il poggiolo – country stay offering rooms and apartments with a restaurant onsite, swimming pools, stables (horse riding and riding classes available) and farm animals
Agriturismo may or may not have a restaurant on site and may or may not offer additional services such as cooking classes, kids entertainment or tours.
Find here >>> a shortlist of our favorite agriturismo vacations for families in Tuscany
Family Villas in Tuscany
Another very popular accommodation solution in Tuscany is to opt for a private villa.
This can be a fantastic way to enjoy Tuscany with kids if you like to be independent and truly experience the area.
Self-catering accommodation usually means the opportunity to go to the local shops and embrace slow travel.
With produce as amazing as the Tuscan one, making delicious meals at home is easy and can be a great way to have a budget-friendly stay.
Campsites and resorts
Podere Pianetti – lovely RV campsite just beside a wonderful, sandy beach. The campsite has a small playground, lovely child-friendly pools and a small shop.
This is perfect for families who want to enjoy the beach since it is only a short walk to a fabulous sandy shore
Paradu' Eco Resort – perfect solutions for families visiting Tuscany with kids and looking for an all-inclusive option with animation, kids activities and onsite dining solutions (several packages available)
Eurocamp Albatros Camping Village – if you love Eurocamp holidays, there is a very nice one in the area of San Vincenzo, perfect for all inclusive Tuscany vacations with kids
I hope you enjoyed this essential guide to planning a trip to Tuscany with kids. Happy travel planning!