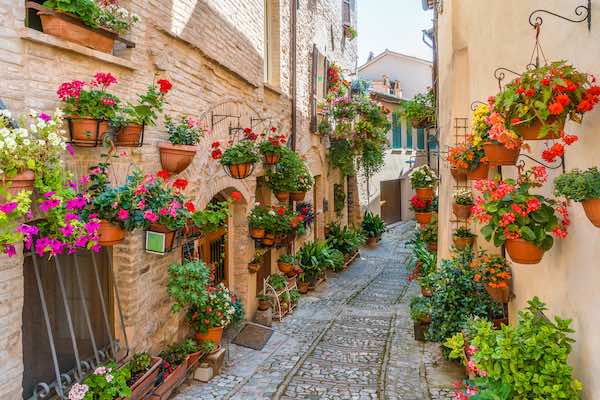 Umbria with kids: why and how to plan a family vacation in Umbria
All you need to know to visit Umbria with kids: best things to do, family-friendly accommodation recommendations, travel tips.
Umbria is a green and beautiful region in central Italy and a perfect vacation destination for families with kids.
Bordering with Lazio, the region of Rome, and well-known Tuscany, Umbria is often perceived as a day trip destination or an alternative to its more famous neighbors.
However, Umbria is no second best!
Umbria is beautiful, fascinating, child friendly and those who go usually end up feeling they discovered a gem.
Umbria is not an off the beaten path location: tourism is strong here, but it is true that the overall feel of the region is less commercialized than others.
This guide looks at why and how we recommend visiting Umbria with kids!
Please note: this post contains affiliate links. Should you make a purchase through them, we might make a small commission, at no extra cost to you.
Why visit Umbria with kids
Umbria is a green region with rolling hills, hikes and lakes, perfect for outdoor fun.
In Umbria, you have a plethora of historic villages perfect for medieval small-town exploring.
There are lots of family accommodation options in Umbria, especially in the form of agriturismo and villas with a pool.
Umbria has fantastic food sure to please grown-ups and kids alike.
Why not visit Umbria with kids
The only reason to skip Umbria is a lack of a car.
While some areas of the regions have trains, this is primarily a rural region best explored with your own vehicle.
The best things to do in Umbria with kids
Have great outdoor fun on Lake Trasimeno
Lake Trasimeno is a large, beautiful lake and one of the best destinations in Umbria for families, in the good season especially.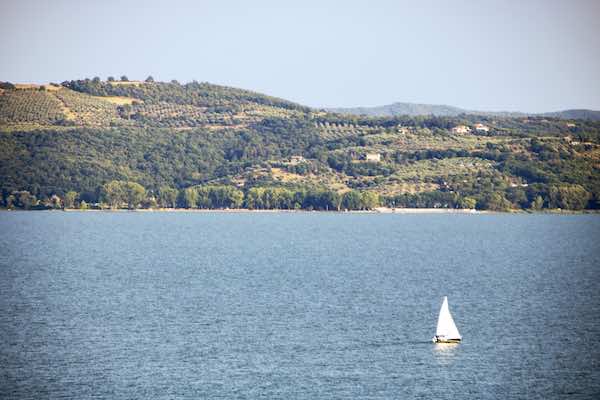 Stunning and safe, the lake is a great place to have fun in the water and cool down in the hot summer months.
Several villages overlook its beautiful waters and some are equipped with small beaches, playgrounds and boat rental shops for a day on the water.
To enjoy the lake, you can stay in agriturismo nearby or find accommodation on the lake directly: the towns of Castiglione del Lago, Passignano, Panicale and San Feliciano are all lovely and family-friendly.
For a more active day, you can rent boats or bikes or get the ferry and explore the lakes' islands, all very pretty.
Where to stay nearby: Relais La Cerreta in Castiglione del Lago – Lovely agritusimo near Lake Trasimeno with apartmetn,s restaurants and didactic farm
Get active in Umbria's nature parks and didactic farms with kids
Umbria is very green and hilly and a great way to explore it is by going to an adventure park.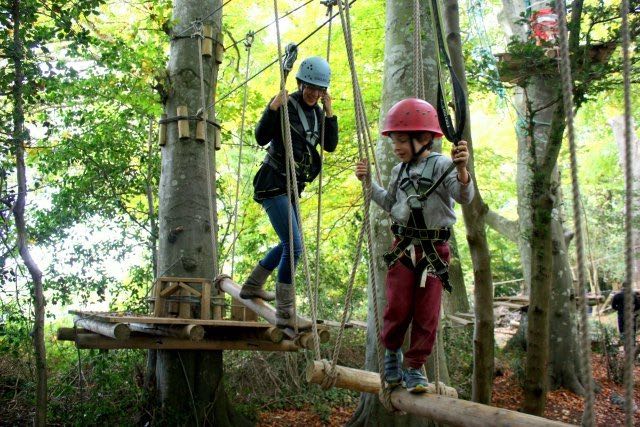 Parco Avventura Activo Park (Scheggino – Perugia) for instance offers treetop rope courses, as well crazy golf, rafting and climbing and it is the stunning area of Val Nerina, fabulous for all types of outdoor pursuits.
Leo Wild Park is a large, kid-friendly outdoor area with free-roaming animals such as zebras, camels and llamas.
Citta' della Domenica (Perugia), a large outdoor area with animals and several areas devoted to old school fable characters such as Pinocchio, Red Riding Hood etc.
Other lovely places to spend a day outdoors with ids in Umbria are didactic farms.
A didactic farm is a working farm/ agriturismo organizing special workshops for kids to get them to learn about life in the country and see the animals.
Some your kids may enjoy are:
Go horseriding in Umbria with kids
If your children love horseriding or would like to try for the first time, Umbria offers several opportunities that may just be what you need.
Places you may enjoy are:
Fattoria didattica la collina incantata– see also above
Agriturismo Faro Rosso, didactic farm with horses and horseriding lessons
Casale il Picchio, agriturismo in Umbria with horse riding lessons and horse back walks
Borgo Giorgione, a beautiful and family-friendly agriturismo also offering accommodation, chooking classes, wine tasting and
Visit Marmore's Waterfalls with kids
Marmore waterfalls (Cascata delle Marmore) are among the most famous and beautiful in Italy and a fabulous place to visit with kids.
The falls are surrounded by a large and beautiful green park, equipped with several viewing points and walking trails, suitable also for kids.
The area is wonderful for a day outdoors with the kids. Find info and tickets here.
Explore Orvieto with kids
Orvieto is a breathtaking historical town perched on top of a tufa hill.
You first see Orvieto from the motorway or the train, and children will hardly believe their eyes.
The city seems to emerge from the ground, almost like a crown on the hill, and in the middle of it, impressive duomo towers above the rest!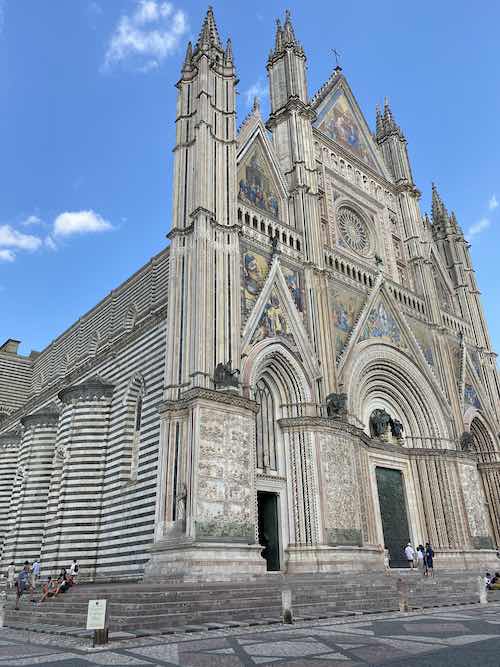 The excitement of the first glimpse of Orvieto stays as you start your exploration.
You can reach the top of the hill by car or with the town cable car, scenic and fun for kids, and there is a lot to explore once in.
Not to be missed with kids are Pozzo di San Patrizio (St Patrick's Well) (great for adventurous ones), the duomo area, the many gelato places and the pretty streets perfect for cat spotting.
Orvieto is primarily car-free, pretty and well served with shops, museums and anything you may need and it is perfect for an afternoon or a basis to explore the area.
Stay in:
Borgo Giorgione (out of town) for a country setting
You can find here >>> our guide to Orvieto with highlights and tips
See Assisi with kids
Assisi is a very special place as a fantastic town to visit in Umbria with kids.
Famous for being the birthplace of St Francis, Assisi has a significant, stunning papal basilica and a unique atmosphere that makes it worth visiting over 2-3 days, despite its small size.
Things to do with kids gravitate to exploring this beautiful car-free town and its pretty piazza and religious structures.
Assisi's churches may not sound like fun for kids; however, they are beautiful and impressive with their decor and worth a visit.
The Basilica of San Francis has several frescoes by masters such as Giotto and Cimabue adults will love and it hides several stories about the life of the Saint that are engaging for kids and give context to this location.
The streets of Assisi are pretty and full of artisan shops to explore and surprising sights such as an ancient temple of Minerva turned into a church!
Children are likely to enjoy a visit to Eremo delle Carceri, which is beautiful and fun to explore for children with its tiny alleys and passages
For sheer outdoor fun, you can also bring the kids to Parco Regina Margherita, which is a large green area to walk and rest under the shade of pretty trees.
Visit Perugia and its chcolate factory
Perugia is the largest town in Umbria, the regional capital and a lovely place to visit with kids.
The city is perched on a hill and has a delightful medieval center, largely car-free. It is also the seat of a famous international university, giving the town extra charm and dynamism.
Perugia is easy to explore for a day or to use as a base to explore Umbria with kids and has several family-friendly attractions.
For sightseeing, a visit to Perugia must include a stop in the city's main piazza and its stunning Fontana Maggiore.
After that, you can devote your family day out to the Perugia does best: chocolate!
Perugia is the town of famous chocolatier Perugina, one of Italy's most renowned chocolate brands and chocolate shops and workshops are everywhere.
With kids, you can visit Casa del Cioccolato e Museo (Perugina; house of chocolate and Museum of Chocolate.
Here, you can learn anything and everything about chocolate and even learn how to make it (enquire directly with the museum for kids workshops as they are not always available).
Other things not to miss in Perugia with kids are Post- Officina Perugia Tecnologia (science museum) with hands-on activities for kids.
Kids are also likely to love Citta' della Domenica close to Perugia.
This is a lovely nature and kids' park with old-school character themes such as Pinocchio Village and Red Riding hood, a small tourist train, and plenty of animals such as free deer and squirrels. A lovely place for a day outdoors with the kids.
The park also offers summer camps with plenty of art and nature activities for children.
Visit Spello with kids
Spello is dubbed 'the city of flowered alleys' and with good reason!
This delightful town has narrow medieval streets decorated with tons of flowers on windowsills and balconies.
It is not a stroller-friendly destination but a stunning place if you are looking for that iconic medieval small town feel. For kids, there is a park and playground too and Giardini Pubblici.
Find here >> our family travel guide to Spello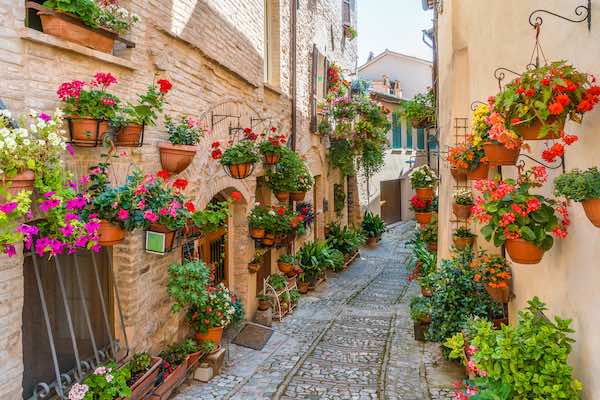 Gubbio with kids
Gubbio is one of the prettiest towns in Italy and a fantastic place to visit in Umbria with children.
The town has a central square, Piazza Grande, which is a great introduction to the medieval heart of this city and plenty of unusual attractions that will get a giggle from the kids.
One of the fountains where you can get your 'crazy licence'!
This is a pretty fountain with a special story: if you run around it three times, in the presence of a native of Gubbio, you can get a certificate as 'Honorary crazy person of Gubbio'! You can find info about this peculiar tradition at the town tourist office and in many of the local shops.
Gubbio also has Europe's biggest barrel, able to hold 2014 lt of wine (fun for kids as it is bigger than them).
In 2022, Gubbio also hosts a dinosaur exhibition, perfect for kids!
The town also has a small tourist train, fun for younger visitors especially and a cable car to the top of the hill above the town, with the basilica of St Ubaldo and breathtaking views.
The cable car is peculiar as your vessel is a wired basket – if heights are not your thing, you may want to avoid it!
Find here >>> our family guide to Gubbio with kids
Narni with kids
Narni is a pretty town in Umbria with something special: an underground area open to visitors!
A little like in Orvieto, you can discover what lies under the modern street level with a guided walk that will show you ancient water cisterns, churches, and the area where the Inquisition would take their 'trials'!
Where to stay nearby: Agriturismo La Collina Incantata
See the super bloom in Piana di Castelluccio with kids
At the start of the summer, a very special event happens in Umbria. In the area of Castelluccio, large fields of lentils plants bloom and turn the Umbrian countryside into a stunning and fragrant rainbow!
The phenomenon is unique and attracts many visitors but it is easy to enjoy with kids who are sure to love this colorful natural palette!
If you love wildflowers, you can find here >>> where to see wildflowers in Italy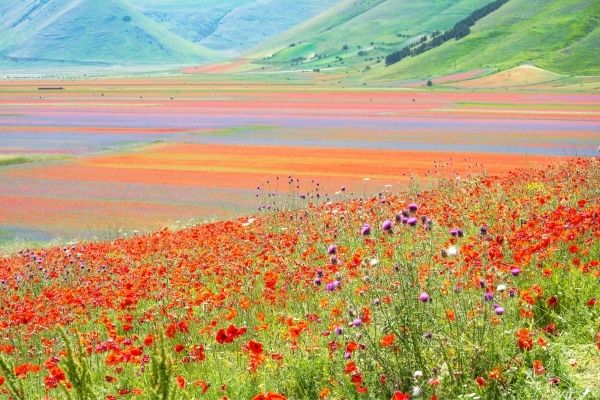 What to eat in Umbria with kids
Umbria is famous for delicious food, coming from the many farms of the area. Umbria delicacies span from cheese to cured meat and pasta. Here are some you may enjoy:
Torta al testo – not a cake despite the name 'torta', but a delicious focaccia style bread
Lenticchie di Castelluccio – lentils (the same that produce the superbloom!)
Norcia's cured meats (norcineria)
Olive Oil
Truffle
Strangozzi (pasta)
Family-friendly accommodation in Umbria
My favorite way to enjoy Umbria with kids is by staying in an agriturismo. My go-to website for accommodation in Umbria is booking . com and these are some addresses you may like.
Borgo Giorgione – close to Orvieto, a fantastic agriturismo with accommodation, cooking classes, wine and olive oil tasting, horseriding and a warming, family-friendly atmosphere.
La Collina Incantata – pretty agriturismo offering family-friendly accommodation, didactic farm and wine tasting as well as hosting seasonal events for Halloween, Easter etc.
Agriturismo Monte Acuto – in a great position close to many of Umbria's prettiest towns, with nice family rooms, a pool and a playground
Casa Vacanze la Fiorita – with lovely family apartments, pool and in a country setting close to Lake Trasimeno and Tuscany
Relais La Cerreta in Castiglione del Lago – Lovely agritusimo near Lake Trasimeno with apartmetn,s restaurants and didactic farm.
Family guide to visit Umbria with kids – pin this!