Alberobello Puglia: why you will love this unique fairy tale town and its 'trulli'
All you need to know to plan a visit to Alberobello, one of the prettiest towns in Italy and unique UNESCO world heritage site in Puglia.
Alberobello is a delightful small town in Puglia, in the South of Italy, with something special: a town center entirely made of trulli, fairytale-looking houses so unique, they made Alberobello UNESCO world heritage sites!
Trulli houses are round in shape, they have whitewashed walls and distinctive pointy roofs shaped like a cone with layered tiles, made in grey local stone.
They are an ancient type of construction (see a brief history below) and they are still in use nowadays.
Some are museums, some are shops, some are homes and some have now been transformed into welcoming and rather luxurious tourist accommodation!
Alberobello is wonderful and rather magical.
You can visit Alberobello in a day or less as part of an itinerary in Puglia.
If you do, these are the best things to do in Alberobello and our tips for visiting.
Please note: this post contains affiliate links. Should you make a purchase, we might make a small commission.
Why visit Alberobello and a brief history of the trulli
The main reason to visit Alberobello is to see its trulli, which are unique to this area.
Trulli are a very ancient type of dwelling and archaeologists seem to have found traces of them dating as far back as the year 1000!
However, trulli as we see them today are a little more recent than that and seem to have their roots in the events that took place in this area in the XIV century.
At that time, king Roberto D'Angio' gifted this land to the Counts Acquaviva of Conversano, who quickly moved here his people.
The higher number of inhabitants caused a need for new constructions but standard houses would have come at a high cost, since any permanent dwelling was due to pay tax to the king.
As a workaround, temporary drywall / mortarless homes were built: they followed the shapes of ancient dwellings in the area and ended up being the trulli we now see!
You can find more about trulli and their history here
We recommend visiting Aberobello to all types of travelers and in particular:
Cultural tourists, who should take the time to visit trullo sovrano (the Sovereing Trullo, trullo is singular, trulli is plural) and the local museums to understand the architecture and history of the area
Families with kids, who will love the hobbit looking houses
Couples in search for a romantic escape: Alberobello is pretty and cozy, perfect for a romantic stroll, and the trulli are the perfect love nest!
The best things to see in Alberobello: overview
Alberobello develops over two small hills, divided by a main street.
On one side, you have the Monti District, which is the one with the lion share of trulli and, on the other, you have the lovely residential area of Aia Piccola, some important landmarks and the more modern part of town.
All area have their interest
Monti is the one with the largest concentration of trulli and the district that attracts most tourists.
Here, most of the trulli now operate as shops or small museums, roads and for pedestrians only and you will also find the lovely Church of Saint Anthony, in the unique shape of a trullo.
Aia Piccola is just n front and also made of trulli, yet with a very different feel and vocation from Monti.
Here, most of the trulli are private homes and will find laundry lines hanging in front yards and the sound of the local TV in the background as you stroll around!
The more modern part of Alberobello is also worth seeing and hides some wonderful sights such as trullo sovrano and the beautiful main church of Santi Cosma e Damiano.
Good to know: All areas can easily be visited in one day: please be advised that Alberobello has uneven streets that can pose problems to people with mobility issues. Wear rubber sole shoes and take your time in the oldest part of town! If you are visiting with little kids, a carrier is better than a stroller here.
Best things to see in Alberobello Monti district
The Monti district is the UNESCO neighborhood of Alberobello: it is the one with the largest concentration of trulli and the area tourism tends to focus on.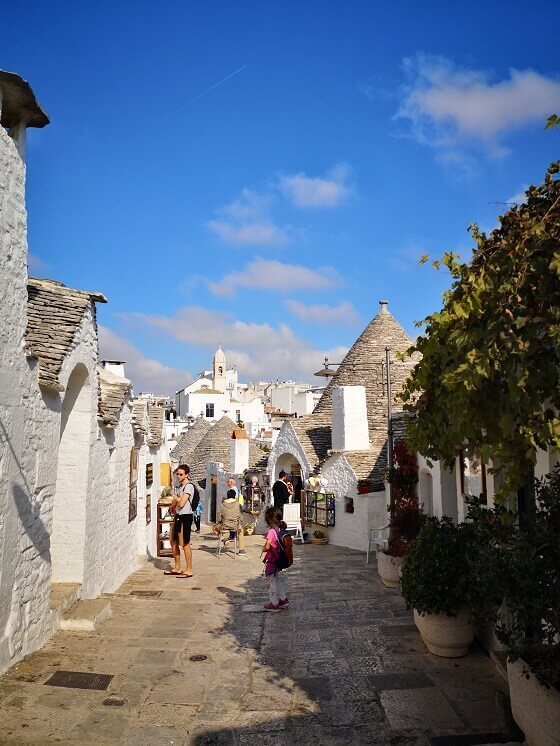 It is a hilly area ('monti' means 'mountains') and it is closed to car traffic.
Its small streets meander up the hill and they so pretty, you will feel like you walk into a painting!
Trulli are the only type of construction here and they now operate as souvenir shops, cafes and small museums.
Some are plain looking and others are decorated with plants, vases and bursts of red geraniums, stunning against the blinding white of their walls.
Monti is a wonderful place but it is very popular and highly manicured, which ends up projecting what I can only call a 'Disneyland feel' to it.
While gorgeous and historical, tourism has truly transformed it into an 'attraction' and you would be excused if you were to feel this was a Disney 'land' rather than a real place.
However, I highly recommend you visit: just make sure you also see other parts of the town for a more comprehensive experience.
Trulli gemelli: 'twin trulli'
Trulli tend to be stand-alone structures so those that don't get a lot of attention!
This is the case for the trulli gemelli, two trulli attached to each other and therefore called 'twins'
They are pretty and easy to spot close to the entrance of the Monti district
St Anthony's Church
As you walk up the meandering alleys of Monti you will see trulli serving many purposed but you will still be surprised when St Anthony's Church, a church trullo appears in front of you!
The church is unique and it is still operational. Several leaflets inform you that you can get married in this church but also that the waiting list is long!
The best things to see in Alberobello Aia Piccola and town center
The Belvedere
Monti is lovely to visit but it is also lovely to see from above, something you can easily do by catching a view from the Belvedere, on the opposite side of the main street, in Aia Piccola.
This is the place in Alberobello from where to take the traditional trulli shot and it is the perfect place to understand how many trulli really make up Alberobello!
The belvedere is lovely however, it gets very busy. We found that the only time when we could truly enjoy it was the early morning and the evening, when the buses of day trippers have gone. This is one of the big reasons why we recommend you spend the night in Alberobello.
Top tip! Rather than being with the crowds at the belvedere, head to the small park just below: the views are similar and there is next to no one!
Aia Piccola District
The district of Aia Piccola is one of the cutest in Alberobello.
It lies just beside the belvedere and it is small and blessedly devoid of tourism.
Here you have small meandering streets with trulli everywhere and, unlike Monti you don't have shops or restaurants but mostly real homes.
As we walked here, we saw laundry drying in the sun, the voices of tv coming out own trulli windows and cats lounging in the sun: a wonderful taste of real Alberobello life!
Chiesa dei Santi Cosma e Damiano (church)
The church of Santi Cosma and Damiano is a lovely church in the area where ancient and modern Alberobello meet.
I first got a glimpse of it when we arrived after dark and the facade lit up stopped me in my tracks: the carvings are amazing and looked as if they were floating in the air!
You can visit the church in a matter of minutes and what I found most impressive about it was its color, in the typical cream-colored stone of this area, the decorations above its front door as well as its impressive bell towers. 
Address: Piazza Antonio Curri, Alberobello
Trullo sovrano
The 'Trullo Sovrano' (Sovrano= sovereign) is the biggest trullo in Alberobello and one worth seeking out.
It owes its name to its impressive size and the peculiar fact that it has multiple stories, something unique to it.
It sits in the highest part of Alberobello, behind the church, almost crowning the city and it is outside of the Monti historical district which is actually a plus.
Coming here you will see a slightly different part of town, where ancient trulli mix with more modern houses and where modern Alberobello comes to life.
The Trullo sovrano is now a museum and it is worth visiting as it shows life in the Trulli and teaches about the story of this land.
Make sure you take the time to climb up to its second store and walk to the back to see the lovely yard.
Where to stay in Alberobello
Many ancient trulli have now been restored to become houses and hotels and I highly recommend staying in one if you can.
We chose the wonderful Trulli Anti Charme and Relax (we stayed in Trullo Essenza) which I highly recommend
The place is wonderful and the welcome excellent: we stayed with the children, who adored the place, but the elegant yard with chaise lounge and fairy tale lights made it so romantic, I think couples will adore it!
Visiting Alberobello with kids
We visited Alberobello with our two children (6 and 8) and they loved this little town.
See also >> our guide to visiting Puglia with kids
Alberobello doesn't have kids' attractions as such; however, trulli are unique enough to pique the attention of small children for a day and the museum inside trullo sovrano is also interesting for them.
The highlight of our family stay in Alberobello, however, was sleeping in a trullo.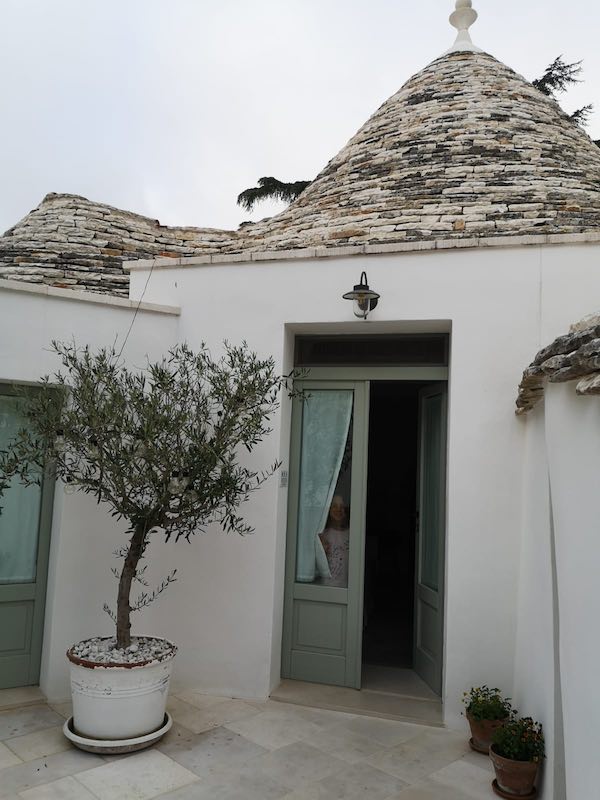 Trulli are ancient homes but, in many cases, they have been restored to an exceptionally high standard.
Staying in one, you have the best of both worlds: the sense of being in a typical and truly peculiar type of house and the comfort of a family hotel!
If you are visiting with toddlers or younger kids, the main thing to know about Alberobello is that it is not stroller friendly.
While it is possible to push a stroller in parts of the town, the small streets and uneven terrain of the most scenic districts are hard with wheels.
I recommend using a baby carrier if visiting with a baby or very young children.
You can find here >>> my favorite baby carriers for Italy.
How to get to Alberobello
Alberobello is in the Italian region of Puglia, the heel of the Italian boot.
The closest big city and airports are Bari and Brindisi and the best way to get to Alberobello is by car.
Parking is pay and display but many hotels and accommodation providers will be able to direct you to parts of town where to park for free.
Be prepared for small roads once you enter the town!
If you prefer not to drive, there are day trips by bus leaving from Bari or Monopoli
Bari to Alberobello day trip with guided tour of the town
Day trip to Alberobello from Monopoli with local tour guide
I hope you enjoyed this quick guide to Alberobello and gave you a useful overview on why and how to visit its stunning trulli.
Photo credits: images in this article are either my own or purchased on Depositphotos. Reproduction not allowed.