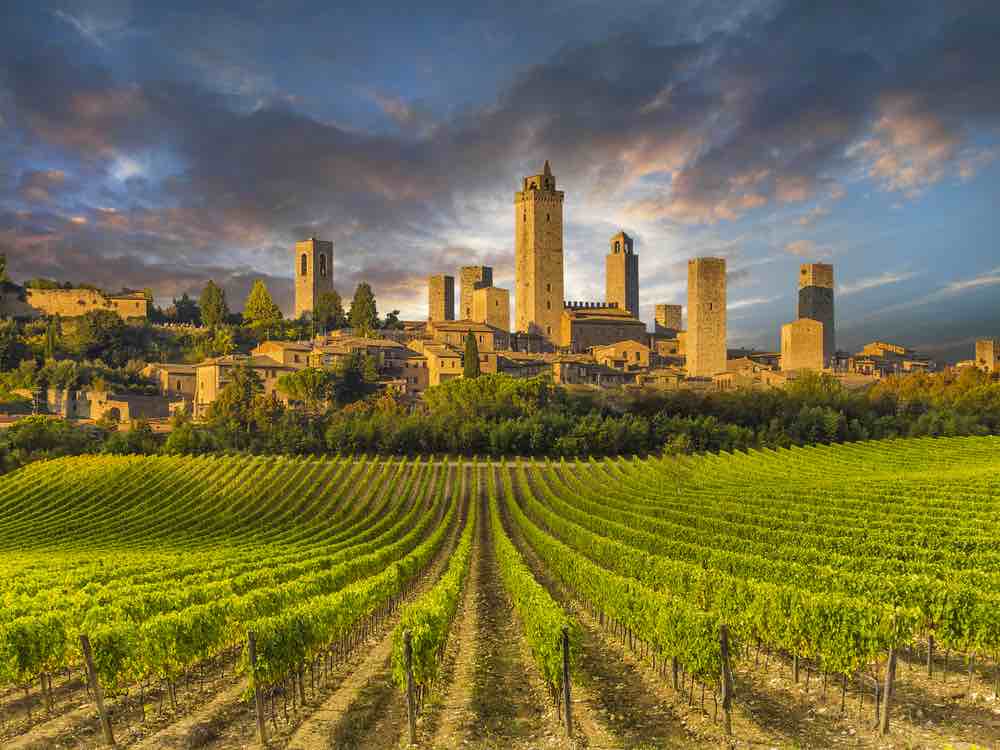 10 fantastic day trips from Florence you will love
Our selection of the best day trips from Florence by car, train and guided tour. From medieval towns to wineries and areas of great natural beauty in Tuscany, these are the best side-trips from Florence Italy
Florence is a fantastic home base to visit Italy.
Within a short distance from the city, you have beautiful countryside, stunning hilltop villages, beautiful beaches and even UNESCO marvels such as Cinque Terre and Rome.
Planning side-trips from Florence is easy, thanks to the excellent road and train network in the area and the vast choice of guides tours available.
This is my selection of the best day trips and best day tours from Florence, to take after you have enjoyed Florence's must-see sites.
Please note: this post contains affiliate links and, should you make a purchase through them, we might make a small commission at no extra cost to you.

Best side-trips from Florence map
Organized day trips of Tuscany from Florence
If you are short on time, a great way to see some Tuscany highlights is by joining an organized day tour from Florence.
These days tours take away the stress of driving on unfamiliar roads and while they do not allow you a lot of time at your destination, are a great way to get a whistle-stop in an area that, due to time constraints, you may otherwise miss.
Have a look at this one: Pisa, Siena, San Gimignano, Chianti Day Trip from Florence.
The best day trips from Florence Italy: our top picks

Day trip from Florence to Chianti – the perfect day trip for wine lovers
The Chianti region is world-famous for its production of Chianti classico wine and it is a very easy area to visit from Florence.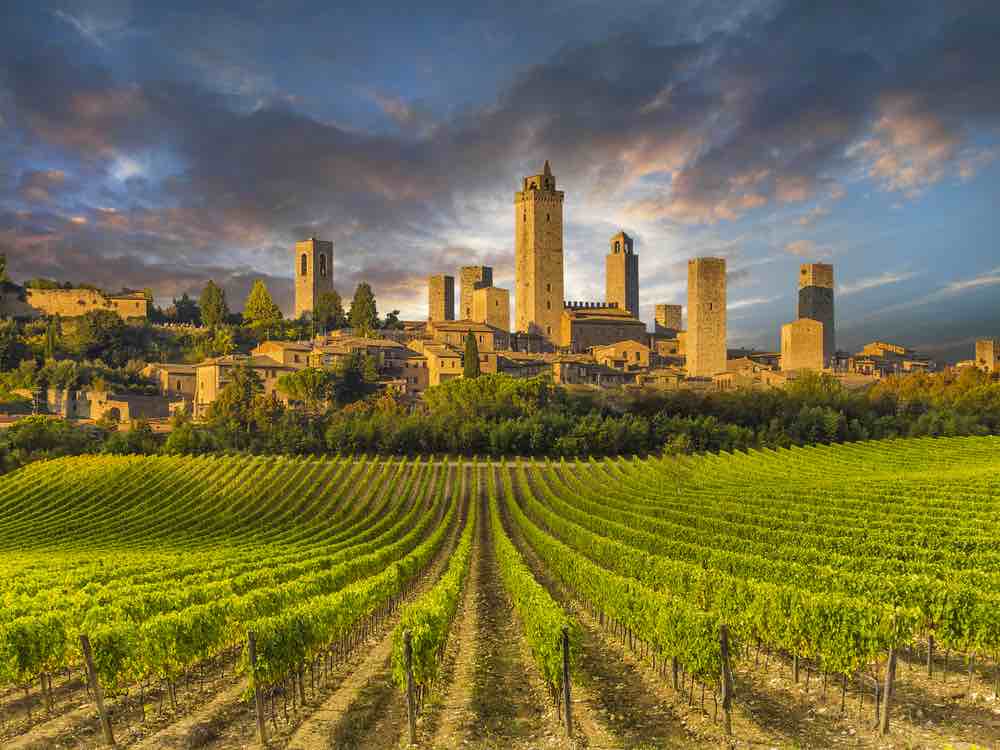 Here, you are going to see beautiful countryside and will have your pick of wineries and restaurants to sample the local, amazing wood and see what this famous wine is all about.
The best way to visit this wine region is by car, if you have a designated driver in our party who will not partake in the wine tasting, or with a guided tour such as this one.
Some guided tours from Florence to Chianti focus on wine only, while others also bring you to pretty localities in the area for sightseeing: these can be fantastic to see hard to reach corners of Tuscany without the stress of renting a car.
Catch a train to Lucca
Lucca is one of the prettiest small towns in Tuscany and a perfect day trip from Florence by train.
The town has intact medieval walls and a stunning historical center with plenty of beautiful churches, shops and restaurants, for a pleasant day of sightseeing.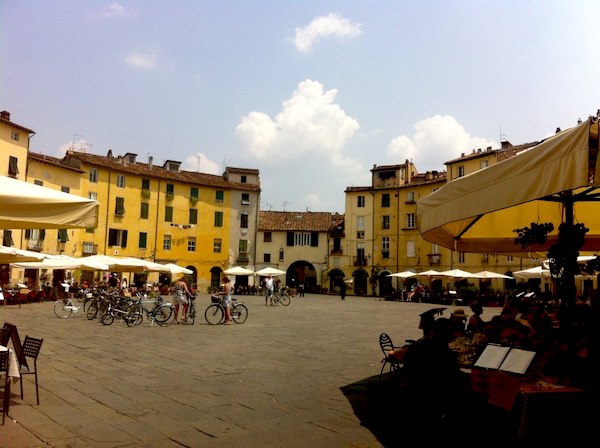 Not to be missed in Lucca is the stunning Piazza dell'Anfiteatro, one of the most beautiful piazzas in Italy, the old city walls and the pretty Guinigi Tower.
Lucca is best explored on foot or by bike.
You can find our guide to spending a day in Lucca here.
Lucca is one of the easiest Tuscan cities to explore with small children.
The town's ancient walls are now a park and they have a wonderful cycling trail easy to tackle at any age. Find our tips for visiting Lucca with kids here.
Top tip: Lucca is on the way between Florence and the coast and you can easily combine a trip here with time on the beach. You can find here >>> our handpicked selection of the best beaches near Lucca.
Monteriggioni
Monteriggioni is a tiny village perched on the top of a hill in the province of Siena, less than 50 km from Florence.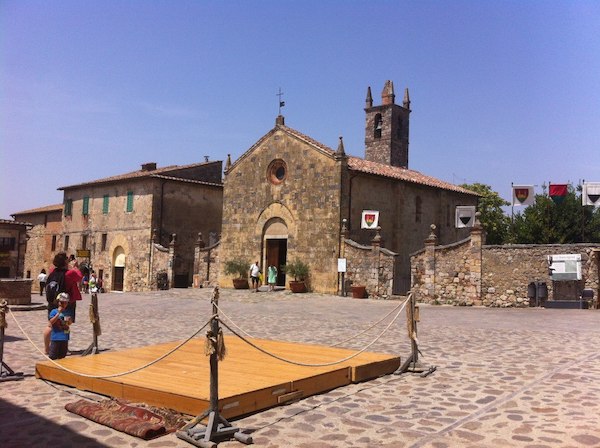 The town is still entirely surrounded by its imposing medieval walls and it is a wonderful example of a Tuscan castle, complete with a chapel, turrets and a stunning main square now filled with restaurants and pretty shops.
The village is tiny and can be visited in a couple of hours, the reason why many plan it for the same day as San Gimignano. Not to be missed is the walk on its bastions and lunch on the main square.
Top tip! If you can, try and visit the city in early July when the Monteriggioni medieval festival takes place (bring water and a sun hat as Monteriggioni is hot in summer!).
Find our guide to Monteriggioni here.
Visit San Gimignano, UNESCO city of towers
San Gimignano is the best and easiest hilltop Tuscan village to visit as a day trip from Florence and one of the most popular destinations for day-trippers.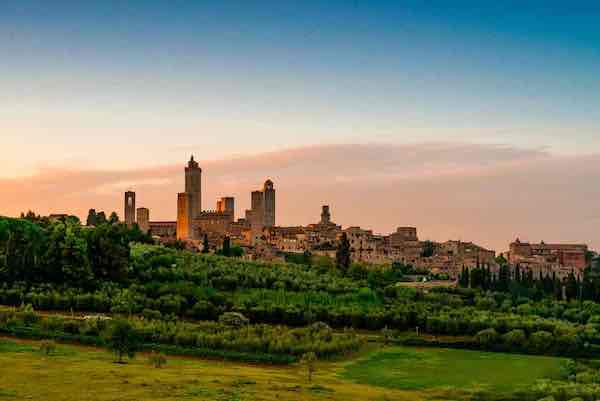 Perches on top of a beautiful hill, San Gimignano is a medieval walled town with a perfectly preserved old center, a staggering amount of medieval towers (it is not called 'city of towers' for nothing!) and it is also a lovely place for foodies.
As well as stunning churches and alleys, San Gimignano is famous for the production of saffron and the delicious vernaccia wine: vernaccia di San Gimignano!
You can visit San Gimignano on your own or by joining an organized tour. Whatever you decide, prepare for crowds: during the day, San Gimignano gets a lot of tourism – escape to the smaller side roads for a respite from the crowds and some of the most beautiful corners of the city.
Find our guide to San Gimignano here or check out well-organized day trips from Florence to San Gimignano such as this one.
Cortona
Cortona is one of the prettiest and best-known towns in Tuscany, known to English speakers mostly as the backdrop of the best seller Under the Tuscan sun.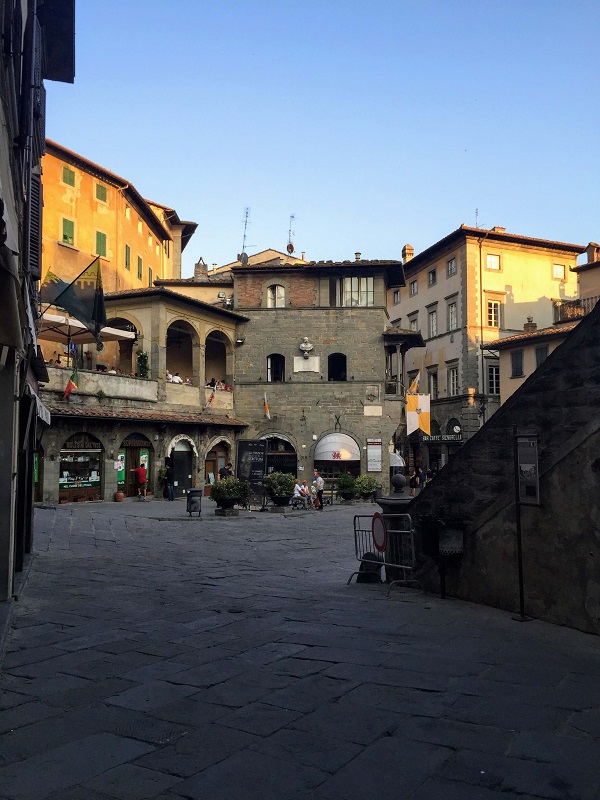 Perched on top of a beautiful hill surrounded by pretty countryside, Cortona is a delight and a town with plenty to offer for a day or even more.
Not to be missed here are its central square medieval and still perfectly preserved, its churches and museums and the nearby Eremo Le Celle (Hermitage) which dates back to St Francis' times.
You can find our guide to what to see in Cortona here.
Top tip: make sure you have lunch in Cortona or at least aperitivo so you can try the local specialties such as the delightful ciaccia (local focaccia)!
Day tours from Florence to Cortona often include stops in other beautiful localities and can be a good option to explore more if you don't have your own car.
Have a look at this beautiful day trip from Florence to Cortona and Montepulciano, which touches two of our favorite Tuscan towns!
Pisa
If you have always dreamed of seeing the Tower of Pisa and UNESCO's Piazza del Miracoli (Square of miracles), then you'll be happy to know that Pisa is easy to visit from Florence.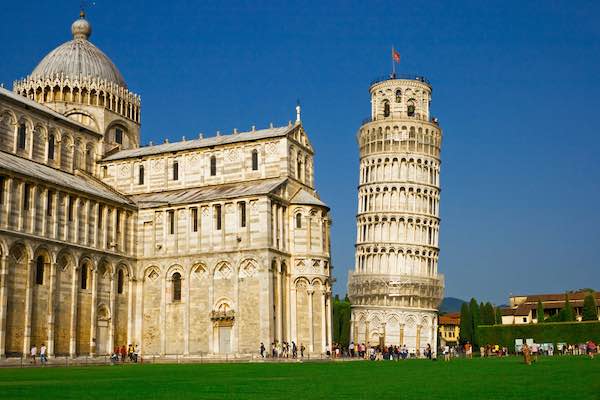 Regular trains connect Florence Santa Maria Novella station with Pisa Centrale and good buses lead you to the tower, which is where Pisa's main attractions are.
Not to be missed here are the tower itself, a visit inside the cathedral and baptistry and a visit to the cemetery, which is a real gem and Pisa must-see.
The one problem you may have in Pisa is the crowds.
Everyone comes to the piazza and this means you have tons of cheap souvenir vendors, food trucks and relative litter everywhere.
That said, the piazza is so special I believe it shines through: to make the most of your day in Pisa, I recommend you read our guide to one day in Pisa with our recommended itinerary.
If you prefer a guided experience, have a look at this half-day excursion to Pisa from Florence.
Siena
Siena is one of the most beautiful towns in Tuscany: the center and famous Piazza del Campo, one of the most beautiful piazzas in Italy, is jaw-dropping but the whole city is full of churches, pretty roads and palazzi that echo its medieval past.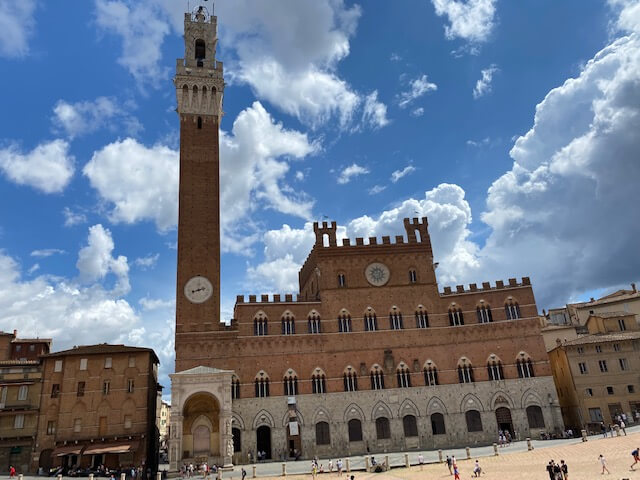 Siena also has lovely shops and restaurants, which make it perfect also if you want a relaxing day getting your fic of Italian food and style!
Despite all these riches, Siena is easy to visit in one day: you can find my full guide to Siena here.
Tip for families with kids: Siena is not very stroller friendly but has some nice areas for kids and a wonderful park. You can find our guide to Siena with kids here.
Good tours to and of Siena worth checking out are:
Val D'Orcia
A longer yet stunning day trip from Florence is also that to Val D'Orcia, maybe the most iconic of all areas in Tuscany.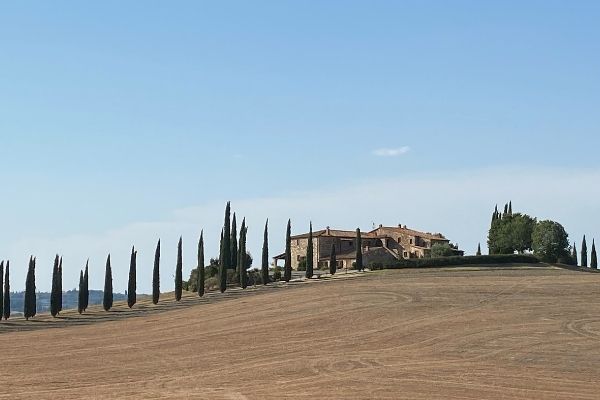 Val d'Orcia is where the rolling hills, cypress trees and olive groves that many associate with Tuscany actually are.
The area is ideal for a road trip as some of the most beautiful views in Val D'Orcia are from the scenic drive between Chianciano, San Quirico d'Orcia and Pienza however, several bus tours offer tours of the area that can be a valid alternative.
You can find our not to be missed places in Val d'Orcia here and you can check good day tours from Florence to Val d'Orcia following the links below:
Cheese and wine tasting Val D'Orcia tour from Florence (Pienza is famous for its cacio cheese)
From Florence, wine tasting day tour of Val D'Orcia

Florence beaches and Tuscan Riviera
Florence is surprisingly close to the sea.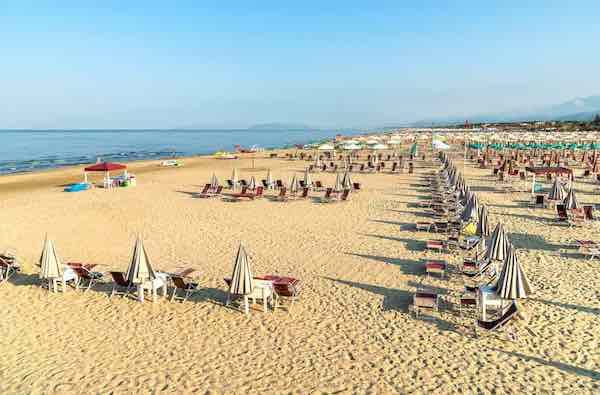 The motorway connects the city to the coast in less than 2 hours and here, you can easily choose between several localities offering sandy beaches, rocky coves, trendy settings or secluded experiences. Basically, whatever beach experience you are after, the beaches of Tuscany will deliver!
You can find my guide to the best beaches near Florence here
Cinque Terre
Cinque Terre is an area of outstanding natural beauty in Liguria (the region to the North West of Tuscany) which needs little introduction.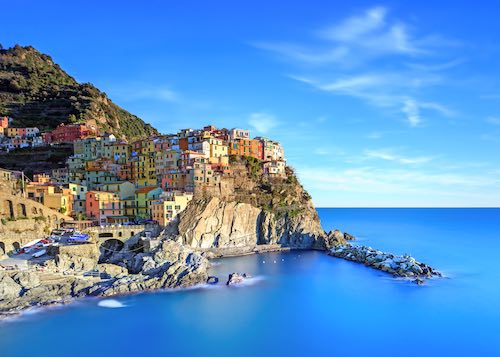 This is the area of Italy where you find the colorful villages that seem to hang off a cliff overlooking the sea and where some of the most iconic images of Italy are taken.
Visiting Cinque Terre from Florence is possible and the best way to do so is by an organized tour that will take care of transport arrangements, not otherwise exceptionally straightforward in this area.
Have a look at this good day tour from Florence to Cinque Terre by bus to see what the day includes and the exact schedule.
Tip for families: If traveling with children, make sure you check our guide to Cinque Terre with kids: this area of Italy is not child friendly (for the terrain, not the people) and extra tips are useful.
I hope you enjoyed this overview of our favorite side trips from Florence. Safe travels!