3 days in Puglia: how to see the best of Puglia when you are short on time
3 days in Puglia itinerary: perfect road trip itinerary to the best places to see in Puglia when you only have a handful of days.
Puglia, the heel of the Italian boot, is one of the most beautiful regions in the country.
Mention Puglia to any Italian and they are sure to say 'Ah, Puglia is bellissima!', usually accompanying such a statement with awe and delight at the mention of an area still largely overlooked by international tourism.
Puglia has so many wonderful places to see, you can easily spend weeks here and not see it all.
However, you can get a taste of it even if you are short on time.
This is the 3 days in Puglia itinerary we took last time we went: it was magical and one of the best holidays in Italy we ever had!
3 days in Puglia itinerary at a glance
For our three days in Puglia, we focused on the area immediately to the South of Bari.
The distances in this area are small, so you can pick one place to call home for a few days or opt for changing accommodation every night.
We found Trani and Alberobello to be excellent base for this trip.
At a glance, our itinerary was:
Day 1: Trani and Castel del Monte
Day 2: Polignano a mare and Alberobello
Day 3: Locorotondo and Martina Franca
Please note: this post contains affiliate links. Should you make a purchase, we might make a small commission.
3 days in Puglia day 1: Trani and Castel del Monte
The first stop on our Puglia itinerary was Trani, a gorgeous small town on the Apulian Coast just North of Bari.
Morning and evening: Trani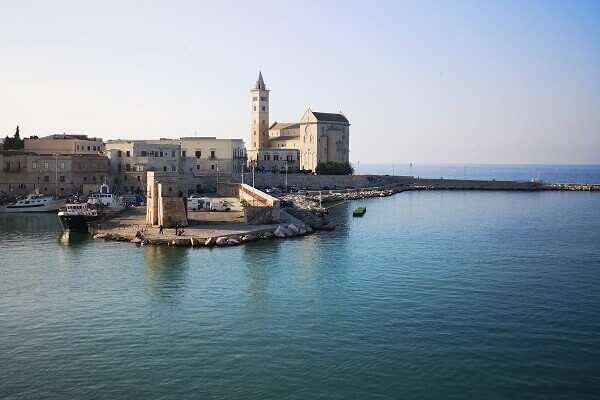 Trani's nickname is 'Pearl of the Adriatic' and indeed, it is a stunning place.
The main landmark you will see and remember of Trani is its incredible Romanesque church.
Perched right on the sea, overlooking the waters in a position usually occupied by a lighthouse, it is a vision of cream stone and blue waters that you are guaranteed to never forget!
You can visit Trani in a matter of hours but it is a lovely place to spend the night too: the town has many pretty streets, a lovely park and restaurants with good food and stunning views that will have you spoilt!
The Mare' resort in Trani is a wonderful place to call home but many more options are avaiable (see our guide for a few ideas)
You can read our guide to Trani and see photos here
Afternoon: Castel del Monte
Not far from Trani you will find another beautiful and interesting historical site, the unique Castel del Monte, now UNESCO World Heritage Site.
Castel del Monte is a castle dating back to the Kingdom of Frederik II (XIII century) and you will quickly see what makes it special.
Perched on a hilltop, the castle has a very unusual octagonal site and it is entirely built following strict geometrical lines that make it unlike any other castle in Italy.
The castle both for its position and architecture is worth a visit and it is only a short drive from Trani so you can visit in the morning or afternoon and then have the night in Trani.
Day 2: Polignano a Mare and Alberobello
Day 2 is devoted to exploring two of the most photographed places in Puglia: Polignano a Mare and Alberobello.
Morning: Polignano a Mare
Polignano a Mare is a short drive South of Trani and it is famous for being a town developed on a rock plunging into crystal clear waters (if you love Italian music, it is also known as the birthplace of Domenico Modugno, the author of 'Volare'!).
The place is as scenic as the photos suggest and while Instagram tends to focus on its impressive rock formation, it also has a lovely town center.
This is a wonderful place for a stop for fish-based lunch on the way to Alberobello.
Alberobello
Alberobello is one of the most famous places in the whole of Italy and one of the most popular destinations in Puglia thanks to its unique cone-shaped houses: i trulli!
Trulli are whitewashed, round-shaped houses with a pointy roof made of grey tiles.
They are peculiar to this area of Puglia and exceptionally numerous in Alberobello which is now, because of the them, listed as Unesco World Heritage Site.
Alberobello is a delight: the trulli are pretty to see and also host interesting museums and exhibitions that help understand the history and peculiarities of the area.
Some of them are not devoted to tourism however, parts of the town still retain a local feel.
It is worth staying in Alberobello one night to have the time to discover the different facets of this town and see it after the day trippers have gone.
The fame of Alberobello brings here many large bus tours and this means that during the day the more tourist driven part of the town can get pretty congested.
Staying the night is an easy solution to have the town for yourself!
You can experience a night in a trullo staying in the gorgeous Trulli Anti' Charme and Relax which we loved.
You can read our guide to Alberobello here
Puglia day 3: Locorotondo and Martina Franca
On our third day, we tapped into the marvelous world of Puglia's white towns, a series of towns that, like the name suggests, stand out for being entirely whitewashed!
Morning and Lunch: Locorotondo
Locorotondo is a tiny village just beside Alberobello, perched on a hilltop overlooking Val D'Itria, the wonderful olive grove dotted Apulian countryside.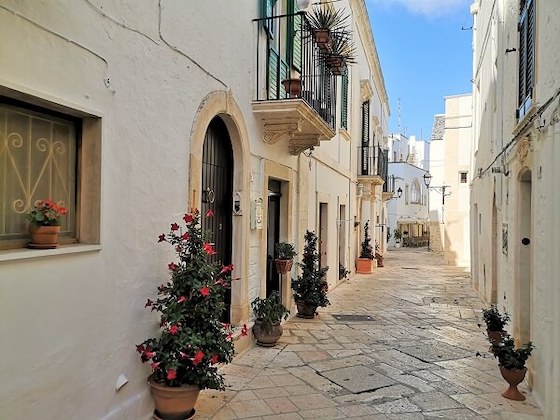 It is the typical town that tourism ignore because of its more famous neighbor but it is an absolute delight and a place I consider a Puglia must see.
The town has a small historical center closed to traffic and has gorgeous small alleys with flowerpots and pretty balconies, lovely churches, many delicious local restaurants and of course the famous whitewashed houses that make this a 'white town'!
Worth noticing are the pointy houses 'a cummersa', typical of the town.
We had the most amazing lunch here in a place called La Braceria that was the perfect goodbye to Locorotondo after a wonderful morning sightseeing!
You can find our guide to Locorotondo here
Afternoon: Martina Franca
We wanted to make our last afternoon in Puglia unforgettable and so we spent in Martina Franca, another delightful white town not far from Alberobello and Locorotondo.
Martina Franca is mostly famous for its whitewashed streets however, it has something else that is very special: architecture in a Baroque Style that is so peculiar to the town it has the name 'Barocco Martinese'!
Martina Franca is delightful and you can easily spend and afternoon here or even the night before heading back home or, like we did, to the next marvel: Matera!
You can find out guide to Martina Franca on our sister site here
Practical tips for 3 days in Puglia
The best way to visit Puglia is by own car.
The roads are well kept and well indicated and traffic is manageable and we found it much more relaxing than in other parts of town
Puglia gets very hot in summer: we visited in October and can highly recommend it as a season, if you do not like very hot weather.
Puglia is a place of small villages more than large towns and it is ideal if you are looking for a place where to travel at a slightly slower pace.
We fund Puglia very family friendly however, we didn't visit specific kid-friendly attractions this time.
What we did find is that the towns are so pretty and child-friendly, you can very easily just get the kids to tag along!
Do bring good shoes (sneakers or anything with a rubber sole) as some of the towns have polished and potentially slippy roads.
I hope you enjoyed this road trip suggestion for three days in Puglia. Safe travel planning!