12 family friendly hikes in Val Pusteria, Italy, you and your kids will love
10 fabulous family friendly hikes in Val Pusteria, Italy, that are perfect for kids. Easy hikes for parents and children of all ages.
Val Pusteria is a large Alpine Valley in the north of Italy and one of the most beautiful places in the Dolomites for a hiking holiday.
It has many hikes for all levels of experience, several of which are great to take with kids, either in baby carriers or allowing them to stretch their legs on these beautiful paths.
I have been vacationing in Val Pusteria all my life and know these paths well.
They are all beautiful and easy and while they are hikes and not walks (almost all of them have some elevation gain and only few are stroller friendly), they are all great for kids, meaning they require no experience.
Since they are mountain paths, make sure that for all of them you and your kids are equipped with good walking shoes, day hike essentials and do keep an eye on the weather for safety.
Top 10 family hikes in Val Pusteria
Family hike to Rifugio Fondovalle Val Fiscalina
This is one of the easiest hikes in the list and one of the few that is also stroller friendly (bring an all terrain stroller, city ones are no good in this area).
The hike takes about 30 mins, it is flat and follow the valley floor of Val Fiscalina, which is a beautiful and scenic even from low elevation.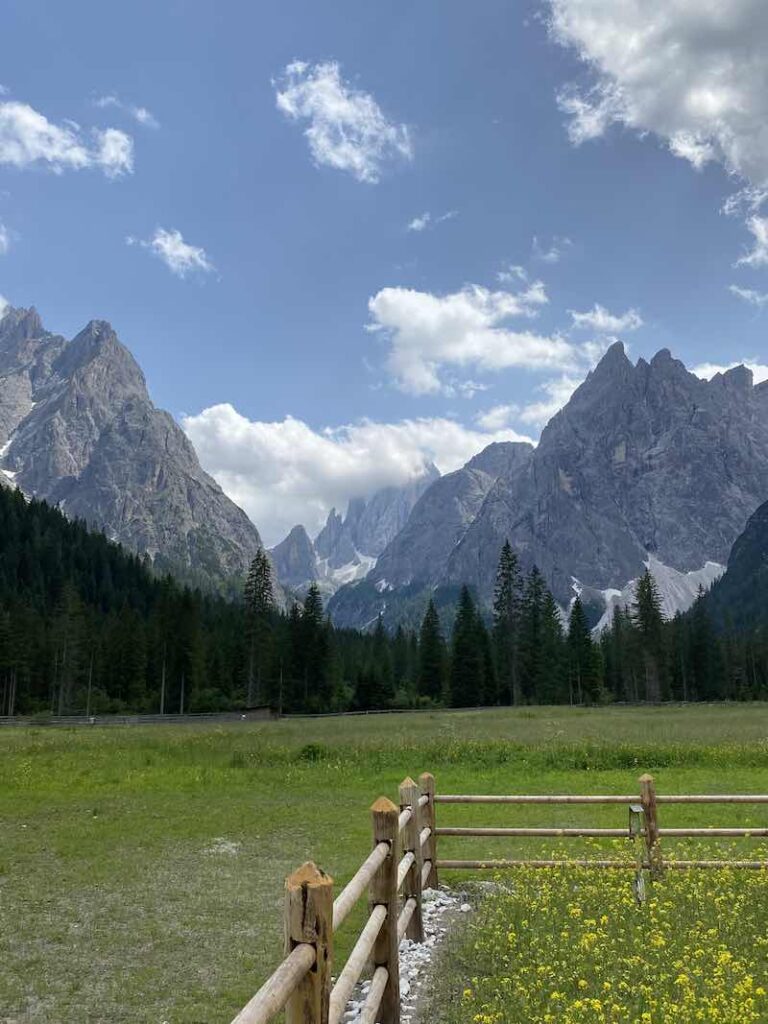 Starting Point: Val Fiscalina Car Park
Duration: 30 mins
Difficulty: easy
Buggy friendly: yes
Views of Val Fiscalina and Meridiana di Sesto (Sexten Sundial)
At the end of the walk you find the Fondovalle Mountain Hut which operates as a local restaurants and cafe.
Small animals are usually kept outside for the delight of the kids and the dry river bed just beside the hut is perfect for rock hunting and playing.
Family hike from Sesto to Val Fiscalina
A wonderful walk you can easily take with kids goes from the town of Sesto to Val Fiscalina (this is easily commbined with the hike above).
The trail starts from in front the cable car station in Sesto and is mostly flat: the elevation gain is about 100 mt and the path climbs gently, never becoming strenuous.
The path is among houses first, then crosses a beautiful forest and finally a fantastic lawn, also opening up offering glorious views of Mount Elmo.
The path is not stroller friendly but poses no difficulties to kids, who can walk it in about 1h.
On arrival, you can have lunch at the lovely Bergsteiger Bistrot, which is possibly the restaurant with the very best view in the area!
For the way back, you can choose between taking the same path, following a lower path in the same wood or catch the bus back to Sesto – tickets on board, kids under 6 go free.
Family hike to Rif. Larici on Monte Elmo
Monte Elmo is the tall, green mountain overlooking Sesto/Sexten and Moso/Moos and one of the easiest hikes here to enjoy views from its slopes is the walk to Rifugio Larici.
You reach the starting point by car, following the good road up to Panorama restaurant and then you walk from there, following a nice shaded path among the pine woods on the Mount slopes.
The path is large and easy, buggy friendly and it is usually quiet enough that you encounter squirrels and birds. This is a lovely hike for a hiking scavenger hunt!
Tip for sporty families! if you want to make this hike longer, you can follow the road all the way up to the Rifugio Gallo Cedrone, at the top of the mountain! The road stays easy and while it is at a constant slope up, it poses no difficulties and the views from the top are amazing!
Starting Point: Hotel Panorama, Monte di Mezzo (Sesto Pusteria)
Duration: 1.5 hours
Difficulty: easy
Views over Sesto and the Sundial, forest views
Cable car ride / Olperl Park with optional kid-friendly hikes to Rif. Gallo Cedrone
At the very top of Mount Elmo there is a fantastic family park that is fantastic for kids of all ages: Olperl Nature Park.
Olperl Park is made of a kids' mountain village and playground where children can explore a miniatrure alpine village and meet friendly local animals such as goats and rabbits and it also has an excellent sensory path kids and adults can enjou=y barefoot!
You can >>> read all about Olperl Park here <<<
From here, you can also take a short hike to the mountain hut/restaurant Gallo Cedrone: the walk here is easy and stroller friendly and only takes about 30 mins (less if you have older kids used to hiking).
The ride on the cable car is fun and once you are at the top, the views are stunning and you can easily spend the day just relaxing up here eating at the nice restaurant and catching the views from its stunning panoramic terrace.
Tip for sporty families! If you fancy a longer walk, there is the option of hiking to the next hut, Rifugio Sillianer. The path to it is along the top of Monte Elmo, it is easy, with no sheer drops and offers stunning views. also, since the Sillianer is in Austria, you will be passing a border (marked on the ground): very exciting for kids albeit rather long – make sure you set out for this early.
Starting Point: Sesto Cable Car station
Views on Sesto, Moso, Croda Rossa and Sexten Sundial
Family walk to Campo di Dentro and Rifugio Tre Scarperi
The walk along Valle Campo di Dentro is a very easy and beautiful walk that brings you to Rif. Tre Scarperi, a delightful mountain hut and restaurant overlooking large lawns framed by beautiful peaks.
The walk is busy and perfect even for young kids as it follows a large and well kept path and doesn't take long to complete.
This makes it also very popular so if you are looking for a hike with a destination where to find other kids and make friends, this is a good one!
Staring point: parking lot in 'Campo di Dentro', outside San Candido
Difficulty: easy
Duration: 20 – 30 mins from the upper car park (shuttle avaiable)
You can find here >>> our guide about Rifugio Tre Scarperi, including how to use the shuttle in high season.
Lake Braies walk
Lake Braies is one of the most photographed in the area and it is indeed a lovely lake for a day on the water and in between beautiful mountains.
The lake is easy to reach by car and from here you can walk along the nice path that follows the perimeter of the lake.
The path is not entirely buggy friendly, only the first part is, but it is not difficult and the views of the lakes are lovely!
The trail brings you across lovely trees and it is perfect for scavenger hunts. On return, you can also rent one of the boats and row on the lake, which is always fun for little ones!
Need to know! In summer, the lake gets so busy, you need to prebook access. You can find all the info in our practical guide to visiting Lake Braies.
Family hike to Alpe di Nemes
The walk to Alpe di Nemes takes a little over an hour each way and follows an easy path perfect for kids of all ages.
This is one of the hikes we love the most as a family and regularly take it with kids and grandparents!
The first part is in the forest and the second part on boardwalks which is nice and keeps the path varied.
On arrival, the kids are rewarded by the many animals who live here and lovely homemade food!
This is a wonderful walk for a nature scavenger hunt as it passes through the woods and then along boardwalks on wetlands, so you see quite a varied wildlife and bugs.
Duration: 1h10min linear path
Stroller friendly: yes, but the trail gains elevation and pushing a stroller is hard. I recommend you bring a carrier instead
Difficulty: technically easy/moderate effort for kids due to length and some elevation gain
You can find my full article about the Alpe di Nemes hike here.
Lake Dobbiaco Nature Trail
A wonderful, flat and family friendly hike in Val Pusteria I recommend to all families is the lovely nature trail around Lake Dobbiaco.
The trail is flat and stroller friendly and circles the lakes offering stunning views over its waters and the mountains around.
The place is magical for kids and there is plenty to do for them. The trail is equipped as a nature path for kids and has nice stops for them: some are info panels with stories and facts about local animals and others are play stations where the kids can play and learn.
One we loved is a board with a maze that you can solve while learning the journey of the river that forms lake Dobbiaco and another one got my children jumping, trying to match the skills of local animals!
This is one of the easiest and best hikes for families in Val Pusteria.
You can read >>> all about Lake Dobbiaco here <<<
Family walk to the River Drava mountain spring – with a stop at the Magical Forest playground
Have your kids ever seen where a river is born? This hike allows them to do just that, or almost!
From the town of Dobbiaco, an easy trail leads into the woods and, in abour 40 minutes or less, leads you to the place where the river Drava springs out of the mountain.
The walk is pretty and easy and the arrival point is marked by a drinking fountain and a sign that shows the journey the Drava starts here and is about to embark up – it will lead the river across 5 countries all the way to the Black Sea!
The spot is cool and a great way to teach kids about the lifecycle of water and rivers however, don't expect to see the water actually flowing from inside the mountain. What you see here is a mountain brook and if they didn't tell you this was its source, you would never know… however, the official starting point is here and the map with its journey to the Black Sea very cool, so this family hike makes our list.
The walk is stroller friendly and leads you to a special place for little kids: the Magical Forest Playground, a fantastic play space for kids, right in the woods!
Croda Rossa Chairlift ride or hike
The Croda Rossa is one of the most popular destinations for family hikes in the area as you can reach a wonderful mountain hut either by chairlift from Moso or with a beautiful yet steep hike from Val Fiscalina.
If you decide to hike, you can expect to walk up in a couple of hours among the woods, until the moment when you pass the tree line and lawns, peaks and a welcoming Rifugio opens up in front of you!
Starting point: Croda Rossa Chairlift Moso or Val Fiscalina Parking area
Duration: 2h linear path from Val Fiscalina
Difficulty: moderate/hard (the path is climbs most of the way)
Family friendly hikes in Val Pusteria for older kids
The following hikes do not pose technical difficulties however, due to the nature of the terrain (rocky and uneven), elevation gain and duration, they are suitable for slightly older kids with some hiking experience.
These are not toddler friendly hikes and while they are technically possibly with a carrier on your shoulder, I would consider carefully your energy and they can be pretty demanding with a child on your shoulders!
I recommend them for kids age 8 and up and with some willingness to walk.
Rif. Locatelli from Rif. Auronzo – family hike with iconic views of the Three Peaks of Lavaredo
Rif Locatelli is the mountain hut from where you snap the iconic photo of the three Peaks of Lavaredo and it is surprisingly easy to reach with kids with who are used to walking.
Top tip: if you have young kids and the full hike not an option, you can still enjoy this area. You can read here >>> how to enjoy Tre Cime di Lavaredo with kids.
There are several ways to reach it and the most family friendly path is from Rif Auronzo, which you reach driving up along the scenic road from Misurina.
The hike takes a couple of hours.
The first part is along the Three Peaks and offers stunning views of them and the Auronzo Valley below: this first part quickly gets to the Rif Lavaredo, which is a lovely destination itself for younger kids and offers hot food.
From here, you have a steep stretch to the Lavaredo Saddle (short and not difficult but quite a climb!) and then the path continues more or less at the same altitude until the hut.
Starting point: Parking of Rif. Auronzo, at the end on the scenic road from Misurina
Buggy friendly: no, only the very first part
Difficulty: moderate
Rif Comici Hut Hike – more challenging hike for older kids
If you have older kids with hiking experience, you can walk this beautiful trail climbing up from Val Fiscalina to Rif Comici Mountain Hut.
This is a steep hike with 800mt elevation gain and takes a good 2h to get to the top so it is much more challenging than others on this list however, it poses no technical difficulties and kids from age 8 and up should have no problems on it.
Due to the elevation gain and the nature of the terrain, it is paramouns to have proper hiking shoes for this one, water and possibly hiking snacks for the trail.
On arrival, the Rifugio has hot food and facilities and you feel like you are on the roof of the world: the effort will be mightily rewarded!
Starting Point: Val Fiscalina Car park
Duration: 2h, linear path
Difficulty: hard (800 mt elevation gain, the path is steep most of the way)
Stroller friendly: no
Family hikes to Rif. Fonda Savio (older kids)
Rif Fonda Savio is a wonderful mountain hut surrounded by the stunning Monti Cadini (Cadini peaks), which is a wonderful, wild, rocky landscape.
The hike takes a couple of hours each way and has some steep parts however, it poses no major difficulties and the view are out of this world beautiful. Suitable for older kids with some hiking experience and teenagers.
Starting point: parking space along the road to the Auronzo Hut at the Three Peaks.
Buggy friendly: no
Type of terrain: mountain trail, constant slope up
Time needed: about 2 h each way, linear path
I hope you enjoyed this overview of our favorite family friendly hikes in Val Pusteria and will help you plan your trip. Safe travel planning!