How many days in Venice? Venice itinerary ideas you'll love
Tried and tested Venice itinerary ideas to help you decide how many days to stay in Venice and plan your dream trip.
Planning a trip to Venice is exciting.
The city is one of the most beautiful in the world and its uniqueness has inspired so many artists and poets, a first visit here is often accompanied by high expectation and hopes that the city will be all it promises to be and possibly more.
I love Venice and I believe the city will sweep you off your feet.
However, I also believe you need to know how to tackle it: over-tourism is a problem in Venice and if you don't plan your Venice itinerary carefully, or don't set aside a sufficient amount of time to see it, then disappointment can easily set in.
The first thing you need to decide when planning a trip here is how many days to spend in Venice and this article is my answer just to this questions.
In this guide, I am going to share my recommended itinerary for one to three days in Venice: I believe this is the best way to help you decide how many days to stay in Venice, see the best of Venice and a little more!
This guide is suitable for all types of travelers and includes alternatives for families with children. If you have little ones, you can also look at our family travel guide to Venice with kids here.
Want more Venice advice? Check out also our guide to the best places to stay in Venice or Join my free Travel Italy with kids group on Facebook, where we discuss all the best ways to plan a multi-generational trip to Italy!
Please note: this post contains affiliate links and, should you make a purchase, we might make a small commission at no extra cost to you.
How many days in Venice?
The best length of time for a first trip to Venice is 1 to 3 days.
With one day in Venice, you can explore the area of Rialto Bridge, San Marco, the Doges' Palace, take a gondola ride and even explore parts of the beautiful area called Cannaregio.
With two days in Venice, you can see Rialto Bridge, San Marco, Doges' Palace, explore Venice's beautiful ghetto and the small colorful island of Burano
With three days in Venice, you can explore Venice city center including Rialto and San Marco, explore Burano, discover the beautiful areas of San Polo and Giudecca and have some down town for shopping in Venice or to visit a museum.
I personally find that 2 full days in Venice are usually enough for most visitors to get a first sense for the city and its highlights.
One day is better than nothing and anything from 3 days up is ideal if you love museums or enjoy a slower travel experience and want to enjoy the city beyond its sightseeing opportunities.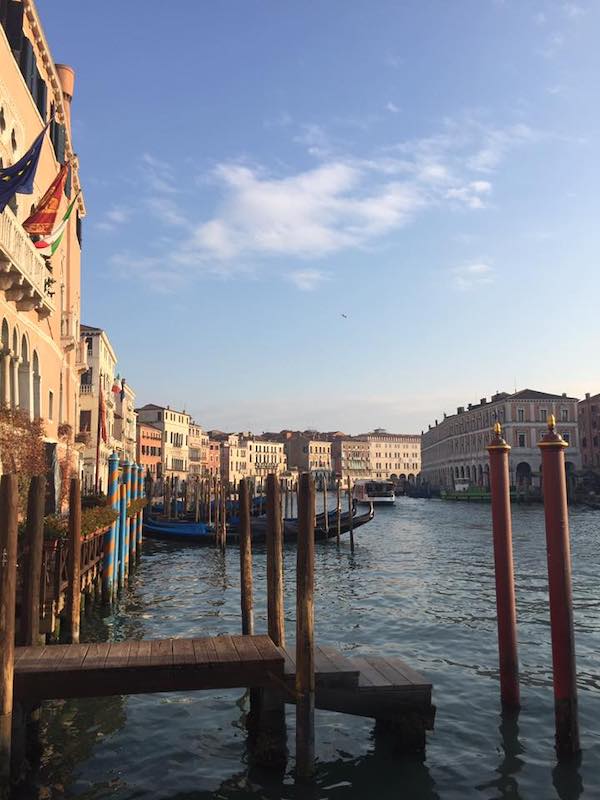 One day in Venice: recommended itinerary
Venice has a rather compact city center so you will be able to see quite a lot even with just one day in the city
Your biggest challenge with one day in Venice only is the crowds: since you will most likely want to spend this day visiting Venice's must see sites, there is a high chance you will find yourself in the busiest areas of the city.
My advice is to start your day early and take a long lunch break in the small streets off San Marco.
The crowds literally disappear as soon as you leave Venice's main streets and due to the many day trippers, you find numbers go down fast if you get out before they arrive and stay out after they have left.
This full day Venice itinerary foresees 2 nights in Venice.
Morning of day 1
The main Venice attractions for first time visitors is Piazza San Marco, its stunning basilica, tower and Doge's palace, so my recommendation is to start your day here and beat the crowds.
Piazza San Marco Square itself is stunning and it is hard to overstate the impression it makes on the visitors.
The piazza is large and entirely surrounded by beautiful porticoes, that make it look like an elegant living room and one of the most beautiful piazzas in Italy.
San Marco's Basilica overlooks it and has a facade so peculiar in its colors and shapes that you have to look twice to make sure it is real and not a vision!
The church is the perfect mix of oriental and Italian shapes and mixes domes with elaborate arches and delicate carvings.
It is considered one of the most important examples of Italo-Byzantine style and it is indeed unique. Depending on the crowds on the day, you may or may not be able to visit inside however, even if you can't, do not miss its facade. Its is unforgettable.
Beside the church, makes sure you also take the time to see Venice's campanile and the beautiful Doge's Palace.
The palace is a wonderful Gothic structure and one of the most famous landmarks in Venice, that overlooks both Piazza San Marco and the Grand Canal.
At the back of the Doges' Palace you also find the famous Bridge of Sights.
To visit these landmarks inside, I recommend you book skip the line tickets or a tour. Some to consider are:
All the attractions in the St Mark's area will be enough to fill your morning.
At this point, I recommend you plan a coffee and chocolate break at Vizio Virtu', a fabulous chocolate shop about 10 minutes walk from San Marco, in the direction of Rialto Bridge, our next stop.
After a chocolate stop in Vizio Virtu I recommend you visit Rialto's Bridge and take some time to climb up to the top of Fondaco de' Tedeschi.
The Fondaco is an old Venetian building now turned elegant shopping mall and I recommend seeing in under two accounts.
First, it is beautiful and an architectural transformation worth seeing for its aesthetic value.
Second, for the stunning view fro the top! The viewing terrace is free, however, if you get here on a buys day you may have to take a ticket and come back at a later time. Wither way, it is worth coming here!
This area is also a lovely area for a meal.
We ate at a local street food joint (delicious, the take out seafood mix was fantastic!) but you won't be lacking choice not matter what type of food you are after.
Just make sure you avoid the main drags: even just turning a corner into a quiet street will put you in a much better position to find a local restaurant without a tourist menu and offering local specialties. You can find some typical Venetian foods to try here.
Top tip: close to Rialto Bridge and market you will find signs for the 'traghetto'. This is a gondola shuttle service that brings you from one side to the Grand canal to the other. It is not a gondola tour and the crossing only takes a couple of minutes, but it is in a real gondola and it is a fun way to have the gondola experience without paying over the odds for a long tour.
Afernoon
After lunch I recommend you head to Campo Santa Maria Formosa, nearby.
This is a gorgeous square with a beautiful church, it is a rather quiet part of the city, which makes for a nice change after San Marco and it is also where you will find something special: the Acqua Alta bookshop!
The Aqua Alta bookshop is a peculiar, photo-ready bookshop opening up onto a canal and storing books new and old in any type of container you can imagine, including gondolas and bathtubs!
This is a lovely area to explore and enjoy and a great place to visit in Venice with kids too, since they have some space to run around freely.
I recommend you finish your day in Venice is the restaurant I Quattro Feri, the perfect end to a perfect day in Venice.
2 days in Venice itinerary
if you have two days in Venice, you can build on the one day itinerary above and add the following stops.
Morning of day 2: ghetto and Cannaregio
Venice has a really beautiful really interesting Ghetto that is worth visiting.
It is located in the area called Cannaregio, not far from Santa Lucia station, and it is a quiet, historical, beautiful area to visit, perfect to dig a little deeper into the history of Venice and to experience a part of the city not all visitors include in their Venice itinerary.
Most of the times we have been, we have found ourselves to be almost the only visitors here, a dream!
This area is interesting to see and it is also full of good restaurants, so it will be easy to find a place to eat too.
From here, I recommend you the walk towards La Ca' d'Oro, a wonderful and unmissable Venice Landmark and then hear to nearby Fondamenta Nuove to catch a ferry to Burano.
Afternoon: Burano
I recommend you spend the second afternoon in Venice visiting the small island of Burano.
You can read how to get there and what to see in our Burano guide here.
The island is a delight and my recommendation is to spend the afternoon and then catch the ferry right before sunset so you an see the sun go down over the Venice's lagoon – unforgettable!
Venice day 3
If you have three days in Venice, then I recommend you add to your explorations a day around two more beautiful Venice areas: San Polo and Giudecca.
Venice day 3 morning
San Polo is the area of Venice between the station and Rialto, on the other side of the grand canal from San Marco.
It is a wonderful area, quiet compared to many others, and it has some beautiful landmarks including Chiesa de' Frari, with beautiful painted masterpieces and the impressive burial monuments to Canova's and Titian, and the Rialto Market, which is a bit of a gem.
This area is scenic and also famous for being a place for foodies: here you find very many 'bacari' (Venice's small restaurants and wine bar) and it is a delight for a slow stroll and a visit to a slightly different part of Venice.
Afternoon
For your last afternoon in Venice I recommend you explore teh wonderful area of Dorsoduro and the island of Giudecca.
Dorsoduro is one of the 6 Venice's sestieri, the areas in which Venice is organized, and has some wonderful Venice landmarks and museums worth seeing as well as one of the most scenic areas of Venice: Giudecca.
The main part of Dorsoduro is easy to reach on foot from San Polo and it is the area where you find the Peggy Guggenheim museum, the Galleria dell'Accademia and the stunning Santa Maria della Salute church one of he mos beautiful spots in the whole of Venice.
Dorsoduro is also the sestiere with Giudecca, the long island just in front of Venice's main city center.
Giudecca is a lovely and often overlooked part of Venice, with beautiful churches by architect Palladio, worth seeing, many artisan shops and lovely streets and bridges.
It is an area many skip but it offers stunning views of Venice and it is a lovely place to experience a different part and pace of the city, before getting back to the town center for a last Venice meal.
I hope you enjoyed this quick overview of a possible itinerary for Venice and it helped you answer the question: how many days in Venice?
Safe travel planning!