Discovering Monticchiello Italy, Beautiful Medieval Village With Unique Theater Tradition In The Heart Of Tuscany
All you need to know to plan a trip to Monticchiello, Tuscany. How to get there, where to stay and why you should visit this delightful Tuscan village.
Tuscany has many pretty villages and one of the prettiest of all is the tiny, delightful town of Monticchiello.
Located in the heart of Val d'Orcia, the part of Tuscany UNESCO declared World Heritage Site for its natural beauty, Monticchiello is a tiny medieval town and doesn't appear as often on the Tuscany itineraries, despite being close to famous neighbors such as Pienza and Montepulciano
The reason for this is probably the fact that Monticchiello is more remote than towns nearby, and can only be reached driving along a meandering white road in the middle of the Tuscan hills.
However, this shouldn't lead you to believe Monticchiello is hard to get to or is not worth a visit: quite the opposite!
As well as being incredibly pretty and scenic, both good reasons themselves to come here, Monticchiello is home to a peculiar theater tradition known as 'poor theater' and each summer turns itself into an open-air performance space!
I highly recommend you visit Monticchiello, either for the day or stay the night to catch the seasonal performances that made it famous.
This is all you need to know to plan a visit.
Please note: this post contains affiliate links and, should you make a purchase, we might make a small commission at no extra cost to you.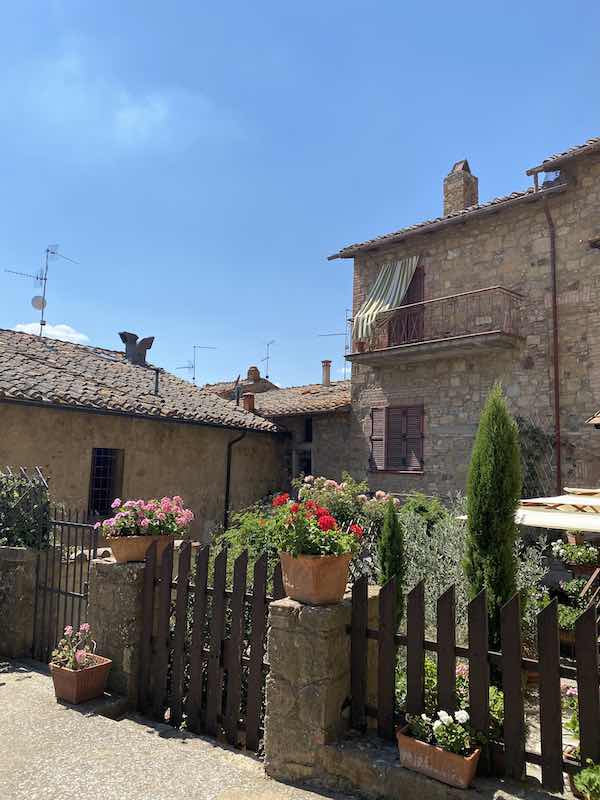 Where is Monticchiello and how to get there
Monticchiello is located in Val D'Orcia, Tuscany, central Italy.
It lies along a winding road and is close to several popular destinations in the area:
The village is well indicated with brown signs on the roads between Montepulciano, Pienza and Chianciano Terme and you reach it driving down and well-kept road, part paved and part white.
The drive can be disconcerting if you expect a fully paved journey however it is easy and poses no problems to standard vehicles.
Who should visit Monticchiello
Monticchiello is a pretty, historical village and it is a lovely destination for people who enjoy slow travel, country views and those who love theater (see below why!).
It is also a pretty place to visit on a day out with small kids: the main village square is car free and immensely atmospheric, perfect for a good run around!
What to do in Monticchiello
Monticchiello is one of the best preserved medieval villages in the area and a pleasant place for a lazy walk along meandering ancient alleys and pretty streets.
Things to do here are:
Enjoy the beauty of Monticchiello's medieval vestiges, especially the mighty walls and gate and the pretty Romanesque Church, Pieve dei Santi Leonardo and Cristoforo, dating back to the 1200s.
Admire the pretty houses and piazzas of this picture perfect town, full of flowery balconies and dainty corners
Marvel at the view over the Tuscan Hills from the city main entrance and spot Pienza in the distance
Enjoy one of Monticchiello's restaurants: Osteria la Porta, Taverna di Bronzone and il Bronzino, all in scenic locations and serving Tuscan specialties in traditional and modern ways
Experience the summer performances of Teatro Povero (Poor Theater of Monticchiello), the town's most unique tradition, getting tickets for an evening show
The interesting tradition or Monticchiello's Poor Theater
Monticchiello is famous in the arts world for a very special form of dramatic performance, called 'Teatro Povero di Monticchiello' or 'Poor Theater of Monticchiello'.
This form of theater was born in Monticchiello as a community project in 1967, at a time when the community and area at large were going through significant change.
Via the creation of community performances and their representation in the public spaces of the town, the people of Monticchiello found a way to express thoughts, fears and reflections about these changes and created a tradition that, over time, has touche many topics of local and international interest (historical events, wars etc).
The performances are immersive and the people/actors interact with the stage (the town) and the audience, creating a wonderful all-encompassing experience.
The name they adopted for their performances is 'autodrama', a term first used by theater Director Strehler and the community made their won.
Monticchiello Hotels
There are lots of accommodation options in and near Monticchiello, especially B&Bs, in the village, and agriturismo in the countryside around it.
Hotels are available in towns nearby.
Please note: avoid driving to Monticchiello in the dark. Choose accommodation with a restaurant on site or in the village itself so you don't have to get on the road in darkness.
Addresses we recommend are:
Terre di Nano – Wonderful, upscale agriturismo and winery with rooms, apartments and restaurant on site. This is a fantastic property for a romantic weekend and one of our favorite family-friendly wine resorts in Tuscany.
B&B Daria Monticchiello – in the village
La Casa nel Borgo B&B – in the village
I hope you enjoyed this quick guide to Monticchiello and it inspired you to visit what I consider one of the prettiest villages in Tuscany. Safe travel planning!