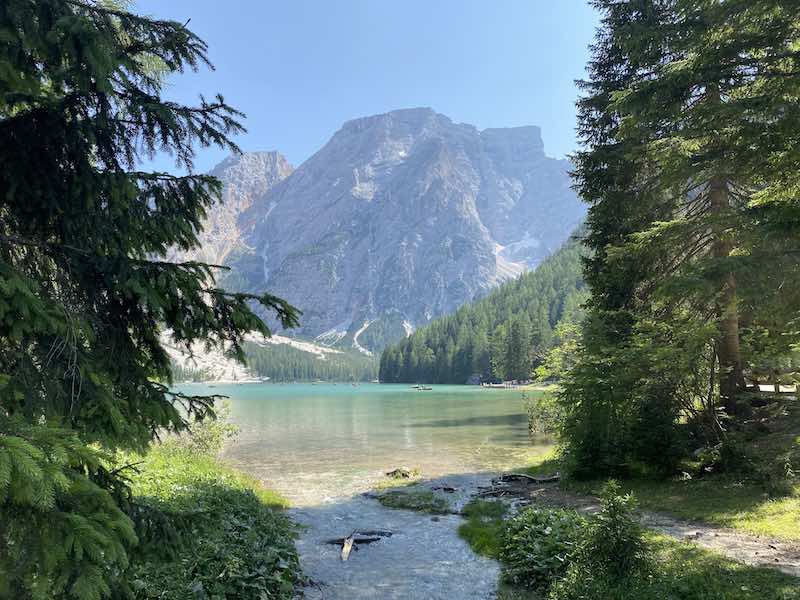 Lago di Braies (Lake Braies): how to get there + all you need to know about the most photographed mountain lake in Italy
How to plan a visit to Lago di Braies (Lake Braies, Pragzsee). Learn how to get there, what to expect and what to pack for a day on the most photographed lake on the Dolomites.
Lago di Braies/Lake Braies is one of the most photographed lakes in the Dolomites, if not the most photographed Italian mountain lake of all.
Nestles between tall peaks reflecting into its crystal clear waters, the lake became Instagram's darling a few years ago and has attracted an increasing number of visitors ever since.
You that beautiful lake, photographed with dreamy wooden boats on green waters and the backdrop of tall mountains that look out of a fairy tale?
That is Lake Braies or, as it is called locally: Lago di Braies / Pragzsee.
I know Lago di Braies very well.
I have been vacationing in the area since I was a child and I have seen Lake Braies before it became a social media sensation and, now after its notoriety.
If you are visiting the Dolomites, chances are Lake Braies is in your itinerary so today I am sharing all I know about it so you can play your stay at best.
Before I start this travel guide, I want to share a quick warning.
The notoriety of Lago di Braies has had a significant impact on it and what once was a quiet, subdued and almost somber place is now an overcrowded spot with souvenir shops, restaurants and pricey services.
I believe this is still one of the most beautiful places on the Dolomites.
However, if you don't plan your day well, you can find yourself disappointed and, worse, you may feel like your presence is endangering the lake (I know I felt a bit like that, more about it later in the guide).
I hope this travel guide to Lake Braies will help visit in the best way possible for you and this fragile Alpine environment.
Lago di Braies/ Lake Braies: basic facts
Name: Lago di Braies / Pragzsee (Lake Braies, in English)
What it is: alpine lake
Location: Val Pusteria, Trentino Alto Adige, Italy
Altitude: 1496 mt
Size: 1.2 KM
How to get to Lago di Braies / Lake Braies
Lake Braies is at the very end of Braies Valley, a wonderful side valley departing from Val Pusteria and ending at the lake.
The valley is served by a well kept road and has several pretty villages with nice tourist accommodation options such as hotels and apartments.
During the year, access to lake Braies is easy by private car, since you can simply drive up to the lake.
In summer, the busiest tourism season for the lake, access is controlled and managed, in an attempt to preserve this fragile environment from the sudden influx of visitors.
Need to know! From 10 July -10 Sept 2021 access to the lake is regulated. Between 10 am and 4 pm, access is only allowed by pre-booked shuttle service or by pre-booking a parking spot/restaurant table. Places go fast and advance booking is necessary: read below how to secure a place.
If you want to reach Lake Braies there are several options: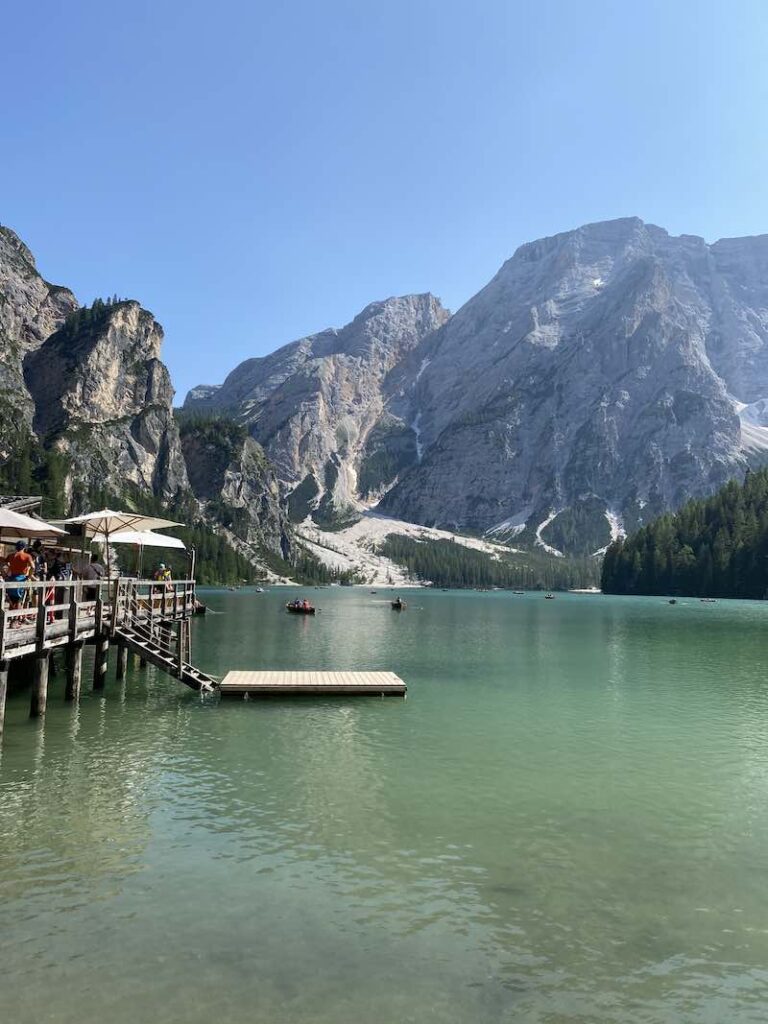 Getting to Lake Braies by car (low season / off peak hours)
If you are visiting Lake Braies in the low season or off-peak, you can reach the lake by car.
The road to the lake climbs slowly, it is easy to drive and well kept. There are two parking lots right at the lake and a lower parking lot about 5Km before you reach the lake shores.
Parking is pay and display: 15 Euro for the day, 6 Euro for half a day (no hourly rates)
Getting to Lake Braies by car (high season / peak hours)
During the high season, car access to Lake Braies is regulated and cars can only access by advance booking or a parking space or a restaurant /hotel reservation.
The website to make the booking is this one.
I highly recommend you make your booking a few days in advance (at least), especially if you are hoping to park close to the lake.
Getting to Lake Braies by shuttle bus
Lake Braies is served by an excellent shuttle service: the bus serves several towns in the area and leads you right to the lake shores.
With the shuttle, you don't need to stress about parking and you don't have to walk to get to the lake.
This is a popular option and tickets go fast.
Book at least a week in advance to secure a place on this website.
Getting to Lake Braies by bike
If you love cycling, you can reach Lago di Braies by bike, however, you need to be rather fit for this!
The road climbs up from Ferrara to the lake, it is marked as requiring about 45 mins cycling and there is an elevation gain of 300mt.
You can come with your own bike or rent some at:
Bike Rental Alfred, Braies, Tel +39 347 4900120
Papin Sport at Hotel Tuscherhof, Braies, Tel +39 0474 748628
Bike Store, Villabassa, Tel. +39 0474 70050
Papin Sport, Monguelfo, Tel. +39 0474 913714
Getting to Lago di Braies on foot
A lovely way to get to Lake Braies is to reach it on foot.
The path to the lakes starts from Ferrara, it is 4.8km long, foresees 270 mt altitude gain and takes approx. 1.5 hours, depending on your speed and shape.
The path is marked as easy.
You can also join this path from Monguelfo or Villabassa however, the length and elevation gain is much bigger from here: about 400 mt gain and 3 hours of walking at least.
The best things to do on Lake Braies
Once you have made your way to Lake Braies, you will find yourself in an area with several tourism services.
First and foremost, you will see the historical Hotel overlooking the lake, which is a great example of Austro- Hungarian architecture, and you will also find a bistrot and a booth renting out boats.
Things to do on Lake Braies are:
Admire the lake
Lake Braies is beautiful and, before the crowds made quiet contemplation difficult, it was a place that made you want to bring a book and relax for the day.
Now, this is not really possible anymore however, purely looking at the lake is the main activity here!
You catch really pretty views of the lake from the moment you arrive and you can see different perspectives by walking along the path following the lake.
Take a walk around the lake
Lake Braies has an easy, circular path that follows its perimeter.
The trail is easy and well kept and takes about 1h to walk.
Go on a hike
Several hikes depart from Lake Braies. Some worth considering are:
Malga Foresta: easy walk from the lake up, about 1h
Malga Cavallo: about 3h up from the lake
Croda del Becco: difficult hike for experienced walkers, climbing Croda del Becco, one of the peaks above the lake
Rent boats
On Lake Braies, there is a booth renting out rowing boats.
These are a cool way to catch nice views of the mountains from the water but they are popular and getting one required some queuing!
If you want to experience them, I recommend you get a number as soon as you arrive and try keep busy in the area until your turn comes.
Have lunch at the bistrot / hotel
If you have come here on foot or by bike, the first thing you will want to do is reward yourself with food!
Both the hotel and the bistrot offer good options, ranging from toast, snacks and cakes to full on meals.
Go souvenir shopping
If you are looking for souvenirs, the hotel has a shop with mountain knick-knacks, some clothes and postcards: a fun place for a small souvenir or for kids to have a snoop.
Lake Braies with kids
There is not a lot to do in Lake Braies for kids.
The lake is beautiful, the boats are fun and the trail around the lake is easy however, I cannot say this was my children's favorite place.
Lake Dobbiaco and lake Anterselva, with the cool nature trails and playgrounds, are more suited to kids than Lake Braies.
However, if you want to come to Lake Braies with kids, access is easy and you can definitely enjoy the views with them!
Is Lago di Braies/Lake Braies worth it?
Lake Braies is one of the most beautiful lakes in the area and, as such, is definitely worth visiting however, it is a place that suffers from over-tourism.
During our last visit in summer, we went outside of peak hours and still found the place so full, I wasn't able to take the walk around the lake, the path was that congested!
Just like me, we all came to this lake to enjoy it beauty but our very presence is what is making this beauty so hard to enjoy.
The whole experience left me with mixed feelings: I am delighted I saw it, but I felt guilty as I knew my very presence there was part of the problem.
The decision to go or skip it lies with you.
I had the privilege of going and I don't want to tell you not to.
I invite you, however, to consider well how you go and when you go.
Rather than coming in high season, I highly recommend you come immediately before or after. That way, you have a chance to see the place at its peaceful, quiet best.
What to pack for a day on Lago di Braies
A visit to Lago di Braies requires no special equipment unless you intend to hike.
For the day, I recommend you bring:
Layers, especially a windbreaker
Walking shoes or least runners for relaxing on the lake / walking along the circular path
Proper hiking shoes for any other trail
Sun screen and sun hat for summer
Water in reusable bottles
Trash bags
Other lakes in the area you may enjoy
If the idea of tackling the crowds on Lake Braies doesn't appeal to you, you can go to one of the several other beautiful lakes in this area.
You can find here >>> beautiful lakes on the Dolomites you can visit by car
Or you can opt for Lake Anterselva, that offers stunning views over the Vedrette di Ries Mountains.
I hope you found this overview of Lake Braies useful and it helped you plan your visit. Safe travels!
Additional resources to visit the Dolomites
10 easy and stunning hikes on the Dolomites for the whole family
Travel guide to visit the Dolomites with kids
Summer packing list for the Dolomites
Lago di Braies: pin this!
Lake Braies is one of our recommended destinations if you are visiting Italy with teenagers.
Find here >>> over 50 ideas and things to do in Italy with kids of all ages.