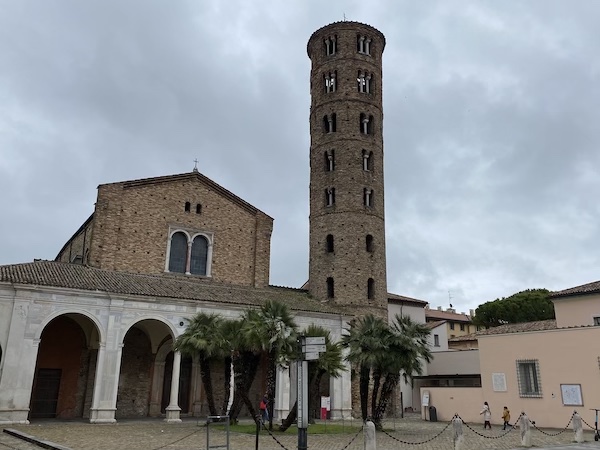 Ravenna with kids: all you need to know to visit this stunning kid-friendly city of art
Visiting Ravenna with kids: an essential family guide to Ravenna, Italy, with info to visit Ravenna's mosaics with kids, family-friendly attractions, restaurants and more.
Ravenna is a delightful, historic small town in the Emila Romagna region of Italy.
It is also one of the most child-friendly and toddler-friendly cities in Italy we have ever encountered.
Famous for once being the capital of the late Roman Empire, Ravenna has stunning mosaics that attract art lovers from all over the world.
It is also, however, a fantastic town if your family is looking for a slow-paced place to call home for a while.
Pretty, safe, stroller-friendly, historic and with some of the best food in Italy, Ravenna doesn't often appear on Italian itineraries of first-time visitors.
However, we highly recommend you visit! It is one of the best places to visit in Italy with kids!
We have gone several times, and each time we love it more.
I am a big city person, I love big metropolis, but Ravenna charmed me to no end: if I were ever to move to a small town, Ravenna would be the one so, you see, when I say I believe it is great, I really do!
In this quick travel guide to Ravenna with kids, I share what we love the most about the town and why we recommend it for a visit.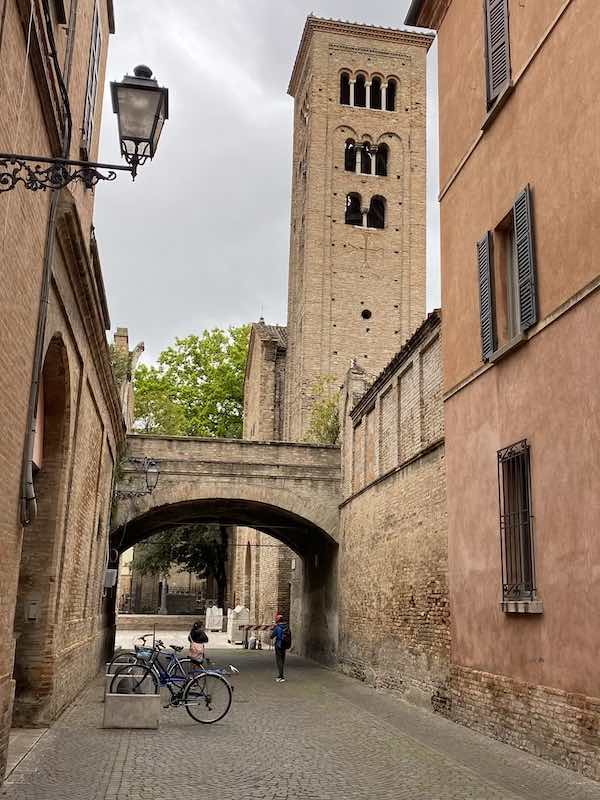 Please note: this post contains affiliate links. We might make a small commission if you make a purchase through them. As Amazon Associates, we earn from qualifying purchases.
Why visit Ravenna with kids
Ravenna is a beautiful town with a walkable city center, perfect for safe strolls with the kids.
Ravenna is stroller friendly.
Despite having cobbled streets, Ravenna is flat and with pavements smooth enough to be easy with strollers.
Ravenna has stunning mosaics – Ravenna is one of the best places in the world to see mosaics.
In 402, Ravenna became the capital of the Western Roman Empire: as such, the city acquired wonderful mosaics of breathtaking beauty, one of the best examples of Byzantine-style mosaics in Italy.
They are easy to enjoy at all ages so you don't have to compromise on sightseeing and beauty because of the kids!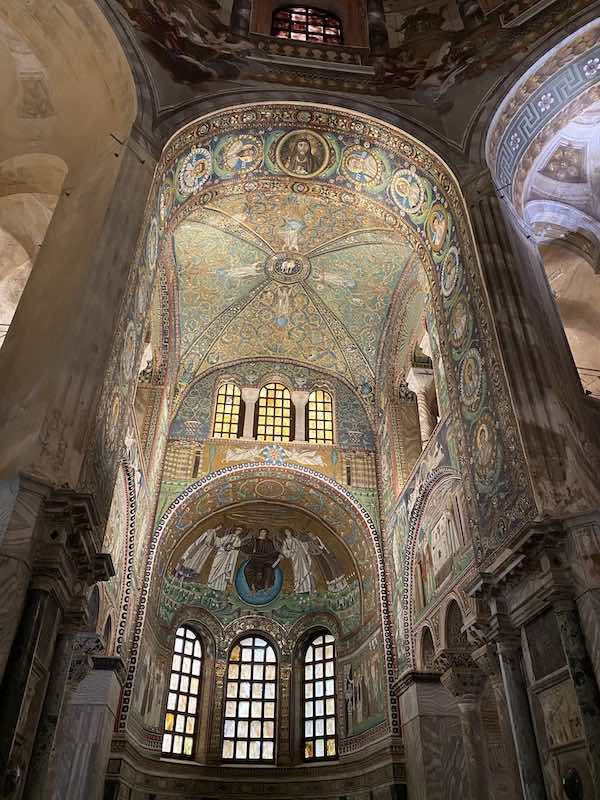 Ravenna's food is delicious – Ravenna is in Emilia Romagna, the food valley of Italy. Here you can taste all the region's specialties, including tortellini, lasagne, parmesan, balsamic and more!
Family-friendly infrastructures – Ravenna is a lovely town for families.
Partially car-free, flat and with good facilities, it is a great place for families with kids to relax and live a local experience for a while.
Emilia Romagna is one of the best functioning regions in Italy, great for peace of mind if you are staying longer and need to deal with local authorities.
Off the beaten path (ish) – Ravenna receives a fraction of tourists compared with other cities.
While people come here for the mosaics, the town is outside the classic itineraries, giving it a quieter, local feel.
On the train line – Ravenna has regular trains into bologna and the coast, making it ideal for travelers without a car
Great base for day trips – from Ravenna, it is easy to visit Bologna, Classe, Cesena, Cesenatico and the famous Riviera Romagnola.
It is also close to some of the best theme parks in the region, such as Italia in Miniatura and Mirabilandia.
Why not visit Ravenna
There is no reason to skip Ravenna! The only thing to know is that the town gets hot in summer, so it is advisable to mix a stay here with days on the beach.
The best things to see in Ravenna with kids
Ravenna's mosaics
Ravenna is one of the best places in the world to see Byzantine mosaics, so a list of the best things to do in Ravenna with kids can only start with them.
There are five (5) mosaic locations in Ravenna, all easy to visit in one day and with kids.
They are:
Mausoleo di Galla Placidia (Galla Placidia's Mausoleum)
Basilica di San Vitale
Basilica di Sant'Apollinare Nuovo
Battistero Neoniano (Neonian Baptistry)
Cappella di Sant'Andrea and Museo Arcivescovile (St Andreas' Chapen and Archibishops' Museum)
To visit the mosaic, there is one combined ticket covering them all and a handy online booking system which you find here (the link leads you to the Ravenna Mosaics' Official site.)
At the end of this article, you'll find my tips for booking and visiting Ravenna's mosaics with kids.
You can get a sense of the beauty of the mosaics in this photo collage.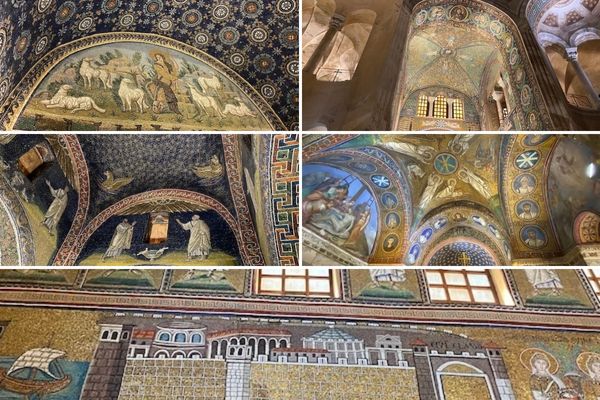 Top Tip: if you believe there is no way your kids can enjoy more than one mosaic location, for us, the best Ravenna mosaics to visit with kids are those in Galla Placidia Mausoleum and the Basilica of San Vitale just beside it. If you can, however, I recommend you see them all!
Tamo – Ravenna's Mosaics Museum
Ravenna has a fantastic mosaic museum that is wonderful for kids and adults alike.
The museum is in Ravenna's city center and is hosted in an old church converted into an exhibition space.
Both the location and the artifacts here are stunning!
The museum develops over two floors, with an accessible and tall ramp connecting the ground floor to the upper level.
If your children are too small to enjoy the mosaics, running up and down this ramp (with supervision!) will make the visit worth it – toddler's heaven!
But running up and down aside, the museum is truly special.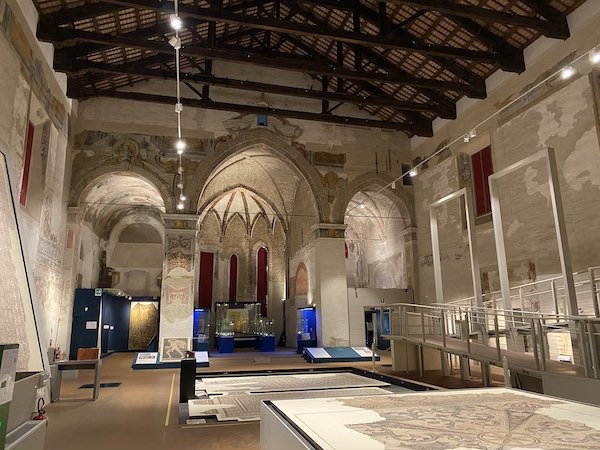 Our kids and we loved to see the miniature reconstruction of ancient houses and visualize how these marvels were used in real life.
several displays make the most of colorful lights to show how mosaics come to life, get used and are restored and they are wonderful to see as well as an invaluable educational tool.
The museum also has a fantastic exhibition called 'From Inferno to Paradiso', which makes the most of the important connection between Italia Poet Dante of the Divine Comedy and the city of Ravenna (he died in exile here).
The Tamo Museum of Ravenna is stunning and one of our favorite museums in Italy with kids and without!
MAR Museum
MAR Museum is a traditional Art museum in Ravenna and makes this list of things to do with kids because it offers great workshops for children (as well as for its beautiful art collection)
The workshops are hands-on and fun for kids: they, however, only run on specific days and in Italian so they are best suited for families who may stay in Ravenna a little longer and want to meet local families with kids.
Find info and contact details here
Teodorico's palace
The Palace of emperor Teodorico's palace is in Ravenna town center and while it is not open to the public, it is nonetheless one of the best places to see in Ravenna.
You are likely to pass by it as you walk from San Vitale to your next stop and it is worth noticing its beautiful columns and try imagine what it must have been like at the time of Teodorico and its court.
I found this particularly good to see with the kids as this time history is hardly ever taught in school (in Italy, at least, it is kind of an afterthought between Classical Roman times and much later Low Middle Ages ).
Giving them a visual reference from those centuries really helped them put this era in focus.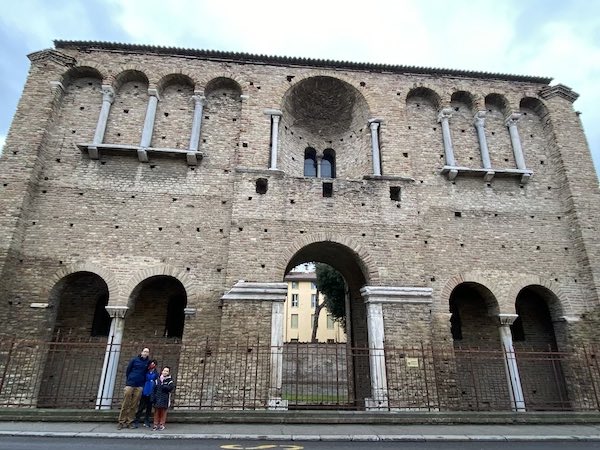 The Garden of Forgotten Herbs
The garden of forgotten herbs, or Il Giardino delle Erbe Dimenticate as it is called in Italian, is a delightful herns garden in Ravenna city center.
We passed it as we strolled around town and we loved this quiet and quiet green area and is a little coffee shop with tables and a souvenir shop.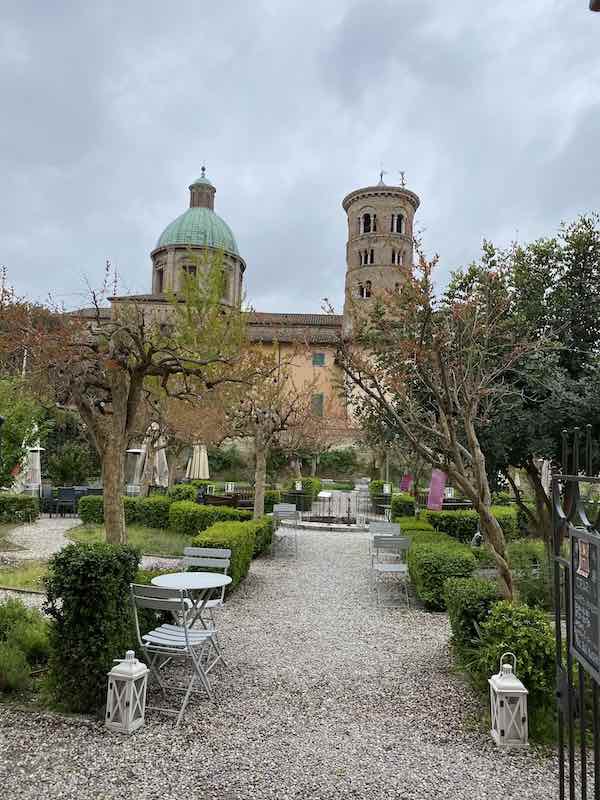 Dante's Tomb
The famous Italian poet Dante, author of the Divine Comedy died in Ravenna and is buried here.
His grave is free to visit and a great opportunity to teach the kids about one of the most significant Italian authors of all time.
The Divine Comedy is not for kids, despite some children's versions of it being available in the shops (use caution, especially with the inferno version: you may want to read it with them to put things into historical context).
However, Dante has a distinctive profile and our kids got a kick out of recognizing him in statues and postcards, not just in Ravenna but also in Verona, which we visited soon after!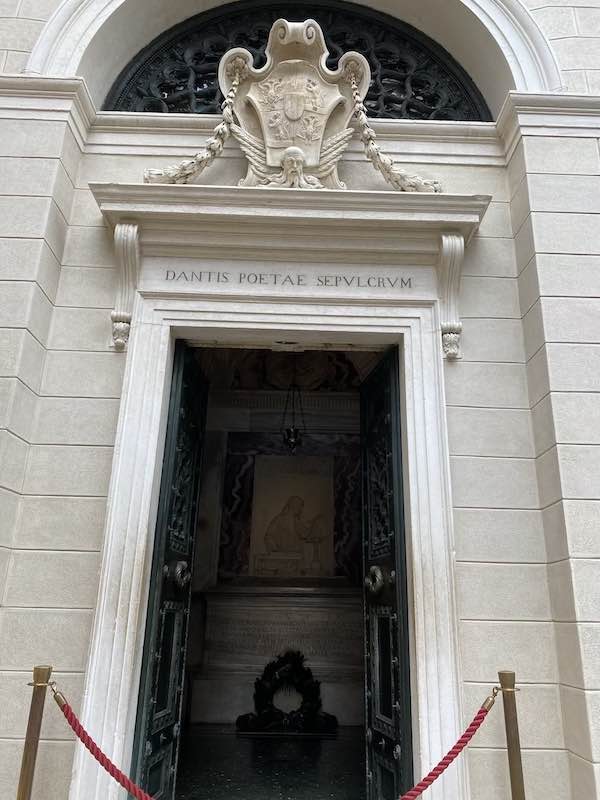 Ravenna's shopping street
Another place that makes me recommend Ravenna with kids is the town's main shopping street.
Ravenna has several roads with shopping opportunities ranging from bigger department stores to smaller boutiques and many of the Italian and European high-street brands you love.
Zara, Tiger, Intimissimi, Calzedonia etc are all here.
Several of these streets are closed to traffic and they are flat: perfect for a family stroll with small kids or even pushing a stroller.
One of our favorite shops here was a stunning bookshop with a huge section for kids with titles in both Italian and English.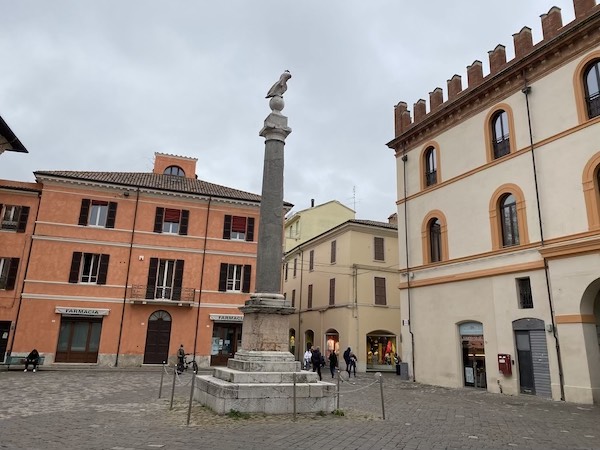 Ravenna's Playgrounds
Ravenna is a toddler-friendly town also when it comes to playgrounds.
While they may not always be the best equipped, we found several spaces in town with toys for toddlers and small kids that were sufficient to keep them busy and give them a play break during sightseeing.
The one we reached most easily is the playground in Giardino Speyer in the city center, in front of the church of San Giovanni Evangelista. It has a simple slide, swings and spring toy.
Other playgrounds in Ravenna you may want to check out are:
Giardini Pubblici di Ravenna, Viale Santi Baldini
Giardino Robnerto Pagnani, Via Elba
Giardino della Rocca Brancaleone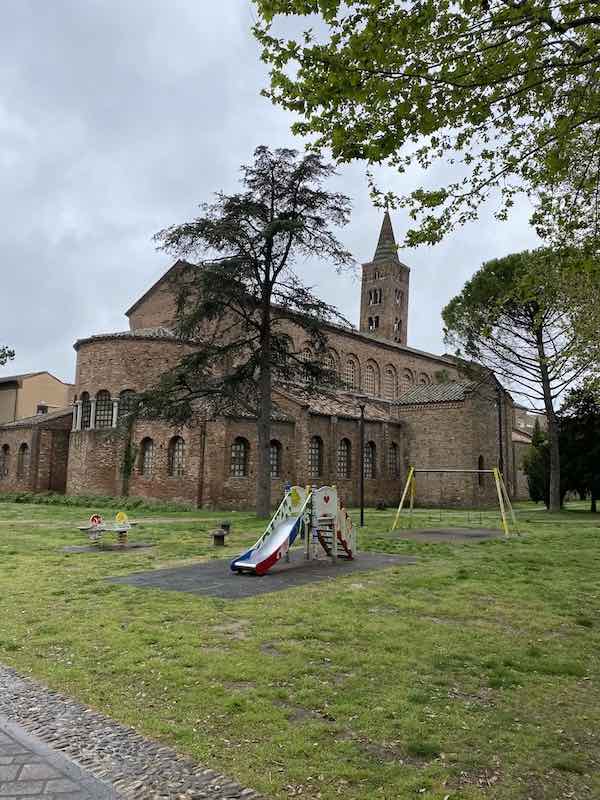 Mirabilandia theme park
Mirabilandia is one of the biggest and best theme parks in Italy and it is just outside of Ravenna, about 20 minutes in the car or even less, depending on traffic.
The park is wonderful for kids who love rides and rollercoasters and it is particularly suited to slightly older kids who match all height requirements. however, it also has a section for younger children with carousels, auto splash and slides.
The minimum height for all attractions is 90 cm.
Mirabilandia also has a Safari Park and water park, Mira beach. Perfect for families.
You can find info and tickets here
Italia in Miniatura
Italia in Miniatura (Miniature Italy) is outside of Ravenna but less than an hour out of town and so fun with kids, it makes the list of the best things to do in Ravenna with children!
Italia in Miniatura is just what the name suggests: a reconstruction of Italy in miniature size, so you can feel like a giant while seeing all of Italy's top sights in tiny reproductions!
Pineta di Classe
Again not immediately in Ravenna but just outside the city, you find the wonderful Pineta di Class (Pine tree forest).
The Pineta is south of Ravenna between Classe and Cervia and is a large green area with paths you can explore on foot or by bike.
It is a great place to explore with older kids in spring or fall.
You can rent bikes in Ravenna at the following addresses:
Noleggio Bici Autostazione VeRa, Piazzale Farini 1 Ravenna
Casa del Ciclo, Via San Mama 152, Ravenna
Where to eat in Ravenna with kids
Ravenna has plenty of fantastic family-friendly cafes and restaurants and you'll have no problems finding a place to eat with your little one.
We particularly enjoyed:
Ca' de Ven – a fantastic restaurant with art gallery with a painted vaulted ceiling and delicious food (despite the description, it s kit friendly!).
Here you can find all the most traditional stapes of Emilia Romagna food, such as tortellini/cappelletti, lasagne, ragu etc. All delicious!
Caffe Letterario – a lovely coffee shop with delightful hot chocolate, coffee, pancakes, pastries etc as well as pretty knick-knacks, cards and pretty little things to peruse and purchase.
Where to stay in Ravenna with kids
Some family-friendly hotels in Ravenna you may like are:
Ravenna NH Hotel – A good 4-star hotel close to Ravenna train station and the city center, offering rooms that can host up to 6 people.
Hotel Palazzo Galletti Abbiosi is a good 3-star hotel hosted in a historic building offering family rooms for up to 5 adults and a generous breakfast. Some rooms have wonderfully frescoed ceilings!
How to visit Ravenna Mosaics with kids
Ravenna has five mosaics locations + the beautiful TAMO museum. The museum is a stand-alone attraction s you can buy tickets on the spot, without advance planning.
The situation is slightly different from the mosaics in the churches and basilicas.
To access the Ravenna mosaics, you need to buy a combined ticket. This ticket covers them all and comes with QR code that gets scanned upon entering the attractions.
Three of the five attractions do not need advance booking, so you can just walk in and show your ticket whenever you pass them.
However, two require advance booking: Mausoleum of Galla Placidia and Battistero Neoniano.
The two are only 10 minutes walk from one another and so my advice is to plan your booking so you can see them in quick succession.
The way we planned our day saw us seeing the mosaics in this order:
Sant'Apollinare Nuovo – This is a large Basilica with stunning mosaics, including one representing a city (get the kids to try spot it!)
Battistero Neoniano – Absolutely stunning space with mosaics all around you
Museo Archivescovile – not to be missed is the Chapel of St Andrea (get the kids to spot the animals represented here) and the incredible ivory throne preserved it, which looks as if it was made of lace!
Galla Placidia Mausoleum – possible the most impressive of all, with stunning mosaics 360 degrees around you
San Vitale – an incredible Basilica with so many colors and mosaics you will be mesmerized!
We fund all Ravenna's mosaics to be easy to enjoy with kids.
The mosaics are breathtaking and have bright colors that will catch the attention of small kids as well as older ones: the many animal representations made all mosaics an easy scavenger hunt game!
The mosaics are all stroller friendly. However, we found the museum and St Andrea's chapel to be harder with kids as it is the most traditional type of museum.
It also requires a little longer, while Galla Placidia has visits that only last 5 minutes, hard to get bored even for patience-short children!
How to get to Ravenna
Ravenna is very easy to reach by car or train.
We reached Ravenna by train from Bologna and we found the train to be frequent and well kept.
Ravenna train station is immediately outside the historical town center and only about 10 minutes walk from San Apollinare Nuovo.
You can use Omio to see how the reach Ravenna from where you are: put in your departure destination and it will show you several transport options, prices and schedules (you can also buy tickets on it!).
Where to buy children's essentials in Ravenna
Ravenna is a living and breathing city, so you will find all kids and baby essentials you may need.
For clothing / everyday needs, you can go to Oviesse, which has cheap yet good clothing, rain gear, toys, etc
For grocery shopping, you have several supermarkets in town, including Conad in the city center and many more independent grocery shops and mini-markets.
You have several pharmacies (Farmacie) for all your children's needs for medications and essentials.
Find here >>>
Using a stroller in Ravenna
Ravenna is stroller friendly and you will have no difficulties managing the town with a stroller, either all-terrain or a simple travel/umbrella stroller.
Tu can find here >>> our recommended strollers for Italy
Our top tip for visiting Ravenna with kids + resources
Our kids love a good scavenger hunt and we discovered Ravenna to be exceptionally good for a DIY scavenger hunt sightseeing session!
As well as the Ravenna main sites, we found the city to have many animal representations (in mosaics, but also statues, sculptures etc), many locations with pretty street plaques made of mosaics, several portraits of Dante, pigeons and more!
The mosaics themselves offer many representations of animals that are a great excuse to get the kids to look at them carefully (so you have the time to enjoy them too!
If your kids enjoy a scavenger hunt, we have a printable scavenger hunt for kids you can download for free at the end of this post.
In terms of children's books about Ravenna, I highly recommend La Pimpa Ravenna For Kids City Guide, available in Italian and English.
Ravenna scavenger hunt for kids printable
Our printables are exclusive for our subscribers, as a thank you for your ongoing support! Subscription is free, all you need is an email address and the content will unlock for you.
Ravenna a with kids: pin this!