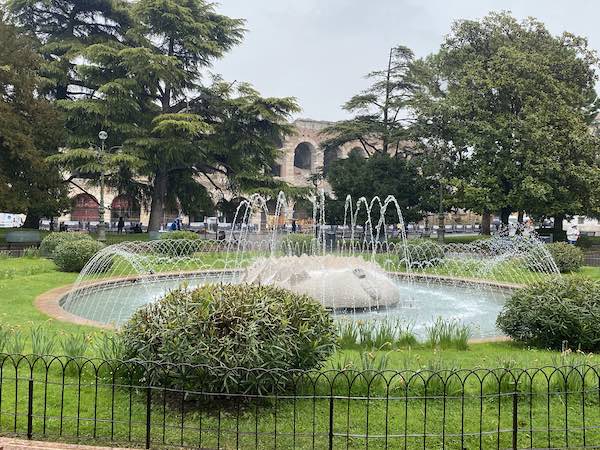 One day in Verona with kids: all you need to know for a perfect stay
All you need to know to spend one perfect day in Verona with kids: the best things to do in Verona with kids, family-friendly restaurants in Verona, our favorite family hotel and more.
Verona is one of the most beautiful, charming and famous cities in Italy and a lovely place to visit with kids.
Well-served by a busy international airport, Verona is a great getaway to family-friendly Lake Garda; however, it is also a wonderfully kid-friendly city worth visiting in its own right for its beautiful art and pleasant vibe.
Families often only have one day to spend in this pretty city so, today, I want to share our tips for spending one day in Verona with kids and making the most of your time.
We have been to Verona several times and were back in town very recently, as part of a one-week Italy itinerary that also included Bologna and Ravenna.
These suggestions are based on our experience of the city and tips we have received from local friends about the most family-friendly things to do in Verona with kids of all ages.
Please note: this post contains affiliate links. Should you make a purchase through them, we might make a small commission, at no extra cost to you.
Where to stay in Verona with kids: our favorite family hotel
The best place to stay in Verona with kids for a one-day visit is Corso Porta Nuova, the large street connecting Verona train station with Piazza Bra and Verona city center.
Corso Porta Nuova is an elegant street with many hotels, restaurants and cafe': it has large pavements perfect for families with strollers, it is well served by taxis, should you need to get one quickly and it is also walking distance from both the station and the arena, perfect to explore the city on foot.
Our favorite family friendnly hotel in verona is Hotel Firenze, right on Corso Porta Nuova.
This four-star hotel has both rooms and apartments right next door to the reception area, perfect for families with kids, serves a good breakfast, and has friendly and lovely staff.
We stayed here during our last trip to the city and would have no doubts about staying here again.
The apartments are two doors down from the main hotel reception; however, they come with the same services as the main hotel so you have the best of both worlds.
The space and quiet of an apartment and the convenience of a hotel stay.
You can see prices and availability here
How to get around Verona with kids
Verona's city center is compact and the best way to explore it is on foot.
You can get from the train station to the area in 15-20 mins on foot, while once in the city center all the attractions are less than ten minutes one from the other.
If you prefer a taxi ride into the city center, taxis station outside of Verona train station and the drive is only a few minutes long.
Please note: taxis usually do not carry child car seats and don't require them either. If you prefer to avoid a car ride with your child on your lap, bus n.13 brings you from the station to Piazza Bra and the Arena in about five minutes.
If you have very small kids, a cute option to visit the city is to hop on the city tourist train, lovely for little ones especially.
The tourist train tour only takes 25 minutes, it has audioguides in several languages and it is a fun way to get a first overview of the city and decide what to explore more in-depth next.
You can find info and tickets here
One day in Verona with kids itinerary
Morning
We loved starting our day in Verona with a visit to Piazza Bra and Verona's Arena.
Piazza Bra is a beautiful, large square and a great introduction to the city of Verona.
On one side, you have beautiful cafes and eateries, serving local and international food on outdoor terraces with lovely views over the piazza.
In its center, you have a lovely green space and, on its far side, it hosts the famous Arena of Verona, an ancient Roman amphitheater still in use for opera performances and concerts.
Piazza Bra is lovely for kids.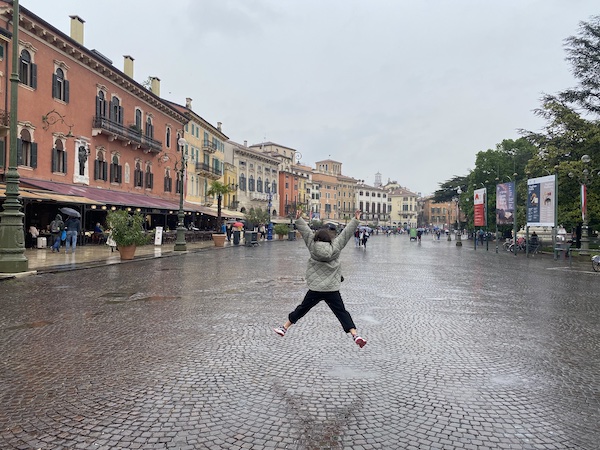 The large space is perfect for them to move around freely and safely and the green area in the center has a pretty fountain with sprinkles the kids may like.
While there is no playground here, this is a first nice stop for them.
Top tip: besides the Arena, you find the Verona Info Point and I highly recommend you visit. Here, you can collect a free map and scavenger hunt for kids that will help keep them engaged while sightseeing. You can do the scavenger hunt in your own time: once completed, you can go back to the info point and collect your 'city explorer certificate' and a little gift!
If you wanted to visit the arena, you will have the time to do so, on a day in Verona with kids.
If you only want to see the arena, you can book skip-the-line tickets here.
If you also intend on seeing more ticketed attractions (we didn't; see the rest of the itinerary), you may consider getting the Verona card instead, which we studies here >>> is the Verona Card worth it?
After a visit to the Piazza Bra and the Arena, I recommend you cross the city center towards Castelvecchio and Castelvecchio Bridge, a scenic bridge and a famous Verona landmark.
Lunch
For lunch, we had planned on having take-out focaccia in La Figaccia, which came highly recommended.
However, La Figaccia only does take out and since the rain was pouring on us, we saw it but then decided to find a standard restaurant (their focaccia looked indeed delicious!).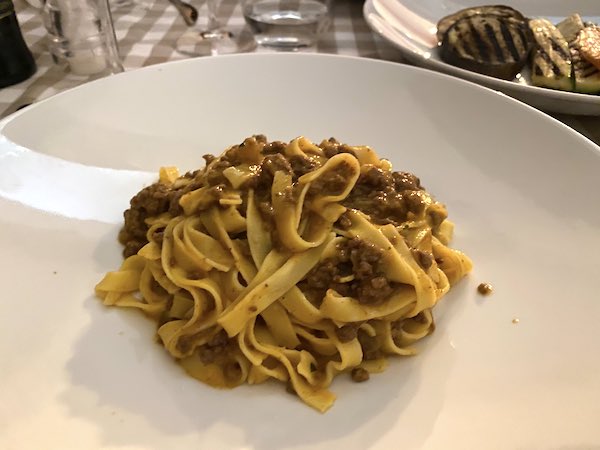 We ended up having a lovely lunch just in front of Castelvecchio Bridge.
Here, you find several nice restaurants and we chose and liked La Cantina del 15, where we had a delicious and reasonably priced lunch.
The restaurant caters to kids with smaller portions and highchairs however, the main room is down a flight of stairs: it may be worth booking in advance to secure a table on the street floor if you have a stroller.
Afternoon in Verona with kids
After lunch, we mulled over the idea of visiting Castelvecchio yet eventually decided to skip it and explore the city instead.
If you wanted to go in, you could get tickets on the spot or secure your place in advance by booking here.
Crossing the Castelvecchio Bridge was one of Verona's highlights for the kids and us.
The bridge crosses the wide Adige River and it is an impressive construction that looks and feels like a castle.
Its two tall sides have perfectly preserved battlements, and the views over the castle and the river are out of this work beautiful as the bridge is very high.
Since the Adige is safe for boats, we also watched people navigating on it and spent ages watching local families walking their dogs on the small pebbly beach on the far side of the river.
Since it was raining, we didn't get too close to the water but this struck us as a lovely, green and fun area to relax with the kids in the good season!
After the Castelvecchio bridge, we walked back into the city center and saw more of Verona's main attractions.
We saw:
Porta dei Borsari: an impressive city gate, still standing (no photo as there were restoration works while we went and it was partially covered)
Piazza delle Erbe: this was our favorite spot in the whole of Verona!
Piazza delle Erbe is the medieval city market and it is a large piazza still now hosting traders and stalls.
The piazza itself is stunning, entirely surrounded by ancient buildings, frescoes and towers, and the stalls and shops are fun to see with kids.
We got some lovely leather items in one of the market stalls for a reasonable price and the kids had a blast just looking at the colorful masks and trinkets on show.
Casa di Giulietta (Juliet's House): Juliet's House is maybe the most visited landmark in the whole of Verona, so we decided to have a peek to see what the fuss was all about (I had seen Letters to Juliet and didn't want to miss it!).
The house is in the city center and very easy to find mostly due to the insane lines outside of it that make it impossible to miss!
The line, despite being long, moved very fast and we quickly found ourselves in the famous Juliet's Courtyard, which is lovely.
Access to the courtyard is free and this means that the places is simply packed – so much, that you can just about see it.
The famous balcony is just above you and it is pretty: you will see a stream of visitors from inside the house leaning there for their turn at a selfie; however, if you have a bit of patience you may be able to snap a nice photo without anyone looking down.
The crowds however were too intense for us and the balcony was as much as we were willing to put up with it: to give you an idea, the courtyard was so busy we couldn't even see the famous Juliet statue!
I couldn't help but think that a better organization would easily solve the issue but, due to the lack of it, we left.
If you want to visit, I highly recommend getting tickets in advance and I would also suggest expecting crowds anyway.
Since the courtyard is very small, free and you need to pass it to enter the house, even ticket holders find themselves in a jam of people looking at the balcony and the museum shop.
Make sure you brace for busyness.
Personally, unless your kids have studied Romeo and Juliet in school or you want yourself to visit this sport, I do not feel this is a stop worth adding to your day in Verona with kids.
Top Tip: an alternative way to tap into the story of Romeo and Juliet while in Verona is to visit the crypts of San Zeno church. this is where the lovers got married and it happens to be in a lovely neighborhood, much quieter and less touristy than Piazza Bra and Juliet's House!
Arche Scaligre: Arche Scaligere are the tombs of Verona's ancient rulers and they are a fantastic site, one of my personal favorite with Piazza delle Erbe.
They are very elaborate, beautiful sculptures and while they are unlikely to pique the kids' attention much, they are so impressive, that they will get a wow from them!
Arco della Costa – Arco della Costa is one of the many arched in Verona and is fun for kids to see since from its top hangs a whale bone! A fun thing to get them to spot while sightseeing.
Dinner in Verona with kids
For dinner, we had been recommended La Botega della Gina (Via Abramo Massalongo, 5) which has legendary tortelloni and the kids can watch the pasta being made!
Unfortunately, it was closed on the day we were there so we ended up in a local pizzeria instead, which was nice but unmemorable (the kids, however, loved it and it also served kids' cotoletta (fried chicken breast)!
Finding family-friendly dinner in Verona however was very easy: in the city center, there are infinite places and they all welcome kids: being very used to tourism, we even notices many restaurants with actual kids' menus, something rare in Italy!
Other things to do in Verona with kids
Our day in Verona with the kids was heavily skewed towards sightseeing but there are also other things you can do in Verona with kids and which I learned thanks to a lovely local mum in my Facebook Group Visit Italy with kids (if you are not in it, request to join it by clicking here, it's free and full of lovely, well-informed parents) as well as my own research.
Escape the rain and play in Verona Children's Museum – a good option for a rainy day, this is a new, small museum for kids to play and learn by doing. Find info here
Castel San Pietro – lovely to catch views over the city. If the kids are good walkers, you can hike up the hill or you can take Funiculare (cable car)
Verona Archaeological Museum and Roman Theater – The Roman Theater is not the area (the Arena is an amphitheater and it is in Piazza Bra) is another good place to visit with kids who love history or o a rainy day.
The museum offers regular activities for kids but check their schedule for language and exact times.
Take a Family Scavenger Hunt with Macaco Tours – Macaco Tours is an organization we discovered while visiting Venice with the kids and we loved it.
They organize kid-centered scavenger hunts and they are brilliant: very informative and fun, they strike the perfect balance between information and fun. They now also offer activities in Verona: see what they offer by clicking here.
What to eat in Verona with kids
Eating out with kids in Verona is easy, even easier than in the rest of Italy!
The city has a very high number of restaurants in the city center and we noticed many had a mix of local specialties, pizza and German/Austrian fare (there is Schnitzler and potatoes pretty much everywhere).
While our kids loved pizza and fried meat and chips, adults may prefer to indulge in local specialties which include polenta, tortellini, risotto, or meat with Amarone sauce (delicious local wine) and gnocchi.
You can read here >>> all about Italian regional food.
Children's guidebooks and Verona resources for kids
We visited Verona with kids in our own time but we had some lovely guidebooks and maps for kids that helped to make our day fun for them as we all as us!
Verona resources for kids we recommend are:
Verona map for kids by Italy for kids, available on Amazon.it
La Pimpa guide to Verona, also available on Amazon.it (it exists in Italian and in English)
Things to do near Verona with kids
Fantastic places to visit near Verona with kids are:
Lake Garda and its many pretty child-friendly towns
Gardaland, maybe the best amusement park in Italy
Venice, always magical for all ages! Read here >>> how to plan a stay in Venice with kids
Family guide to Verona with kids: pin this!