Visiting Bologna with kids: all you need to know (and why you'll love it!)
A practical guide to help you plan a family trip to Bologna with kids: where to stay, where to eat, kid-friendly attractions and practical tips for parents.
Bologna is beautiful, dynamic, culturally rich and one of the best cities to visit in Italy with kids.
Famous for outstanding food and an ancient university, Bologna has a beautiful historical city center, nice green spaces, fabulous museums for kids.
It is stroller friendly, a rare quality, when it comes to ancient Italian towns!
Bologa is also very well connected to the rest of Italy, making it an ideal stop if traveling the length of Italy.
In a strategic position in the Emilia-Romagna region, Bologna is served by high-speed trains connecting it to all other major Italian cities, it has good connections to the coast and it is close to many fascinating small towns and the Italian food valley, which you can visit for the day.
We have been to Bologna with kids several times, the last one this winter, when our kids were 10 and 11.
We really enjoyed it!
We found Bologna to be a pleasant, beautiful city and we discovered several fun activities for kids that made it a fun place for a weekedn.
We have spent some time in the city but also made the most of its location to explore nearby Ravenna and Maranello car museums, which are two of out most successful recent excursions as a family (we all loved both places!)
Our trip was so successful, that I now recommend a long weekend in Bologna to anyone looking for a slightly different yet fun and fascinating place in Italy to explore on a multigenerational trip.
These are our top tips for visiting Bologna with kids.
Please note: this post contains affiliate links. Should you make a purchase through them, we might make a small commission.
Why visit Bologna with kids
There are many reasons why it is worth visiting Bologna with kids:
Bologna's food: Bologna has outstanding food and family-friendly restaurants that do justice to its reputation as food capital of Italy
Bologna has a beautiful historical center with car-free areas easy to explore with kids
Bologna is stroller friendly and mostly flat – the walk under the porticoes is lovely and even has a smooth surface, perfect for wheels!
Bologna has several nice kid-friendly museums
In Bologna, you find FICO, Italy's Food Theme park, with plenty of options for kids, including workshops and farm animal encounters.
Bologna is safe, well-organized and easy to navigate.
Bologna has great train connections that make it easy to reach by plane, car, and train.
Bologna with kids: atmosphere and vibe
One of the things we enjoyed about Bologna was its peculiar vibe.
The city is the seat of the oldest university in Europe and it still maintains a lovely university-town feel.
As you walk in the city center, the atmosphere is relaxed and safe, with students cycling around town or relaxing at one of the many cafes and trattoria in town or in the city's green spaces.
The main asset of the city center is medieval, which means you find yourself walking along small streets suddenly opening onto beautiful piazzas and you have plenty of churches and fabulous palazzi to explore.
Good to know: Bologna is famous for its lovely porticoes, that grace many of its city center cities. Bologna's porticoes are so unique, they are now UNESCO World Heritage!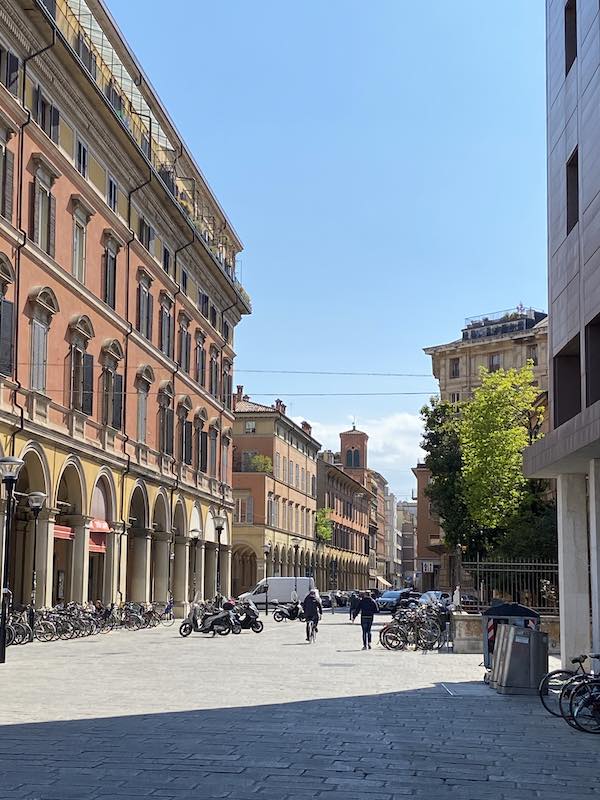 The best things to do in Bologna with kids
It took us a lot of research to find fun things to do in Bologna with kids as we found the information available often out of date. It was a great surprise, however, to discover the city had so much for families!
These are our favorite things to do in Bologna with children.
Climb up Torre degli Asinelli
Torre degli Asinelli (lit. Little Donkey's Tower, although Asinelli, in this case, is a surname) is one of the main landmarks in Bologna.
Located in Bologna city center, it is just beside Bologna's other impressive tower, La Garisenda: together they give Bologna one of its many nicknames: 'Turrita' = 'towered'!
Torre degli Asinelli is open to visitors: if you have the energy and are not afraid of heights, you can climb up its 498 steps and be rewarded with stunning city views!
Access to the tower is by reservation only, you can >>> Book your tickets here <<<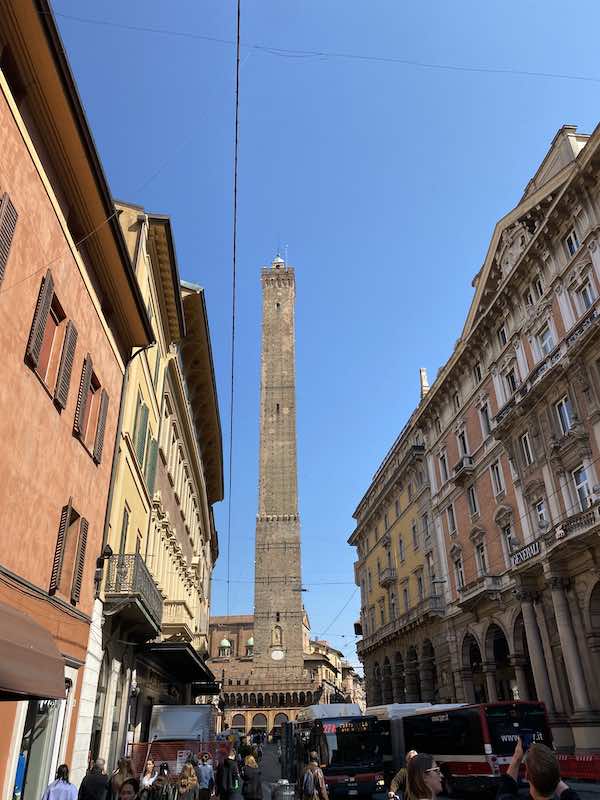 Opening hours:
Every day, from 10.00 to 5.15pm (17.15), four entrance times per hour, every 15 minutes (.00, .15, .30, .45)
Fun fact: Torre degli Asinelli dates back from the XIII century and it is a leaning tower! While not as famous as the leanign tower of Pisa, you can clearly see that the tower is not straight but leans at a 1.3 degrees angle!
Spend an afternoon in Sala Borsa (toddlers and small kids)
Sala Borsa is the children's area of Bologna historical library, conveniently located on Piazza Nettuno, the heart of Bologna city center.
In Sala Borsa, you find a large, pleasant space with tons of books for kids (several languages), a space for little ones to play, free wifi for the parents and good restrooms with changing station.
There is also a pleasant cafe.
The Sala has air conditioning in summer and heating in winter, and it is one of the best places in Bologna for kids on a rainy day, for a diaper change stop or to escape the heat in summer.
The library regularly hosts activities for kids and it is, therefore, also a fantastic place to meet other families and local children.
Address: Piazza del Nettuno, 3, 40124 Bologna BO, Italy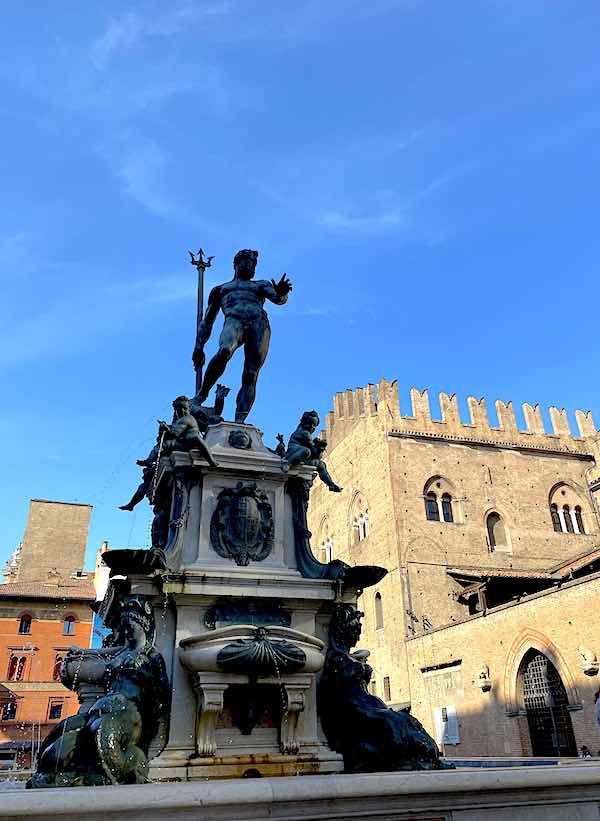 Try out the 'medieval phone' in Palazzo del Podesta' in Piazza Maggiore
Piazza Maggiore is a stunning and large piazza in Bologna city center with some of Bologna's main landmarks.
Here, you and your kids can see the beautiful Nettuno Fountain, the beautiful Church of San Petronio (get the kids to notice the unfinished facade!) and Palazzo de Podesta', the first seat of Bologna City Government.
Palazzo del Podesta' hides a secret that kids will enjoy:
Get them to find Voltone del Podesta', the arch that connects the older part of the palazzo to the new one.
Then, get them to face one of the corners, place yourself in a faraway one and whisper into the wall: the peculiar acoustic of the place means you'll hear each other, even if speaking incredibly softly!
This special effect was created on purpose by the architects of this place.
The idea was to help untouchable people (people with leprosy or the plagues mostly) to be able to confess to priests without getting too close and put them at risk.
Local calls this place 'the Medieval phone'
Address: Piazza Maggiore, 1, 40124 Bologna BO, Italy
Explora Bologna with City Red Bus and San Luca Express
A fun way to explore Bologna with small kids especially, is by joining a bus tour of the city with an audioguide.
The tour is a relaxing way to see the city's main landmarks and understand the lay of the land and works well for those days when walking is not on the cards!
The tour is particularly fun for small kids if you combine it with a journey on the San Luca express, the small train that brings you all the way up to the Sanctuary of San Luca, overlooking the city.
This is a lovely, kid-friendly activity to get an overview of Bologna before getting deeper into local exploration.
You can find here >>> info, prices and tickets <<<
Fun fact: The sanctuary of San Luca is connected to the city center by a long portico with over 600 archways, the longest in the world! Together with the other porticoes in the city, it entered the UNESCO World Heritage Site list in 2021.
See Bolonga's secret canal view (finestrella)
Bologna is not a city on water.
However, there is a fun spot in Bologna city center from where you can see a canal, with houses right onto it, which will make you think you opened a window over Venice!
The spot has become very popular because of Instagram so it is not quite as fun to find and hidden anymore – we saw the line before the saw the thing itself!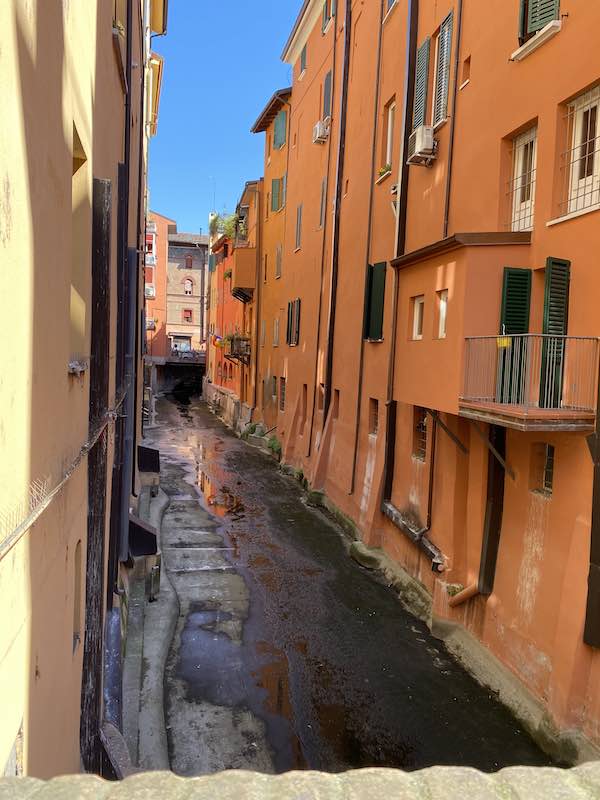 However, it is a nice thing for kids to seek out and will get a wow out of them if they don't expect it.
Address: Via Piella, 16/a, 40126 Bologna BO, Italy
Need to know: unfortunately, last year Bologna and its area experienced a terrible drought that caused many problems to the area. This also affected the view from 'finestrella', which opened up on a fully dry canal when we went. This was disappointing for us but even more than that, worrying as it showed how hard the draught affected the region. While we hope this was a random occurrence, maybe don't get the kids too excited about this, should the canal be dry again when you visit.
Discover why Bologna has so many nicknames
Bologna has many nicknames, more than almost any other city in Italy?
People call her:
Bologna La Dotta (the Erudite) – because of its famous university, the first in Europe, founded in 1088
Bologna La Grassa (the Fat) – to highlights the city's outstanding food
Bologna La Rossa (the Red) – a nickname coming from the color of many of its buildings, but also for its history as a center of the Italian left in the post-war period
Bologna La Turrita (the towered one) – because of the over 100 towers that characterized its landscape – you only see two, but they are breathtaking!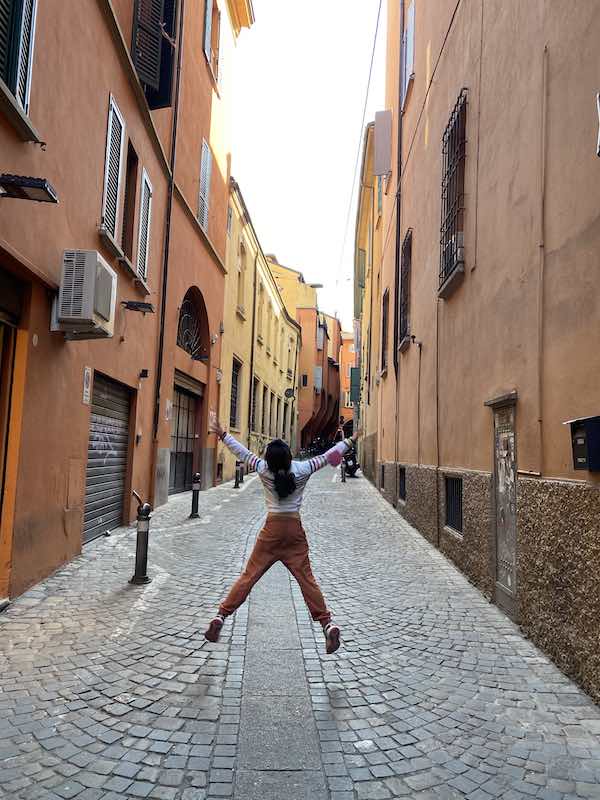 Relax in beautiful Giardini Margherita or Parco della Montagnola
Bologna has two larger green spaces in the city that are great for spending time in the fresh air with kids.
Giardini Margherita is a large public park to the south of the city and a very popular place for local families to hang out, have picnics, cycle, relax and do sports at weekends especially.
Here, you find large green areas, kids' play area, a pond with turtles and several cafes and food spaces for snacks and gelato.
Parco della Montagnola – at the opposite end of town from Giardini Margherita and close to the station, this is another green area where you can take a break from the city's busy streets.
The park has a large monumental staircase our hotel receptionist definite as 'similar to The Spanish Steps in Rome' (As a Roman, I'd say: not quite! But indeed a good way to identify the park!) and is pleasant.
The park has a kids' play area and while it wasn't particularly well kept when we went, it works well for a short play break in the station area.
See a dinosaur in Museo Cappellini
If you have a child who loves dinosaurs and fossils, then you should bring the paleontology section of Museo Cappellini.
Here, they can see a fabulous model of a diplodocus, so big, it is sure to make an impression!
Address: Via Zamboni, 63, 40126 Bologna BO, Italy
Visit Bologna's Archaeological Museum (Egyptian section)
another cool place to visit in Bologna with kids is the Egyptian section of the city's archaeological museum, where they can see Egyptian statues, sarcophagi and artifacts.
On the upper floors, you also have interesting exhibitions about the story of Bologna and its area.
A good address for a rainy day in Bologna, especially for slightly older kids who enjoy a traditional museum setting.
Address: Via dell'Archiginnasio, 2, 40124 Bologna BO, Italy
Pop into the Archiginnasio
Bologna's Archiginnaiso is the original seat of Bologna's university and it is a cool place for kids to pop into a couple of minutes if strolling nearby.
As you enter, you find yourself in a stunning medieval sister with incredible frescoes: even small kids will marvel at how numerous and elaborate they are!
Address: Piazza Galvani, 1, 40124 Bologna BO, Italy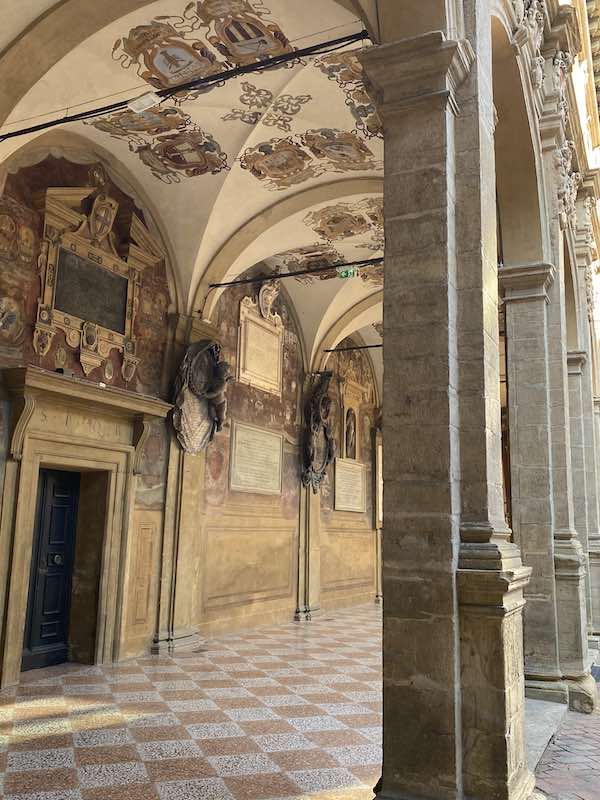 Have fun in the delicious Gelato Museum
The Gelato Museum of Bologna is immediately outside the city and it's great for kids!
The museum has exhibits about the history of gelato but, even better than that it has labs, workshops, and hands-on activities for kids, all gelato themed, and includes a gelato class!
Of course, there is plenty of gelato to be had too.
You can find info and tickets, schedule of family experiences and how to get there on the >> Gelato Museum official site <<<
Spend a day in Fico and its kid-friendly Luna Farm
Bologna is the food capital of Italy so it will come as no surprise to hear it is also the place where you find the first Food Theme park in Italy: FICO by Eataly!
FiCo is a large, exhibition and commercial space entirely devoted to food.
Here, kids and adults learn where food comes from, how it is transformed into products we know and enjoy and of course you find plenty of opportunities to taste foods of all kinds!
The theme park has plenty of areas for kids and offers: 30 play and sport areas with toys, rides, crazy golf and multimedia attractions. 13 labs showing the making of parmesan, mozzarella, mortadella and more; 13 restaurants with specialties from different regions; a market for authentic Italian food souvenirs; classes for the whole family to learn to make pasta, pizza, gelato and more; Lunafarn amusement park for kids.
You can find here >>> Info and Tickets to FICO Food Theme park <<<
Where to stay in Bologna with kids
We stayed in an excellent family hotel called Starhotel Excelsior, a beautiful and large 4-star hotel, just across the road from the train station.
The hotel is in front of the train station (excellent for day trips) and a short walk from the city center, most of which under Bologna's famous porticoes.
The hotel is excellent for families as it has large family rooms, a great breakfast buffet (kids eat free), a cafe and restaurant on site and all the facilities you expect from a large international, four-star hotel.
We loved our stay and would stay again.
The location worked particularly well for us, as it placed us close to the center, the university area (lovely for an evening meal especially) and the train station.
Where to eat in Bologna with kids
Bologna has food everywhere; when I say everywhere, I mean you cannot walk a meter without encountering a restaurant of some kind!
Some that stood out for us were:
Sfoglia Rina (lunch, early dinner) – outstanding! Family-friendly, informal pasta restaurant and shop with menus for kids and adults. Everything is excellent, and a special mention goes to the tortellini, the lasagne and the jam crostata.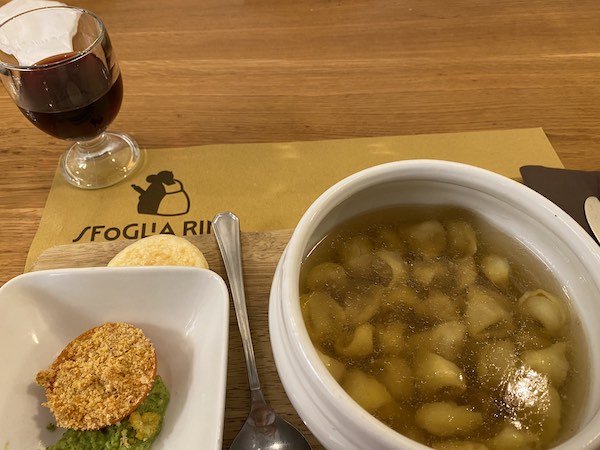 At lunchtime, the queue can be long but later i the afternoon or for a very early dinner, we found no lines.
05l – a great aperitivo place with indoor and outdoor seating, close to Piazza Maggiore, in the street filled with tables and eateries. Crowded but delicious
Osteria Bentivoglio – traditional restaurant and jazz bar, with great food and a nice family friendly atmosphere. Music starts at 9pm downstairs and you can stay on the ground floor and have a quieter dinner.
We noticed many families with children on both floors as the atmosphere is relaxed and the music not too loud (I wouldn't have a sleeping bay close o the live band but our primary school kids loved it!)
VaMoLa – nice restaurant in a bookshop-style/ reading room setting, with nice traditional food and a relaxed atmosphere, good also for children.
Berbere – a great pizza address, especially for specialty pizza light their super light hydrolysis dough, super easy to digest as made with no yeast
How to get around Bologna
Bologna city center is easy to discover on foot and stroller friendly.
The city street train is the best way to reach San Luca with kids.
Local buses can bring you to the gelato museum and you can reach FICO with the FICO shuttle, which you can board by showing your entrance ticket.
Bologna train station is huge and has an underground area with high-speed trains and street-level tracks for regional trains.
More things to see near Bologna with kids
If you have a car, there are several child-friendly attractions near Bologna you can visit. Some popular ones include:
Capriolandia adventure park is active kids' heaven with treetop trails, ziplining, climbing areas, mountain bike trail orienteering, etc
Dinosauri in Carne ed Ossa – a fun dinosaur exhibition in San Lazzaro di Savena, about 20 mins drive from Bologna
Mirabilandia – one of Italy's best and biggest theme parks, about 1h from Bologna
Villaggio della Salute Più waterpark of Monterenzio, about 1h from Bologna
Italia in Miniatura – A little over 1h by car from Boonga, you have Miniature Italy, a super fun park for small kids to see the whole of Italy in small models that make you feel like a giant!
Car lovers should also make the most of a stay in this area to visit the excellent Ferrari Museums and Lamborghini Museum, in the Modena area, yet easily accessible from Bologna by train + shuttle or car.
Visiting Bologna with kids, tips for parents: pin this!