Rome with a baby: all you need to know to plan your stay (tips by a local mom!)
All you need to know to plan a trip to Rome with a baby: baby-friendly hotels in Rome, how to visit Rome's main attractions with a baby, tips on strollers, carriers, baby essentials and more! 
Planning a visit to a large city such as Rome with a baby can be daunting.
A city famous for museums, ancient sites and cobbled streets may seem hard with a little one and what you may have read online may have scared you off.
However, Rome is family-friendly; all it takes to enjoy Rome with a baby is getting equipped with the right tips. That's why I am here!
I am a Rome mama and love helping people plan a stay in my beautiful hometown.
I love taking away some of the fears that may be connected to a first city trip with baby, helping you pick baby-friendly accommodation and tours and setting expectations so you make the most of your family stay.
In this guide, I share my best tips for visiting Rome with a baby, including accommodation, mobility and tips to visit Rome's top attractions with a baby in tow.
If you want to discover more, I recommend you also check out my Rome website, which is packed with even more info and advice to plan all aspects of your stay!
Find it here >>> Mama Loves Rome – A local Mama's Guide to the Eternal City.
Safe travels!
Please note: this post contains affiliate links (marked by a *). Should you make a purchase through them, we might make a small commission at no extra cost to you.
Why visit Rome with a baby
If you are questioning whether you should be visiting Rome with a baby or wait until they are older, I recommend you go now!
There are some of the reasons why:
Rome is one of the most beautiful cities in the world and you can easily experience its top attractions with your baby in a carrier.
Rome is easier with a baby than with a toddler, who is likely to be less able to handle museums and attractions (i have tips for Rome with a toddler too, find them here!). 
Rome has lovely baby-friendly hotels and apartments. 
Medical help in English is readily available (I know having access to doctors is essential for my peace of mind!)
Rome restaurants are family-friendly and babies are welcome everywhere
Rome has lovely parks and green areas for baby-friendly strolls 
Rome has tons of free attractions, so you don't have to stick to a strict plan and can enjoy it while working around your baby's schedule
Why not visit Rome with a baby
The main challenges you may encounter in Rome with a little one are:
Rome is a large city with lots of people and traffic, so it is only suitable for families who like urban destinations. If you are looking for quiet, slow-paced and mellow, Rome is not it! 
Diaper changes in Rome require some creativity as there are few baby-changing stations to be found (see below for tips on how to handle this)
Rome is oppressively hot in summer, to the point of being dangerous for little ones. In July and August, a hotel with a pool is paramount. 
Aside from this, there is no need to skip Rome if you have a baby and I hope my tips below will help you see why!
Essential tips for visiting Rome with a baby
These are my best tips for a baby-friendly trip to Rome!
Bring a carrier and a stroller
In Rome, you want to have both a carrier and a stroller.
The carrier is invaluable in most museums, the Roman Forum and underground attractions. It is also essential if planning on using public transport. 
The stroller is an absolute must in Rome because no matter where you stay, you will walk a lot!
I hear parents worrying all the time about Rome not being stroller friendly because of the cobbles but trust me: even if you will have moments when the cobbles will get in the way, having a stroller will be essential to avoid exhaustion. 
Only parts of Rome have cobbles, many are flat and smooth, and it is invaluable to not have a baby on you all the time!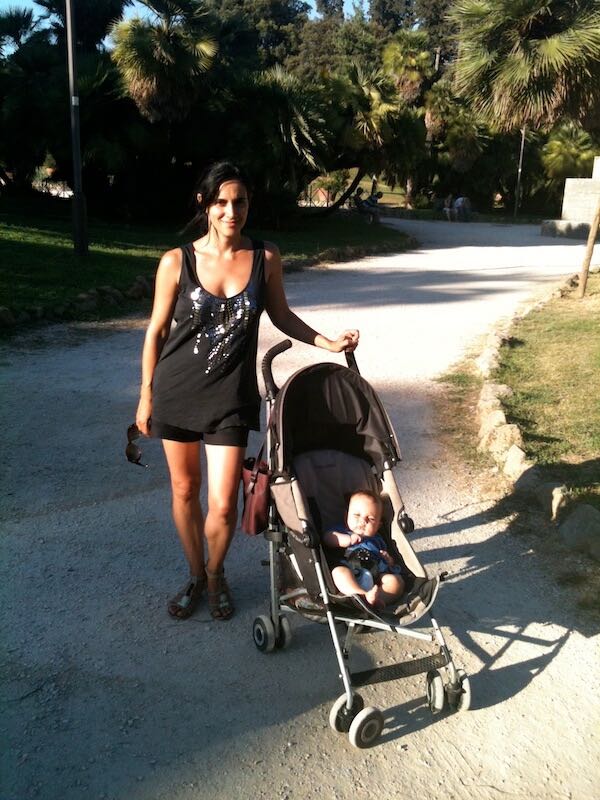 The best baby carriers for Rome
The best baby carrier from Rome are soft-structured and semi-structured ones.
These are the least problematic in museums (hiking carriers with metal bars are often not allowed); if you can, I highly recommend opting for a summer one if going in the hot season (June- September) to avoid overheating.
You can find here >> my recommended baby carriers for Italy.
The best strollers for Rome
The best stroller for Rome is the one you already have!
What I mean with this is that unless you have a very flimsy stroller, you really do not need to invest money in anything specific for Rome.
As long as your wheels are sturdy, you are good to go! You can find here >>> my recommended strollers for Italy travel
Stay in a baby-friendly hotel in Rome
Rome has several lovely baby-friendly hotels that are well located to visit the city but also equipped with facilities that will save you from carrying your own equipment across the world.
Good baby-friendly hotels with baby cots (on request) and baby services include: 
Best Western Rome President* – a baby-friendly hotel in Rome city center offering cots, changing station, baby bottle warmer, baby bathtub, a high chair, stroller rental (please ask for age suitability), and laundry service. 
Starhotel Metropole* – Starhotels are one of my favorite hotel chains regarding baby family facilities. In particular, this one hotel is great for babies as it offers (on request) cribs/ cots, playpens, changing table, bathtub tray, bottle warmer, high chairs, and stroller (please double check age suitability of the model available)
Best Western Spring House* – (Vatican area). This hotel has good services for families with babies such as cradle/ cot, bottle warmer, baby bathtub, changing station, and strollers available (please check age suitability as now all may recline flat). A babysitting service is also available.
Hotel de Russie* – hotel de Russia is one of the best five-star hotels in Rome and a city institution, having been the hotel of choice of illustrious guests for well over a century. 
The rooms come with baby cots and bedding, baby lamps, mobiles and play mats (on request), baby bath products, baby hooded towels, anti-slip mats, and changing station essentials available upon request. Baby crockery, bottle warmers, high chairs, etc, available on request.
Know where to buy baby essentials in Rome
Rome has all you may need for baby, from grocery shopping to medications and bigger baby items.
In particular, you can get by essentials in Rome:
In supermarkets – Rome has many supermarkets, all over the city. Depending on where you are from, you may find Rome supermarkets to be just like those back home or much smaller.
In either case, however, they stock essentials such as food but also baby diapers, swimming diapers, all baby changing essentials (baby wipes, bath essentials, baby oil, etc), formula and weaning products.
Please note: Italian supermarkets do not sell medications or over-the-counter ones. For those, you need to get to a farmacia, see below).
Popular supermarkets in Rome include Carrefour, Conad, Coop, Todis, GS, Lidl.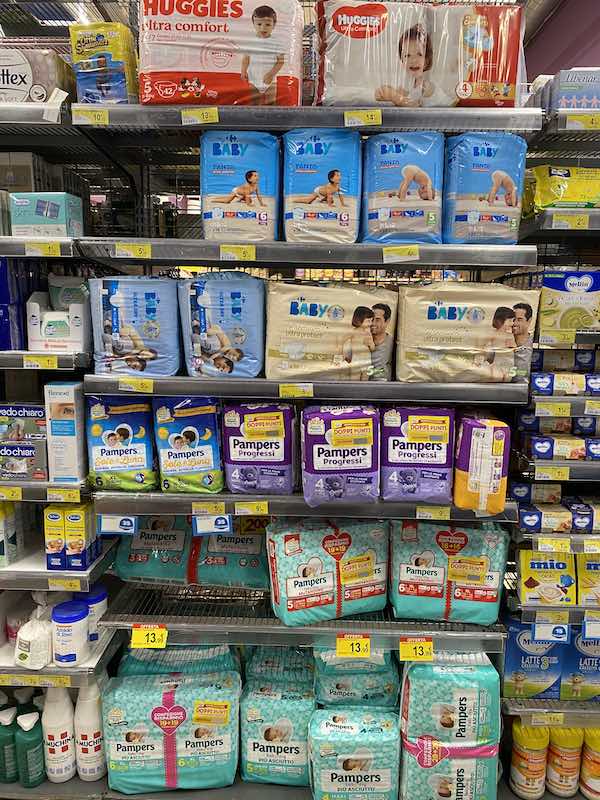 In Farmacie – Pharmacies are your go-to shop for higher-end baby products, allergy-friendly products and baby medications. They are everywhere, and those in the city center also tend to have English-speaking staff.
Useful ones in the city centers are:
International Pharmacy, Piazza Barberini (Trevi area)
Farmacia del Senato, Corso del Rinascimento, 50 (Navona area)
Termini station: two pharmacies, one on the main floor and another one upstairs
As well as these, you will also find many smaller shops in Rome selling anything from food to diapers. The main thing to be aware of is that shops in Rome tend not to be open 24/7: I recommend getting hold of your essentials during the day.
If you need everyday clothing, you can find many good options, especially in the city center. 
Good and not overly expensive baby shops in Rome are:
Chicco stores – several locations
Prenatal stores – several locations
Oviesse OVS – Italian, budget chain stores perfect for everyday baby clothing, several locations
Zara Kids – several locations
H&M – several locations
Du Pareil Au Meme – French baby and children's store, several locations
Original Marines – several locations
Baby boutiques: independent shops, usually in residential areas
Good to know: Chicco and prenatal stores are your go-to shops for larger baby items such as prams, car seats etc. They have several stores in different parts of Rome an online shopping options.
Know where to find medical help in Rome
It is always helpful to know where to turn for a medical opinion. 
In Rome, for non-urgent medical care you can ask your pharmacist or use a service such as DoctorsinItaly
Call 118 (ambulance) for urgent medical care or head to the nearest hospital.
Know where to find playgrounds and gardens
Rome has many playgrounds and gardens that are great for a break from the hustle and bustle of the city.
Among the handiest ones are those in Villa Borghese Gardens, Oppian Hill and Castes Sant'Angelo.
You can find here >>> list of best Rome playgrounds close to Rome's main attractions. 
Go to Explora Children Museum for playtime
For those days when your baby needs playtime on the floor, the best place in Rome is Explora Children's museum.
While a little pricey if only using the baby area, Explora is an excellent place for them as they have a soft play area and great facilities (including restrooms and a child-friendly restaurant), perfect for a day when the baby is the center of attention. 
Find their site here (it's a great place for a rainy afternoon!)
How to visit Rome main attractions with a baby – Baby friendly tours of Rome
Visiting the Colosseum with a baby – the best way to visit the Colosseum with a baby is by having them in a baby carrier.
The Colosseum is organized in different parts, with tickets allowing access to only some or all areas.
Some of these are pram accessible; however, the uneven terrain and nature of the attractions make it much easier if you are baby-wearing.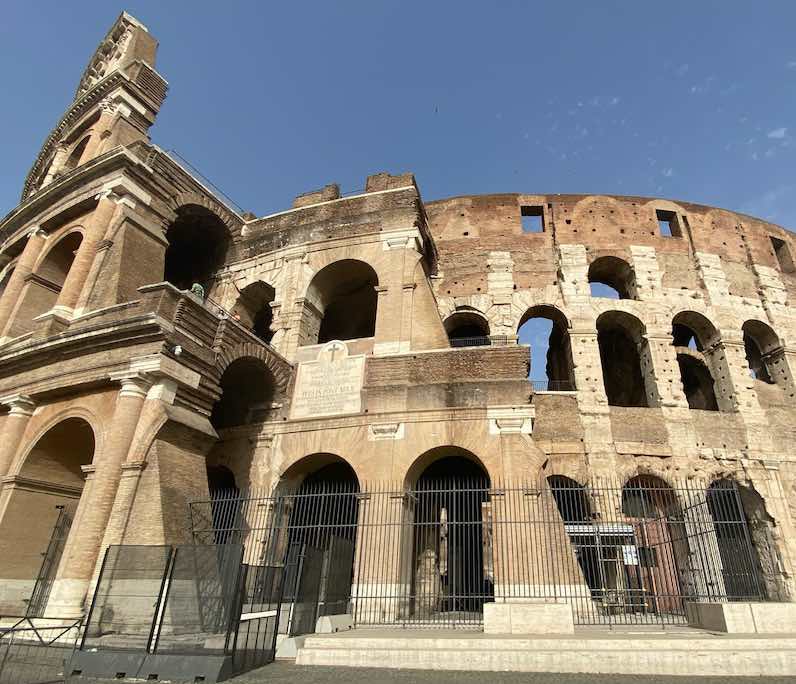 You can choose between several baby-friendly tours.
The one I recommend is Express Colosseum Tour by LIvTours* – the reason why I love this one is that it is short enough, should your baby start fussing, and that it is carried out for the most part in a small group of up 6 people maximum, a size that allows the guide to cater to the needs of everyone. 
Should this be out of budget, an excellent way to visit the Colosseum is also by getting tickets from the official concession Coopculture.
The tour is not for families but it is the cheapest (no middleman) and good. If you have your baby in the carrier you'll have no problem following its pace. 
I do not recommend joining these tours with a stroller however, some allow them:make sure you read the small print as this changes by provider and specific area visited.
Need to know: babies enter the Colosseum for free but they do need a ticket. Make sure you get one in their name when booking.
Visiting the Vatican Museums with a baby – The Vatican Museums are baby friendly in various ways. Families with little ones have priority when passing security lines. Inside the museums there are family areas to take a break, feed your baby etc.
However, the Vatican museums are also vast and very busy, so tacking them with a baby can be tiring (to be honest, the Vatican Museum are lovely but so big they are tiring even without a baby!)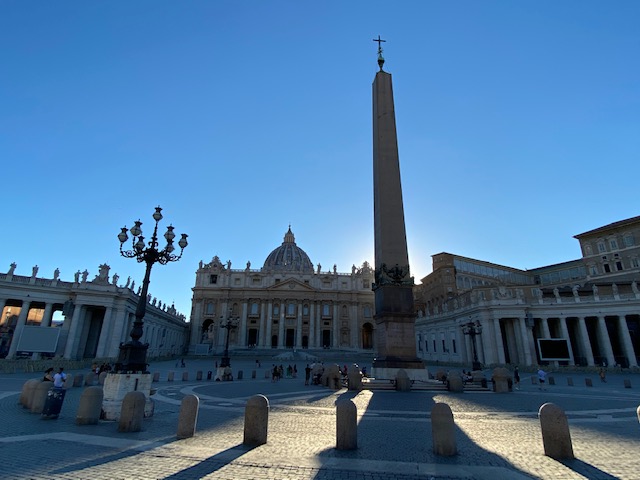 I find the best way to take them is :
On your own: if you are the type of family happy to take your time and want maximum flexibility to see what you want. You can get tickets from the Vatican Museum Site directly here
With an express tour: if you think your baby may only accept being in a museum for a short time and you want to make sure you see at least the Sistine Chapel! This is a good quick one by LivTours*.
The Vatican Museums are stroller friendly. I recommend a stroller if visiting on your own and a carrier if visiting with a group.
Visiting the Borghese Gallery with a baby: The Borghese Gallery is easy to visit because it is compact and has a large park outside.
Strollers are allowed for kids up to 2 years of age. You can get official tickets here.
Visiting Rome piazzas with a baby (Piazza Navona, Pantheon, Spanish Steps, Trevi Fountain) – Rome main piazzas are easy to see with a baby as they are outdoors and free to access.
The main piazza areas are stroller friendly; however, to be able to walk in the Spanish Steps or onto the Trevi Fountain, a carrier is best.
Getting around Rome with a baby
The best way to get around Rome with a baby is on foot.
Unfortunately, public transport in Rome is not stroller friendly and tends to be busy and unreliable: I only recommend using it if baby is in a carrier.
Taxis are an option in Rome but they do not carry car seats and do not require them.
For longer stretches such as the drive from the airport to the city center. I highly recommend you have your own car seat with you or book a private transfer with a company by baby seats: a good one is Welcome Pickups*. 
Restrooms and changing diapers in Rome: what you need to know
Rome is not well equipped with public restrooms and baby changing facilities, but don't despair!
The main thing you need to know is that all food establishments in Rome must guarantee restroom access to their patrons. This means that all it takes is to buy a drink at a cafe and you will be entitles to use their facilities.
In most cases, even without a purchase, they will help a family out by granting access anyway, although they don't have to, so it is best to ask nicely (Romans react much better to a smile than to a demand, even if granting the demand would seem common courtesy!)
In most cases, you will not find baby-changing facilities.
In that case, your stroller is your best friend!
If there is space, you can wheel it into the bathroom or, if not, it is common to discreetly change baby maybe in a park or similar and then use restrooms to wash hands etc.
If this is your first trip to Italy, you may find useful >> our guide to restrooms in Italy with lots of additional tips!
Eating out in Rome with a baby
Babies are welcome in Rome restaurants, the assumption being that they go where you go!
High chairs are hit and miss but many restaurants now have them and they are usually happy to help out with heating up bottles of baby food.
We have often used the stroller as a chair or have found useful to bring with us a packable one, to carry in the stroller basket.
I hop you found these tips to visit Rome with a baby useful. Safe travel planning!