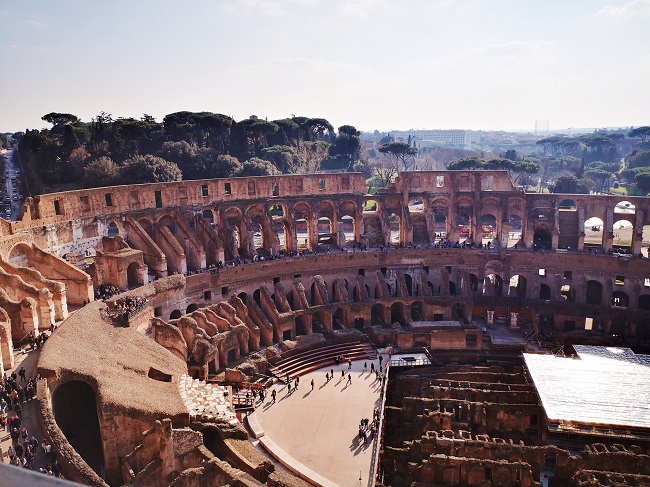 Visiting Rome with kids: all you need to know
Everything you need to know about visiting Rome with kids, by a Rome Mama! Best things to see in Rome with kids, best hotels and travel tips for visiting Rome with children.
I am a mama from Rome and there is nothing I enjoy more than playing tourist in Rome with my children, except talking about it and help others do the same!
I love helping people enjoying a family trip to Rome so much, I have a whole website dedicated to the city, a sister site to this one called 'Mama Loves Rome', with all my tips about visiting Rome with children and without.
I recommend you dive into that site for detailed Rome travel planning however, if Rome is a stop on a longer Italy itinerary, I also put together this family guide to Rome.
Here, you will find all my best travel tips for visiting Rome with kids and all the resources you need to plan your time in my beautiful town at best.
If you want even more personalized tips about visiting Rome with kids, don't forget you can also join my free Italy with kids travel group on FB: it is free and a great place for personal, tried and tested support from like minded parents planning time in Italy!
Please note: this post contains affiliate links. Should you make a purchase, we might make a small commission.
Family Travel Guide to Rome with kids: at a glance
Why visiting Rome with kids
Visiting Rome with kids challenges and need to know
The best things to do in Rome with kids
Best family tours in Rome
Best accommodation in Rome for families
Why visit Rome with kids
Rome is one of the most beautiful cities in the world and has a lot to offer to families.
Among the very many reasons to visit Rome with kids, these are some of the most compelling:
Rome has something for all ages. On a family trip to Rome, on any given day you can go sightseeing, enjoy toddlers playtime at the playground, engage school age kids in history, enchant teenagers with all the attractions of a big city and relax with amazing food and a glass of wine
Rome is like an open air museum where kids will be able to experience history as a living thing and not just a subject i history books
Kids in Rome will be able to see some of the most famous landmarks in the whole world like the Colosseum or the incredible St Peter's dome.
Rome has gorgeous parks kids will love
Last but not least, Rome is beautiful, it will be priceless to see the look of wonder in your kids eye!
Visiting Rome with kids: challenges and need to know
Rome is a large, busy city and a surprisingly chaotic one.
Some visitors embrace this messy side of it, others seriously dislike it and I find the best way to make sure you are among those that love it and not those that are overwhelmed by it, is to be prepared.
When visiting Rome with kids, important things to know are:
Traffic – Rome is a busy city and traffic can be overwhelming. Choosing accommodation in the city center (tips and addresses below) is the best way to minimize transport time
Cobbles – Rome's famous cobbled streets are hard for strollers. Make sure you are equipped with both a good stroller and a baby carrier
Crowds – Rome is crowded almost any time of the year. Advance booking of attraction is paramount and lines can be impossible with kids
The best things to do in Rome with kids
My favorite things to do in Rome with kids mix visits to Rome main attractions and landmarks and kid-friendly activities that are specifically designed for younger visitors.
Ancient Rome: Colosseum, Roman Forum and Palatine Hill
The Colosseum is the most iconic Rome building and the one most kids will know and recognize.
The Colosseum is open to visitors and lies beside the ancient Roman Forum and the scenic Palatine Hill, where Rome was born.
A visit to ancient Rome is the best possible thing you can do in Rome with kids and one they will never forget .
You can visit the Colosseum, Forum and Palatine hill on the same day (plan a full day) or on two consecutive days. Advance booking is mandatory and it operates on a timed-slots schedule.
The best tickets to visit the Colosseum with kids are:
The Rome Pantheon
The Rome Pantheon is another iconic Rome landmarks that is great fun to visit with kids.
The Pantheon is the best preserved Roman building in the world and has a special history and appearance. It dates from the the I century BC, when it was built as a temple devoted to all Rome's Gods and Goddesses and it has a peculiar round shape that makes it almost unique.
Dating back to ancient Roman times, the Pantheon is characterized buy a large hole in its roof, the so called Oculus, that allows you to see the sjy from inside.
Even better: when it rains, the water comes in and gets swept away by a clever draining system kids can see on the Pantheon's floor!
This is a great place to visit in Rome with kids and access is free too. No tickets necessary but you may have to queue to get in.
Piazza Navona
Piazza Navona is one of the most famous piazzas in Rome and it is wonderful for kids.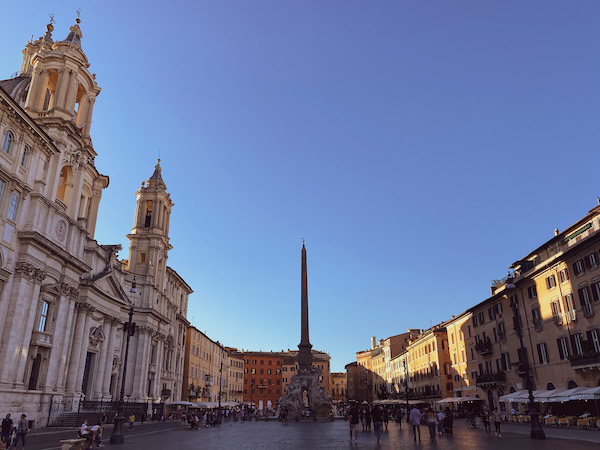 Little children will love the opportunity to run in what used to be an ancient Roman stadium and will marvel at the wonderful toy shop 'il Sogno' which is just at the side of the square (it has life size teddies!)
School age kids will love the history and legends about the piazza's fountains and the rivalry between architect Bernini and Borromini.
Before visiting, make sure you read all about Piazza Navona here and then let the kids loose asking them to find the statue at the center of the story. They will have fun and you will see one of the most famous sculptures in Rome!
The whole family will be awe struck by the beauty of the piazza, that can be enjoyed from the piazza floor or from the wonderful scenic rooftop terrace of Eitch Borromini, the elegant hotels overlooking the piazza.
No tickets necessary.
Villa Borghese
Villa Borghese is a large, beautiful park in the city center and one of the best places to visit in Rome with kids for a break from Rome chaos.
In Villa Borghese you have several playgrounds, the opportunity to rent rowing boats, bikes and go cars, there are merry go rounds and cafes and also the nice Rome zoo that while not very impressive, is lovely for small kids
Villa Borghese is in the center of the city and a short walk to the Spanish Steps: the two locations make for a perfect day in Rome for all ages!
No ticket necessary except for the Zoo.
Castel Sant'Angelo
Rome has one castle, Castel Sant'Angelo, which is absolutely wonderful for kids.
Perched beside the river Tiber, the castle has a lovely walk around its bastions offering sweeping views over the city, it has impressive ancient cannons and balls kids usually love to see and it also hides a secret: it has a secret passage connecting it to St Peter square!
the passage is called il passetto and it is still visible inside the castle and on the street nearby, but only if you know that it is there!
Access to the castle is ticketed, advanced booking is recommended but not always necessary: you can tickets on the official castle website here
Vatican City, St Peter's Basilica and Vatican gardens
The Vatican is a state withing the Italian state and it is located inside Rome.
Kids usually love to visit for several reasons.
First and foremost, the Vatican is an independent state so kids know that crossing into the Vatican square means they can add a country to the list of those they have visited!
Second, the Vatican is home to the biggest basilica in the work St Peter basilica so big it has marks inside to show where the others basilicas from finish!
Las but not least, the Vatican is so beautiful and monumental, kids will be swept way by the sheer magnificence of ti.
Places not to be missed are St Peter Basilica, St Peter Square, the Vatican Gardens and, with older kids, the Vatican Museums and Sistine Chapel.
Advdanced booking is mandatory: excellent sites are:
Vatican Museums Entry (official Vatican Site)
Vatican Garden Guided Tour (please check age restrictions: kids under 6 are only allowed on certain garden tours)
Family tour of the Vatican Museums and Sistine Chapel – pricey yet fabulous!
The Trevi Fountain / Fontana di Trevi
The Trevi fountain is one of the most famous and iconic monuments in the whole of Rome and kids usually love to partake in the activity the fountain is know for: throwing a coin in it!
The gesture is said to guarantee return to Rome and it is also a fun way to give money to charity: each day, the fountain gathers over 3000 euro and they go to feed the homeless!
Explora children Museum
When the children are in need for playtime or refuge from the rain, then there is no better place than Explora children museum.
Equipped with soft play areas for under 3s, several imaginative play areas for older kids and lots of interesting workshops to keep kids and teenagers entertained, it is a fabulous place when kids need a break from sightseeing.
You can find the official website here
This is one of the best places for children and an excellent, relaxing space for you if visiting Rome with a baby.
Welcome to Rome permanent exhibition
Welcome to Rome is a permanent exhibition that utilizes light technology to recreate 3D models of tome's most famous attractions.
It is a small enough museum but a great one to visit with kids as the light sculptures are really peculiar and educational.
The exhibition also includes a short film about the history of Rome that is great for kids and adults to learn about the timeline of the history of Rome, from the city's foundation up to now.
This is a great place to visit at the start or end of your trip as it will give you great ideas on what your children may be most interested in seeing or recall all the big attractions they have experienced during your Rome vacation. Tickets and info here.
Children classes and workshops
Rome has many structured activities for kids and two of the most fun we have tried are a pizza making class and a mosaic making class, two traditional Rome arts!
You can learn all about them in our reviews here (Rome pizza Class) and here (Rome mosaic class).
Looking for more ideas on things to do with kids in Rome? Find 50 of them here!
Best family tours of Rome
If you want to visit Rome with the aid of a guide, these are some family tours of Rome we found good.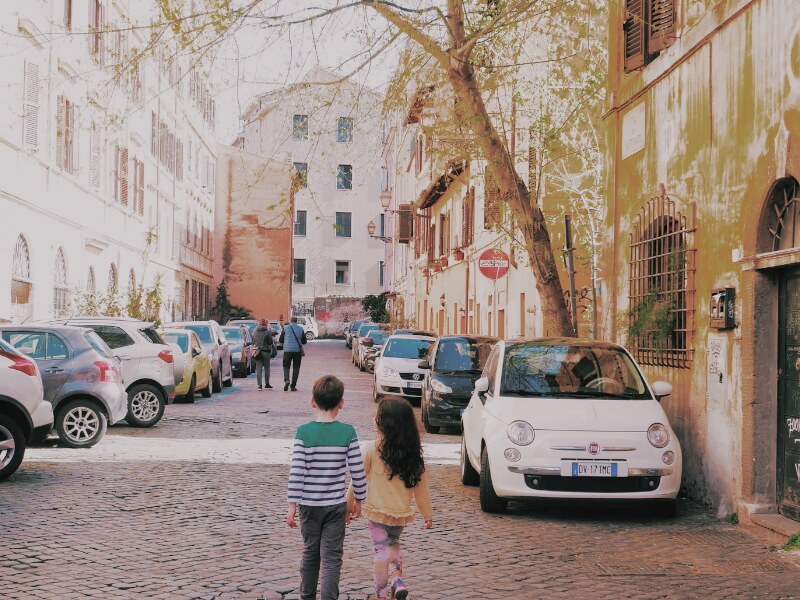 Best Rome hotels for families
For a stress free visit to Rome with kids I highly recommend you choose accommodation in the city center and in particular in the area of the Pantheon and Piazza Navona and the area of the Borghese Gardens.
This is the best area in terms of location and will allow you easy access to most of the city
My recommended hotels here are
Hotel De Russie – luxury: 5 star, fabulous hotel catering for families with special welcome packages for kids. The hotel is in a fantastic location in one of the most central and sought after streets in Rome city center, close to the excellent Borghese Gardens and Explora Children Museum, two of the best places to visit in Rome with kids.
Hotel Kolbe – great 4 start in hotel in excellent location close to the forum and the Colosseum, the hotel has something special for kids: a lovely yard, a rare plus in this uber-central part of Rome!
Hotel Lunetta – clean and beautiful hotel in stellar location close to the Pantheon and Piazza Navona, catering to families with lovely rooms and a family suites. This is an excellent hotel for location and ambiance, perfect for families who love to be in the heart of romantic Rome and close to a place many kids love: Rome's cat sanctuary!
Find more recommendations about the best Rome city center hotels for families here.
Family friendly restaurants in Rome
Rome is very welcoming to children and you will have no problems finding family friendly places to eat.
Overall, it is useful to know that:
Rome restaurants usually do not advertise children menus however, they are usually able and willing to make a simple plate of pasta for your child or make a smaller portion of anything that is on the menu, if asked
Many Rome restaurants have high chairs but you can never be guaranteed one so having your own portable high chair if traveling with a toddler is always handy
Many Rome restaurants have limited space: be prepared to fold your stroller to get in
You will find our list of favorite family restaurants in Rome here
What to pack to visit Rome with kids
As well as your daily essentials (find my family packing list for Italy here), I recommend you pack:
A travel stroller with solid wheels that can take cobblestones
A baby carrier for museums and attraction visits
A reusable water bottle (Rome has lovely, free drinking water)
Good walking shoes for all (you will walk a lot in Rome!)
A good crossbody bag (a good diaper bag can work too, if you choose a versatile style)
A portable high chair for restaurants
Sun screen and sunglasses (a must for all in summer, handy in winter)
I hope you enjoyed this quick guide to visiting Rome with kids. Please don't forget you can find many more tips on my Mama Loves Rome Website or joining this free Facebook group about traveling Italy with kids. I would love to see you there!