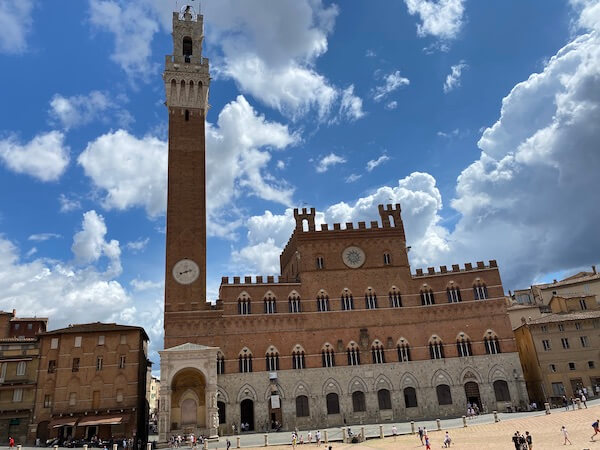 One day in Siena with kids: 5 unmissable things to see and practical tips for visiting
All you need to know to make the most of one day in Siena with kids: Siena must see, best things to see in Siena with children, playgrounds in Siena and practical tips for visiting.
Siena is one of the most beautiful and famous cities in Tuscany and a magical place for kids.
A medieval town perched on a top of a hill, walking into Siena's main city gate is like stepping through a time warp back into the middle ages.
Meandering streets, historical piazzas, flags and towers are everywhere and while there is no lack of modern life here (cafes, restaurants, shops and even cars abound), you really get a sense of what an important medieval city must have been like.
I first visited Siena when I was a child myself and I still remember my jaw dropping when I first saw Piazza del Campo, Siena's most famous and beautiful square.
I wanted my kids to experience just that and so during out last family vacation in Tuscany, I planned a day in Siena.
The city delivered!
Both children loved Siena and we had a wonderful day in the city, which stayed as one of the sightseeing highlights of our simmer.
Before going, I put a good bit of research into the best things to do in Siena with kids and these are my highlights and my recommendations to see Siena in one day.
Why spend one day in Siena with kids
Siena is one of the most beautiful towns in Tuscany and a place with significant history.
Founded in the XI century , the city was one of the most important in the area during the Middle Ages and the architecture of the city bears witness to its wealth and power, which you can still sense when walking along its ancient streets.
For kids, this important history very much translates into the feeling of stepping into the pages of a history book or even a fairy tale book.
Walking along Siena's streets, you can easily imagine knights, priests and traders getting about their business, imagine the Palio talking places in Piazza del Campo (you can even see it, in July and August) and what it would have been like to live in Siena.
Would you have been a shopkeeper,  knight, a dame or maybe a flag performer?
Siena is a great place to let imagination get lose!
As well as history, Siena is great for kids for other reasons.
It is easy to explore, many of its streets being car-free, it is has many shops and restaurants that make frequent stops easy and it has some nice parks and playgrounds for younger kids to relax and play.
All this is why I highly recommend including a day in Siena with kids when in the area!
The best things to see in Siena with kids
Piazza del Campo
A list of things to see in Siena with kids or without can only start from Piazza del Campo, Siena's jewel in the crown.
Piazza del Campo is a large, medieval square in the shape of a shell or we could even say a theater.
The larger part fans out following a curved line and attracts the attention to the square's focal point, the large Palazzo Pubblico with its tall tower, 'Torre del Mangia'.
The palazzo was the center of power in Siena during the Middle Ages and now is a beautiful museum.
Both the museums and the tower are open to the public and if you have an adventurous kid, they may love the chance to catch a view from the very top of Torre del Mangia.
To get there, you need to climb 87 floors and over 400 steps but they say the view is incredible (we all have a fear of heights so I cannot confirm or deny this, but I can easily believe the view to be breathtaking from up there!)
On the other side of the square, in front of the palazzo, it will be worth noticing the wonderful 'Fonte Gaia', a large monumental fountain that resembles a seat, decorated with a beautifully sculpted frame.
Worth noticing and fun for the kids is the little drinking fountain beside it, where you can fill your water bottle and that pours water into a tray in the shape of a shell, the same as the square!
Piazza del Campo is stunning and one of the most beautiful squares in Italy.
Piazza del Duomo
Siena's Duomo is one of the most beautiful churches in Italy and will leave an impression on both adults and kids.
The reason why the Duomo is so child friendly is the peculiar decoration of its tower, which is made of horizontal stripes of white and very dark green that give it a distinctive resemblance to a zebra!
Aside from the easy zebra fascination, there are many other things that. Ake the duomo interesting for the whole family.
The façade has impressive golden panels and statues and, inside, it has the same zebra pattern as the tower, many colorful flags and an absolutely stunning pavement with carvings so peculiar in technique they are are considered unique in the world.
Outside of the Duomo, you have the large Duomo square, which is vast, beautiful, car-free and perfect to run around
Orto dei Pecci
Orto dei Pecci is a large green area on the slopes of the hill of Siena and a wonderful place to visit with kids.
Orto means 'vegetable patch', 'kitchen garden' or, originally, 'garden' and indeed Orto de' Pecci is a little bit of all this, a corner of the Tuscan countryside in the heart of Siena.
Here you have vast green spaces, a nice playground for the kids and even an educational farm.
It is a wonderful green area for kids and adults and a good place to get a family meal, thanks to the presence of a family-friendly restaurant/pizzeria here.
You get there with a short walk from Piazza del Campo and the walk is worth itself as it lets you see many pretty streets.
Please be advised that the road to Orto de' Pecci is pretty steep and, depending on the road you take, may include some steps. Just take your time going jp and down as you will feel it in your legs!
Siena's Contrade
The city of Siena is divided in 17 neighborhoods (many more, in origin) going by the name of contrade.
Piazza San Francesco
We found piazza San Francesco almost by chance as it happened to be the closest to our parking but we quickly realized how nice a place it was for kids!
The square is large and car free and it has a lovely church and a small playground full of local kids, under a shady tree.
This is a lovely place for a little rest and a nice location to mingle with local kids.
Parents can easily take turns to go see the church too, as it is just on the other side of the square from the toys.
Where to eat in Siena with kids
Two fabulous family-friendly restaurants in Siena are:
Taverna di San Giuseppe, Via Giovanni Dupre 132, 53100 Siena
La Finestra: Piazza del Mercato 14, 53100 Siena
Kids' playgrounds in Siena
Playground of Piazza San Francesco Map >> https://goo.gl/maps/uqLVn52BhbtbHXMSA
Playground of Via Sant'Agata Map >> https://goo.gl/maps/mn9qQHgiuJTgDFzGA
Playground Strada delle Grondaie Map >>> https://goo.gl/maps/hFP3aX443taa6ZhF8
Playground Via Poggiarello Map >> https://goo.gl/maps/hFP3aX443taa6ZhF8
Practical tips for a day in Siena
The easiest way to get to Siena is by car.
The city is perched on top of a hill and car access is reserved to permit holders only but many parking lots, most outdoors, are beside the main city gates, allowing easy access.
The cost is a few euro per day (4 at the time of writing at the Parcheggio San Francesco for instance).
From the parking lots, you access escalators and lifts that lead you to the entrance of te actual town and that help negotiate the rather steep hill Siena dominates
You don't need any special gear to go up but the city is hilly and some of its streets aver very steep so good walking shoes are preferable.
Runners are best but don't worry too much if you have sandals: this is a city with paved streets, so runners are just best if you are planning on a long day of walking.
The main part of Siena is reasonably stroller friendly. However, some of the streets are very steep, like those heading to Orto dei Pecci, so be prepared to some moment when your child may be safer walking.
Siena can get very hot so I recommend you visit on the coldest hours of the day if you find yourself in the area in summer.
Water is available in all cafes but the best and most scenic way to get refreshed is to fill your bottle at the Fonte Gaia in Piazza del Campo!
I hope you enjoyed this quick guide to visiting Siena with kids: safe travel planning!