Traditional Italian drinks you will love
Traditional Italian drinks to try in Italy or back home, with food or without. What to drink in Italy and best Italian food and drinks pairings.
Italian food is so famous, chances are you already have traditional Italian dishes you love but what about Italian drinks?
In this article, we look at the best and most traditional Italian drinks, when to have them and the best foods to pair them with for the perfect experience.
Italian drinks chart
| | | |
| --- | --- | --- |
| Name of Italian drink | Type | Time of day/occasion it is served |
| Caffe | Coffee Drink | Breakfast/after lunch/after dinner |
| Cappuccino | Coffee Drink | Mostly breakfast |
| Latte macchiato | Coffee Drink | Breakfast |
| The' Freddo | Tea | Mid-morning / afternoon drink |
| The' caldo | Tea | Breakfast / afternoon drink |
| Chinotto | Soda | Aperitivo |
| Campari Soda | Soda | Aperitivo |
| Sanbitter | Soda | Aperitivo |
| Crodino | Soda | Aperitivo |
| Aperol soda | Soda | Aperitivo |
| White wine | Wine | lunch/ dinner/ aperitivo |
| Red wine | Wine | lunch/ dinner |
| Prosecco | Wine | Aperitivo |
| Italian beer | Beer | lunch / dinner/ aperitivo |
| Bellini | Cocktail | Aperitivo |
| Spritz | Cocktail | Aperitivo |
| Americano | Cocktail | Aperitivo / after dinner |
| Negroni | Cocktail | Aperitivo / after dinner |
| Hugo | Cocktail | Aperitivo |
| Grappa | Liquor | After dinner |
| Amaro | Liquor | After dinner |
| Sambuca | Liquor | After dinner |
| Limoncello | Liquor | After dinner |
| Mirto di Sardegna | Liquor | After dinner |
Italian drinks for breakfast / morning hours
The traditional Italian breakfast is a rather small affair with caffeinated drinks at its core.
The most common Italian breakfast drinks are:
Caffe' (coffee): Caffe' is the Italian for coffee and if you order 'un caffe" the thing you get is an espresso, single shot, in a small cup.
In cafes, espresso is made with professional machines while in homes you most often prepare with the traditional Italian moka.
The taste is not the same but they are both called caffe' and both versions have their fans!
Coffee is a breakfast drink but not only: it is common also as a closing drink after lunch and dinner, usually with sugar an no milk, although personal taste in this is paramount and variations are perfectly acceptable.
You can have a look at some of the most popular Italian coffee brands here.
Need to know! be careful if you see on a menu caffe' corretto – this is not a standard coffee but rather one spiked with alcohol! Delicious if ordered on purpose but not an order you want to chance at breakfast!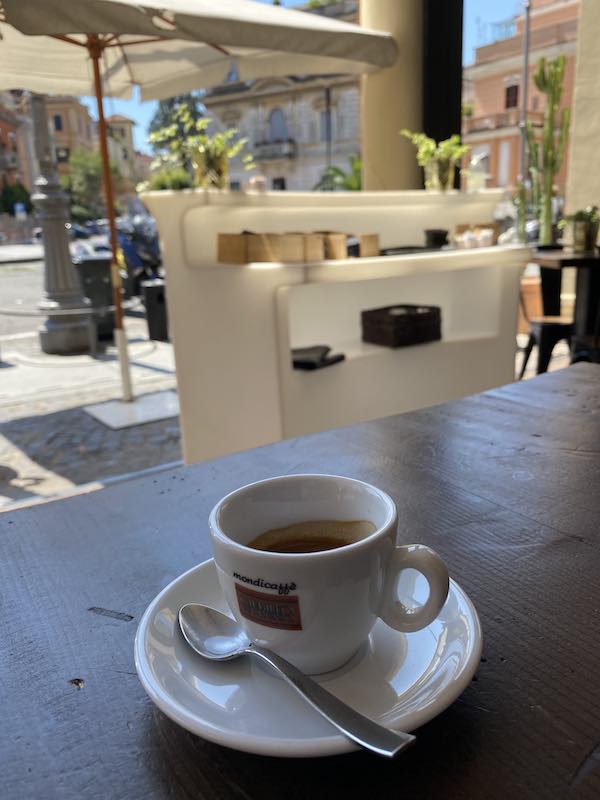 Cappuccino: cappuccino is the quintessential Italian breakfast drink, usually ordered at the bar. Cappuccino is made of one shot of espresso and hot frothed milk and is is usually served with sugar on the side.
Unlike what is often wrongly reported, there is no special time to drink cappuccino and no one will refuse serving you or will look you oddly if you order it later in the day.
It is however more common as a breakfast drink.
Like coffee, cappuccino is never ordered as a drink during a meal, only as a breakfast beverage or on its own mid morning.
Latte macchiato: latte macchiato is another coffee based milk, this time with flat hot milk, served in a tall glass. This is a breakfast drink usually ordered at the bar with cornetto or similar type of pastry.
The' (tea, pronounce t-eh); Tea (the' in Italian) is not an Italian drink in origin but it is very popular in Italy and you will often find it on menus, especially as iced tea in the summer.
Things to know about tea in Italy are:
Tea is served hot, unless you specify you want 'the freddo' (iced tea)
Hot tea is usually served with lemon rather than milk
Iced tea comes in two types: lemon scented and peach scented and can be home made or in a can. Cafes serving home made ice tea usually present it as 'della casa' or 'nostro' (ours)
Italian drinks to accompany lunch / dinner
Aside from water and sodas, the most common Italian drinks to order with food are wine and beer.
Italian wines come in all shapes and style and choosing the right type of wine for the food you are ordering is a real art, no quick guide can cover.
In general, unless you know exactly what you want, it is worth ordering vino della casa, especially in wine growing regions such as Tuscany, Veneto, Piedmont etc.
This is usually served in a jar, costs a fraction than its bottles counterparts and can be rather nice!
If you prefer beer, many good Italian beer brands now exist, including;
Menabrea – plain and flavored
Moretti – plain and flavored (insider tip: try the 'Siciliana', it is delicious!)
Ichnusa – filtered and unfiltered, from Sardinia
Nastro Azzurro by Peroni- popular abroad too. Please note that if you order Peroni only you do not get Nastro Azzurro – while abroad I have seen them used as synonyms, they are not: Nastro Azzurro is a specific type of Peroni beer and its, I personally find, much nicer.
Alcoholic and non- alcoholic Italian drinks for aperitivo
Apetitivo is a much beloved Italian tradition at the heart of which you find special drinks that are most suited to the occasion.
You can read my full guide about Italian aperitivo here but, at the glance, good aperitivo drinks are:
Campari Soda / Aperol Soda: the non alcoholic version of the drinks by the same name
Crodino / Sanbitter: non alcoholic, bitter style drinks, sparkling
Chinotto, traditional Italian soda made from zesty chinotto oranges, delicious!
Succhi di frutta (juices), especially ACE, a mix of carrot, apple and lemon/orange juice
Aperol Spritz and Campari Spritz, prosecco based cocktails
Hugo, prosecco based cocktails
Bellini, Rossini, Puccini, prosecco based cocktails
Italian after dinner drinks and cocktails
If you feel like a drink after dinner, Italy has a good selection of options for you.
Digestif drinks: immediately after dinner, especially a substantial one, it is common in Italy to offer a so called digestif or digestive drink. These are usually offered in small glasses and they are bitter and strong, the two things together being said to aid digestion.
Common digestive drinks are mirto di Sardegna, limoncello, sambuca, amaro and grappa. You can read all about Italian digestive drinks here.
Cocktails: for later in the evening the Italian drinks menu has some lovely cocktails you can try. The most famous are all based on the use of Vermut, that you find in the classic Americano, Negroni and Negorni Sbagliato cocktails. You can find info, ingredients and history of these Italian cocktails here.
I hope you enjoyed this quick guide to Italian drikns and gave you ideas on what to order!