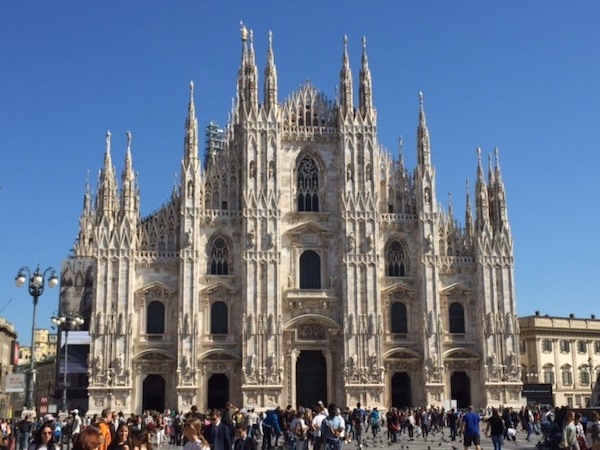 Milan in one day: how to see the best of Milan in a day or less
How to see Milan in one day: detailed itinerary to see Milan's main attractions in a day or half day + tips on where to eat to the perfect Milan experience.
Milan is a beautiful and often overlooked Italian destination.
It is usually described as a city for business (working Milan, la Milano che lavora) or for aperitivo-sipping fashionistas (Milan to drink, la Milano da bere) and indeed, Milan is a business oriented fashionable city. However, there is a lot more to it than that.
Beautiful, well organized and rich museums and attractions, it is a pleasant city to visit and a good way to explore a part of Italy many do not see: the more modern, buzzy side of the country.
Compact enough to be visited in one day (make it 2 if you want to see the museums) it is a good starting point for Italy itineraries and a pace that it is worth exploring if you find yourself in the area.
I have been to Milan several times and over the course of my visits I have perfected my itinerary.
Today I am sharing with you my favorite way to spend a day in Milan and see the best of the city in a day or even just if you have an afternoon in Milan.
Please note: this post contains affiliate links. Should you make a purchase, we might make a small commission.
One day in Milan: need to know
Before we deep dive into this itinerary, a couple of points;
If you want to see the Last Supper, book that first and arrange your itinerary around the time slot you are given. You can book a guided tour here.
If you only have a day in Milan in between flights, let's say you land in the morning and depart late in the evening, take into account that Malpensa airport is very far and it will take you considerable time to get there.
In that case, I recommend you stick to half of this itinerary and stay in the Duomo area. You can find tips about moving around Milan at the end of this post.
Milan one day itinerary
I believe the best way to organize a day in Milan is to spend the morning in the city center, where you find most Milan's main attractions, and the second half of the day in the more modern part of Milan.
If you only have a half day in Milan, I can just pick one of the two haves of the one below and it works as an itinerary in itself.
My itinerary is as follows:
Morning: Milan Duomo and Piazza, Galleria Vittorio Emanele II, La Scala Theater, Sforza Castle
Lunch: Brera area (find recommended lunch addresses below)
Afternoon: Piazza Gae Aulenti and Corso Como
Evening: I Navigli (Find recommended dinner addresses below)
Looking at this itinerary, it is easy to think this Milan itinerary is way too packed for one day in the city.
However, many of these attractions are very close to each other and they do not all take up much time to be enjoyed.
Below, you will find a more details description of my recommended way to spend a time in Milan and some tips for the perfect trip.
How to see Milan in a day: Morning in Milan
Visit Milan's Piazza Duomo
I like to start all my trips in Milan with a visit to Piazza Duomo, the heart of historical Milan and one of the most beautiful squares in Italy.
Right in the center of the city, Piazza Duomo is a large, stunning square with the famous Milan Duomo, (Milan cathedral), and Galleria, probably the two most iconic buildings in the whole city.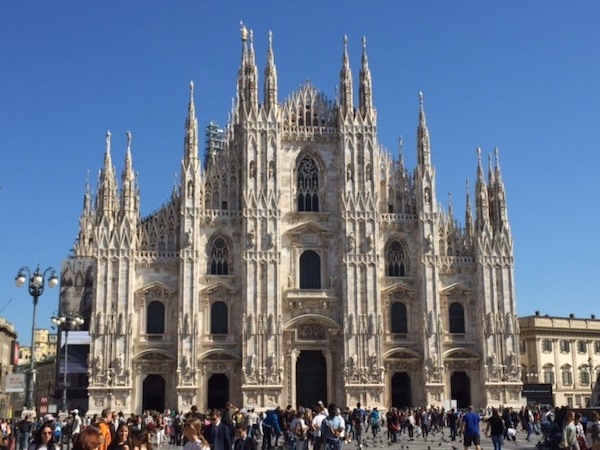 You see the duomo as you exit the Duomo metro station and while your sight may be obstructed by the many instagrammers posing in front of it (yes, very annoying!), you are sure to be impressed by the structure and its peculiarities.
Milan's duomo is one of the few examples in Italy or 'European style Gothic' architecture and it is an extravaganza of carvings, spires and towers.
It is said to be the church with the highest number of statues in the whole world (3400, they say) and it is the fifth largest, as well as the home to the biggest organ, a marvel equipped with 15,000 pipes!
The duomo is incredible and there are several ways to enjoy it.
You can see the outside only, an approach that is best if you are only marginally interested in religious architecture and that works if you have only a half day in Milan or a handlful of hours for many attractions.
The facade is stunning and while you may not get all the ins and outs about it, without a guide, even just a glance from the piazza will give you a sense of its uniqueness
You can enter and visit the inside, in which case I recommend you get skip the line tickets here
You can climb to the top of the roof, for which you can get tickets here (included church entrance) or here (terrace only)
Personally, I highly recommend whatever approach you choose, you do not skip the roof.
The terrace is wonderful and not just for the views over Milan if offers going up: climbing up Milan's Duomo allows allows you to be very close to the spires of the duomo and it truly makes you appreciate the elaborate work and carving that has gone into the building of this incredible church.
The terrace is also a lovely place to see the Madonnina, the statue of the Virgin at the top of the duomo and one of the symbols of Milan.
The climb to the top is made easy by the presence of a lift and it is overall not too scary even for people, like me, who suffers from fear of heights.
Top tip! If you can't climb the duomo but still want to catch a nice view, head to the top of La Rinascente, the department store just in front. It has a terrace cafe' (free unless you sit down for a meal or drink) and while the views from there are not as expansive or as beautiful as from the top of the duomo, it is a great vantage point to see the side of it from quite high up! This is a lovely place also if you are visiting Milan with kids as it is safe enough for them to have a rest and access the facilities while still getting in nice views. Good to know! This is also a good place for shopping.
Walk along Milan's Galleria
Just beside the duomo, to your left if looking at the façade, sits the famous Milano Galleria Vittorio Emanuele II, a covered passage with shops and restaurants.
The galleria is famous and iconic of Milan and has two elements that tend to attract visitors' attention.
One is its roof: one of the most photographed spots in the whole of the city, the roof of the galleria is marvel of iron and glass and a no galleria visitor can help but looking up and take photos of it, it is that special!
The other fun element of the galleria is the of a bull on its floor (you will easily spot the crowds around it).
As you walk along the Galleria, you will notice that part of its elegant floor is decorated with the design of a bull and that part of the image is consumed by use, as if people had stepped on it repetitively. Indeed, this is just what happened!
Legends says that if you twirl 3 times with your heel on the bull, you will have good fortune and this is just what people do!
Top Tip: The galleria is very beautiful and entering here feels a little like entering an elegant interior or a department store .However the galleria is a passage so, as such, doesn't require much time at all to be visited. Mostly, people simply walk it to get to the Scala Opera Theater, stopping for a couple of photos on the way, and a few decide to stay and indulge in one of the gallerias shops and cafes. While this can be very tempting an d pleasant, just be careful if you are on a budget as the elegant feel of the place is reflected in the prices!
See La Scala's Theater
As you exit the other side of the Galleria you find yourself close to La Scala Opera Theater, one of the most famous opera theater in the world and a Milan's icon.
La Scala is stunning and if you love opera I believe you should try and get tickets for an evening concert here (strict dress code, this is part of the fun!) or at least join a tour of the theater.
Tickets can be obtained on the official theater site here while tours can be booked here.
If you do not love opera, I believe it is still worth seeing the theater from outside but you probably do not need to take the tour, especially if you only have a handful of hours in the city.
Do take a moment to also notice the statue of Leonardo da Vinci just outside.
Piazza dei Mercanti and Castello Sforzesco
After the Opera I like to walk to Milan's Sforza Castle, making time for a quick detour to see Piazza dei Mercanti.
Piazza dei Mercanti is maybe my favorite square in Milan: it is hidden behind Milan's beautiful but busy Via Dante (shopping street, high street brands), it is car free and entering is feels like stepping back into the Middle Ages!
The square is small and secluded and it has beautiful palazzi and an old times feel that is not as easy to find in Milan, unless you set yourself up to purposely look for it.
After Piazza dei Mercanti, I like to go for a walk in the gardens of the Sforza Castle.
The castle is beautiful and important in the history of Milan and it is now a museum with very beautiful art.
If you have time and love art, this is definitely a museum worth visiting (find ticket and tour options here) however, for most Milan's visitors a walk along the green grassy expanses of the castle and a rest on one of the benched in the castle main yard is more than enough.
Access to the yard and park (Parco Sempione) is free.
Good to know: despite its large size, the park is not equipped with a playground for kids so if you are visiting with little ones. They can however, run wild here and see the ducks in the pretty pond.
Lunch
For lunch, I recommend you take the short walk to Brera and have a lovely Milanese lunch in one of the many restaurants here.
The choice is vast. Some lunch addresses we like in Milan Brera are:
Panini Durini – fresh sandwiches and more,
Baobab – gourmet burgers, family friendly,
Cinc Brera – great for a drink and a snack,
Obica' – mozzarella bar and Italian specialties
La Tartina – tapas bar
Brera is one of my favorite areas of Milan and I do recommend you take the time to stroll around its elegant streets.
Here you have quiet cobbled streets, hidden courtyards, old trams and churches, all wrapped into that unmistakable wealthy and fashionable atmosphere that Milan does so well.
If you have visited Rome and are thinking of the cobbled streets there, you will quickly see why the two cities are often compared as being opposite: while both lovely, Rome is dusty and charming, while Milan is elegant and refined.
Brera is also home to the beautiful Pinacoteca di Brera, which you are unlikely to be able to visit if short on time but a worthy place to see for art lovers.
Afternoon in Milan
Piazza Gae Aulenti
For your second half day in Milan I recommend you dive into a modern part of the city and head towards the uber modern Piazza Gae Aulenti.
The piazza was inaugurated in 2012 and it is unique as it is suspended 6 meters above ground! The piazza has a circular shape and is large covered by water, with pedestrian boardwalk to allow easy movement.
The piazza is a modern marvel and I believe one of the places in Milan to prioritize if you have a short time in the city.
With my friends, we always joke that it looks like Dubai and indeed, the tall Unicredit tower building and modern architecture make it a world away form the ancient charm of Milan city center, and in a very good sense.
Corso Como
Beside Piazza Gae Aulenti you find a historical and important Milan street, Corso Como, which hides a secret.
if you stick your head into some of its courtyards (number 10 in particular) you will discover a very special architectural gem typical of Milan, the so called 'case di ringhiera'.
These houses date back to the beginning of the Twentieth century and were originally dormitories for the workers of the nearby factories.
They are characterized by balconies with railings (ringhiera) but over the course of time have been re-purposed and are not architectural gems going for exceptionally high rent.
Now, number 10 is also home to the elegant cafe' 10 Corso Como which you also now find in locations around the world including Manhattan!
The cafe is wonderful for a view of the casa di ringhiera but the price reflect the location.
I believe after the walk in this area you will probably feel like a rest however, if you still have energy you can take a walk and watch the beautiful people and the beautiful windows in Milan's Quadrilatero della Moda, Milan's fashion district (Via Monte Napoleone area).
After that, I recommend you have a long aperitivo and dinner in the fashionable Navigli.
Evening in Milan
Milan is full of dinner places and if you are in the center I highly recommend you try Il Pescetto (fish) and La Vecchia Lira (traditional) and the wine bar N'Ombra de Vin.
However, if you want to visit a different part of the city, then you can joy the crowds who gather in the area called in Navigli, characterized by pretty canals.
I Navigli is what remains of a larger canal area in the city and they are a lovely part of the city, now mostly known for its many aperitivo establishments and nightlife.
If you get to go, you may want to try Bacaro Navigli, Posto di Conversazione, Temakinho, Antica Marmeria, Fabbrica Pizzeria for the best foodie experience.
Where to stay for a day in Milan
To spend a full day in Milan, I recommend you find accommodation in the city center and specifically, if you can, in the area of the Sforza Castle and the Duomo.
This will put you within walking distance from most city center attractions.
Check out Matilde Boutique hotel, Hotel Gran Duca di York
As an alternative, you can look at hotels near Milano Centrale station.
You will need to get the metro from here however, the prices are usually reasonable and the station is beautiful and a transport hub to reach other parts of Italy too (it also has many shops), so this area can be very convenient.
Check out iQ hotel Milano, ME Milan il Duca, Hotel Teco.
Where to leave your luggage when visiting Milan in a day
Stazione Centrale is equipped with luggage storage (downstairs) and this is a super handy option if you have luggage with you.
While Milan is reasonably safe in terms of pickpockets, I do always recommend not to lug your bags around if you can avoid it.
This will save your back, allow you easy access to public transport and museum and will take away some unwanted attention tourists sometimes may get.
Do you need to use public transport for a day in Milan
How much or how little you need public transport in Milan depends very much on your plans.
If you are staying in Milan city center, you can easily just explore the city center of foot, resting assured you can see many landmarks this way.
The attractions in this itinerary that require public transport are Piazza Gae Aulenti, the cenacolo at Santa Maria delle Grazie with the Last Supper and Navigli area.
If you want to visit Piazza Gae Aulenti area, then I recommend you also use the excellent Milan metro.
Metro stations are all equipped with machines and they usually accept both cash and card.
If can also consider the Milano Card, which includes public transport and gives you discounts on several museums and attractions.
Need to know: Milan has two airports, Linate, close to the center, and Malpensa, very far. If you need to connect to Malpensa, you can catch the train from Milano Centrale but please be advised that the journey takes over an hour. If you are planning on visiting Milan as layover between two flights on the same day, you will have a half day in Milan maximum, not a full one as transport will infringe on your time massively.
I hope you enjoyed my recommendations and tips for visiting Milan in one day. Safe travels!