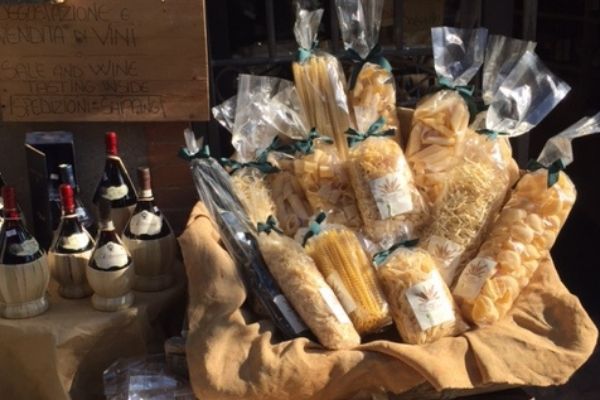 The best food souvenirs from Italy: 12 ideas for foodies
The best food souvenirs from Italy you can enjoy once back home. Italy souvenirs foods you will love and the best places to buy them.
Italian food is one the best souvenirs you can bring back from Italy. These are some of the easiest foods to send home and recreate a real Italian dinner no matter where you are!
Please note: this post contains affiliate links and, should you make a purchase, we might make a small commission at no extra cost to you.
The best food souvenirs from Italy and where to get them
Specialty Pasta
Pasta in Italy comes in all shapes and sizes, literally! you can find the most basic and least expensive types in all supermarkets in Italy or you can go to specialty shops and get pasta that is typical of a certain region.
As well as standard pasta shapes such as spaghetti, fusilli, penne, rigatoni etc, some regional specialty pastas are:
Orecchiette and cavatelli from Puglia
Trofie from Liguria (excellent with pesto genovese!)
Bigoli from Veneto
Cavatelli from Molise
Need to know! A lot of the regional pasta specialties you find in Italy, such as gnocchi, pici etc are freshly made and therefore cannot travel. Occasionally, you may find dry variations of these pasta shapes in local supermarkets and they may be good but I recommend you taste them locally before committing as they can cook quite differently from the fresh ones.
Pesto
Pesto, especially in in its green form, is one of the most popular Italian foods abroad but nothing beats the real thing!
The best green pesto in Italy is from Genova and, if well packaged, can last a long time and even be frozen.
Ask carefully how to keep it safe and how long it lasts depends on the packaging and pesto, once open, does not keep.
Chocolate
We have talked about great Italian chocolate here. Some of the best places where to taste and buy chocolate in Italy are:
Torino and Piedmont area, famous especially for the sweet and nutty chocolate confection called 'gianduia', sold both in for form of chocolate bonbons 'gianduiotti' and chocolate spread
Cremona – famous for torrone, a chocolate, honey and nuts Christmas confection especially popular as Christmas dessert
Perugia – home of the famous Perugina chocolate house and 'Baci' bonbons
Modica – Sicilian town famous for artisan chocolate
Many of these chocolate creations are for sale in different parts of Italy so it is possible to find authentic chocolate crafts even a little farther afield form their area of origin.
Some chocolate shops in Italy we love are: Venchi (many shops around the country), the Rome chocolate factory (Rome) , Vizio Virtu' (Venice).
Extra Virgin Olive Oil and balsamic vinegar
Extra Virgin Olive Oil and Balsamic Vinegar preserve well and are among the easiest edible Italy souvenirs to bring home (I should say: ship home, since they can pr pretty heavy!)
Olive Oil is produced in several Italian regions, namely Puglia, Calabria, Sicily (which have the lion share of the production) and the Tuscany, Umbria and Lazio.
The best way to make sure you pick the best extra virgin olive oil is to join an olive oil tour with tasting such as this one, so you know where your oil comes from.
Balsamic vinegar is typical of Modena so if you want to buy the real thing, Emilia Romagna is the area to look for.
Like for olive oil, a fun way to pick the best balsamic to send home is to get a tasting tour first. You can find more info here.
Italian wine
Italy is famous for being home to several important wine regions, producing wine so delightful to be considered among the best in the world.
You can buy wine in Italy and get it sent home – usually shops and producers are well able to advise and recommend the best way to navigate shipping regulations.
Some famous good wines and wine regions in Italy are:
Valpolicella – Veneto
Traminer – Alto Adige
Barolo – Piedmont
Prosecco – Veneto
Chianti – Tuscany
Vino Nobile di Montepulciano, Montepulciano, Tuscany
Rosso and Brunello di Montalcino, Montalcino, Tuscany
Primitivo, Puglia
Marsala, Sicily
Italian biscotti (Italian biscuits)
Biscotti is the generic Italian word for biscuit or cookie and you can find a huge variety of them in pretty much the whole of Italy.
Commercial biscotti brands can be found in all supermarkets and while specialty Italian biscotti can be found in deli shops, bakeries and well stocked bigger Italian supermarkets.
Italian biscuits you may want to bring home from Italy are:
Canestrelli – small, butter biscuits in the shape of a flower with a hole in the center and dusted with powdered sugar.
Cantucci – Cantucci or Cantuccini are biscuits with almonds you usually dunk in Vin Santo. They are a specialty of Tuscany and they are usually served at the end of the meal with a small glass of dessert wine but they are also popular in other parts of Italy where they are often called 'tozzetti'.
Baci di Dama – delightful Italian biscuits from Piedmont, with two halves of airy biscuit dough and a thin layer or hazelnut cream in the center
Buranelli – butter biscuits from Burano, perfect for dunking in tea or coffee
Ricciarelli – typical biscuit from Siena made with sugar, almonds and butter
Biscotti are one of the best food souvenirs from Italy if you are buying for kids: you can find them in so many varieties, you are guaranteed to find one they love!
Almond paste confections (pasta di mandorle)
Almond paste (marzipan) is a Sicilian specialty, where it gets used to create sweet bites, cakes and even edible figurine.
Marzipan is delicious and while it won't last indefinitely, it travels rather well. Make sure you buy it right before leaving Italy to have it, on arrival, as fresh as possible.
Pistacchio specialties
Sicily in general and the city of Bronte in particular is famous for the production of pistacchio (Pistacchio di Bronte) and there are several specialties you can buy here they will still be well preserved once at home.
One of the best is pistacchio paste: absolutely delicious and super easy to pack!
This is one of the best food souvenirs from Italy for real foodies as it is somwhitng that is not as easy to find, at the same level of quality, abroad.
Parma Ham
Parma Ham is one of the most famous Italian foods abroad and one of the country's food most important exports.
It is a great Italy souvenir to send home as it is easy packaged: make sure you tell the shop keeper you will travel with it and they will take care of the right protective packaging to keep it at its best.
Parma Ham is from the region of Parma in Emilia Romagna although it is a protected brand so if you buy 'Prosciutto di Parma' in other parts of Italy, you know you will get the real thing.
Parmesan Cheese
Parmesan is another famous Italian product you can bring home. Like Parma Ham, it can be easily packages in protective atmosphere and it is a protected DOC food product, so you know you get the real thing even if not in Parma.
Other Italian cheese and cured meats
if you love cheese then you may also want to stock up on pecorino (from Pienza but also with variations from Lazio and Sardinia), Fontina (val D'Aosta), Caciotta (Marche), Caciocavallo (Abruzzo, Calabria).
Need to know: fresh cheeses can be tricky to bring on a plane. Make sure you ask the seller the best way to bring it/ send it home.
If you like cured meats, then Italy also has yu spoilt for choice! Specialties varies by region, some worth trying are lonza, lonzino, cacciatorino, ciauscolo (this is a special one as it is a spreadable type of salami), corallina, lardo di colonnata, just to name a few!
The best places to get cured meat is the deli counter of a food and deli shops (alimentari).
Limoncello, grappa and other Italian digestifs
If you enjoyed the Italian tradition of the digestif, then a bottle of your digestive drink of choice is the perfect Italy souvenir for you! Some good Italian digestif are:
Grappa – especially popular in the north east of Italy
Sambuca – from Campania
Limoncello – from Campania and the area of Amalfi in particular
Amaro – several brands avaiable in differnt regions.
You can find a list of Italian digestifs here.
I hope you enjoyed this quick overview of the best food souvenirs from Italy and it gave you ideas on what you can bring home from Italy! Love Italian food? Find more Italian food gift ideas here.