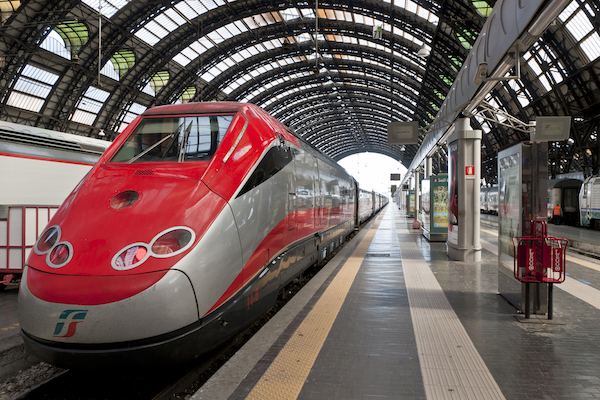 Train Travel in Italy with kids: all you need to know about traveling Italy by train as a family
Train travel in Italy with kids: all you need to know. Why and how to book trains in Italy, the best websites for Italy's train reservations, and how to travel to Italy by train with kids. Updates September 2023
Traveling by train is a fantastic way to see Italy.
The Italian train network covers a large part of the country, and it is a fast, efficient, and environmentally friendly way to cover distances big or small.
Train travel is the best way to visit Italy's big cities: Italy's most significant urban centers are connected by fast, pleasant, and efficient high-speed trains that have made crossing the country, even over long distances, a breeze.
It is also a great means of transport for specific areas, such as Cinque Terre, notoriously stressful by car and for some smaller centers with a train station.
However, when it comes to train travel in Italy, not all regions and areas are equal.
Some areas, such as Veneto and Liguria, are exceptionally well served by trains; others like Basilicata, Sicily or even parts of Tuscany are still better explored by car or bus.
In previous articles, we talked about renting a car in Italy and driving in Italy.
Today, we look at train travel in Italy: types of trains, how to book, travel standards and what to expect when traveling Italy by train with kids (or without!).
Train types in Italy
There are several different types of trains in Italy.
The most relevant for visitors are the following three:
High-Speed Trains (Le Frecce and Italo): High-speed trains are the fastest Italian trains.
Intercity Trains: trains with a few stops, connecting cities across Italy
Interregional, regional, local train et al: slower, shorter distance trains with many stops, serving smaller centers.

Italy's high-speed trains
Italy's high-speed trains offer a regular and reliable service connecting Italy's major cities, and they have a high standard of comfort and service.
The Italian high-speed train service is provided by two companies: Trenitalia and Italo Treno.
Trenitalia calls its fast trains Le Frecce (lit. The Arrows) and they come in several varieties, namely Freccia Rossa, Freccia Bianca, Freccia Argento, Freccia Rossa 1000 and a few sub-categories.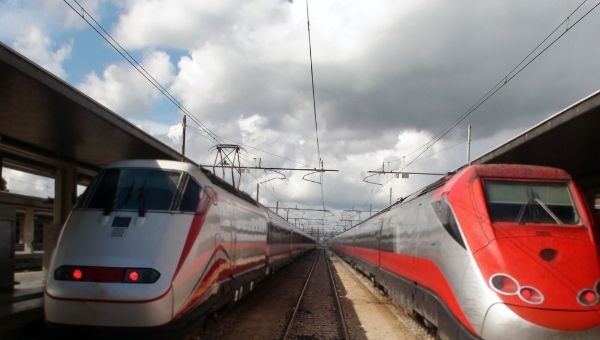 From the user's point of view, there is no fundamental difference between these trains: as long as you are on a freccia, you know you are on the high-speed service!
The different types have different specs and they are comparable to different aircraft models when flying. Unless you are interested in technical aspects, you can ignore them.
The website to book high-speed trains by Trenitalia is this one, which also shows slower trains for your selected journey, so you have a full overview of what this provider can offer.
Italo Treno calles its trains 'Italo'.
Italy only operates high-speed trains and you find its schedule and prices on its official website.

Trenitalia and Italo Treno services are equivalent in standard and efficiency and operate similarly.
In most cases, choosing one over the other comes down to cost and availability of tickets and the most convenient schedule.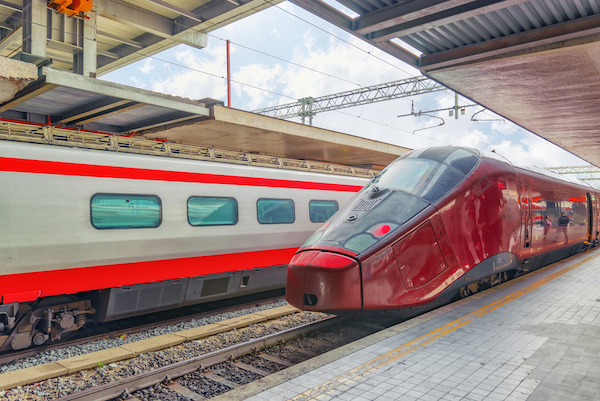 You will find info on how to check and compare prices below.
All high-speed trains in Italy come with:
Reserved seating
Luggage storage
Wifi
Climate control
The level of comfort and service depends on the class chosen. However, even entry-level, economy tickets ensure a good standard of service with all the services above included.
All high-speed trains have allocated seating. You can select your seats at the time of booking. The best ones to get with children are those around the tables as they can accommodate up to 4 people sitting together + lap infants
Intercity trains
Intercity trains are the second fastest train service in Italy.
As the name suggests, Italian Intercity trains connect significant cities in Italy and cover long distances, usually with a limited number of stops between departure and arrival points.
These trains are often not as fast as the high-speed ones, but they are still reasonably quick and significantly cheaper.
They typically have air conditioning, and you get an assigned seat in 1st or 2nd class. Until the High-speed trains became available, Intercity trains were the highest standard trains in Italy.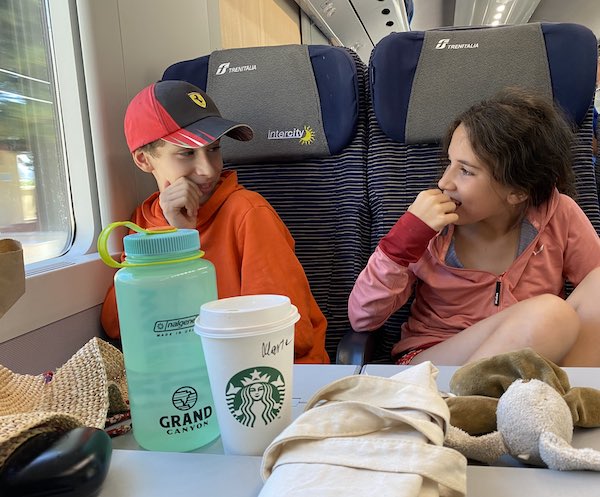 Good to know! Intercity and Eurocity trains now have a family area called area famiglia. This area has a kid-friendly design and since it's for families with kids, it means you can worry a little less about your kids being kids. The family area is on carriage 3 on Intercity trans and carriage 7 in Eurocity trains. you can select it at the time of booking. You don't have to book this area if you have kids! Choosing the family area is entirely optional.
Intercity trains have allocated seating. You can select your seats at the time of booking. The best ones to get with children are those around the tables as they can accommodate up to 4 people sitting together + lap infants
Interregionale, Regionale, Regionale Veloce, Local trains etc.:
These are all local trains covering smaller distances and stopping at many stations.
These trains are much cheaper and much slower than both intercity and high-speed trains and are more varied in terms of standard.
On regional trains, you may or may not find air conditioning, usually cannot reserve a seat and the standard of seating varies significantly from very good to run down.
Despite this, they are excellent for bringing you to smaller towns and have improved greatly in the last few years, making them a good option if you are on a budget.
Regional and local services may apply special tariffs on their territories, such as lower prices for children or frequent travelers.
These options will appear, if relevant, at the time of booking on the Trenitalia website.
Need to know! You cannot select seats on regional and local trains. The seats are on a first come-first-served basis only so, if busy, it is possible you cannot sit beside your child. While this sounds very stressful and it is indeed not as good as having allocated seats, usually people are happy to swap like-for-like seating to allow families to sit together. Worse case, you can stand beside your seated child and keep an eye on them that way (this is usually a quick way to have people offering you a seat!)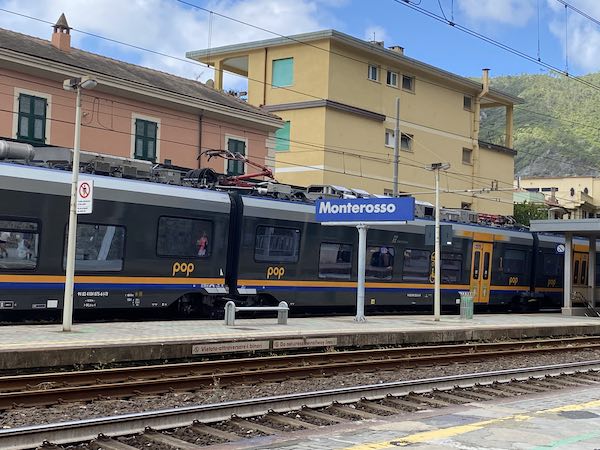 Within local trains, a special mention goes to commuter trains.
Commuter trains are the cheapest and slowest types of trains, and they are better compared to an urban train system or even a subway than long-distance trains.
These are often operated by the local transport provider rather than Trenitalia and vary greatly from region to region and city to city.
These trains operate on a first-come, first-served basis; they have very many stops and, at peak times, get as busy as a busy city subway.
As a visitor, you may use find yourself using this train type in the Naples / Sorrento area (Circumsvesuviana to go to Pompeii, for instance) or in Rome to get to Ostia Antica, just to use examples in areas with relevance for tourists.
Tickets for these trains are usually cheap and you can purchase them at the station or even the newsagents (tabaccaio or giornalaio shop) right before boarding.
The trains are an excellent, cheap option for budget travel however, there is no guarantee of a seat not of space for luggage, therefore they may not be suitable for all visitors.
Other Trains
Certain areas are also served by specific train services.
Leonardo Express: this is a shuttle train connecting Rome Fiumicino Aiport with the city center.
It is a non-stop train offering comfortable seats and space for luggage. You can buy tickets online or at the stations just before departure, either at ticketing machines or at the newsagent.
The service doesn't offer reserved seating but it is so frequent, that finding space is usually not a problem.
Campania Express is a relatively recent service connecting Naples with Sorrento.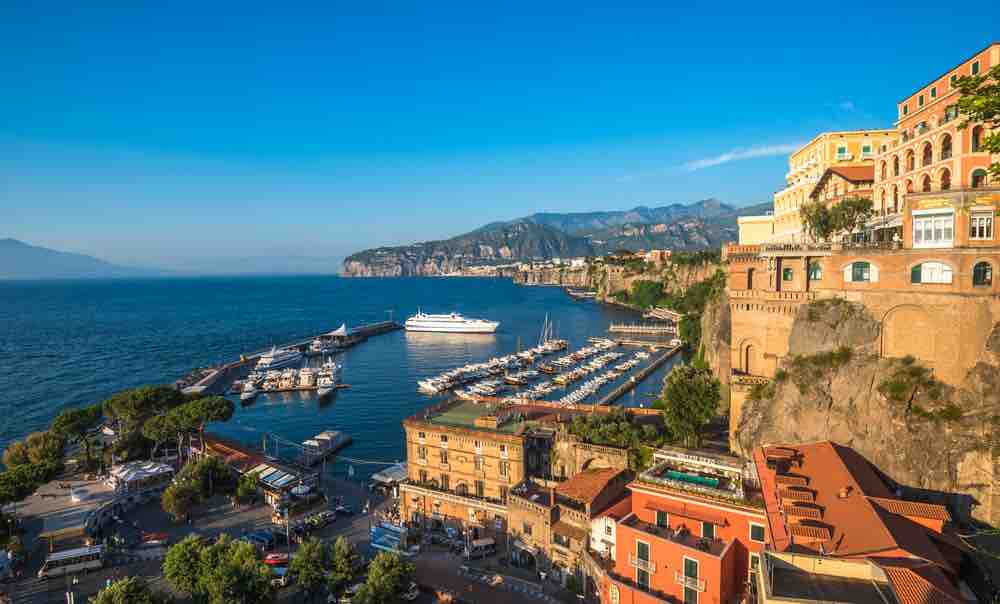 The service operates on the same route as the commuter Circumvesuviana train tracks but it makes fewer stops and has a higher level of service, namely assigned seating and air conditioning.
It is a service born to serve tourists and, while not luxurious by any stretch of the imagination, it is more comfortable than Circumvesuviana, especially if traveling with a lot of luggage and kids.
You can find the schedule and info here
Malpensa Express: this is the shuttle train connecting Malpensa Aiport with Milan central station. You can buy tickets in advance from their website or simply get them on the day at the station, right before departure
Italy high-speed trains: which one to choose
Two companies are operating high-speed trains in Italy: Trenitalia and Italo Treno.
The two are equivalent in terms of service, and the differences are usually in the details of what each class/fare offers.
At a glance:
Trenitalia
Trenitalia is the primary railway provider in Italy, and they operate all types of trains.
Their high speed service is called Le Frecce, the arrows, and they come in several types, such as Freccia Rossa, Freccia Bianca, Freccia Argento, Freccia Rossa 1000.
The various 'frecce' have differences, but they are technical specs more than something you as a user need to worry about.

All Trenitalia Frecce trains have a high level of seating standard and come with reserved seating, climate control and wifi.
Different types of Frecce come with slightly different options for seating types and arrangements.
In general, and unless specified differently in service levels such as business and executive, the seating is arranged in rows of four seats (two and two, on the two sides of the train aisle) or in sets of four chairs around a shared table.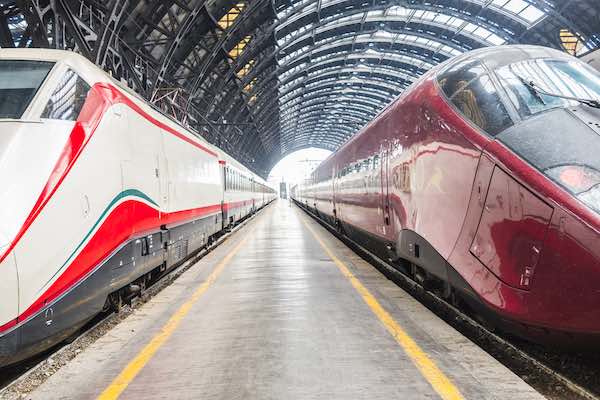 There are several levels of service:
Standard: standard coasted have ergonomic seats 55,5 cm wide and a slightly reclinable back up to 112°.
The space between seats is 106 cm. In standard coach 11, there is also Area Silenzio (Silent Area), where phone noise etc., is forbidden.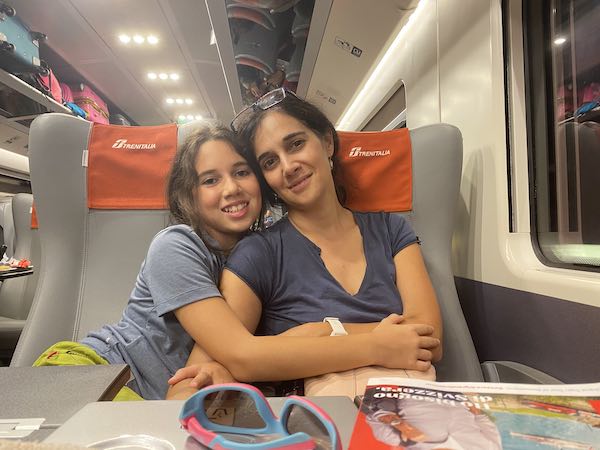 Premium: Premium coaches come with leather ergonomic seats 55,5 cm, slightly reclining back to 112° and space between seats of 106 cm.
The main difference with the standard class is the presence of see-through dividers and extra luggage space.
Business coach n1 is a quiet area, where phone noise etc., is forbidden.
This class also offers the option of booking 'salottino business', a secluded area with four seats.
Executive Area: Trenitalia Executive area comes with eight individual leather seats, 69 cm wide, with reclinable back to 122° and adjustable leg pieces up to 45°.
The seats are 1.5 mt apart to guarantee privacy and come with a color monitor 32 inches and laptop ready.
When it comes to fares, Trenitalia high sped trains offer many options.
The most useful for tourists re:
Base (basic)
Economy
Super Economy
Offerta senior (for people over 60s and holders of FrecciaCard)
Famiglia (Family – discounts on night intercity services)
Bimbi gratis (Kids go free – for families with children up to 14 years of age )
Insieme (Together for groups of 3 t 5 people)
Andata e ritorno in Giornata (Return trip on the same day)
Weekend (Going on Saturday, Returning on Sunday)
You can find details of each on the Trenitalia official site here.
Top tip! Don't let all these options overwhelm you! You do not need to master them to get your ticket! When you select your train (see below for how to do it), the Trenitalia website will give you all the options available with info on the cost and what it means.
Italo Treno
Italo is the other company offering high-speed train services in Italy.
It is newer than Trenitalia, albeit now very well established, and has different brand colors. However, the two are equivalent in terms of standards of service and comfort.
Italo offers four different service levels: they call them Ambiance Smart, Comfort, Prima, and Club Executive.
Smart is Italo's entry-level fare.
Italo smart coaches have leather seats with a slightly reclinable back, footrests, small tables and individual electrical outlets.
Luggage can be stored under the seat in front of you, in the overhead luggage area or in the train vestibules in each carriage.
Need to know! This is the only coach type that limits the size of luggage you can carry on board! In the Smart ambiance, luggage larger than 75x53x30 cm is not allowed.
Smart carriages have vending machines for water. Soft drinks and snacks.
Ambiance Prima
Prima is the level of service above smart and comes with wider leather seats in Frau leather, more space for stretching your legs, and the Italo welcome service offering snacks, coffee, and drinks served directly to your seat.
Italo Club Executive
Italo Club ambiance offers extra perks to its ticket holders.
At the station, you use the Italo Club Lounge in stations, perfect if you have a long wait and, where available, the fast track boarding service.
On board, Italo club service comes with larger and more comfortable;e chairs and comes with the opportunity to book 'Salotto,' which is a private environment with also 9″ screens available on your seat.
All Italo Treno services include free wifi.
How to compare Trenitalia and Italo prices
Since Trenitalia and Italo are different providers, they have websites only showing their own services.
This makes comparing options hard however, there is a trick!
If you go on the website The Trainline, you can put in your desired journey and all options will come up!
The Trainline is a third-party ticket provider so you can also book tickets via them however, as per their terms and conditions, on some journeys they may apply a service fee.
personally, I use them as a price comparison took ut then always book directly with my provider of choice.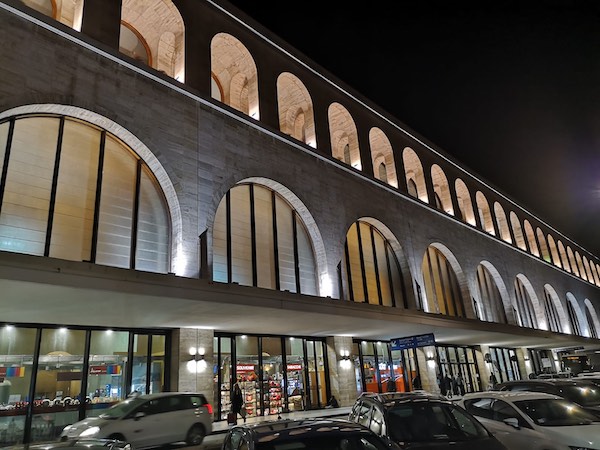 Should you book Italy train tickets in advance?
I highly recommend you book your tickets for fast trains in advance.
Italian fast trains have dynamic prices that depend on the demand and they usually do not have last-minute cheap offers.
If you know on what day you need to travel, it is best to secure your ticket a few weeks in advance, especially in high season and if you are traveling with family or a group.
If you are traveling low season or on your own, you may be able to get tickets last minute however, this may come at a higher price than advance purchases.
How to book your Trenitalia Train Ticket
The best way to book your Trenitalia ticket is from the official Trenitalia website which is this one
On the home page, you select your departure and arrival station (in Italian), desired date and time of journey, the number of passengers, and click on 'search'.
The page that opens for you have all the Trenitalia trains available on the selected date.
Clicking on each will open a menu with several ticketing and fare options available. This is your chance to select the price that suits your group best
Please note: if a certain fare is not appearing, for instance, you are traveling with kids but the Bimbi Gratis offer doesn't appear, it means it is not available on that specific train/date/time.
In this phase, you can also select seats if you want to make sure you are seated with your group.
Once you have identified your preferred solution, you can proceed with the online purchase.
The website will ask you if you want to log in, but you can just skip that and proceed as a guest.
Once the online purchase is done, you will receive an email with a booking reference, all your itinerary summary including schedule train number, seats, etc and a QR code.
This is the document you will need to show, if asked, at ticket control on the train.
How to book your Italo Treno Ticket
The best way to book Italo trains is on the Italo official website here.
On the homepage, you type in your desired departure and arrival station, date, time and number of travelers and click 'search'.
This will lead you to a page with all the trains serving that journey. Clicking on each of them will open a menu showing all the offers available on that specific train and the cost.
Please note: like with Trenitalia, if you had your eye on a fare type but that is not showing, it means it is not available on that service.
Once you have selected your preferred train, you can complete the purchase online and you will recieve by email the summary of your purchase and train ticket.
The Italo ticket will include all the info about your journey, a QR code and a reservation number, which is what you have to show, if asked, to the ticket controller on the train.
Is it better to buy train tickets at the station or online?
Both Trenitalia and Italo have e-commerce websites that allow buying tickets online quickly and safely.
Purchases are straightforward, and you will receive your ticket with all info and a bar code by email: that is your boarding pass and the one thing you will need to show the conductor on the train when asked, making the whole process paperless and contactless.
If you are at the train station, you can also book tickets either at the ticket counter or at the machines.
A couple of important things to know:

Lines at the ticket counter can be very long. If hoping to travel on the same day and get tickets in person at the station, go early
Machines usually work. However, touch payment by card sometimes doesn't. It is safe to have your card's pin with you.
Need to know!!
It is common to find people offering help with the machines in big stations. Be cautious with this, as this is a common scam/way to get some charity!
If you need help operating the machine, you will find Trenitalia / Italo attendants in the station, and they will be easy to recognize by their uniforms and badge.
Anyone else offering help is likely just trying to get close to your wallet!
Train Passes in Italy – shall I get a train pass or individual tickets
If you are planning on using the train extensively in Italy, it may be worth looking to train passes.
Like with passes, there is no absolute answer to the question of whether they are worth it or not.
It entirely depends on your group, journeys scheduled, potential discounts you are entitled to and so on.
Current tran passes for Italy are:
Trenitalia Pass
This is a train pass for foreign citizens and comes in different types: it has a validity of 3, 4, 7 or 10 journeys, it exists in Adult, Senior and Youth types, and in Easy, comfort and executive class.
You can travel on Frecce, FrecciaLink, Intercity, Intercity Night and EuroCity Italy-Switzerland trains (on domestic routes within Italy).
The Pass must be activated within 11 months from the date of purchase. It is available in 4 different options: 3 or 4 journeys within 7 consecutive days; 7 journeys within 15 consecutive days; 10 journeys within 30 consecutive days.
Need to know: in the case of journeys with connecting trains, each booking will be considered one trip of the Pass, except in the case of connection Freccia+Freccialink (Freccialink is an integral part of the journey and is considered part of the same).
Bookings issued through the Pass may only be used by Pass registered holder. Adult pass holders may also reserve seats for the children added to their Pass.
From the Trenitalia Pass website (prices below are accurate at the time of writing. We cannot guarantee these stay accurate at all times, only make decisions based on fares on the official Trenitalia website)
| | | | | | | | | | |
| --- | --- | --- | --- | --- | --- | --- | --- | --- | --- |
| Fare | Easy | Easy | Easy | Comfort | Comfort | Comfort | Executive | Executive | Executive |
| Passenger | Adult | Senior | Youth | Adult | Senior | Youth | Adult | Senior | Youth |
| 3 trips in 7 days | 129 € | 115 € | 106 € | 169 € | 157 € | 144 € | 246 € | 229 € | 212 € |
| 4 trips in 7 days | 157 € | 144 € | 135 € | 212 € | 195 € | 178 € | 297 € | 271 € | 254 € |
| 7 trips in 15 days | 246 € | 225 € | 208 € | 336 € | 314 € | 297 € | 450 € | 407 € | 382 € |
| 10 trips in 1 month | 319 € | 293 € | 276 € | 424 € | 382 € | 356 € | 594 € | 552 € | 509 € |
Senior: (passengers over 60 years old on the date of purchase of the Pass).
Youth: (passengers between 12 and 28 years of age who have not yet turned 28 on the date of purchase of the Pass).
Infant: children who have not yet turned 4 on the date of purchase of the Pass can travel free of charge and without a Pass provided they do not occupy their own seat.
Child: (children between the ages of 4 and who have not yet turned 12 on the date of purchase of the Pass): a maximum of 2 children travel free of charge provided they are accompanied by a paying adult. In case an Infant under 4 years of age needs to occupy the seat, the Adult traveling with and Infant must be in possession of Child Pass.
Find info and prices of Trenitalia pass here
Eurail Pass
The Eurail Italy Pass comes in different versions covering a time span of 3, 4, 5, 6 or 8 travel days within 1 month.
On each travel date within the pass validity, you can take as many trains as you need. You can choose between first and second-class passes and choose between adult (age 28-60), youth (12-27), senior (60+) or child (4-11) passes. Children's Eurail passes are free
Take as many trains as you want on each travel day.
The main thing you need to know about these passes is that they do not include seat reservation fees on trains that demand them.
This means that, if you want to use your pass on a high speed or any other train with a mandatory seat assignment, you need to make sure you book your seat in advance and pay the booking fee.
You can get a free quote for the Eurail pass and all info about reservations on their website.
Night trains in Italy
Some longer journeys are served by night trains. These are called Intercity Notte and offer several levels of services:
Basic – a seat (not fully flat)
Cuccetta Comfort – sleeper booth for up to 4 people
Vagone letto delux – single double or triple sleeper cabin, with complimentary toiletries kit
Cabine excelsior – single or double sleeper booth with private shower
You can find all the info about each here
I have traveled extensively in night trains in Italy and I have always found the level of service, even in the cheapest sleeper option, very good.
The beds are on the hard side and you are on the train,so the level of comfort is on towards basic rather than luxurious. However, I have found the standard of cleanliness good, the cabins safe and always had a good experience, even with kids.
Traveling to Sicily by train
It is possible to travel to Sicily from Italy's mainland by train, without leaving the train itself!
As the train arrives at the Messina Strait, it gets taken apart and put on a ferry. As the vessel reaches Sicily, the train gets reassembled and goes again until your destination.
The overall experience is slightly surreal but easy from the point of view of the traveler.
Rules say you need to leave the train and board the ferry during the passage; however, this is hardly ever required and many people traveling at night simply slept during the whole process.
If you can, however, it is worth leaving the train and going on deck, so you see Sicily from the boat: the night journey gets there at sunrise and the view is magnificent!
Names of main Italian train stations
When booking your train tickets you will have to put in the name of your departure/ destination stations, often in Italian (the system oddly doesn't foresee English names of cities, even on the English version of the train website)
Italian train stations have names.
Some are easy "Bologna Centrale." Some are like the names of airports, and you may not recognize them as the central hub of the city.
The main train stations in Italy you may need to know are:
Rome: Roma Termini
Venice: Venezia Santa Lucia
Verona: Verona Porta Nuova
Bologna: Bologna Centrale
Salerno: Salerno Centrale
Milan: Milano Centrale
Florence: Firenze Santa Maria Novella
Turin: Torino Porta Nuova
Naples: Napoli Centrale
La Spezia: La Spezia Centrale
How early to go to the train station in Italy
You don't need to arrive at the station much earlier than the departure time.
Most stations do not have any check-in procedures and you can just walk to the train. This means you only need the time it takes to reach the platform and your carriage.
Rome Termini station has an electronic gate to the platform area which you need to open by scanning your ticket. This adds a couple of minutes to the process.
I personally find that, as a general rule, 20 minutes before the time of departure of your train is a good rule of thumb for high-speed trains.
As you get to the station, search for the big train schedule table marked as 'Partenze/Departures'.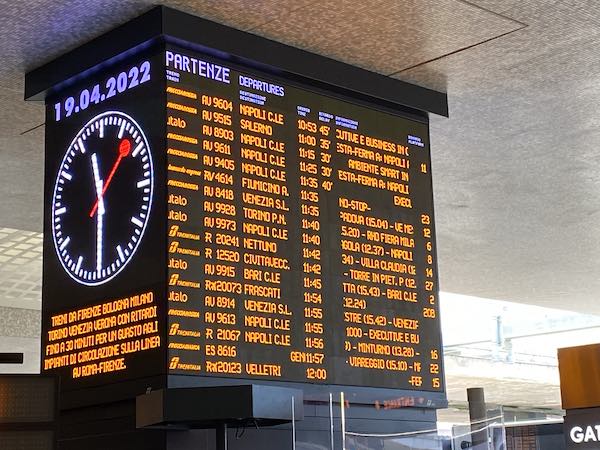 On this board, you will find the train number, type of train, final destination, time, platform, intermediate stops, and delays (if any).
Good to know: it is very common for high-speed trains not to show the platform number until 20 or even 10 minutes before the departure time. This is normal and should not be cause for concern.
If you are already in the platform area, 10 minutes to walk from where yu are to your carriage is plenty, you'll be on the train before you know it!
Once the platform is available, head to the designated one and look for the screen showing the carriage numbers: this will allow you to wait close to where your carriage will stop.
Please note: there is no check-in procedure or ticket checks to board the trains. Some stations may, however, have a checkpoint before allowing you to the platform: just show your ticket, and you'll be let in.
Need to know!
If traveling on regional trains, you don't need to go much earlier than the train arrival time.
However, you may need to take an extra step before boarding the train.
If your ticket is an open ticket and not for a specific train/date/time, make sure you validate it before boarding, or it will be considered invalid.
The validating machines are usually in the station and again at each platform's entrance.
The need to validate the ticket has become increasingly obsolete since many tickets are now for a specific service, but fines are common, so it is essential to double-check!
There is no need to validate e-tickets; just show the bar code to the attendant when asked.
Ticket checks
Tickets are not checked when boarding the train but during the journey. Inspectors in uniform pass by the carriages and use a tablet to read the QR code on your ticket. If you have it on your phone, this is easily done by showing them the screen.
Always keep the ticket with you and handy while on the train

Specific info about train Travel in Italy with kids
Train Travel with kids in Italy is a great way to cover long distances and a low-stress solution.
High-speed trains in particular are clean and well kept, they have climate control, and decent seats even in the most economical classes and they allow you to bring snacks and luggage on board with fewer restrictions than airlines (if any).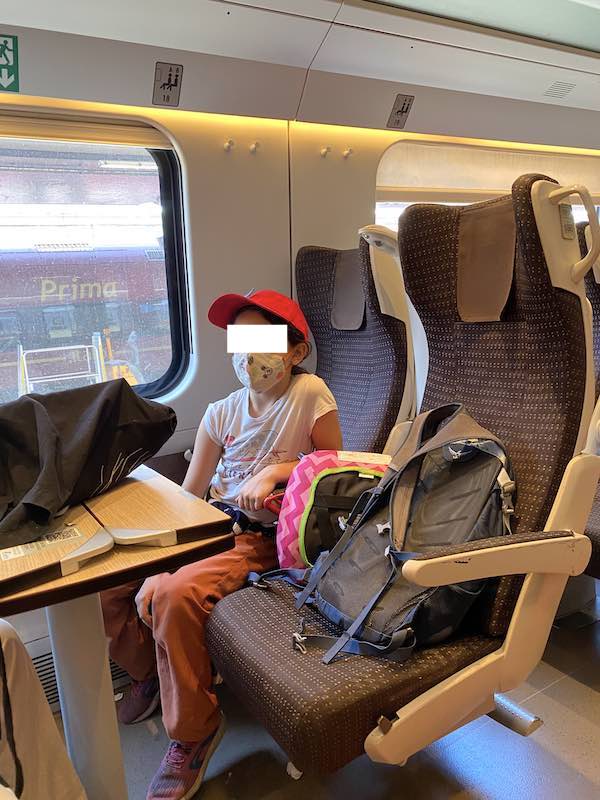 Things that are important to know when traveling by train with kids in Italy:
On National Trenitalia trains, children 0-4 travel Free with no seat/travel with 50% discount if using seat a seat for them
On regional trains, kids age 0-4 travel Free with no seat / 50% discount on seats for them
Trenitalia also has designated seats for parents with a stroller (18A)
The offers and the option to book a seat appear when booking online so you know exactly what is available and what you get on each specific train.
Top tip! Some seats come as a set of four with a table in the middle. These are excellent if you have children as it means you can play board games and have snacks almost as if you were in your own booth (it is not separated by screens but feels rather self-contained)
On Italo, infants under 36 months of age travel free of charge without a seat when on an adult's lap.
As well as this, families with a minimum of two adults and two children can avail of the Italy Family offer which foresees free tickets for kids under 14 years of age to travel free of charge on Smart and Prima ambiance.
Like for Trenitalia trains, this offer appears as one of the options at the time of booking, if available.
You can bring strollers on Italian trains free of charge: they are like luggage and you can store them with your bags.
Baby changing facilities on high-speed trains are basic but available. There are no baby changing facilities on more local, cheaper train services.
Good to know! Intercity and Eurocity trains now have a family area called area famiglia. This area has a kid-friendly design and since it's for families with kids, it means you can worry a little less about your kids being kids. The family area is on carriage 3 on Intercity trans and carriage 7 in Eurocity trains. you can select it at the time of booking.
How to book seats together when booking Italian trains as a family
You can book and select seats on high-speed trains, intercity trains and Eurocity trains, as well as selected other services. You cannot book and select seats on regional and local trains.
On trains that allow seat selection, you will find the option at the bottom of the booking screen: it is often not very visible but it is there! Scroll down and you should see a button to toggle.
Once you have selected this option, a page with a diagram of the train and each carriage will appear and you can select your seats as you would on a plane.
Luggage on Italian trains
There is plenty of room for luggage on Italian trains, although the exact layout depends on the train type and carriage class.
You can store small luggage under the seat in front of you or in the overhead luggage compartment.
Bigger bags have designated spaces at the top/back of each carriage on better trains.
There is also usually space between the rows of seats, in the space between the two backs.
On regional trains, you just keep the bags next to you.
There is no designated luggage carriage, so you just bring everything with you.
In general, there is no risk of leaving your bags in the designated bag areas and trains such as Italo have video surveillance in place.
I usually just keep an eye on my bag when pulling into a station: this is the time when people retrieve their own bags so it's good to keep en eye on yours to make sure there are no mistakes.
There is no luggage insurance as such on trains, so you should always keep valuables, cash, cameras and documents on you, for safety.
There is no limit to the size and weight of the luggage you can bring with you, except for the smart fare on Italo (see above) which comes with some limits).
For practicality, however, it is advisable to limit the number and size of bags you are traveling with, especially since you'll have to lig them up and down the carriage steps.
Bikes can travel on most trains only if folded. However, some services do offer bike options. You can find info on the Trenitalia website here
Traveling with pets on Italian trains
Small pets can travel with you on Italian Trenitalia trains for free if carried in a secure carrier within these size limits: 70x30x50 (one carrier per person).
Bigger dogs can also come with you but they need to have their own ticket (dog discount available), muzzle, leash, and, possibly, a booklet with registration to the dogs' registry and passport (passport is for foreign dogs).
You can book a ticket for your dog, if needed, online: it appears as one of the possible add-ons when you select your ticket.
On Italo, small pets up to 5Kg travel for free in their carrier while bigger animals need to purchase a ticket.
Bigger dogs need their own ticket (dog discount available), muzzle, leash, and, possibly, a booklet with registration to the dogs' registry and passport (passport is for foreign dogs).
Scams in Italian train stations and trains
Train travel in Italy is safe and convenient for the most part. However, there are some possible scams and situations you must be aware of.
Ticketing machine 'helper' scam.
II mentioned this one above and basically, it consists of someone approaching you while you buy your ticket at the ticket machine offering help.
The people approaching you can be more obviously people begging for charity or more official-looking people who offer to help navigate the different ticket options. Unless this person has an official Tranitalio or Italo Treno uniform and a badge, they are not there to help you, or at least not for free!
They are either hoping to get a tip at the end or, worse, they are hoping to get close to your walled
Heavy bags handling 'helper'
If traveling with very large bags, you will most likely find many people willing to 'help' lugging them around.
The inverted commas have probably given away the fact that this help doesn't come for free!
The people offering to help you with bags are not official porters but only people trying to make some money for a gratuity or, worse, trying to get close to your handbag to get your valuable off you.
Be extra careful with anyone coming too close to you or offering what looks like generous help (of course, there are friendly people just offering a favor but use your wits about who's who at all times).
Basic safety rules in Italian train stations and on trains
Train stations are by nature busy and chaotic so you need to be extra careful at all times. It is good practice to
Wear your day bag/purse crossbody (harder to slip off your shoulder, easier to keep an eye on its main compartment
No wallet in back pockets or unattended pockets like those on backpacks, which you cannot keep an eye on
No leaving luggage unattended
At night, stations and local trains can attract troublemakers: these can be unpleasant, especially if you are a woman traveling alone, or properly dangerous. After dark, be extra careful and apply all basic safety rules you would apply in any major city
What happens in case of a train strike in Italy
Train strikes are common in Italy and can cause serious delays.
When a strike is on the pipeline, you will see headlines on the news and in train stations announcing 'sciopero dei treni'.
The Ministry of Transport lists the possible strikes here but don't let this list scare you! These are all the strikes, even those that only affect a small area or freight trains so only use it as a very basic reference as they may not affect you at all.
What happens when there is a train strike is pretty much anyone's guess.
Depending on how successful the strike is, it can affect very many trains and journeys or it may be a minor inconvenience on some lines.
A basic level of essential services is usually guaranteed, especially high-speed trains.
You will find a list of guaranteed journeys (treni garantiti) on the trenitalia and Italo websites.
There is no way to entirely eliminate the risk of train strikes during your travels.
Often, train strikes happen on Fridays and the protected travel times are 6 to 9 am and 6pm – 9pm however, this is not an absolute rule.
My best advice when planning train travel is: plan around a strike only if one has been announced for your travel date. Otherwise, just take it as one of those things that are out of your control and you'll work around on the day.
If you happen to travel during a train strike, stay flexible. Keep an eye on the train website and, if no notice of delay or cancellation is there, go to the station as planned.
If your train is cancelled lat minute, follow the alternatives offered by the providers.
There is no way to know with much notice if your train is going to be affected so the best thing is just to go with the flow and evaluate options there and then.
On strike day, expect train stations to be busier than normal and local and regional trains to be the most affected.
If you know you will be traveling during a strike and your train is not on the guaranteed list, it is a good idea to change your travel date to minimize disruption.
I hope you found this overview about trains in Italy and our tips for traveling Italy by train with kids useful. Safe travel planning!